The Top Seven Bucket List Experiences for 2023
Looking for inspiration for your yacht charters in 2023? From Africa to Antarctica and beyond, these top seven experiences will be sure to have you covered.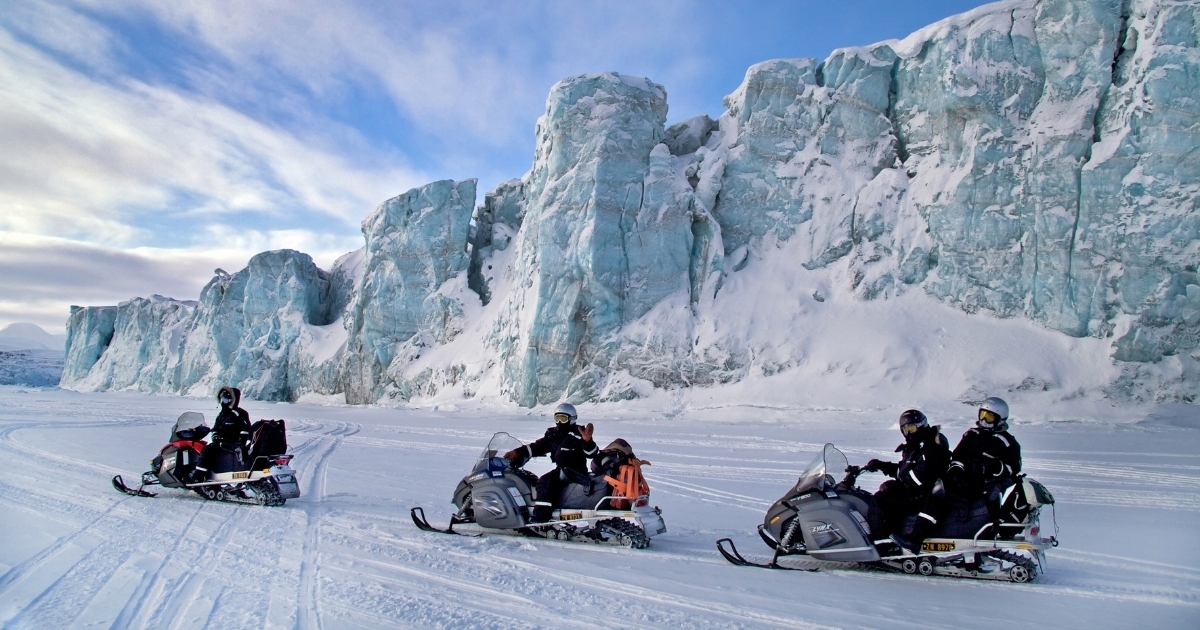 Glide across the Svalbard Archipelago by snowmobile
When to go: March - May
Discover the Arctic wilderness in its purest form as you go off track snowmobiling across the glacial landscape of Svalbard. An outpost from civilisation, spring is the best season to see this wondrous landscape and sight polar bears, foxes, puffins, and reindeers under the midnight sun.
Get as close as possible to nature with a night camping in the heart of the Svalbard archipelago, before ending this incredible journey in Huset. Here, you will delight in flavoursome food from the best restaurant on the island, as well as one of the largest and most celebrated wine cellars in northern Europe.
Where to stay: Funken Lodge's sumptuous suites are perfectly located as a hub from which you can actively explore your surroundings, while Isfjord Radio Adventure Hotel is a radio station that was originally built in 1933, but has since been converted into a modern hotel with unique character.
Foil surf the turquoise seas of the Maldives
When to go: March – October
Many destinations have miles of pristine, white coral sand and balmy turquoise seas, but few compare to the Maldives. Here, adrenaline junkies can discover one of the final frontiers of surf exploration. Pelorus and Foil-X have partnered up to turn dreams into reality and bring you on a unique and exhilarating experience that involves jet ski assisted tow-foiling with long rides and powerful breaks, rare in a surfer's world where line ups are becoming increasingly crowded.
In between foiling, swim alongside hammerhead sharks and whales in divine coral atolls or help track manta rays, dine underwater in some of the world's most iconic restaurants and join local tribes as you learn a traditional Maldivian performance called the Boduberuu, together.
What to charter: Suri is the gateway to adventure, with an impressive selection of water toys, so if you're itching to get back in the water after a day's foiling, you won't run out of things to do.
Combine conservation coastlines and in Africa
When to go: May – September
Take safari to the next level in 2023 on a multi-destination experience in South Africa and Mozambique. Join a conservation team on a mission to assist with rhino registration and identification procedures, embark on morning and evening safaris in your private vehicle, and get involved with Pangolin conservation research on the Phinda Reserve.
Bring this enriching time to an end in the WWF marine protected areas of the Benguerra Island in Mozambique, a 300-hectare sanctuary with some of the richest and least explored subtropical ecosystems in the Indian Ocean. Relax on Kisawa's private beaches, dive in secluded and protected areas, and help tag marlin and sharks with top scientists.
Where to stay: generous hospitality and palm thatched bungalows hidden on the southern tip of Benguerra Island at Kisawa, or intimate stone suites with dramatic valley views at AndBeyond Rock Lodge.
Voyage through Venice and Italy's Dolomites
When to go: April – June / September - October
Experience Italy and its rich history, delightful cuisine, and awe-inspiring nature on a multi-region, James Bond-inspired discovery. Pelorus' Travel Designers will design an unforgettable voyage taking you from the snow-topped mountain peaks, fertile meadows, and sparkling blue lakes of Italy's Dolomites to the quintessential streets and narrow canals of Venice.
In the Dolomites, traverse meadows and soar over passes by mountain bike, absorb panoramic views and spot hidden lakes and waterfalls. Tuck into an exquisite picnic set up for you privately on the shores of a remote and enchanting lagoon before river rafting or paragliding over the dramatic mountain ranges. Next, make your Bond-inspired descent from the mountains in supercars as you race across the countryside to reach the floating city of Venice. Here, you will traverse the city in gondolas and climb across the rooftops in true Bond style for a unique look at the famed landmarks and to explore the flooded crypts below numerous churches.
Where to stay: White Deer Lodge was originally a 16th-century hunting lodge in the Dolomites and has been transformed by its wonderful owners, Stefano and Giorgia, into the alpine cottage of your dreams. It comes complete with spa pool overlooking jaw-dropping views, a fully-stocked wine cellar, and its own private helipad and 18-hole golf course.
For the Venice portion of your trip, look no further than Aman Venice, which boasts spacious suites, opulent dining venues, extravagant Italian interiors, and private gardens – rare in the city of canals.
Discover Kenya's remote regions on a heli-safari
When to go: June – October
Perhaps you've been on safari in Kenya, sighting Africa's Big Five on game drives through breathtaking landscapes that you'll want to come back to time and time again. This is your chance to see Northern Kenya's spectacular landscapes from new perspectives on a unique heli-safari, soaring from the rocky summits of Mount Kenya to the vast deserts of Turkana.
Kenya's landscapes from above are virtually empty of visible life, yet scattered with small groups of traditional people and desert adapted wildlife that roam these plains freely. Go rhino tracking and quad biking before flying into the Huri Hills to meet the semi-nomadic Redilie tribes.
Where to stay: soak up unforgettable sundowners with a view of Mount Kenya from the prime viewing spot on the wrap-around veranda at 100-acre private property, Soames Hotel. Or, swap the plains for the ocean and stay aboard Tusitri Dhow, with its relaxed atmosphere and possibility of star gazing from bed. If you're after standout luxury accommodation, venture slightly further south towards Arijiju, an authentic family home-turned-architectural haven set in the heart of the Borana Conservancy with a passion for wellness and conservation.
Unearth the unexplored as you traverse Saudi Arabia
When to go: November – March
One for the intrepid traveller, uncover a country that has seldom been explored. Be among the first to see Saudi Arabia from an angle that few have before in this brand new experience with Pelorus in 2023.
Learn about the rich history of this intriguing country as you venture out into the desert on a unique horse safari, along with an expert historian to show you the way, before getting your adrenaline pumping as you speed through vast, dusty canyons on quad bike.
Where to stay: stay in luxurious mobile camps that immerse you into a remote area, moving between different desert locations such as the extraordinary heritage sites of Al Ula, innovative hub Neom, lush forests and valleys in Al Baha, and the rocky Sarawat Mountains – to name but a few. These remote camps are built just for you, allowing for ultimate flexibility and seclusion, and true comfort, even in the heart of the desert. Or for swimming pool, wellness centre, and experiential rooms, Habitas AlUla lies amongst dramatic sandstone cliffs and the archaeological remains of Hegra.
Set foot on Earth's southernmost point in Antarctica
When to go: November - January
Venturing to the southernmost point on Earth is no easy feat, but Pelorus can make it possible. Cross into the seventh continent by plane into a barely touched, desolate world of 24-hour daylight and unparalleled scenery, setting foot the furthest south any human has been before as you land at the South Pole.
Sight Emperor penguins in their clusters, learn to ice climb and explore a maze of ice tunnels as you venture to the literal ends of the earth. Discover vast, empty landscapes with a series of action-packed activities, from fat biking to skiing and even abseiling. This is Antarctica.
Where to stay: the newly-opened Echo Camp is inspired by the seminal age of space exploration. This luxury camp is made up of six secluded and luxurious pods in the midst of the snowy desert, branded as the closest you can get to feeling like you're off the planet without leaving Earth. Retreat in the evening to feast on an exquisite six-course tasting menu, designed to take you on a sensory adventure.
Image credits: Marcela Cardenas, White Desert
Read next: