Four of the World's Most Unique Ski Experiences
Be it skiing combined with on board accommodation and excellent cuisine in remote locations, or making tracks through untouched snow on and off piste in Alaska or Japan, the ski season is back and better than ever.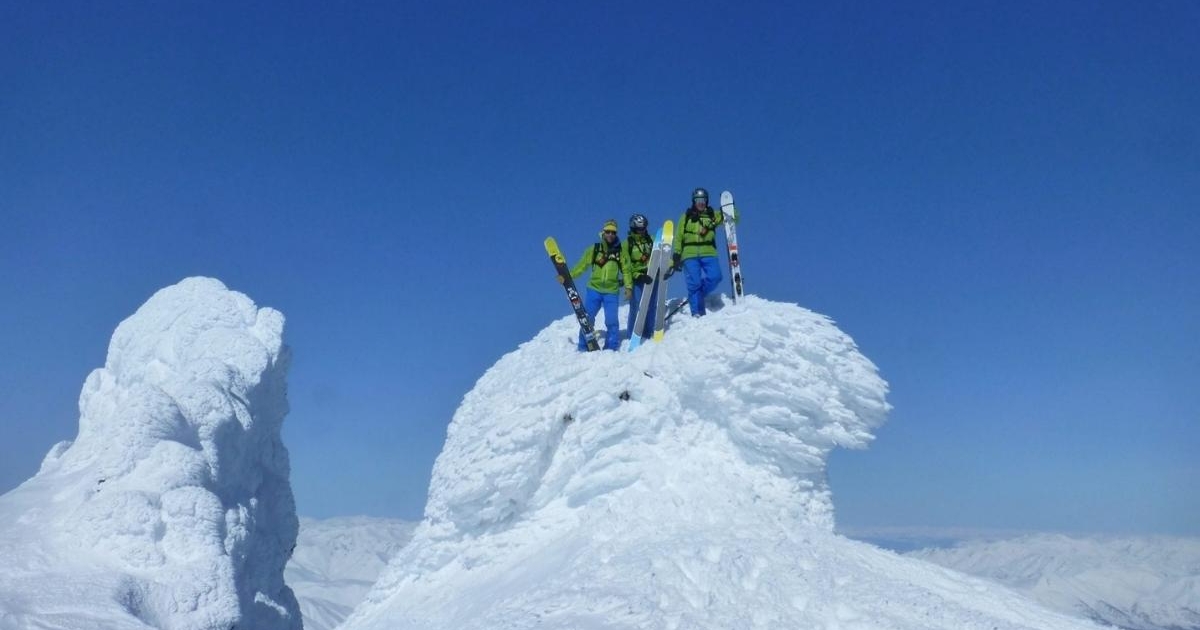 These one-of-a-kind skiing experiences are just a taster of what's on offer from Pelorus in 2022, so it's time to start dusting off those Moncler jackets.
Night skiing in British Columbia
Experience the best of British Columbia's rolling ridges and vast alpine bowls before connecting with the snow and challenging your senses under the cover of darkness for a truly unique night skiing experience.
Hop on board the snow-cat as you speed into the pristine wilds of the mountain to unearth fresh powder. Led by a world-class mountain guide, you'll ski around the stunning Mount Mackenzie and surrounding peaks, whilst carving fresh tracks into the unspoiled snow.
As evening falls, you'll head back up the mountain for the total adrenaline experience of night skiing, something that few people in the world have ever done. In a ski-suit studded with LEDs and a series of powerful spotlights to illuminate the mountainside, you will access some of the best powder on earth in this completely intimate and novel experience. As well as your expert guide, you will have a skilled videographer recording everything for you to create an amazing memento of this exceptional experience.
Fly to a luxury remote cabin with a private chef for the second half of your week, where you will head out with your guides for a full day of backcountry skiing through the incredible untouched snow. Waking up here, you'll be picked up by your private helicopter to access the Monashee and Selkirk regions for a full day of big mountain skiing. Your two expert guides will take you to the most pristine slopes where the conditions are at their best.
Heli-ski from your yacht through dramatic volcanic landscapes
The Kamchatka Peninsula in the Russian Far East is the most dramatic skiing destination on earth. Huge volcanic faces and long, winding slopes: be the first to leave your tracks on the pristine pistes of the greatest concentration of active volcanoes on earth.
The otherworldly beauty of the Kamchatka Peninsula is apparent from the moment you arrive in the capital, Petropavlovsk Kamchatsky, where you will be met by your guides and taken directly to your hotel. After a short drive, you will have time to settle in and begin preparations for the skiing ahead.
Your first full day in Kamchatka will begin with safety preparations and a trip briefing. Here you will be shown the ins-and-outs of heli-skiing and become acquainted with your guides, pilots and equipment.
Over the next few days, you will jump in and out of helicopters onto untouched mountains, skiing down live volcanoes. Whilst the specific locations can vary throughout your trip due to weather, volcano activity and snow conditions, the rugged topography ensures that you are spoilt for choice.
This unrivalled skiing experience will see you gliding down untouched slopes, descending fuming volcanos and through awe-inspiring scenery, in a heli-skiing adventure that few people have ever experienced.
Enjoy fine cuisine and skiing in UNESCO World Heritage surroundings
Float on light airy powder as you carve fresh tracks down untouched white canvases. Navigate the jagged mountain tops that jut out from the blankets of glistening snow. Indulge in world-renowned Italian cuisine and feast on spectacular mountain views.
Begin your grand tour through this magical landscape nestled amongst the mountains in Alta Badia offering views of some of the most beautiful peaks of the Dolomites. After a night's relaxation in an enchanting sixteenth-century mountain lodge, prepare for your unforgettable trip through this iconic mountain range. Boasting breathtaking views of the glistening valley below, this is the ideal spot to reconnect with the nature and commence your epic adventure. With an impressive array of ski lift connections, explore over 1100km of pistes in both the San Cassiano and Alta Badia resorts including the famous Armentarola run, known as both the most picturesque and longest slope in the Dolomite region. Giving you plenty of time to get your ski legs back there is also the chance for one-on-one tuition with handpicked expert instructors.
Accompanied by an expert Pelorus guide, you will have the opportunity to embark on the iconic Sellaronda Skitour, which circumnavigates the majestic Sella Massif. You will pass through the Ladin valleys of Val Gardena, Arabba, and Fassa whilst delighting in superb skiing both on and off the piste through the UNESCO World Heritage Dolomites. Touring between expansive powder fields far from the calls of civilization, feel truly separate from everyday life. Bask in the splendid satisfaction of being the first person to claim fresh tracks down untouched slopes, crisp with a blanket of fresh snow.
Ski "hut-to-hut" staying in family-run mountain refuges and charming hotels along the way. As the sun begins to set casting deep shadows over the pristine mountains enjoy a cool beer or warming hot chocolate with the heat of the sun on your face, atop one of these magnificent peaks. As the golden hours draw to a close and the sun slips below the horizon allow the allure of a rugged mountain hut draw you in.
Step through the door to be greeted with the glow of a crackling fire, the warm flickering light of candles, and the aroma of a freshly prepared meal. Each refuge will offer you different experiences and unique scenic views with some situated high amongst the peaks, providing panoramic views that give the feeling of sitting on the edge of the world. Simple and rustic, yet comfortable and luxurious, these mountain huts allow you to truly experience what life in this rugged yet breathtaking region is all about. Relax and enjoy mouthwatering local dishes prepared to perfection. Food that can only be described as delicious and plentiful, these traditional dishes are designed to fortify the body and soul. Host to multiple Michelin starred restaurants, you will dine in style throughout your journey sampling delicious Italian delicacies at charmingly authentic mountain restaurants.
Here skiing is just part of the attraction. Spend your evenings moonlight snowshoeing through the still forests, filled with snow-laden trees or take a romantic sledge ride pilled under lavish throws. For a more adrenaline-fueled afternoon, paraglide soaring above sublime valleys, with only the birds for company. Given the breathtaking natural beauty of the region, it's the perfect place to become immersed in the best of what Mother Nature has to offer while experiencing the rich history and mountain traditions that have been kept alive for centuries.
Embark on a thrilling cat-skiing adventure through remote mountains
Embark upon an epic cat skiing experience that will bring you access to the most untouched spaces. Colorado is synonymous with powder skiing, with high elevation and cold temperatures resulting in some of the lightest snow in the US. The truly unique terrain offers powder skiing even at some of the steepest gradients.
Discover the unrivalled powder, breathtaking views, and spectacular mountains of Colorado. Situated in Colorado's West Elk mountain range, Irwin boasts a greater concentration of fresh powder than almost anywhere else on earth. With high altitudes and cold temperatures, the resulting fluffy powder is a dream to glide through, and after a day's piste skiing on immaculately groomed runs, relax in the comfort of your mountain lodge in readiness for your next epic adventure. Awake each morning to find a custom-designed snowcat waiting to provide you access to more than a thousand acres of exclusive ski terrain. Irwin receives around 38ft of snow a season, three times its nearest town of Crested Butte, resulting in seriously deep powder only reachable by snowcat.
The snowcat will drop you at the foot of Scarp Ridge situated at 3,600 metres. From here you will skin up 300 metres to reach the summit of Mount Emmons where you will gain awe-inspiring views across the Elk Mountains, before gliding back down through the pristine powder.
With diverse terrain, there is something to suit everyone in this iconic ski area. For advanced skiers, challenging terrain can be found varying from open alpine bowls, steep narrow chutes, couloirs, and tight tree skiing. With cliffs and rock bands, there is the chance to catch between 5-40 feet of air, alongside low angle, wide-open runs that even relaxed skiers can experience the magic of powder skiing. These unique conditions are envied throughout the world. The magically remote location gives a rare feel of wilderness where you can revel in the beauty of solitude alongside just your group and the mountains for company. Your Pelorus guides will find the best terrain to meet each of your personal desires and abilities, catering to everyone's needs. Protected trees and glades provide for better visibility, even on the stormy days that result in the world-renowned powder that falls here.
After a day spent skiing untouched lines, carving fresh tracks through epic fluffy powder, reheat, and recuperate in a traditional mountain cabin at Scarp Ridge Lodge with a delicious lunch and a crackling fire. Knowing the importance of being well-fuelled to tackle challenging off-piste, gourmet meals will be served throughout the trip with family-style dining to five-course menus. Boast about the best runs of the day as you settle into an indulgent après-ski. Sip cocktails by the fire or in a steamy open-air hot tub as the still nights draw in. Relive the day's highlights whilst spending quality time with friends and family.
The immense beauty and sheer wonder of cat skiing at Irwin is an experience not to be missed. This slice of Colorado's Elk mountains is truly spectacular and offers some of the world's best off-piste powder skiing. Accompanied by your expert guides you will find the deepest powder runs and freshly covered wide open alpine bowls. Carving fresh tracks at every turn as you create lasting memories along this iconic adventure.
Image credits: Eleven Experience, Nimmo Bay, Pelorus
Read Next: