The World's Most Unique and Remote Ski Experiences
Be it skiing combined with on board accommodation and excellent cuisine in remote locations, or making tracks through untouched snow on and off piste in Alaska or Japan, the ski season is back and better than ever.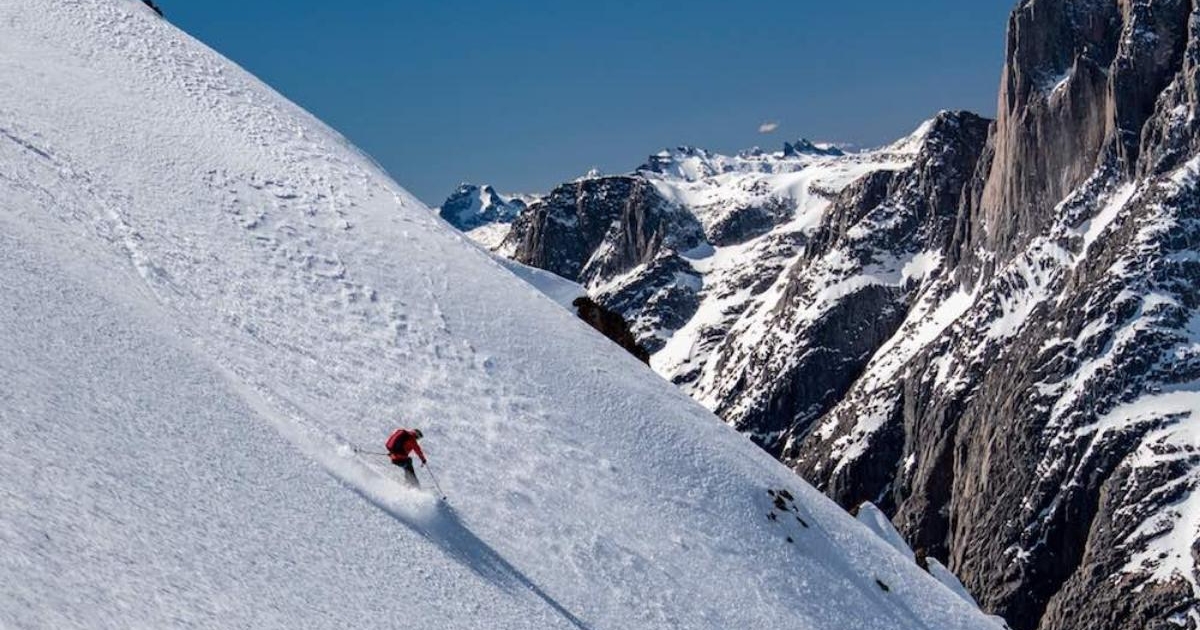 These one-of-a-kind skiing experiences are just a taster of what's on offer from Pelorus, so it's time to start dusting off those Moncler jackets.
Heli-skiing under the midnight sun in Sweden
For remote skiing amidst breathtaking scenery, ski from sky to sea over untouched pistes with panoramic views of the Norwegian fjords. The Skanderna mountains and the Atlantic Ocean meet here on the borders of Norway and Sweden, offering heli-skiing on a semi-private or completely private basis, 200km north of the Polar circle.
Later in the season, you'll be able to ski under the midnight sun, allowing for uninterrupted skiing for even longer into the day.
Contact our Travel Designers to find out more about this unique experience and start planning your bespoke adventure to Riksgränsen, Sweden.
When to go: March - May
Ski where few have before - Antarctica
Still considered one of the most inaccessible destinations on the planet, skiing in Antarctica has become the greatest challenge yet for skiers who crave a true skiing adventure.
Reaching untouched peaks is now possible with the deployment of two helicopters that will drop you off at one summit and take you to the next.
With long days stretching between 18 and 22 hours of daylight during the summer months there's ample opportunity to enjoy multiple descents down Antarctica's powder snow slopes. Accompanied by experienced ice pilots, expedition leaders and equipment fit for the harshest of climates, this is the ski experience of a lifetime.
When to go: December - February
Remote skiing and world-class cuisine in the Dolomites
Nestled amongst the mountains in Alta Badia, discover a wealth of pistes on your doorstep. With an impressive array of ski lift connections, explore over 1100km of pistes in both the San Cassiano and Alta Badia resorts including the famous Armentarola run, known as both the most picturesque and longest slope in the Dolomite region. Host to multiple Michelin starred resturants, you will lunch in style sampling delicious Italian delicacies at charmingly authentic mountain restaurants.
Accompanied by an expert Pelorus guide, you will have the opportunity to embark on the iconic Sellaronda Skitour, which circumnavigates the majestic Sella Massif. An extraordinary experience and 40km of great fun for the ambitious skier, as a glistening white canvas of world-class off-piste awaits you. Shred tracks in pristine powder whilst marvelling at the peaceful isolation and dramatic beauty that surrounds you.
When to go: December - April
Epic night skiing in British Columbia
Experience the best of British Columbia's rolling ridges and vast alpine bowls, before connecting with the snow and challenging your senses under the cover of darkness for a truly unique night skiing experience.
Hop onboard the snow-cat as you speed into the pristine wilds of the mountains to unearth fresh powder. Led by a world-class mountain guide, you'll ski around the stunning Mount Mackenzie and surrounding peaks, whilst carving fresh tracks into the unspoiled snow. In a ski-suit studded with LEDs and a series of powerful spotlights to illuminate the mountainside, head up the mountain for an adrenaline fuelled experience of night skiing. With access to some of the best powder on earth, this is a completely novel and intimate experience, like no other.
When to go: December - April
Unrivalled heli-skiing in Northern Iceland
With exclusive use of Deplar Farm, you will have unrivalled access to the best heli-skiing in the Tröllaskagi Peninsula. Where the mountains meet the coast, skiing with views across the deep blue of the North Atlantic Ocean is a mesmerising experience, beginning at the summit and ending at the sea.
With endless terrain to explore, discover sweeping valleys, striking fjords and glacial rivers, far from civilisation. Ranging from soft valleys to vertical descents, Iceland offers skiing for all abilities as well as a choice of heli, cat and backcountry. After an adrenaline fuelled day, evenings will be spent relaxing in Deplar's naturally heated geothermic pools, before a delectable dinner with wine perfectly paired from the cellar.
When to go: February - June
Ski above the fjords in Norway
The Lyngen Alps of Northern Norway are regaled to be one of the best off-piste skiing destinations in the world. Pristine slopes of fresh powder merged with icy waters of the North Sea to create complete serenity. With a ban on heli-skiing, these mountains provide a truly tranquil and intimate skiing experience, best accessed by yacht. On board KINFISH you will be to cruise to the more wild and remote regions to experience serene slopes each day, whilst keeping your eyes out for whales and Northern Lights as you sail. With no sign of civilisation, snow-capped mountains and pristine scenery will blow you away as you descend from the summit to the fjord shore.
When to go: March - April
Cat skiing in Colorado
Situated in Colorado's West Elk mountain range, Irwin boasts a greater concentration of fresh powder than almost anywhere else on Earth. With high altitude and cold temperatures, the resulting fluffy powder is a dream to glide through. From the comfort of Scrap Ridge Lodge, embark upon an epic cat-skiing experience that will bring you access to the most untouched spaces, allowing you to tackle challenging off-piste, carving fresh tracks at every turn. For an iconic adventure, the snowcat will drop you at the foot of Scarp Ridge situated at 3,600 metres. From here you will skin up 300 metres to reach the summit of Mount Emmons where you will gain awe-inspiring views across the Elk Mountains, before gliding back down through the pristine powder.
When to go: Febuary - March
Culture and epic decents in India
Nestled in the Western Himalayas, the beauty of Kashmir is overwhelming, earning it the title of "paradise on Earth" amongst Indians. You will spend your days jumping in and out of helicopters onto untouched powder in striking landscapes, witnessed by few. With endless drop off points, you will get an unrivalled skiing experience, being the first to mark new tracks each day. After a day of adrenaline-filled adventure, spend time with playful wild monkeys and relish the chance to spot the elusive snow leopard, before unwinding in style with a sumptuous dinner. For your final night, stay on an opulent traditional houseboat on the stunning Dal Lake, soaking up the rich culture and beauty of Srinagar.
When to go: January - March
Sake and Champagne powder in Japan
Experience world-class skiing in Niseko on the northern-most island Hokkaido, where fresh snow falls daily carpeting the unspoilt wilderness in a dazzling white blanket. Famous for its deep powder and tree-lined slopes, Japan offers some of the most enjoyable and fun skiing in the world, whilst providing the opportunity to learn about their fascinating culture and sample unique cuisine.
When to go: January - February
Ski and surf in Chile
Fly above the soaring Andes mountains, land upon untouched peaks and carve fresh tracks into the pristine snow. In this exclusive experience, your expert Pelorus guide will ensure access to some of Chile's best skiing experiences, surrounded by pure wilderness and sensational vistas. From the mountains to the coast, trade skiing for surfing as you fly by heli to Pichilemu on Chile's Pacific Coast. A world-class surfing spot with unfailing surf breaks, uncrowded beaches and a strong swell, this is the perfect spot to surf, kiteboard and windsurf.
When to go: June - October
Image credits: Sweden – Arctic Elements; Night skiing – Shane Treat & Oskar Enander Collection.
To see what else Pelorus is up to, click here.
Read Next: