Christina O
99.13m | Canadian Vickers | 1943 (2020)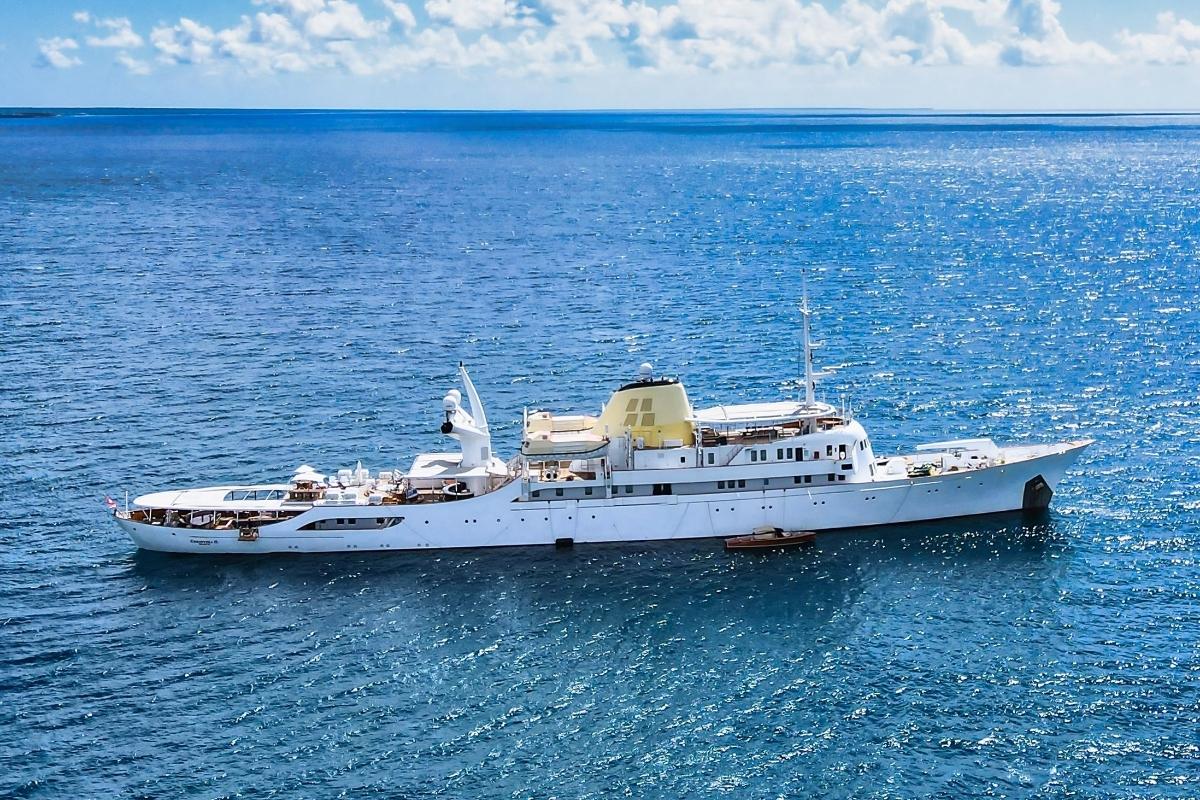 Even in the rarefied and elite world of superyachts, there's quite simply nothing to compare to the motor yacht Christina O. We're talking about a yacht which effortlessly oozes history, charisma and glamour like no other.
An iconic vessel on which Maria Callas sang and Winston Churchill engaged in heated political debate with Aristotle Onassis. A place where John F Kennedy, Marilyn Monroe, Jackie Onassis, Margot Fonteyn, Frank Sinatra, Elizabeth Taylor and Richard Burton, amongst other giants from the worlds of royalty, Hollywood and politics, could kick back and enjoy the romance and legendary hospitality synonymous with Christina O. The wedding reception of Prince Rainier and Grace Kelly was held on board and the supermodel Heidi Klum recently married her beau on the yacht.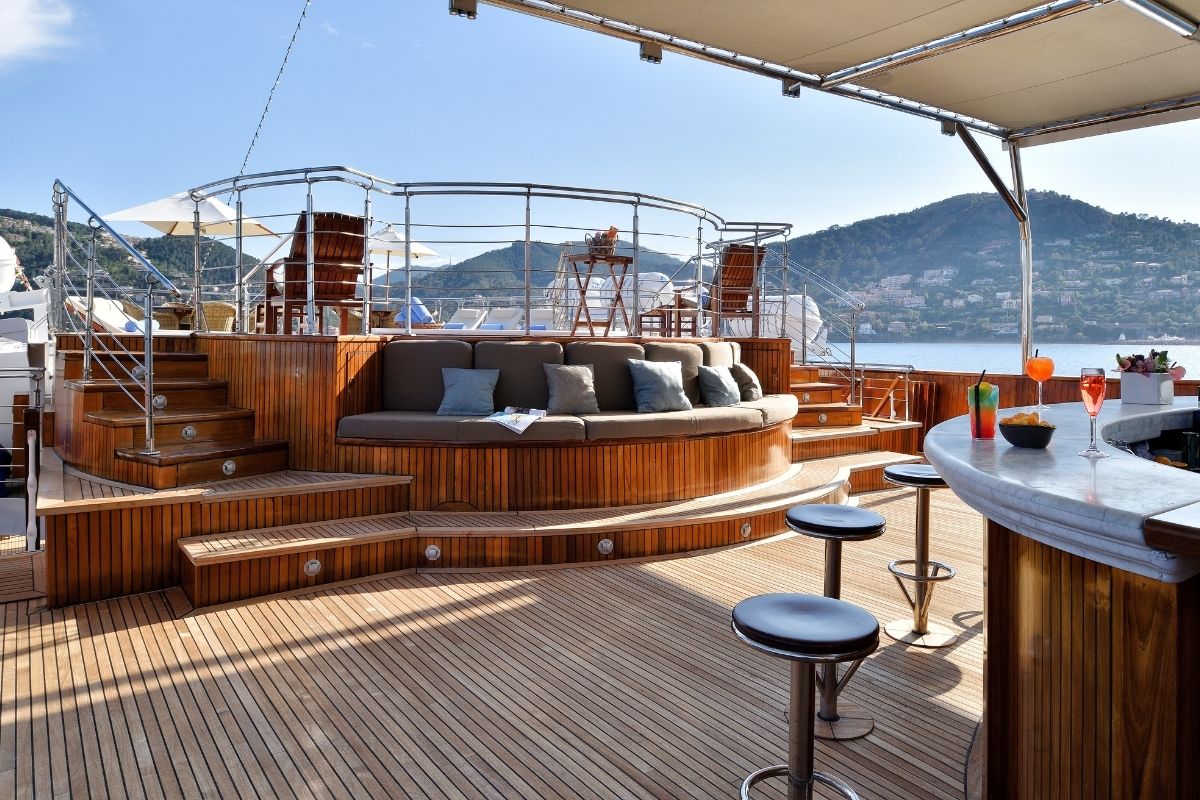 However, to fully understand the incredible history of this magnificent 99.13m superyacht, you need to travel back almost a century to her humbler, yet nonetheless impressive, beginnings.
Built in 1943 by Canadian Vickers, this one-time frigate, originally known as Stormont, played an active part in the Second World War, including participation in the D Day landings and escorting convoys of ships providing defence. In late 1944, she reportedly spend a record 63 days at sea – the longest active period of any frigate during the war.
However post-war she had the good fortune to be acquired by Greek shipping magnate Aristotle Onassis, who decided to invest in rebuilding and renovating her, completing an amazing metamorphosis from illustrious war vessel to one of the world's most famous and celebrated superyachts.
Named after his daughter, Christina O – then called Christina - became a favoured destination for world leaders, movie stars and the business elite during the 1950s and 60s - an invitation on board was regarded as the pinnacle of arriving in society. Today's guests can luxuriate in the knowledge that they are also experiencing that same sense of old-world charm and sophistication combined with seven star service in a stylish and classic environment unlike any other.
She has been consistently upgraded in the intervening years to offer every aspect of 21st century luxury and technology which sits perfectly alongside original features like the impressive circular staircase and vintage handrails.
One of many features setting Christina O apart from other superyachts is her immense deck space. The outdoor bar and jacuzzi deck combined with the famous swimming pool deck and compass deck provide an extensive space that is hard to equal, as comfortable for 20 guests as for a cocktail party at anchor or a day cruise for 157.
Among her most astounding wow factors is the 1.6m deep mosaic swimming pool installed in the 1950s which can be raised for both aesthetics and safety when the water is removed. Guests often like to use this space as a dancefloor for parties under the stars and is a spot where many great memories have been made.
In addition to her impressive exterior spaces, Christina O offers 17 beautifully appointed cabins sleeping 34 guests - the Onassis Suite has a stunning fireplace with a Renoir hanging above it - and all other cabins are named after Greek islands. She also boasts an array of stylish reception rooms in which to relax and be transported back to another time.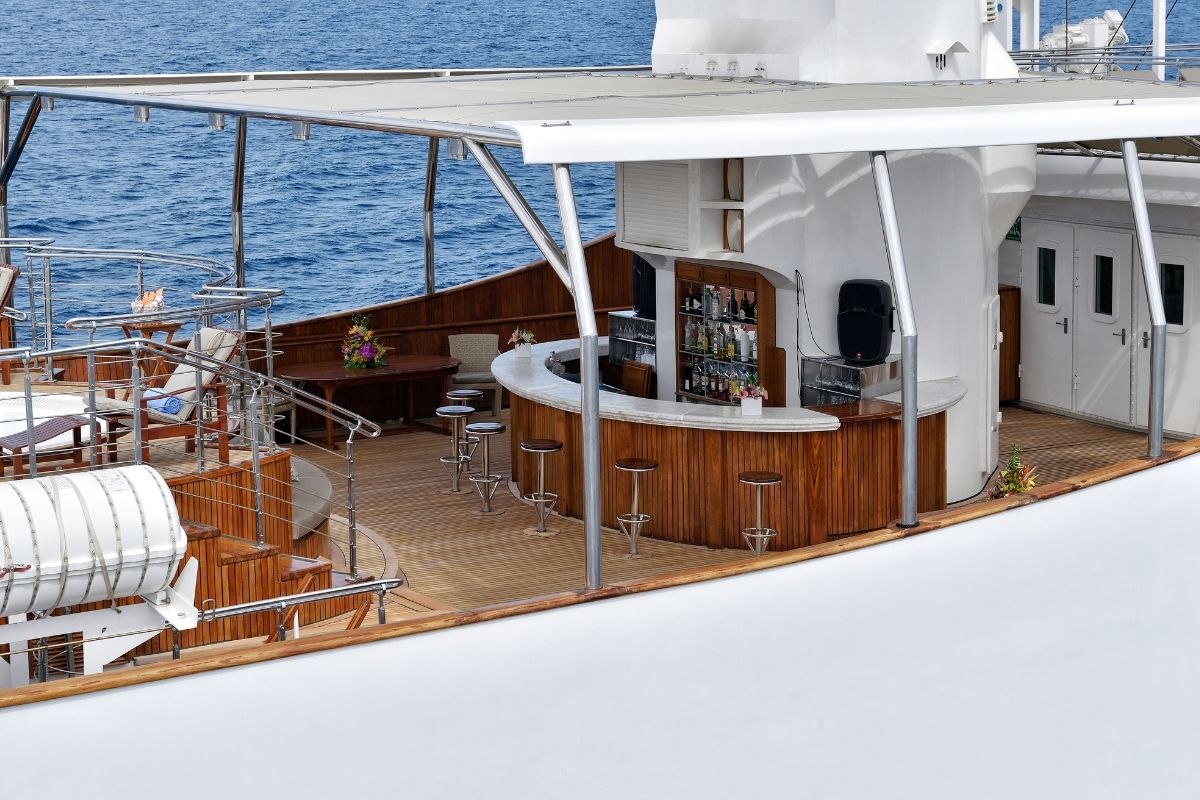 The Jackie O Lapis Lounge is filled with rare books and this grand, yet cosy wood-panelled salon features an extraordinary lapis-lazuli fireplace made from this most sought-after stone, which is reputed to enhance the memory.
Ari's Bar, meanwhile, is probably the most famous and iconic room on board. With a bar crafted from the wood of an ancient Spanish galleon, it is decorated with atmospheric black and white portraits of previous guests including John Wayne, Elizabeth Taylor and Richard Burton. It was the setting for numerous great historical meetings of minds, notably the first encounter between John F Kennedy and Winston Churchill, who made an incredible nine voyages on the yacht.
The Maria Callas Lounge is dedicated to Ari's grand amour of opera, whose exquisite recorded arias still drift around the lounge. A grand Steinway piano is available for guests to play and a remote-controlled projector descends to show movies while the Sir Winston Churchill Library offers peace and tranquillity for guests looking for respite from the sun and a little solitude.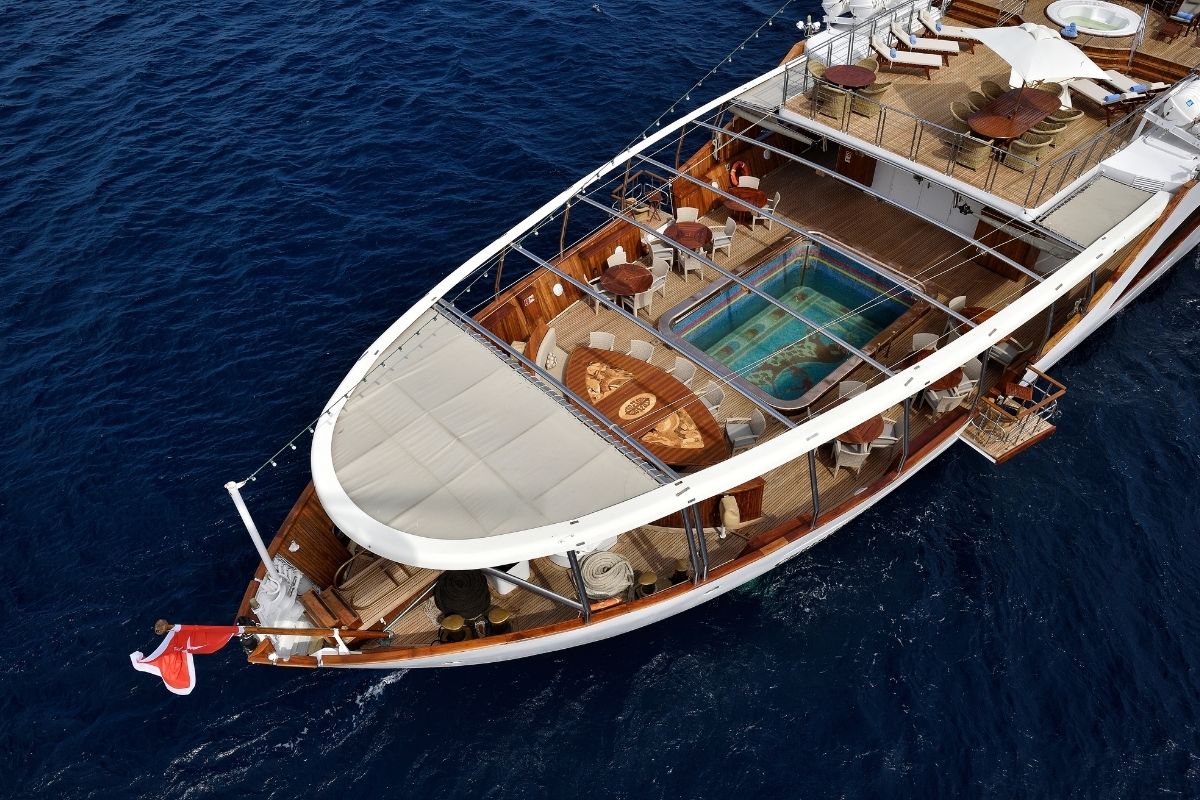 And then there is the cuisine. A team of six chefs from as far afield as Argentina and Japan is headed up by French Executive Chef Damien Perrinel, whose Michelin-star experience in some of France's finest restaurants means that guests can enjoy a hedonistic dining experience every day, sampling divine dishes from every corner of the planet either on deck or in the elegant dining room, the centrepiece of which is a long table which can seat 28 guests.
With wellness a key factor for many, Christina O also boasts a spa with two full-time therapists which is open all day long for no extra charge during charters, offering a variety of luxury spa treatments.
The water sports department also delivers at the highest level of excellence; instructors can award RYA jet-ski licenses to guests while on board and coach them in having fun safely on the three SeaDoo waverunners in line with local regulations. Additionally, Christina O is served by two beautifully restored hacker craft tenders.
Indeed, with a crew of around 40 and a staff to guest ratio of at least 1:1, you can be confident that your every need or desire will be met.
"The sense of pride when you charter Christina O is palpable," says charter broker Tim Morley. "When people come on board Christina O they genuinely have an emotional reaction. It is unlike any other yacht. You feel the spirit of the yacht. People love it and it affects almost everybody in this way, young and old."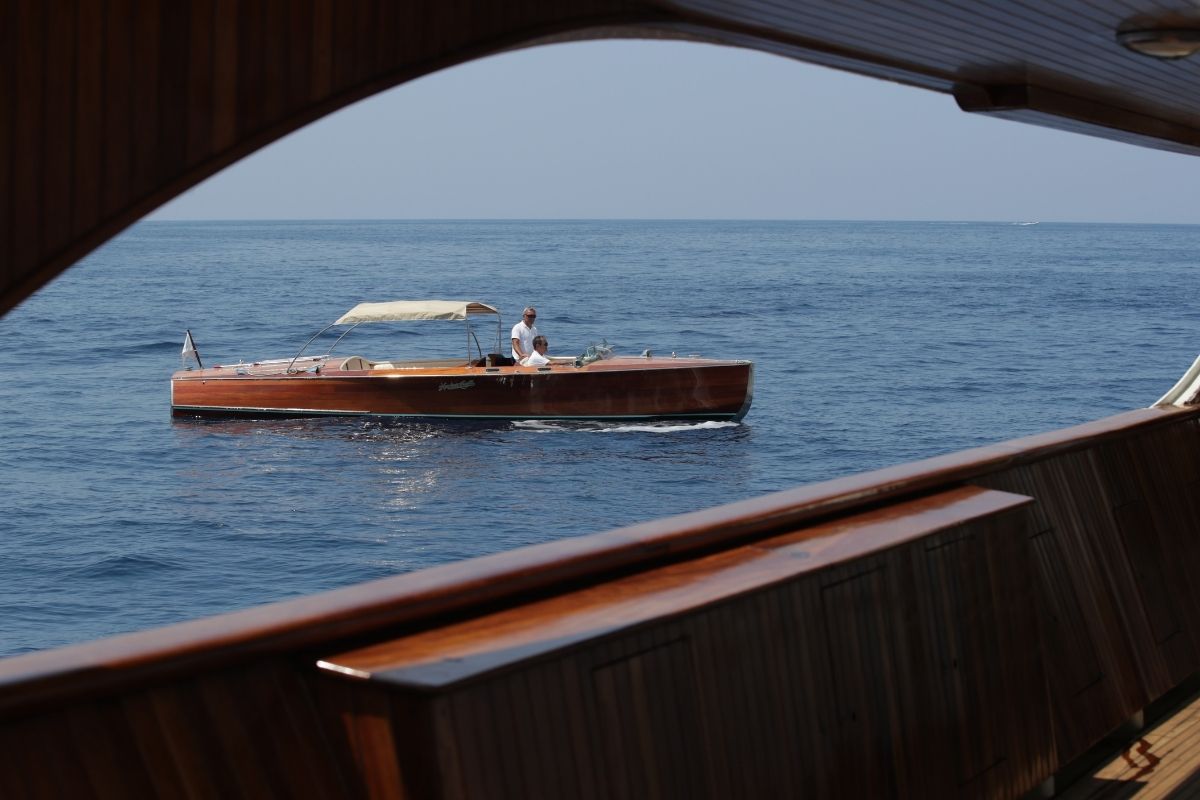 Operations manager Florin Belciug has worked on board for 12 years and agrees that Christina O offers a unique experience to charter guests. "She has a classic history and charisma that most boats just don't have. Many charter clients choose her for this reason. The Americans love the fact that Jackie Onassis and JFK spent time on the yacht. They are impressed from the moment they step on board."
Christina O is stable, cruising fast with her relatively new engines up to a top speed of 19 knots and, with sufficient officers to allow the yacht to sail from one anchorage to another overnight, every night, guests can enjoy a full day at a new anchorage from daybreak.
Charters can cover significant distances; during one charter in 2019, Christina O departed from Venice to cruise down the coasts of Croatia and Montenegro and through the bay of Kotor before heading across to Sicily and the Lipari Islands, and then north to Capri and Amalfi, finishing in Naples.
She is also one of very few yachts legally allowed to charter in Greece with a non-Greek flag thanks to possession of a Greek charter license.
Even for those guests who are well versed in chartering, Christina O is guaranteed to eclipse any past experience, setting the bar on superyacht style and luxury at the highest level of excellence.
Images: Stef Bravin