Christina O
99.13m | Canadian Vickers | 1943 (2020)
Michelin-trained Executive Chef Damien Perrinel enjoyed an illustrious apprenticeship before joining the superyacht Christina O in 2011 to head up a team of six professional chefs.
The French-born chef started cooking at 17, spending two years training at the Michelin-starred La Chataignerie in Nantes before working in one and two Michelin starred chateaux around France.
He continued his ascent, moving to London to work at the 1901 restaurant at Hyatt's Andaz Hotel in the City before returning to his native France.
"I was working in the South of France and my friend who was head chef on Christina O wanted to leave. He called me and asked if I would like to replace him. It was a new challenge for me, a chance to do something different. I have no regrets; I love everything about this yacht! Our galley is big enough for my team – it's almost like working onshore in terms of the space we have."
Chef Damien talks us through the ever-challenging rigours and rewards of cooking on board one of the world's most revered and unique superyachts.
What are your specialities and what is your favourite type of cuisine?

I don't have a speciality – I love to cook any kind of food, be it fish, seafood or meat. My preference is French, Italian and Mediterranean food but it's important to be knowledgeable about all kinds of food. My sous chef spent time in Japan, so he is excellent at sushi and asiatique recipes.
We can offer degustation (tasting) menus, fine dining and cocktail parties for up to 150. In the kitchen, we have several different nationalities who always bring something new to make the guests happy. All our guests are surprised and impressed with what we cook.
Where do your inspiration and ideas come from?

I go to new restaurants, I read a lot of books and try to learn new techniques. When I'm off work, I experiment to create new dishes. There are some amazing food photos on Facebook and Instagram too which I find useful.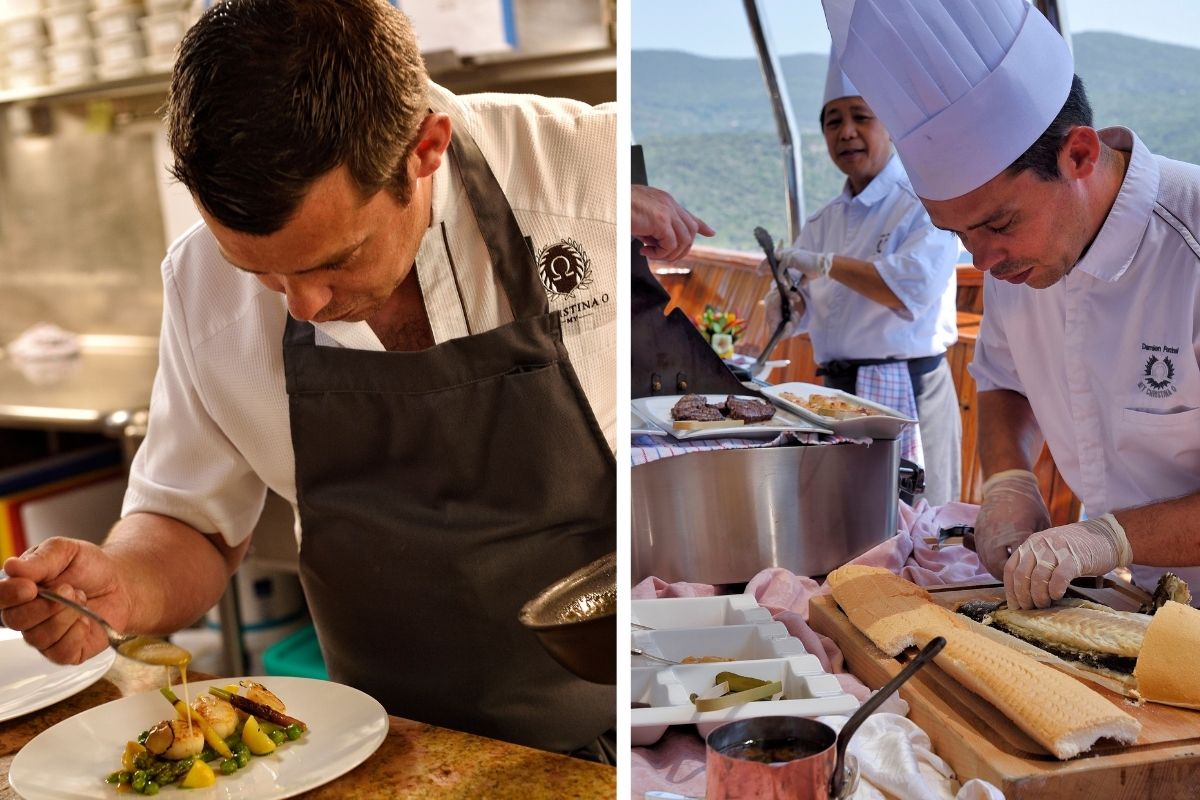 Who are the chefs you most admire, and which ones have influenced your cooking?

I would say all the chefs I've worked with have influenced me. When I was learning to become a chef at La Chataignerie in North Western France, Mr Delphin was a two Michelin-starred chef and we spent the afternoons together. He would buy all the products I needed to get through my exams. The two chefs I look up to are Yannick Alléno, who is world-famous with restaurants in Paris and Dubai, and Arnaud Donckele, who runs the restaurant La Vague D'Or in St Tropez. He is a young and amazing chef. I love what he is doing.
How would you describe the culinary experience for guests on board Christina O?

We can offer any style of food – from a buffet around the swimming pool to cocktails and canapes through to fine dining. We have a dining area where we can seat all the guests at a huge beautiful table. Many of our guests who are used to yachting holidays have told us they have never eaten quite like this on a yacht before. The space we have outside makes it a different and very special experience and atmosphere compared to other yachts.
What's the secret to cooking high quality food on board compared to ashore?

Choosing high quality products from trusted suppliers is 80% of your work. You need the best products from the right suppliers. We cook for up to 34 guests plus 40 crew so most of the time we buy from suppliers rather than going to the market. Our French, Italian and Greek suppliers work with us. On land you can get your products every day but when at sea, you really need to think and plan ahead to make sure you have what you need.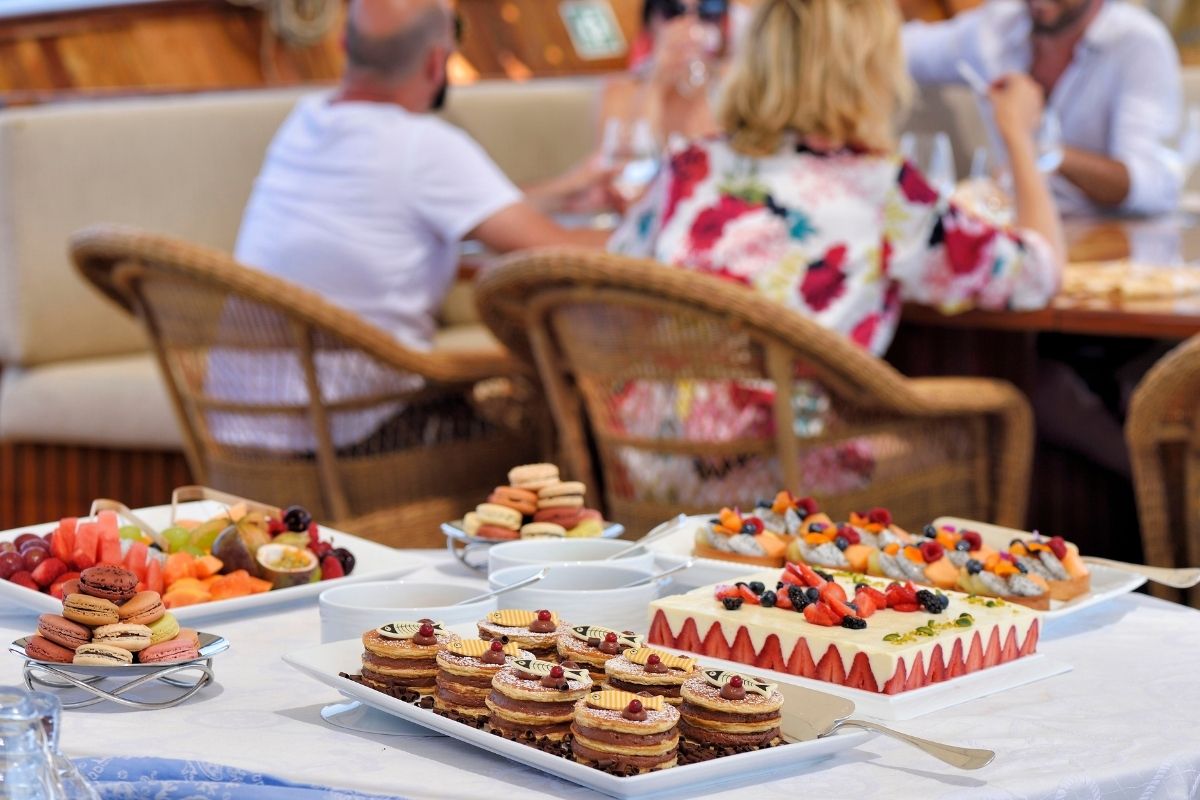 What are your favourite destinations for sourcing local ingredients?

For me the most amazing is Italy, and then France. You can find the most wonderful products in Naples: cheese, fish, seafood. Sardinia is also amazing for fish. And France always delivers on quality.
How do you cater for special dietary requirements, and are you seeing more demand for vegetarian, vegan and gluten-free recipes?

We get a lot of vegetarian and gluten-free requests. There are always a few guests on every charter who follow paleo diets, so we are used to this. We speak with the charter agent a while before to check their requirements and I create menus around 10 days before they come on board, which we can discuss and agree on. Good communication means the charter will run smoothly. We have good alternative ingredients like dairy-free almond milk as well as gluten free flour.
How do you cater for young children?

We always create a children's menu which the parents can check over. We can do fast food, fish or meat dishes, depending on the parents' wishes, and we also create delicious desserts for kids. We offer the menus for the day in the morning which can be changed according to parents' wishes.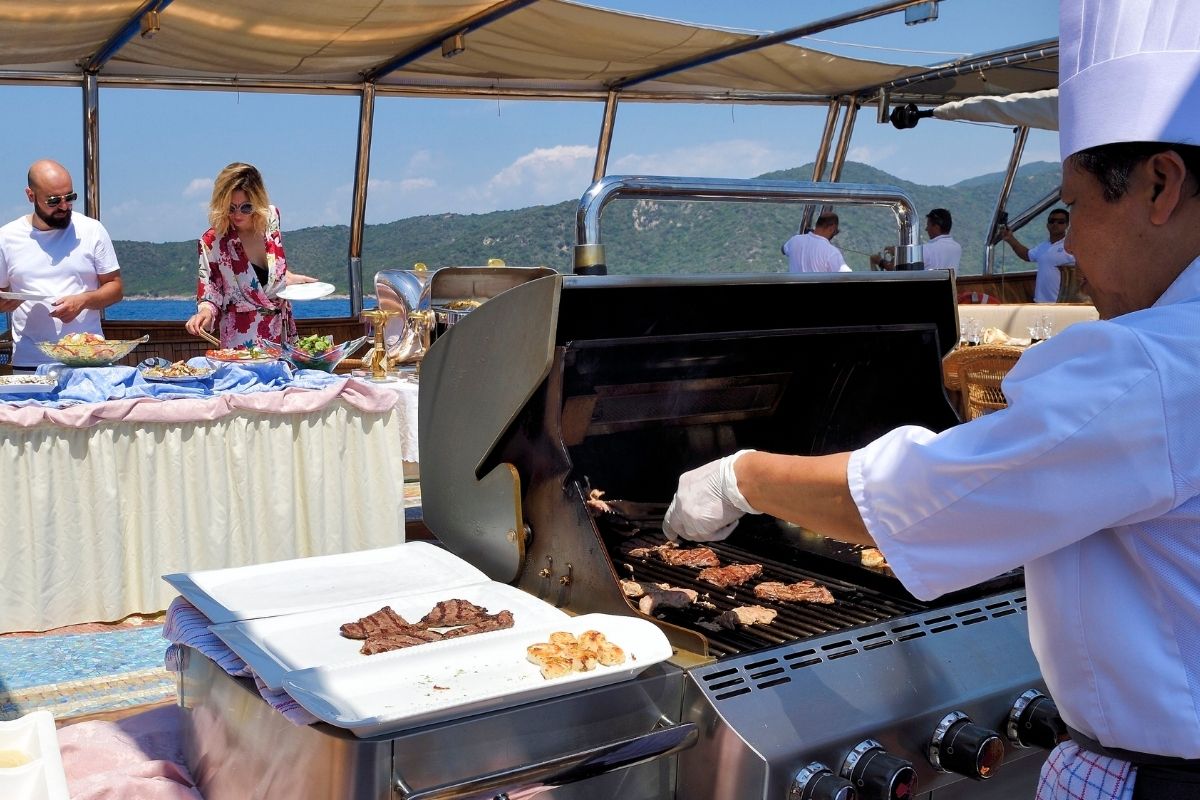 What kind of fare do you create for parties and special events?

With a capacity of 150, we often do a buffet or lots of different canapes. We hosted the wedding of Heidi Klum last summer which was fun.
Do you have any input with table-scaping along with the stewardesses?

I always look at the table dressing before service to make sure it suits the style of the menu. We try and bring something different to complement a Mexican or Oriental style dinner for example. Sometimes I will ask the barman to create a special cocktail to go with one of the dishes that will surprise the guests, or we might do a Limoncello dessert accompanied by little shots that go well with that.
What do you enjoy most about working as a superyacht chef?

I enjoy seeing different destinations and experiencing different cultures and learning from them. I love Croatia and Montenegro; they are beautiful countries.
What are the highlights of working on Christina O?

We hosted three Michelin-star chef Jean-Georges Vongerichten a few years ago for a week. He asked questions about our dishes and asked for some of the recipes. We also had a chance to cook together on board which one of the best moments of my life!
Images: Stef Bravin