There's nowhere in the world really quite like Mykonos. The whitewashed, windswept Greek isle possesses a mysterious magnetism and singular charm that is hard to resist.
Ever since the island mesmerized Jackie Kennedy in 1961, it has attracted discerning visitors from far and wide.
A firm fixture on the Mediterranean summer holiday circuit, the characteristically rocky Cycladic isle measures a mere 86 square kilometres. Yet, it's bursting with sandy beaches, azure waters, elegant hotels, buzzing beach clubs, traditional tavernas, eclectic restaurants, hip bars, high fashion and hand-crafted artisanal items. Best of all, Mykonos has countless spectacular bays where you can moor or drop anchor and relish all that the island has to offer.
With a permanent population of just over 14,000, its transformation from an island of fishermen and farmers into a hedonistic holiday destination is positively mind-boggling. Anastasios Naoum, commercial director of Myconian Collection Hotels & Resorts, credits the island's phenomenal success to the relentless Mykonian work ethic. "I haven't seen anyone anywhere work as hard as the Mykonians do," he said.
Deftly combining high-quality services with an open, laidback attitude to vacationing, Mykonos has long shown the rest of Greece how to attract and retain devotees.
In recent years, celebrities and other high-profile personalities have flocked to the island, many choosing to stay on a charter yacht, conscious of the freedom and privacy it provides. Fashion label Dsquared2 designers Dean and Dan Caten, singer Nicole Scherzinger and model Gigi Hadid have all spent time exploring Mykonos from the comfort of a superyacht.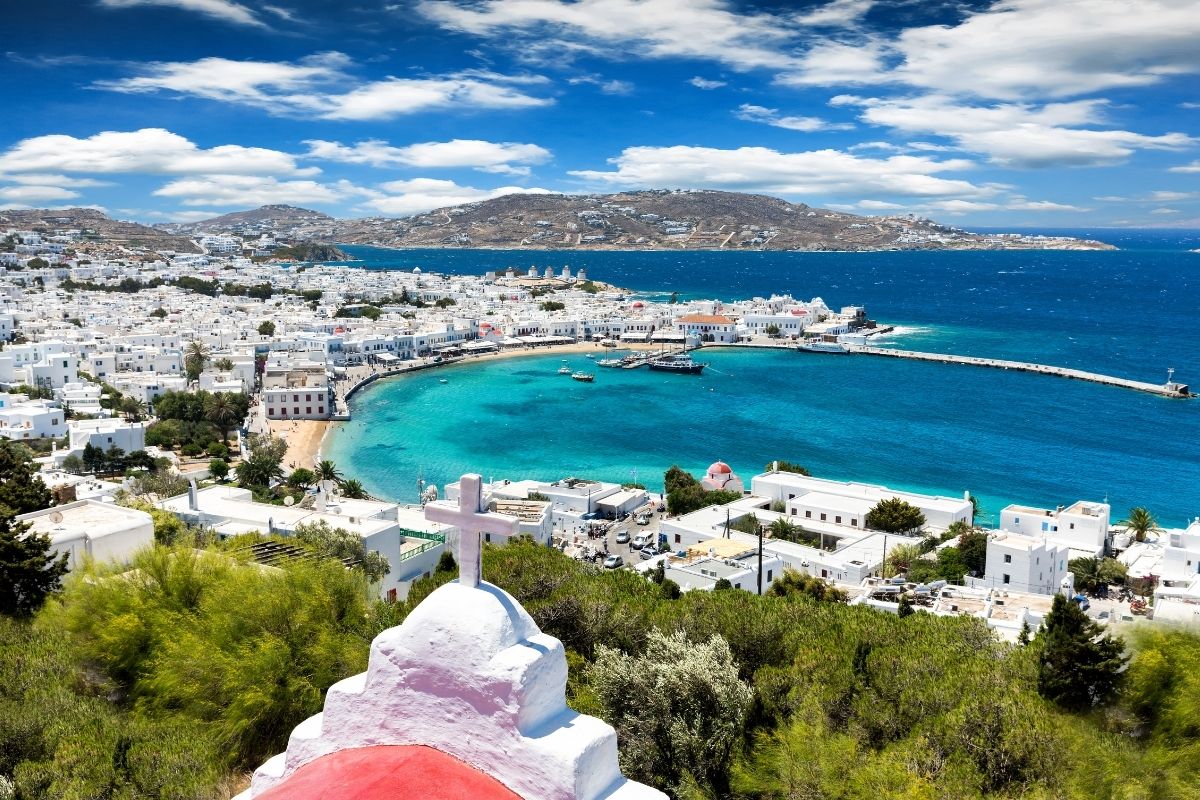 Mooring in Mykonos
Mooring balls and floating docks in numerous bays make anchoring and reaching shore by tender easy. The bays of Ornos, Platis Gialos and Psarou count among the busiest anchorages. The island's New Port in Tourlos, 3.4km north of Mykonos Town, is a work in progress and has very limited berths available in its marina, so make sure to contact the municipal port fund at least 24 hours ahead of your arrival, preferably via SMS. The Old Port, beside the capital, has a small number of berths for yachts larger than 25m (82 feet), allowing only passenger disembarkation or embarkation.
Arriving by yacht also means you can avoid the traffic snarls on the island's roads particularly prevalent in the peak months of July and August.
Mykonos' location in the centre of the Cyclades allows for easy passages to other islands in the South Aegean, including those that are smaller and less frequented.
Here's our guide on how to experience the best of Mykonos.
Where to stay
Destino Pacha Mykonos
The group behind iconic Ibizan nightclub Pacha chose Mykonos for its first hotel opening outside Spain. Destino Pacha Mykonos, an earthy, minimalist adults-only boutique property aimed at those 35 and up, oozes good vibes and is a natural fit for the island.
Situated high up on a plateau in Agios Stefanos, in the low-key northwest of the island, the 34-room hotel is designed for all-day lounging, in your silk pyjamas if you like. Take shade in a cabana poolside and revel in sweeping views of the Aegean, Mykonos Town and Delos islet. Afternoon calls for a deep tissue massage with essential oils or tailor-made body scrub at the on-site spa.
When aperitivo hour rolls around, head to the Moroccan-styled bar for a Pa-Chaca cocktail. Dining here is an unfussy, smartly-curated affair: menu highlights include grouper carpaccio and creamy shrimp risotto. Stay long enough to catch the weekly sunset party, where guest DJs spin organic, chill and indie house beats for a friendly, cross-generational crowd.
Kenshō Ornos
Smooth stone shapes, gnarled olive wood and mood lighting characterise this attractive 35-room five-star boutique hotel – very much a lovers' retreat - hidden on a peaceful cliffside of seaside settlement Ornos. Kenshō Ornos, which takes its name from the Japanese word for enlightenment, features exceedingly private, open-plan sea view suites, some with an outdoor hot tub or plunge pool.
It's all about slowing down here, so treat yourself to a relaxing massage with divine Codage body oil followed by a heat, sound and colour therapy session in the underground spa cave.
Tune into island time with a pre-dinner sundowner at the rooftop lounge bar which looks out over Ornos Bay.
Its impressive restaurant feels like a well-kept culinary secret. Chef Ippokratis Anagnostelis, who hails from Mykonos, crafts Mediterranean-Asian fusion dishes like gyoza stuffed with local sausage and comfort fare such as slow-cooked lamb with aubergine. Valrhona consultant Dimitris Chronopoulos is his patissier partner-in-crime, so don't skip dessert, particularly the almond semifreddo.
Myconian Villa Collection
George Daktylides, founder of luxury hotel group Myconian Collection, represents one of the island's biggest success stories. He started out as a bus driver then moved into construction materials before opening a modest 25-room hotel with his wife Eleftheria in 1979. Today, the family-owned hospitality brand owns and operates 10 five-star properties on Mykonos, including the Myconian Villa Collection above Elia beach, in the south of the island.
The 96-room resort is a sophisticated take on the Cycladic essentials of stark white exteriors and hand-worked stone. Contemporary works of art, such as oversized flowers made from oak, invite you to linger in the spacious reception lounge. All rooms deliver soul-lifting sea views, some with hot tubs or pools, while villas offer greater seclusion. If you feel like socializing, head to the Tiki-reminiscent infinity pool bar. Down at Elia beach, while away the day on sun loungers reserved exclusively for guests. Breakfast is a lavish affair thanks to Athenian chef Thodoris Kyriakidis, who also presides over poolside restaurant Cabbanes.
Beaches for all tastes
Considering its small size, Mykonos is blessed with an astounding number of wonderful beaches, certainly some of the best in the Aegean. If you go in early June, know that the deep crystalline waters will be especially cool.
The most popular beaches are concentrated in the south of the island, which are relatively well protected from the meltemi, a strong, dry northerly wind that blows steadily through the Aegean from June to September, tempering the summer heat.
Families tend to prefer the sizeable, sheltered beaches of Platys Gialos and Ornos, namely for their calm, shallow waters, plethora of parasol and sun lounger sets and proximity to waterfront bars, tavernas, restaurants and shops. For something a little quieter, head to Agios Sostis in the north.
Psarou beach, whose aquamarine waters and fine golden sand are particularly well protected from the wind, draws the yachting jet set. It plays host to exclusive beach bar restaurants and a high-end shopping village. Drop anchor in the bay or reach its floating dock by tender.
Paraga is lined with beach clubs, therefore, geared toward those looking to party, while Super Paradise is a little more low-key and suited to families and couples.
Elia, a favourite among LGBT visitors, and Kalo Livadi are two of the island's most cosmopolitan beach destinations.
Windsurfers head to the lesser-developed beaches of Kalafatis and Ftelia for their constant winds.
What to see and do in Mykonos
You'll quickly realize why it's so easy to lose your way in the island's capital, known as Chora; its maze of smartly-kept alleyways, dripping with magenta and baby pink bougainvillea, was designed to baffle invading pirates.
Ancient history isn't usually the first thing that comes to mind when one thinks of the island. Yet, one of its unsung treasures is an archaeological museum, where artefacts dating from the prehistoric to the late Hellenistic period are on display. Most were excavated from the nearby isle of Rhenia, rather than Mykonos itself.
You might also be surprised to learn that Chora is home to some 60 churches. Its most curious is Panagia Paraportiani, actually five churches in one built between the 14th and 17th centuries.
As the day draws to a close, make your way to Mykonos' much-photographed windmills to see them bathed in a technicolour sunset. Admire the quintet of silent sentinels up close or with a cocktail in hand at one of the waterfront bars at Little Venice.
Along Matogiannia and surrounding streets you'll find upscale boutiques stocking Greek and global brands as well as stores featuring locally-handcrafted jewellery, knitwear and sandals.
Don your new Greek-designed swimsuit for a day trip with Sunfos Alessia Yachting aboard a sailing yacht to the nearby uninhabited isle of Rhenia, where you can swim and snorkel in turquoise waters. Afterwards, enjoy an in-depth guided tour of UNESCO World Heritage-listed Delos island, one of Greece's most significant and best-preserved archaeological sites.
Familiarize yourself with another essential element of Greek island history and culture: its traditional wooden, wide-bellied motor sailing boats, known as a trehandiri or caique. Santa Marina, a Luxury Collection Resort, Mykonos has two fully-renovated caiques in its fleet which can be booked for private day trips, ideal for families or friends travelling together, to one of the island's quieter beaches or further afield. Dive off the deck, savour a light salad lunch onboard from Buddha-Bar Beach Mykonos then take an afternoon snooze on a comfy daybed as the waves rock you to sleep.
If speed and complete solitude is more your style, the hotel can arrange a heart-racing ride on a Norwegian-built, military-grade Goldfish X9 RIB, whose cruising speed is 50 knots, to Mykonos' most far-flung beaches.
Where to dine
Mykonos Social by Jason Atherton
Jason Atherton, the lauded British chef behind an ever-evolving global empire of restaurants, including Michelin-starred establishments in London and New York, selected Mykonos for his first Mediterranean venture because he adores its "bohemian air of sophistication". Mykonos Social by Jason Atherton, an all-day, open-air restaurant situated at Santa Marina Mykonos above the superyachts anchored in Ornos Bay, is firmly focused on casual fine dining inspired by classic summery Hellenic fare. Atherton, who spends part of the season on the island, is particularly fond of the local rock lobster, red bream and bottarga.
Zuma Mykonos
Global restaurant chain Zuma has brought its distinctive combination of contemporary Japanese cuisine with an uplifting atmosphere and warm, attentive service to the island of the winds to great success. Located within hip seaside hotel Cavo Tagoo, this seasonal pop-up is ideally suited to large parties. Fun-loving patrons of varying ages share multiple courses in informal izakaya style and sip on premium sake while singing along to summer house music anthems. Expect sumptuous platters of fine sushi, nigiri, maki, tempura, succulent robata-grilled fish, seafood and wagyu; don't miss the irresistible chocolate soufflé. Make sure to book in advance.
Nōema
British restaurateur Richard Caring tapped globe-trotting Greek chef Athinagoras Kostakos for Nōema, one of the most highly-anticipated new entries in Mykonos' dining scene. The season-conscious young Athenian has fashioned a formidable debut menu for the multi-level, hybrid establishment positioned at the edge of Chora. Models and mothers with their teenage offspring alike feast alfresco on mostly pescatarian and vegetarian dishes, such as crispy octopus with oxymel and wild oregano, sun-dried mackerel in lemon verbena sauce and pistachio ice cream with olive oil. Nōema, the Greek word for meaning, also encompasses a bar and concept store embracing Greek design.
Kenshō Psarou
Sushi aficionados in need of a maki fix gather for long, lazy lunches in the shade of palm trees at five-star boutique hotel Kenshō Psarou's restaurant on chichi Psarou beach. Post-swim, start with a revitalising spinach, avocado, coconut and almond smoothie. Japanese and Peruvian elements co-mingle on the menu whose standout dishes include the elaborately-named Volcano, which involves sushi rice layered with king crab meat, tuna tartare, avocado, spicy mayonnaise, kabayaki sauce and yuzu tobiko. Coolly unpretentious, the dress code is beachwear and, if you like, barefoot. Aim to coincide your visit with one of the regular rousing live performances pairing DJs with musicians.
Where to party by day
SantAnna
A lagoon-shaped saltwater swimming pool lies at the centre of sprawling leisure complex SantAnna, on Paraga beach. It's one of Mykonos' most coveted daytime mainstream party spots, so you'll need to reserve a cabana or sunbed, by the pool or on the beach, ahead of time. VIP sections near the DJ booth and stage, where turntable talent such as Joseph Capriati and big-name hip hop artists like Tyga perform, are snapped up quickly.
Alemàgou
If you're on the island in July or August, you might want to see why long-weekending Athenians, many of whom arrive by yacht, meet up at beach bar restaurant Alemàgou on Sundays. Situated on windswept Ftelia beach, a 12-minute drive east of Chora, this all-day free-spirited hangout mixes a little bit of Mexico with Mykonos. Make sure to check out the neo hippie designs at the on-site boutique housed in a military tent.
Where to party by night
Lío
Contemporary cabaret restaurant Lío, an Ibizan haunt beloved of the superyacht set, has quietly landed at a central, open-air location Mykonos and seems to be fitting in well. Singers and dancers from around the world put on an entertaining multi-genre show spanning more than two hours. Operatic arias, boy band pop hits, stirring soul, slapstick skits and even a slow striptease are all part of the fun.
Wellbeing
Treat yourself to a rejuvenating spa session featuring innovative London-based skincare brand 111SKIN, founded by Harley Street cosmetic surgeon Dr Yannis Alexandrides, at Santa Marina Mykonos' Ginkgo Spa. Sample the 60-minute Serenity Experience, which aims to calm the body and mind with a relaxing massage involving rose quartz, jasmine, tuberose and lime blossom. Reminiscent of a modern-day ancient temple, the spa can be easily accessed from the hotel's dock.
Read Next: