Exploring Costa Rica from Marina Bahia Golfito
Nestled in the lush eco setting of Costa Rica between the jungle and ocean, IGY's Marina Bahia Golfito sets an incredibly high standard for owners and charterers alike.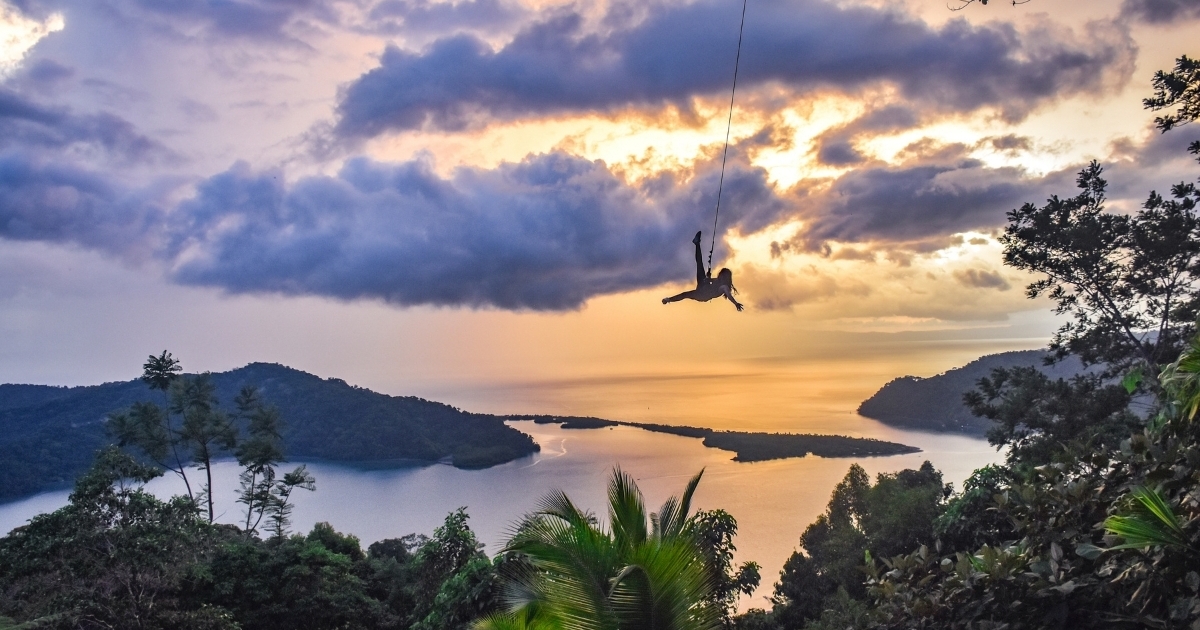 Nestled in the lush eco setting of Costa Rica between the jungle and ocean, IGY's Marina Bahia Golfito sets an incredibly high standard for owners and charterers alike.
Located in the heart of the Golfito Wildlife Refuge in Golfo Dulce, an hour south of San Jose in Costa Rica's largest region Puntarenas, this beautiful and serene spot on the country's Pacific west coast offers the chance to enjoy the famed 'Pura Vida' lifestyle alongside every conceivable mod con.
Prepare for a welcome filled with warm smiles, stunning flora and fauna and jaw-dropping adventures as you explore this veritable paradise.
First and foremost, Marina Bahia Golfito offers a peaceful and tranquil atmosphere which is guaranteed to make your shoulders drop from the moment you arrive. The beachfront bar Paka Paka has views of Golfito Bay and is the perfect place to enjoy a cool refreshing glass while you plan exactly what you want from your stay.
With a rich biodiversity and a reputation as one of the early pioneers of global eco-tourism, Costa Rica attracts visitors from all corners of the world. Rightly so, as this tiny Central American country, which covers just .03 per cent of the globe, contains five per cent of the world's existing biodiversity, punching well above its weight.
An eco-tourist's dream, Golfito boasts idyllic beaches, staggeringly beautiful waterfalls and a natural beauty that simply cannot be equalled anywhere else in the world. Hiking, surfing, kayaking and bird-watching are just a few of the activities you can enjoy.
Pavones beach, one hour from Golfito, offers the second longest left wave in Costa Rica, which surf and kite surf enthusiasts will adore, and is also the ideal spot for a relaxing beach picnic afterwards.
With its coral reefs, sea turtles, dolphins, manta rays, whales and sharks, nearby Caño Island will appeal to divers and snorkellers alike who are keen to discover one of the globe's most outstanding marine destinations.
Renowned as the home of Costa Rica's big game fishing, Golfo Dulce can host a variety of exciting fishing activities within a few miles of shore where you can angle for marlin, sailfish, dorado, wahoo, roosterfish and many more.
If land-based adventures appeal, the only decision is where to begin. Sail over dense green rainforest on an exhilarating zipline from the top of Puerto Jimenez mountain before canyoning down waterfalls and enjoying a hike through the beating heart of the jungle.
A tour of Corcovado National Park on the Osa Peninsula will take you through a conservation zone of the largest primary forest on the American Pacific coastline. Hike in natural habitats and prepare for sightings of the reserve's resident population of squirrel monkeys as well as endangered species including tapirs, jaguars, ocelots and scarlet macaws.
Nature lovers will also enjoy a trip to Peidras Blancas National Park, which was created in 1993 to protect the only remaining lowland tropical rainforest in Golfo Dulce. Nature trails, waterfalls and beaches are plentiful here.
And no trip to Golfito is complete without a tour of its amazing city where you can learn about its early history as a banana port, marvel at the pre-Colombian spheres and admire its beautiful sights, tastes and sounds.
When the day is done, head back to the marina's exclusive La Playa restaurant to enjoy stunning views, fine dining, delicious fish and seafood platters and amazing service.
Chief among Marina Bahia Golfito's unique attractions is its Amaka Ocean Living Lodge. A hidden waterfront hotel with 10 bedrooms, this sanctuary is framed by the majestic protected landscapes of surrounding tropical rainforest and occupies a prime position where the jungle meets the ocean.
Offering a tantalizing level of gastronomy, this lodge was created for genuine eco-tourists seeking a deeper connection to nature and is certain to provide the most idyllic destination for discerning vacationers who are seeking to recharge and regenerate in one of the most unusual and invigorating areas on earth.
With a total of 45 slips, nine of which are mega yacht berths, Marina Bahia Golfito caters to a maximum length of 350ft (107m) with maximum drafts up to 29ft (9m). As well as on-site dining at La Playa restaurant and Paka Paka beach bar, there's also a crew lounge and a large corporate hospitality space.
Topline services include 24 hour dock security, high speed internet service, the fastest filtered pump fuelling in Central America, dispensing up to 200 gallons per minute, Seaflex technology mooring, pump out, waste disposal and concierge services and a protected basin.
Furthermore, you can find a tourist information centre, car rental depot, water taxis to neighbouring islands and local restaurants, Customs and Immigration and laundry services all on-site.
'Marina Bahia Golfito has developed the infrastructure to handle the largest yachts travelling through this region,' said IGY Marinas CEO Tom Mukamal. 'It is the ideal spot to charter because of the proximity to so many incredible activities.'
IGY Marinas is the world's only international superyacht marina network, with 21 marinas operating in 13 countries across the US, South America, the Caribbean, UK and Europe.
Marina Bahia Golfito's Covid-19 requirements include completion of the digital health pass. All visitors who are fully vaccinated are able to enter the country and the marina is open to international traffic.
Thanks to new charter regulations in place, foreign flag vessels are now allowed to bring their guests into Costa Rica's magical waters, meaning that nothing stands in the way of making Marina Bahia Golfito your destination for the holiday of a lifetime.
Read Next: