The recently redeveloped Briland Club Marina on Harbour Island is fast becoming one of the region's hottest new yachting destinations, offering a level of luxe that will seduce even the most seasoned superyacht owner or charterer.
With The Bahamas already known as a secluded haven popular with international celebrities including Bryan Adams, Elle Macpherson, Tiger Woods and Lenny Kravitz, to name just a few, Harbour Island's unique charm is also home to one of the world's most well equipped and scenic marinas, set on the stunning turquoise waters of the North Atlantic Ocean.
Famed for its plentiful fishing, sublime diving and snorkelling opportunities, exceptional water sports as well as discretion and privacy, it's no wonder that Harbour Island has been dubbed the 'Nantucket of The Bahamas.'
Indeed, this stellar reputation sits perfectly alongside the friendly and classy ambience of Briland Club, which is exemplified not only by its village style setting adjacent to the water but also by its accessibility, convenience and of course, a brand new full-service style, best-in-class mega yacht marina.
Alongside intimate anchorages off the brilliant two mile long pink sand beach, where you can swim with turtles and pigs, engage in water sports and take fishing charters, the exceptional quality of scuba diving is sure to captivate you, with guided dive tours exploring shipwrecks, underwater caves and stunning coral reefs.
The land-based facilities throughout this picturesque 27 acre site – on an island Forbes magazine once declared as the 'crown jewel of the Caribbean' - are also numerous. Within a few steps of your mooring, you will find local restaurants and cuisine galore, unusual artisan and designer shops, a bakery, deli, gallery, Briland Residence style hotels and dive shops as well as a florist, medical and laundry services and naturally, truly great provisioning.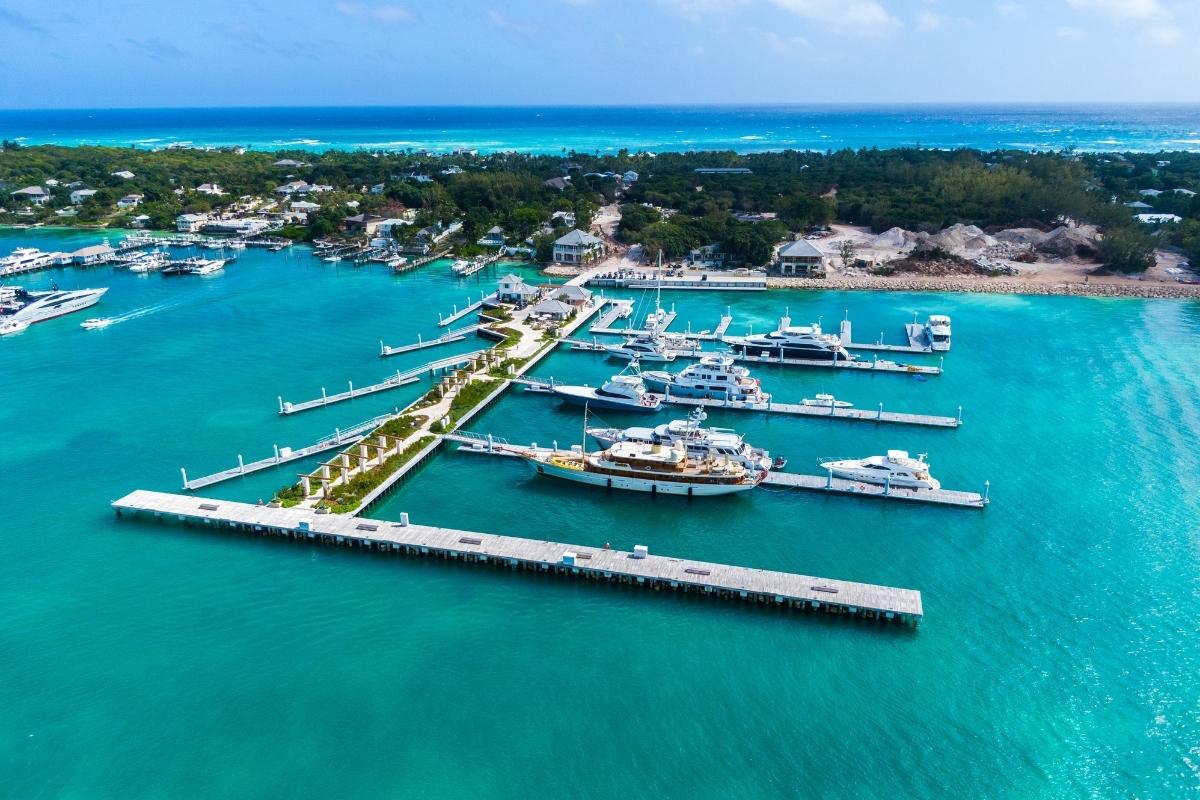 Why not grab lunch at the famous Queen Conch seafood restaurant in nearby Dunmore Town, where fisherman drop their day's catch, before heading off on a bonefish fishing trip or a wander around the many cool boutiques. You can even arrange a sunset horseback ride along the water's edge before freshening up for aperos or some fine dining under the iconic Stewart-style arches of the historic 'Haunted House' mansion.
While there's plenty to do on the island itself, additionally, owners and their guests can enjoy on-marina amenities including a wellness centre, spa, kids club, waterside dining, golf simulators, golf carts for hire and easy access to incredible nature trails.
With five boat slip licences available this year as well as a sub-lease program, this is a full-service marina with all that that entails; a two storey dockmaster's office, full power ranges, high speed Wi-Fi and hard wired internet, 24 hour security, gated docks, a fixed breakwater and 15 ft wide floating IPE decked hurricane-proof docks as well as in-slip fuelling and pump out.
A food and beverage lounge and bocce ball court offer ideal downtime choices while yacht crew are also exceptionally well catered for. The crew lounge boasts advanced entertainment systems, game consoles, a pool table and table tennis as well as a work station/PC area and free Wi-Fi. A fitness centre is equipped with state of the art cardio machines, Nike ID and smart device ports while a laundry room, kitchen, showers and restrooms also feature.
Accommodating a range of vessels from 70 ft to over 250 ft, the marina is surrounded by charming features including aforementioned Dunmore Town – the first capital of The Bahamas – where the iconic, typically Bahamian pastel painted cottages remind visitors of the charm of a bygone era.
The Briland Residences and Marina is an outstanding addition to the yachting and tourism product offered in The Bahamas and this this quintessential yachting destination is sure to far exceed expectations."
Read Next: