Top 10 Dive Spots in the Caribbean
Whether you're a novice looking to start a new hobby, you've tried an introductory dive on your travels and want to explore more, or you're an experienced scuba diver seeking advanced certifications, exhilarating dive experiences can be found around the Caribbean.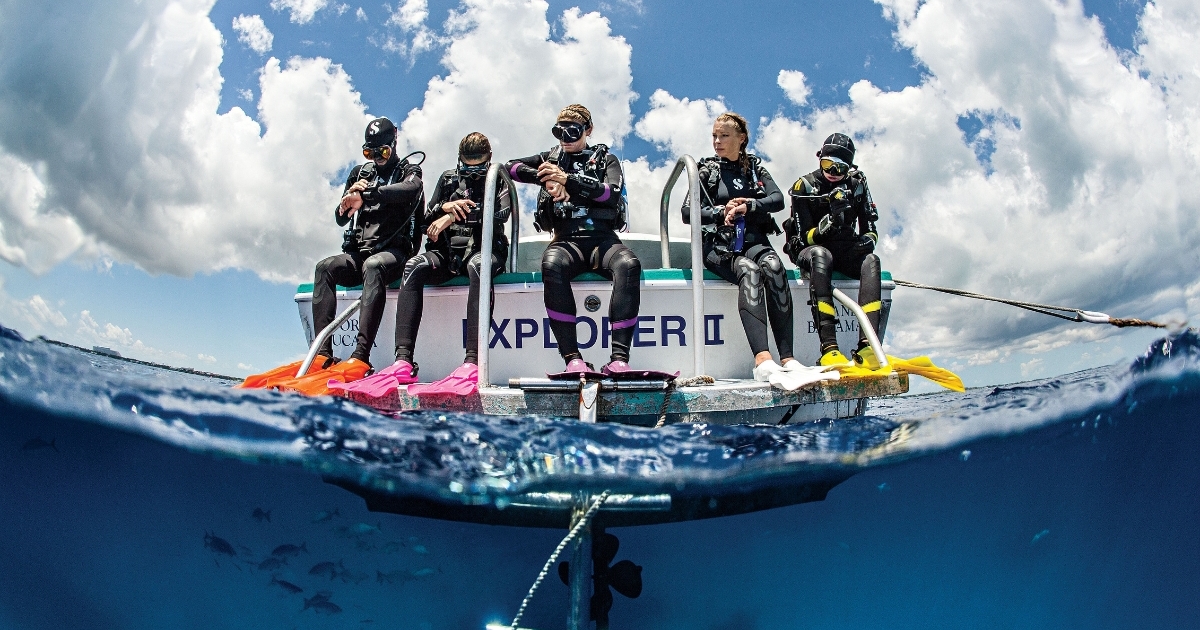 If you're not already PADI certified, the first step is to book your PADI Open Water Diver Course with a verified PADI Dive Centre. In doing so, you can be assured you're receiving top training from qualified dive professionals. They will guide you as you begin this exciting journey underwater.
For those looking for travel recommendations, PADI Travel PADI's global travel platform offers expert insight for local and international dive destinations and thousands of dive holiday packages to help you find the perfect holiday for your particular interests.
Diving in the Caribbean
Vast blue waters, plummeting wall dives and pelagic life are just a few reasons why you'll find some of the world's best diving in the Caribbean. From The Bahamas in the north to Bonaire in the south, the Caribbean is a serious hotspot among divers.
The area has long attracted explorers and, in more recent times, adventuresome scuba divers. With hundreds of islands, each with a special charm, the Caribbean and scuba exploration go hand-in-hand.

You'll find old wrecks, new wrecks, coral reefs, sheer walls, gentle drop offs and fabulous pinnacles to investigate. You can dive from shore, from dive boats or spend your days diving from a liveaboard. Warm, clear water, beautiful beaches and a laid-back pace make the Caribbean a good dive holiday choice.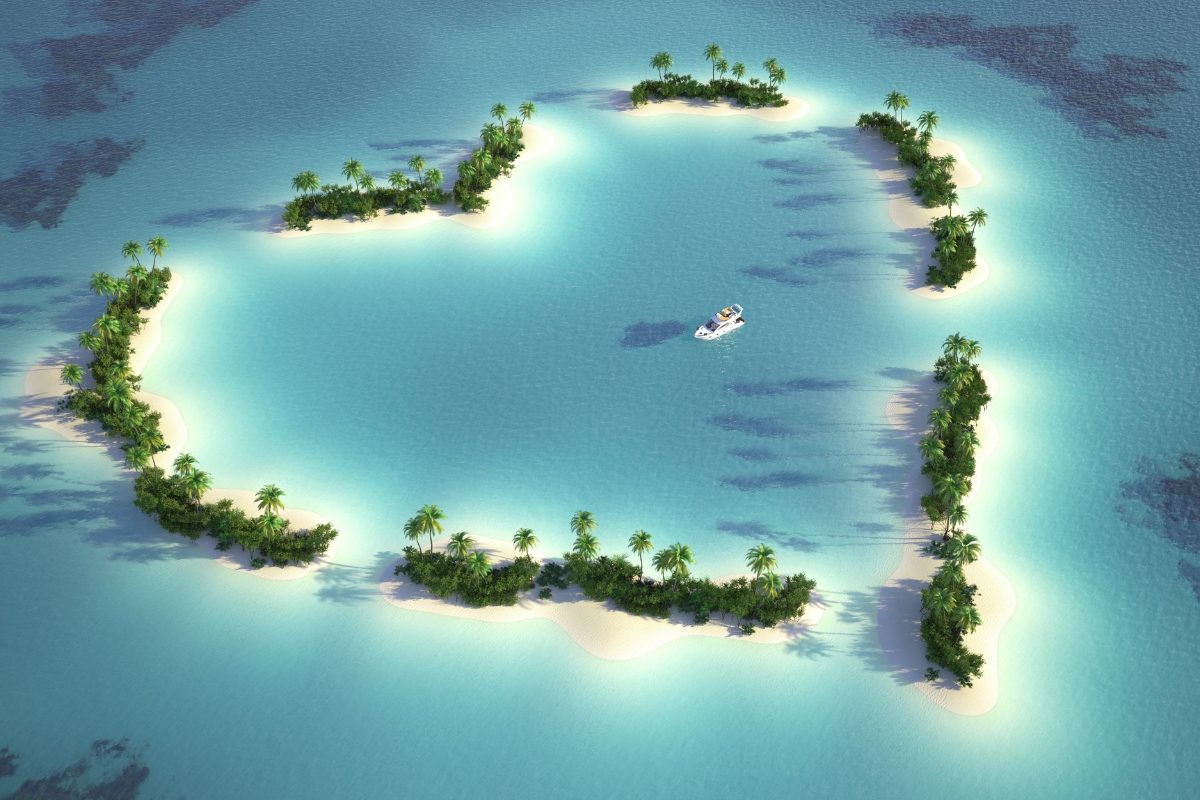 Belize
Between Mexico and Guatemala lies Belize, holding a UNESCO World Heritage Site title as the second largest reef system in the world. Alongside the world-famous 127-meter deep (416-foot) Blue Hole, this astounding location holds over 400 islands. Above all, the country boasts shore diving, gentle conditions for beginners, and likely whale shark encounters between April and June.
Finally, Half Moon Caye is one of the popular sites in Belize. It holds a minimum of 20-meter (65-foot) visibility and exceptional marine flora at Open Water-level depths. Turneffe Atoll (a circular reef system) is a bucket-list destination for larger marine life lovers, with common reef shark and sea turtle sightings.
Bonaire
Often dubbed the 'diver's paradise', Bonaire is a shore diver's dream. It sits in the southern part of the Caribbean Sea with its topography providing every unbeatable spot for the best diving in the Caribbean.
Firstly, for advanced level dives, the Hilma Hooker wreck rests at 30-meters (100 feet) between two reef systems. It's a breathtaking microcosm of diving in Bonaire itself – it has everything!
Furthermore, easily distinguishable by labelled yellow rocks, some of the most exciting shore dives in Bonaire include Angel City, 1000 Steps and Karpata. 1000 Steps is particularly famous due to the "staircase" taken down into the water, while wreck lovers enjoy Karpata's array of ship anchors.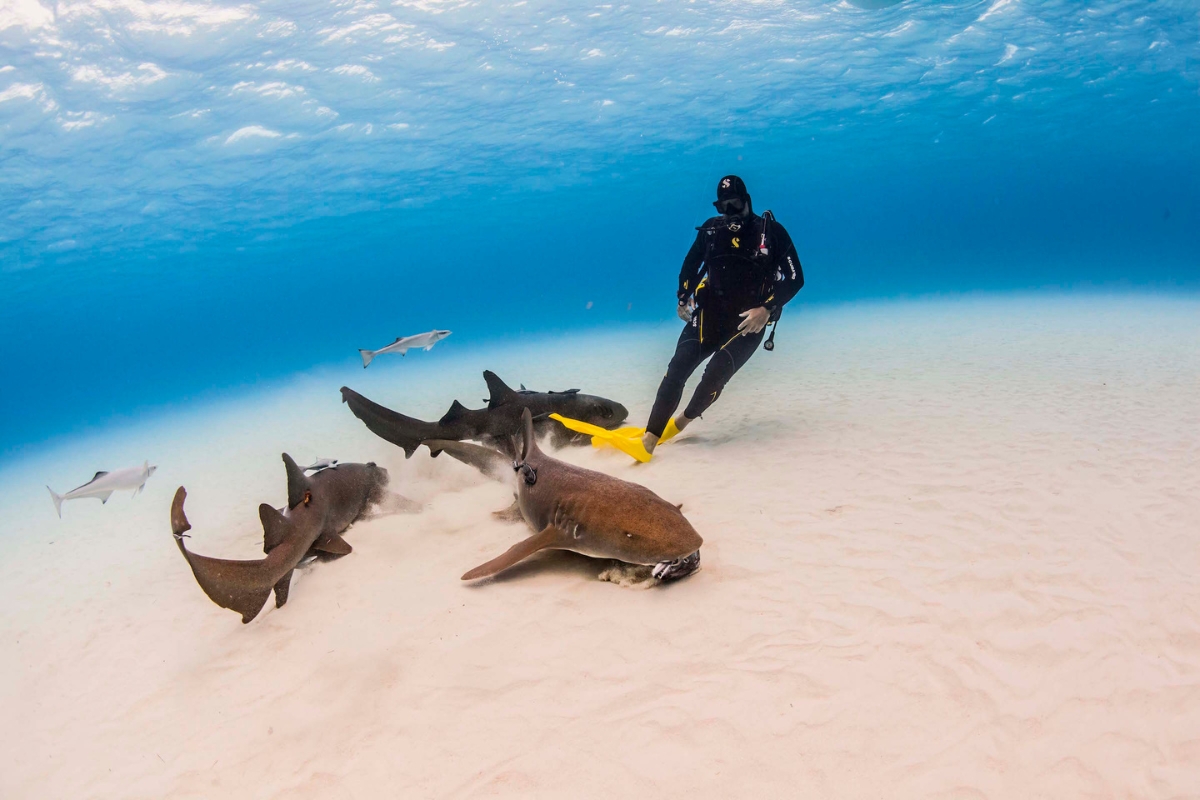 Cozumel, Mexico
Cozumel sits on Mexico's Caribbean coast and is known as a year-round diving destination. It's easy to get to with top-notch dive resorts for all budgets and holds over 45 dive sites! The southern area of Cozumel is protected as a marine park, successfully maintaining circuses of colourful marine life for beginners and advanced-level swim-throughs and drift dives.
As well as smaller life, dives in Cozumel will more often than not involve encounters with nurse sharks, eagle rays, turtles, green moray eels and the rare, splendid toadfish. Alongside the magical underwater world, Cozumel also boasts great nightlife and on shore activities for non-divers.
The Bahamas
National parks, swimming pigs, and flamingos, The Bahamas is not only a gold star dive location but also a fun-filled destination for non-divers, too. The archipelago is located between the Caribbean Sea and the Western Atlantic Ocean, with over 700 islands.
Additionally, adrenaline-seekers will enjoy the aptly named Tiger Beach. That's to say it's a hotspot for tiger sharks, while you can also catch hammerheads at Bimini on the same trip, ensuring some of the best diving in the Caribbean.
The hardest part of a trip to The Bahamas is trying to choose which dive sites to visit as the possibilities are endless. Jeep wrecks in Jeep Reef or advanced drift dives in Eleuthera and Harbor Island – which would you choose first?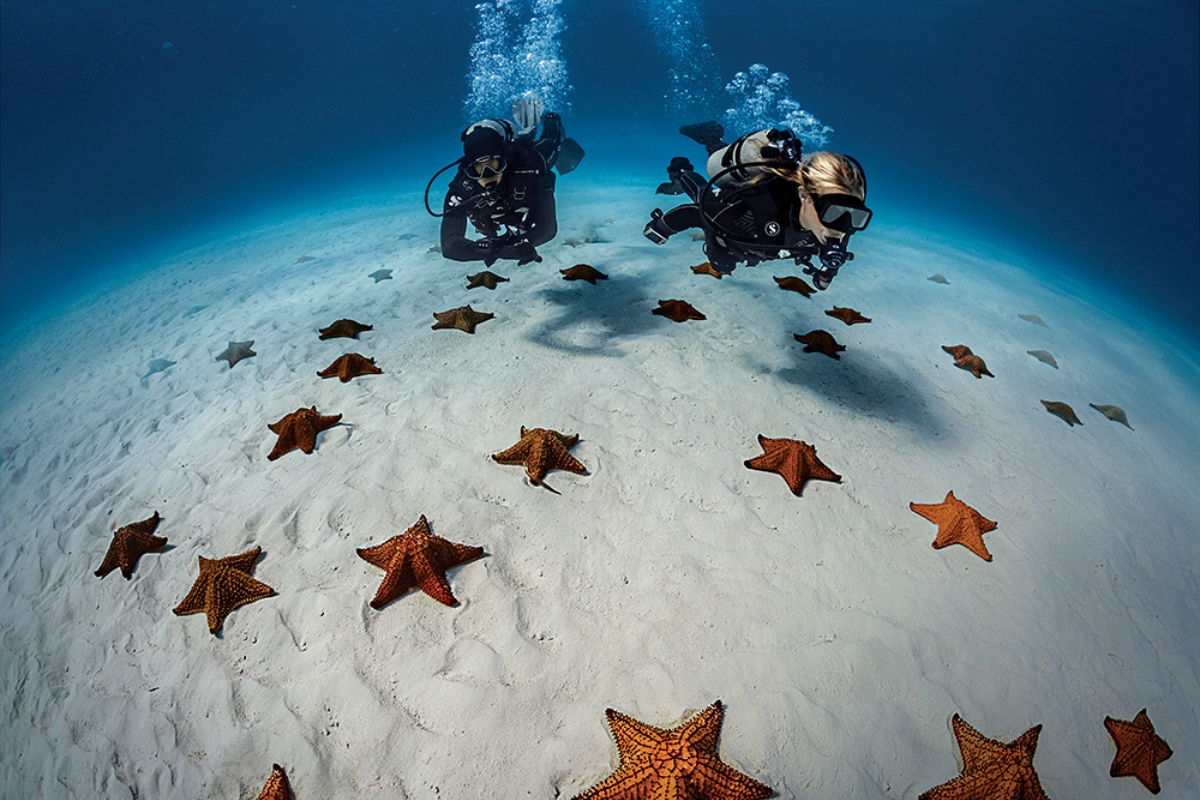 Cayman Islands
Grand Cayman possesses one of the best wrecks in the Caribbean, the USS Kittiwake. It rests at around 19 meters (65 feet) and is accessible for all abilities (the top of the wreck starts at 4 meters (15 feet)). Interestingly, the USS Kittiwake was actually artificially placed here after being donated by United States Maritime Administration (MARAD) in 2010.
Aside from wrecks, the Caymans also includes 'Stingray City'. This a collection of sandy banks that house huge arrays of stingrays accessible for divers and snorkelers. On Little Cayman, you'll also be able to explore the perplexing Bloody Bay Wall site that most divers dream of visiting.
Curaçao
The Caribbean certainly has a trend of striking wrecks, and the Superior Producer in Curaçao is no exception. The wreck allows divers to enter the cargo holds and wheelhouse where you'll encounter lurking schools of barracuda and groupers.
Curaçao is a Dutch Caribbean Island stretching 171 square miles (275 square kilometres). Without a doubt, the island is most famous for its extensive marine life and rich coral reefs. The lack of strong currents makes this island a gentle yet stunning start for beginners. However, Mushroom Forest still gives boat divers their fix.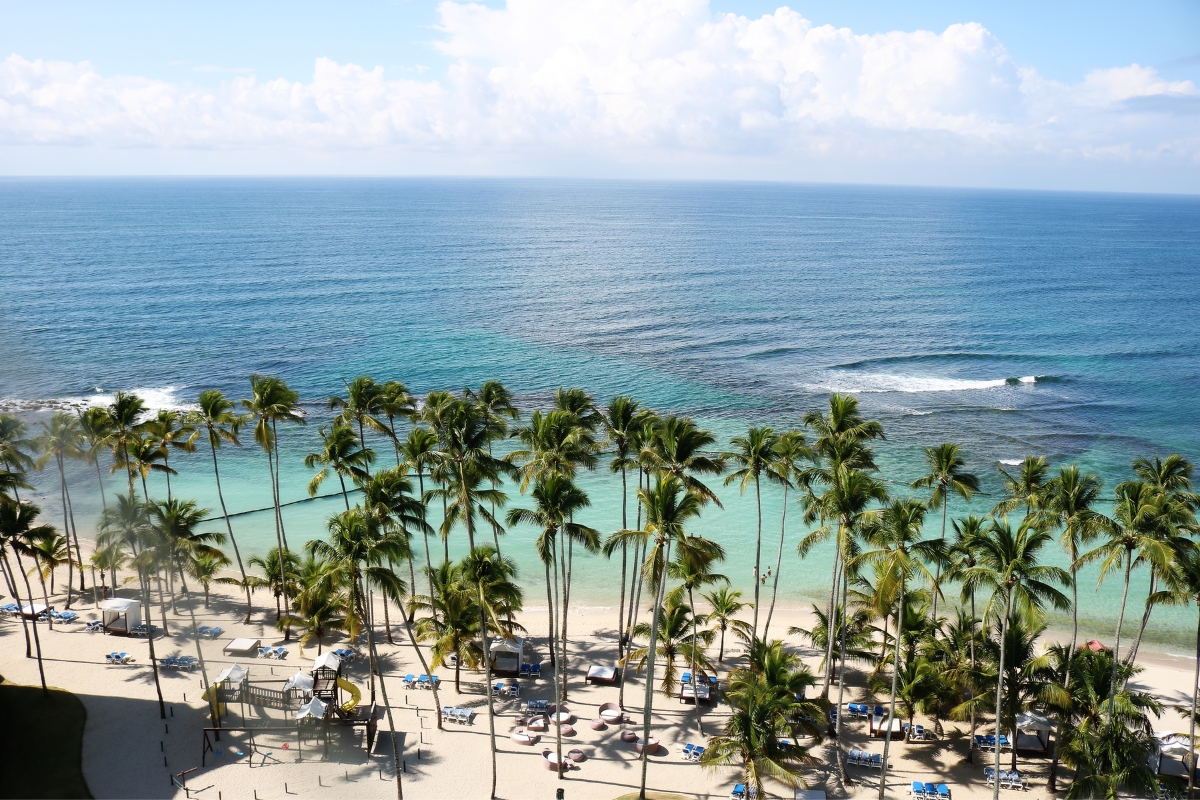 Roatan, Honduras
A border of coral reefs encapsulates this lush, mountainous landscape. It's the largest of the three Bay Islands in Honduras. Above all, a must-see in Roatan is the famous "Hole in the Wall". First, it begins with a vertical descent down the hole before opening up to the endless blue alongside the reef wall. This site even welcomes beginners with swim-throughs and caves at shallow depths.
For bright corals, schools of fish and possibly rays and moray eels, divers head to Sea Quest Shallow. Unbelievably, Roatan adds El Aguila wreck to its catalogue, pairing a three-piece 63-meter (210-foot) long wreck with an adjacent reef.
Roatan is where hardcore divers fall in love with the underwater world all over again. And beginners wonder why they didn't start diving sooner.
Dominican Republic
There are five highly renowned dive spots in the Dominican Republic: Bayahibe, Airport Wall, Santa Domingo, Juan Dolio and Paradise Reef. Bayahibe is one of the most loved locations with its vista of caves, wrecks and deep dives. Beginners can access the 13-meter deep (45 feet) Princess wreck, while deep certified divers can venture down to Saint George at 36 meters (120 feet).
Furthermore, just north of the Dominican Republic is Silver Bank. In short, this sunken bank tucked in the blue sea of the Caribbean is one of the limited locations worldwide to swim with humpback whales. It's a dedicated breeding and calving zone for this pelagic species year-round.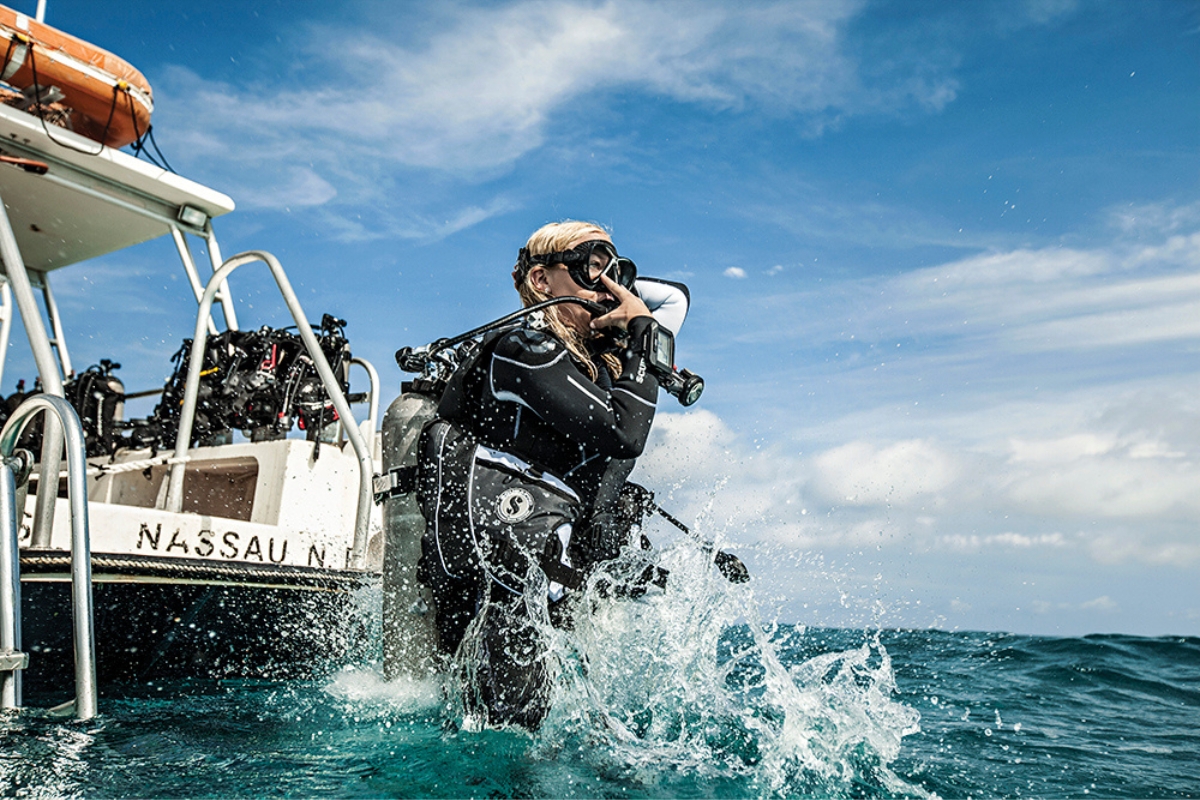 Turks and Caicos
Just southeast of The Bahamas, you'll reach Turks and Caicos. The slightly more secluded archipelago is inclusive of 40 islands split in two by the Turks Island Passage – a vast 2,200-meter (7,200 feet) deep underwater trench. The most popular of the islands is Providenciales. It holds extraordinarily colourful reef walls alongside nurse shark gatherings between July and September.
Turks and Caicos is particularly bucket-list-worthy. From January to March, the trench serves as an underwater passageway for schools of migrating marine life. Humpback whales, turtles and dolphins are just some of the regular encounters here.
The islands include unbeatable wall dives in the Caribbean with submerged cliffs. Local drop-offs and caverns are populated with nudibranchs and smaller macro life. Salt Cay's HMS Endymion wreck is a must-see wreck in this less tourist-heavy destination.
Aruba
Just a 10-minute boat ride from the shore, Aruba houses the famous Antilla wreck, making it one of the best Caribbean dive spots. The sunken wreck is split into two parts, resting at 18 meters deep (60 feet) with some parts visible above water. Divers can expect to see lobsters, turtles and moray eels if they're lucky!
Additionally, the island currently has 14 reef dive sites, seven wrecks and seven dedicated drift sites. Aruba is a particularly popular location from April to August. But it is comfortable year-round due to its location outside of 'Hurricane Alley'. Aruba is much-loved among non-divers, too, thanks to pearly white beaches, casinos and easily accessible snorkelling sites.
Image credits: Neil Andrea + Julie Andersen
Read Next: