The World's Best Underwater Restaurants
While stand-out cuisine defines any top dining experience, a spectacular setting adds another dimension. Many restaurants offer stunning sea views, but have you ever dined below the surface of the ocean with panoramic views of the underwater world?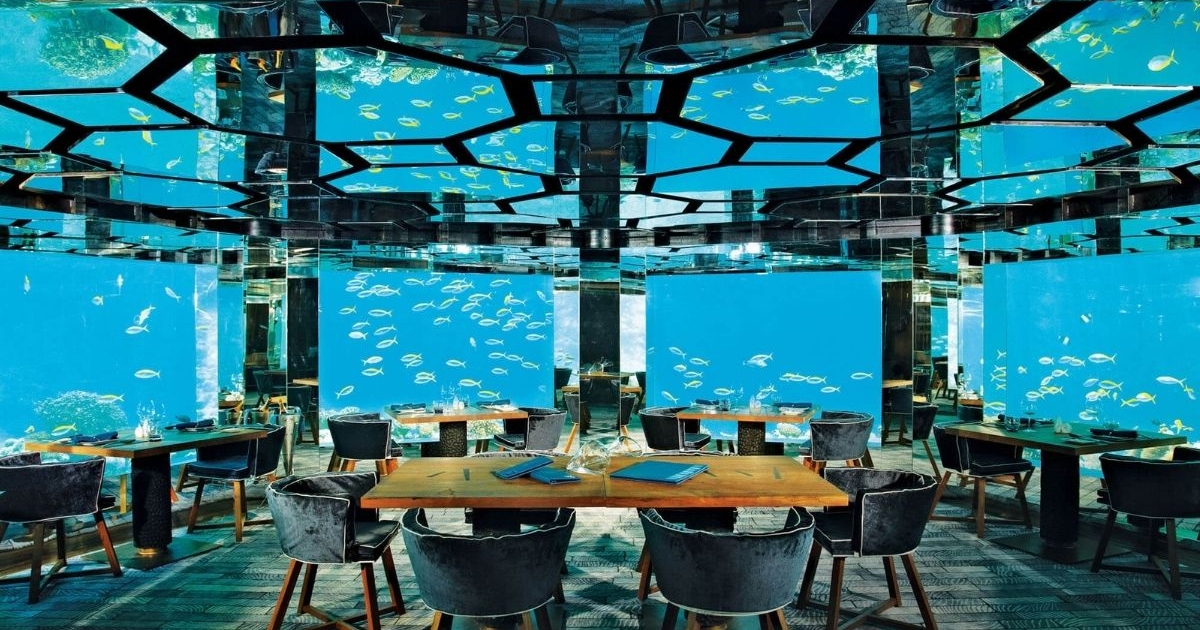 From Dubai to the Maldives, these one-of-kind dining experiences all offer the ultimate wow factor, serving up delectable cuisine with a side of sea life.
Ithaa Undersea Restaurant, Conrad Maldives Rangali Island
Situated in the uber-luxe Maldives outpost of the popular Conrad hotel group, Ithaa was the world's first all-glass undersea restaurant, and remains an icon to this day. Here, incredible panoramic view allows visitors to dine while watching thousands of fish – including turtles, stingrays or even sharks - swim around them, all without getting their feet wet.
With just space for 14 diners, a meal at Ithaa is as exclusive as they come. Guests can indulge in a four-course set lunch menu or a six-course dinner feast, which, as one would expect, focuses around the freshest of seafood with a European slant.
Think foie gras with truffle dumpling for starters, delectable mains including reef lobster pasta and sous vide Wagyu beef tenderloin, plus a revolving selection of desserts for those with a sweet tooth, Ithaa most certainly won't disappoint.
Al Mahara, Burj al Arab, Dubai
Dubbed the world's only seven-star hotel, a meal at Dubai's Burj al Arab will always be one-of-a-kind. Al Mahara's floor-to-ceiling aquarium gives the impression of you being underwater at this world-renowned restaurant, which serves up some of the best seafood in the world.
While an a la carte menu is available, we highly recommend opting for the five-course chef's menu comprising king crab, sea bass, langoustine and more, with the option of premium wine pairing for a really special occasion.
Sea, Anantara Kihavah Maldives
If the Maldives wasn't already mesmerising enough, at the Anantara Kihavah's Sea restaurant, you can dine on the ocean floor amongst passing fish, turtles and if you're lucky, sharks.
Designed by Ed Poole from Pool Associates, one of the world's top design agencies, its incredible aesthetics only come second to the food, and Sea offers a dining experience like no other.
Be it breakfast, lunch or dinner, every base is covered. The latter involves a four-course degustation menu of dishes including marinated tuna, seared seabass fillet and a shellfish medley including sea urchin custard, seared scallops and grilled calamari. Vegetarians are covered too, with plenty of meat- and fish-free options.
Oh, and it comes complete with the world's first underwater wine cellar, so you'll definitely be in for a good night.
5.8 Undersea, Hurawalhi Island Resort Maldives
Credited as the world's largest all-glass underwater restaurant, 5.8 Undersea can seat just 10 couples at a time, so it's ideal for an intimate evening with your loved one.
Serving up a menu of modern international dishes for both lunch and dinner, head chefs have curated 5-course and vegan lunch menus as well as a 7-course dinner, meat dinner menu and vegan dinner menu, meaning all dietary preferences are catered to.
Unusually for a Maldives restaurant, they also welcome guests from other resorts too, which is great if you're spending the night on your superyacht.
Ossiano, Atlantis The Palm, Dubai
While Ossiano might not actually be underwater, it is housed inside the world's largest aquarium, located at Dubai's Atlantis The Palm hotel.
Filled with more than 65,000 marine life, the restaurant offers exquisite fine dining dishes during both lunch and dinner, including a huge 13-course set menu that will have you rolling out of there.
Koral Restaurant, The Apurva Kempinski Bali, Indonesia
The first-of-its-kind restaurant to hit the shores of the Indonesian island of Bali, Koral offers a full bistronomic experience, combining delectable dining, laid-back ambiance and the rarefied atmosphere of an aquarium.
Offering a menu of local coastal flavours made using locally-sourced ingredients, seafood comes grilled, BBQed and marinated in some of the finest spices direct from the island.
Submarino Restaurant, Oceanogràfic, Valencia, Spain
Located in the heart of the Oceanogràfic Park of Valencia, Submarino is housed in the centre of a huge aquarium, and is the only one of it's kind in Spain.
Boasting a stunning Mediterranean menu of seafood dishes and Spanish delicacies, this hotspot is a foodie's dream. Tuck into a Valencian paella or a perfectly-cooked fillet of beef with truffle dauphinoise potatoes. There's a huge selection of fresh seafood on the menu too – opt for the turbot and you won't be disappointed – as well as an extensive wine list to boot.
Under, Norway
The brainchild of local hoteliers Stig and Gaute Ubostad, the 34-metre-long Under is semi-submerged in the North Atlantic, resting on the seabed five metres below the surface.
With a typically Nordic design, Europe's first and the world's largest underwater restaurant has put Southern Norway on the dining map and was awarded one star in the 2020 edition of the prestigious Michelin Guide.
Locally caught fish, seabirds and wild sheep that have grazed in the archipelago nearby are on the menu, all cooked under the watchful eye of head chef Nicolai Ellitsgaard Pedersen, so you know you're in for a treat.
Main image credit: Sea, Anantara Kihavah Maldives
Read Next