Valentina Zannier on Why She Believes Sustainability starts with Interiors
"I never really wanted to be an architect," says Valentina Zannier, partner and Chief of Interior Design at Italian design studio Nuvolari-Lenard. "I wanted to do something linked to art, like my brother who is a musician and an artist, but my parents said we can't have two artists in the family and sent me to university."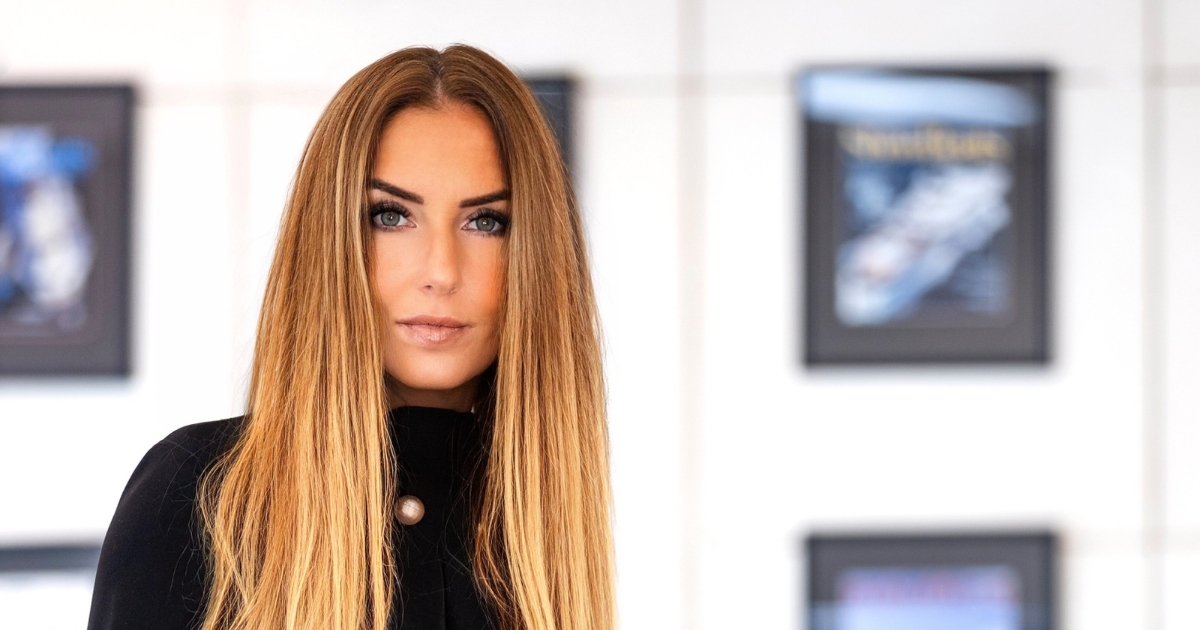 Zannier's introduction to the industry may have been somewhat begrudging, but while studying architecture in Venice she discovered a passion and talent for design. She got her start at a design firm in her hometown of Treviso, before being introduced to Carlo Nuvolari and Dan Lenard, founders of Nuvolari-Lenard, a Venice-based studio that's best known for the exterior and interior design of superyachts.
"I went for an interview without knowing what boat design was and somehow they gave me a trial," she says. "Carlo and Dan said, 'just sketch out what is in your head'. It was a 150-foot Palmer Johnson, which was a very big boat for me, and thank God it was because I treated the drawings like a house, without thinking too much about what a boat was."
To Zannier's delight, it was a success, and the drawings, which signalled the start of a long career with the firm, can still be found on the wall in the studio's Venice office.
Over the ensuing years, Zannier worked her way up to partner (she remains the only female partner in the company) and has worked on some of the world's most revered yachts including Black Pearl, DAR and Seven Seas. And while technology has progressed over the years, she remained committed to her traditional way of sketching: "I still work with hands only; I don't use the computer. I just sketch by hand."
One of the studio's most recent projects, a 115m Lürssen named Ahpo, was showcased at the 2022 Monaco Yacht Show in September. Nuvolari-Lenard was behind both Ahpo's striking, supercar-inspired exterior and her serene interior, which features plenty of indoor-outdoor living, an abundance of glass, and hints of nature throughout. "As a designer with a long, long career, you pick some projects and remember them as very dear to you, and Ahpo is one of those projects," the designer says. "She's very beautiful."
Another project Zannier is especially proud of is another 142m superyacht, also built in Germany, although she's able to reveal very few details about is "super-secret" interiors. "I can tell you the interior is very modern and contemporary but not cold at all," she says. "It's full of rounded shapes and details. It's not as rich as Ahpo inside, because Ahpo is more classically oriented, but it is eclectic and balanced with a huge volume."
Within her design work, Zannier can often be found advocating for sustainable solutions and promoting the use of alternative materials. She believes that sustainability begins with interiors. "People are so focused on things like propellers and hydrogen but if you take a boat and you empty it, the biggest part of what's inside is related to interiors," she says.
The self-proclaimed animal lover and vegan is most passionate about the use of non-animal alternatives. "I'm very sensitive to animals. If I could, I'd have a farm with chickens and dogs, but I live in a small apartment with a big cat," she says. "I am the first to show my clients sustainable alternatives. Unless someone wants something specific, I focus on proposing finishes that nowadays impeccably match the original materials that often come from a long chain of anything but a green approach."
"I love my job, but I do realise the industry is sometimes a paradox, and I will do anything I can to make my customers understand that there is another way," she adds. "Technology can help with replicating materials. Nowadays, you can get some beautiful fake leather that you can't even differentiate from snake or cow leather or fish skin."
Beyond sustainability, modern tech is driving innovation in all areas of yacht design, from spa facilities to sound systems, and Zannier makes full use of the latest developments in her work, particularly when she's creating a wellness space.
"The technology you see on board now is amazing – it's getting better and better," she says. "With the last big projects we delivered, we were able to have a salt room, a snow room, and a floating pool where you can be suspended in salt water. We also have Cryotherapy, which I've only seen before in hotel spas – it's very complicated as you need to have hydrogen and a dedicated room for that. Wellness centres are also getting bigger, and this is surely linked to the fact the owners spend more time on board."
Looking back on her journey, Zannier believes that although she's a trained architect, she's always been an artist at heart. "It's helped me working on real estate projects, but at the end of the day, my artistic approach and attitude became useful in my career, because when you work in interior design, you have to generate shapes and concepts from scratch, so you need to be creative."
Read Next: