The Inspiring Journey of Steve Gresham
Discover how the Bahamas-born founder of Gresham Yacht Design went from being an outsider to one of England's most original superyacht designers.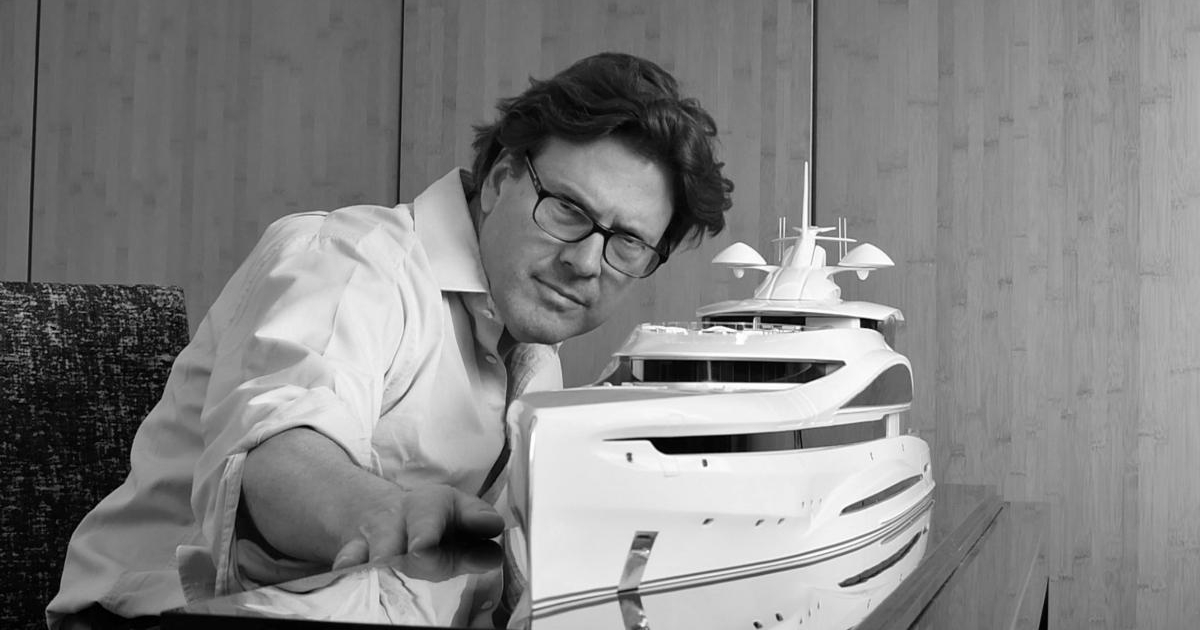 As a young boy, Steve Gresham struggled to fit in. Growing up in the Bahamas, he was the only white boy in his class at school, and when moving to Germany at the age of 10, he continued to be an outcast – likewise in England, where his family settled when he was 12 and he was looked upon as "the German kid". But everywhere he went, he found solace on the water.
"Growing up on Harbour Island, which is arguably the jewel of the crown in the Bahamas, I was on the beach all the time. Then when we moved to England, I got into windsurfing on Rutland Water," he says. "We used to walk around England in Hawaiian shirts and Ocean Pacific shorts as though we were beach bums from Hawaii, but we thought we were cool."
When he wasn't on the water, Gresham was sketching. "I always had a pencil in my hand. I used to sit and draw anything – that was my thing. I was intending to become a fine artist, but then I discovered there was someone called a designer," he says.
Like many teenage boys, Gresham developed an interest in cars and set his sights on becoming a car designer. After school, he studied transport design in Coventry. During his third year, the class took on a project to design a Fairline 21 and Gresham had an epiphany: "It was the time of Miami Vice and we used to sit and watch Crockett and Tubbs in this rocket ship offshore powerboat and I thought, actually, maybe this is it."
During the summer break, he booked a flight to Florida and set off armed only with a tent, a sleeping bag and his portfolio. His mission? To secure an internship with an American boat manufacturer. From Orlando airport, he took a taxi to the Sea Ray site, set up his tent and camped out in the everglades next to the factory. "In the morning, I got up, put my tie on, straightened my shirt and went to the front gate and asked to speak to the design director," he says. Sadly, the director wasn't there, so Gresham went on to Wellcraft yachts in Sarasota who gave him a job for a few weeks: "I ended up designing a boat for them called the Wellcraft Concept – it was a sports car on the water."
Back in England, Gresham spent a few years working on car design and toy design – "my biggest client was Pictionary" – but he remained drawn to the nautical field. After 10 years in Coventry, he moved to Hampshire and met Don Shead, an offshore powerboat champion-turned-nautical architect who is best known for designing the Sunseeker hulls.
Shead would become Gresham's mentor and colleague for the next five years. "He's such a hero in the industry but nobody really knows about him," Gresham says. "The was my formative education in yacht design. I learnt by trade with all the other naval architects in his office, which was fantastic training because I'd learnt the creative side of it and then I had this other discipline, which is the engineering side."
During this time, the designer worked on projects such as a "really fast" Palmer Johnson yacht with diesel turbine and airship-style interiors. After Shead retired, Gresham worked with Tony Castro on projects such as sailing boats and Arcadia, a superyacht built by Royal Huisman; and Jonny Horsfield, founder of H2 Yacht Design, on projects such as Al Lusail, a 123m Lürssen, among others.
Finally, 10 years ago in 2011, Gresham set up Gresham Yacht Design, setting sail with a number of refits, such as the interior refit of Moonlight II. His first major project was OceanXplorer 1 which entailed taking a North Sea survey vessel and converting it into a state-of-the-art research yacht. "That was a fantastic project. It opened my eyes to a different part of yachting," Gresham says.
The 87 metre conversion was commissioned by Ray Dalio, a keen philanthropist, who teamed up with OceanX, director James Cameron and the BBC's Blue Planet for the project. The vessel was transformed into a floating production company and research facility, complete with science laboratories and hangar for equipment such as submersibles and helicopters.
"My job, as the designer, was giving whoever was going to be on the boat the resources and the space they needed to do their job," Gresham says. "I was remarkably privileged to have been quite involved in all of the details of the design. With my projects, I enjoy getting in there and getting my hands dirty. I like to know the systems and the operations side of it as much as what the surface finish is going to be, so I can do a better job."
As well as refits, Gresham has designed a number of new-builds and concepts. During the pandemic when he had some downtime, he released a number of notable concept design projects. These included Thor Explore, a 100 metre explorer vessel with superyacht-esque features and a captivating spaceship-style interior; Emir, a boundary-pushing motoryacht with two helipads, a show-stopping double-height saloon and a beautiful use of glass; and the Hydrosphere, a retractable "underwater room" with 360-degree sub-sea views that's designed to be built into the hull of a boat.
"My job as a designer is to show potential and demonstrate what could be possible if someone wanted to do it," he says. "In the same way car designers create concept cars, yacht designers create concept yachts, because you're trying to push the envelope and develop your industry."
To Gresham, originality is key: "I want to create something that does stand out from the crowd," he says. Currently Gresham is working on a 90 metre yacht that's "really quite different". Although he can't reveal any details, he teases: "I don't know why people haven't spotted this before. If it comes out, people are going to be asking, 'why didn't we think of that?'"
Gresham has come a long way since his first nautical project, a single person hydrofoil – a clip of which is still on YouTube. While the hydrofoil wasn't the money-maker he thought it would be, he wouldn't change a thing. "I thought I was going to be retired at 50, lying on a beach with a Pina Colada in my hand, but I'm very happy where I am," he says. "I've figured out what I'm good at and what I'm not good at, and I have a really good team. Between us we've got a little powerhouse of ability. I genuinely really love what I do and I think that's a really lucky thing."
Read Next: