Superyacht Interior Design Trends: 2021 and Beyond
Design trends in the superyacht world are dictated less by the latest colours or gadgets and more by lifestyle choices, with interior designers constantly on the lookout for ways to take the user experience to the next level.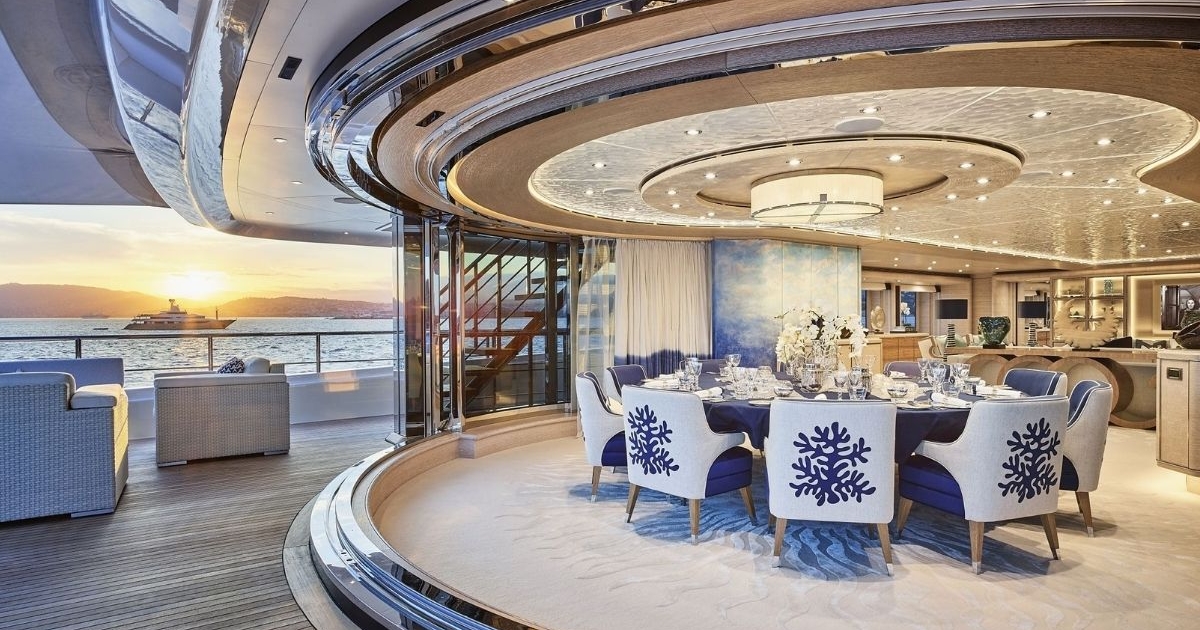 While most of the world may have slowed down during the pandemic, the superyacht interior design industry seems to be booming, with British studio Winch Design seeing a rise in yacht refurbishments over the last year. "Just as everyone saw 2020 as the year to knuckle down and target those home projects that had been pushed to the side, it was the same for superyachts," says Jim Dixon, director of yachts and aviation.
"Many owners took the time to take care of the maintenance, ensuring their yachts are in the best condition possible for when restrictions are lifted. There has also been an increase in the time spent on yachts, with many owners seeing them as the perfect places to quarantine or set up a bubble. This, in turn, has also provided an increase in refurbishments with the clients' needs shifting to accommodate these longer stays."
Mark Berryman, founder of Mark Berryman Design agrees, explaining that: "As new builds can take between three and a half to five years from start to finish, clients are hoping that Covid-19 will be gone by this point and are therefore planning for the future."


Key Superyacht Interior Trends for 2021
From advancements in green design trends to the new and exciting ways that glass is being used on board, we explore the key yacht interior trends to look out for in 2021 and beyond.
Sustainability and Carbon Reduction
As superyacht owners get younger and more in tune with the climate change around us, shipbuilders have been making waves in the industry with developments that lessen the damage on our marine environment, with regard to propulsion, reducing carbon footprints and creating more energy-efficient vessels. As to be expected, a growing eco-conscience in the superyacht industry is leading the way for sustainable interior design too, as studios cite sustainable alternatives to damaging onboard materials.
At the forefront of the movement is Winch Design, where interior teams have been working hard to incorporate an extensive selection of sustainable materials into its sample library, allowing them to offer environmentally friendly solutions for every design. "Organisations such as the Water Revolution Foundation are developing tools that enable the industry to assess its environmental impact – not just in terms of CO2 emissions from a yacht, but a full life-cycle assessment based on the most important indicators of environmental impact," says Dixon.
"The tools don't only assess the entire yacht, the build process or the operation, but can also assess a subsystem or focus only on the hull construction or machinery on board. It's important to take the life-cycle assessment approach to know what real sustainable choices are – not just for the operation or the build," he adds. As such, they have had plenty of success substituting traditional finishes such as shagreen and horn with faux versions including olive-tanned and plant-based leathers, as well as fabrics such as organic cotton and bamboo which are much kinder to our planet.
Berryman is also passionate about incorporating sustainable materials into his designs, something that fits perfectly with his signature style. "Thanks to our relaxed contemporary in house style with accents of Asian influence, the issue of sustainability often isn't a problem for us," he explains. "We use natural materials that are plentiful and easily replaceable, such as bamboos, rattans and wood veneers of non-rare species. We no longer find our clients asking for rare or non-sustainable finishes."
Lighting Technology
As lighting technology rapidly evolves, it presents an incredible array of opportunities both on board superyachts and beyond and, as something that used to run as an afterthought, things have been improving rapidly as of late, with lighting now being considered as an integral part of the interior and being detailed into joinery.
"Lighting is one of the most important aspects of all interiors, not only yachts," Pavel May, head of the Maritime Program at Preciosa Lighting tells Superyacht Stories. "When you enter a room, the first thing you notice is the mood and feeling the space presents. This is what lighting does: creates the desired mood and feel. Installations are becoming more minimalistic and focused on the details – these days, light fixtures are basically a work of art."
A recurring trend that we expect to continue is the use of lighting within natural elements such as natural stone – "these lights illuminate the surroundings without being too harsh on the eyes," explains Dixon. Elsewhere, LED lighting placed behind a gas-filled panel that replicates the earth's air make-up is also picking up speed. "It means that when you turn the LED light on, the panel feels like a skylight with real sunlight behind it," explains Berryman.
"This is great for spaces such as beach clubs which work so well during good conditions with shell doors that fold down, but when the weather is not permitting they can feel quite dark with smaller windows set into the doors. This new LED panel technology creates a fantastic effect and brings the feeling of natural sunlight into a dark space, and it's very difficult to tell the difference between that and a real skylight."
Innovations in Glass
Shipyards have been investing heavily in the research of glass over recent years, leading to more innovative, flexible use of the material for superyacht exteriors. As such, it's having a positive domino effect on boat interiors too, and as something that both connects and separates at the same time, it's no surprise that requests for innovative new uses of glass are coming in thick and fast.
In 2020, for example, we saw privacy glass replacing curtains and shades, and in some cases, it even replaced walls. This can be seen in the glass-box owner's lounge found on the Riva Race, or the distorted glass walls that separate the bedroom from the rest of the master on board Hakvoort's Scout.
"Designs have become more radical, and we are incorporating more engineering challenges into our designs, for example, the curved double-height glass panels on Excellence, each precision-engineered and weighing over a tonne," says James Russell, associate and exterior yacht designer at Winch Design. "It's becoming increasingly important to find ways to make the structural assets of a design merge seamlessly with the design aesthetic."
A desire for more contemporary spaces is also coming to the fore, often open plan with huge expanses of glass allowing light to flood in and the guests to feel close to nature. As such, it allows the landscape to become a backdrop for the interior itself.
"Glass in the use of the exterior is really helping the interior spaces," agrees Berryman. "We found on MY Life Saga, which we completed in 2019, that the size of the windows had a fantastic effect on the interior spaces. Again with a neutral palette of warm wood tones and calming natural fabrics, the sunlight filtering into these spaces was amazing. Not only did the interior benefit from being flooded with light, but also the guests benefitted from uninterrupted views of the ocean."
Relaxed, Calming Design Aesthetic
Fashioning a place you want to relax in that also remains a symbol of status is a quandary most superyacht owners will face at least once in their lifetimes. While owners would once upon a time have expressed a degree of majestic power through lavish colour schemes, today's narrative places far more importance on relaxation and calm. Here, natural earthy tones take pride of place. "These shades connect back to nature and create a feeling of stability," says Dixon. "The world is becoming more at one with nature and there has been an increase in demand for matching the designs to the natural landscape."
Think sky blues, sage greys, classic whites and blush tones; 2021 is all about less show and more sand, with a bare-foot luxury beach club vibe increasingly popular. Coaxing a laid-back palette with plenty of natural materials, these calming colours work to warm up any space. "We tend to use oak as a backdrop to our interiors as this means you can highlight areas with dark furniture punctuations that contrast beautifully," adds Berryman. "Bamboos and leathers are a firm favourite for us to create a warmth to our interiors. We always try to create a space that feels like a home from home."
Gadgets and Onboard Audiovisual Technology
Millennial superyacht owners aren't only more in touch with sustainability issues, but technological advancements too, with the yachting mindset slowly shifting from simply buying a product to having experiences. And when it comes to technology on board, we've never had it so good. From simple gadgets and gizmos to connectivity advancements, what the owner wants the owner can most definitely get.
"We've designed yachts with speaker systems situated on the sundeck which pump out enough volume in such a way that the owner could ride around on their jet ski and still listen to music if they wanted to," says Dixon. "We've also designed helipads which can be converted into an outdoor cinema through the use of hidden speakers and screens."
In fact, requests for technological advancements in cinemas and movie screenings are increasing exponentially. Mark Berryman says he's finding cinemas with interactive seating that convey movement that relates to the film being watched, to be very popular. "Clients always want larger screen sizes for their TVs, and new large interior and exterior models are now available for all weather conditions," he says. "We put a dance floor on a boat recently that was made up of individual monitor panels where anything could be broadcast onto them which was very exciting, if not a strange experience trying to send emails from my phone whilst having them streamed to the dance floor beneath my feet!"
Onboard Spas
Health and wellness is a growing trend and that's reflected in superyacht spas as well. Onboard spas are now routinely fully-equipped gyms, saunas, steam rooms, treatment rooms, beauty salons and the works. The spa is no longer a simple extension of the beach club. "Technological capabilities on board superyacht spas are second to none," agrees Dixon. "We use companies who create holistic life-spa experiences which combine traditional spa methods with new technology and hurtle spa experiences into the future. We've also designed one aviation concept which has an aromatherapy shower on a jet!"
Conclusion
The pandemic has slowed much of the world down, but the superyacht industry has boomed and it has taken the yachting interior design sector along for the ride. Key trends emerging in yacht interior design this year include a focus on sustainability and eco-friendliness, major advances in the use of lighting, innovations in glass, design aesthetics that focus on creating calming environments, large onboard spas, and a major adoption of gadgets and AV technology.

Featured image credit: Winch Design
Read Next: