Heaven on Earth: Huvafen Fushi's Underwater Spa in the Maldives
Discover Huvafen Fushi, a secret hideway on North Malé Atoll, just half an hour by speedboat from the international airport, a sanctuary where every second transcends time. A sanctuary for lovers of life.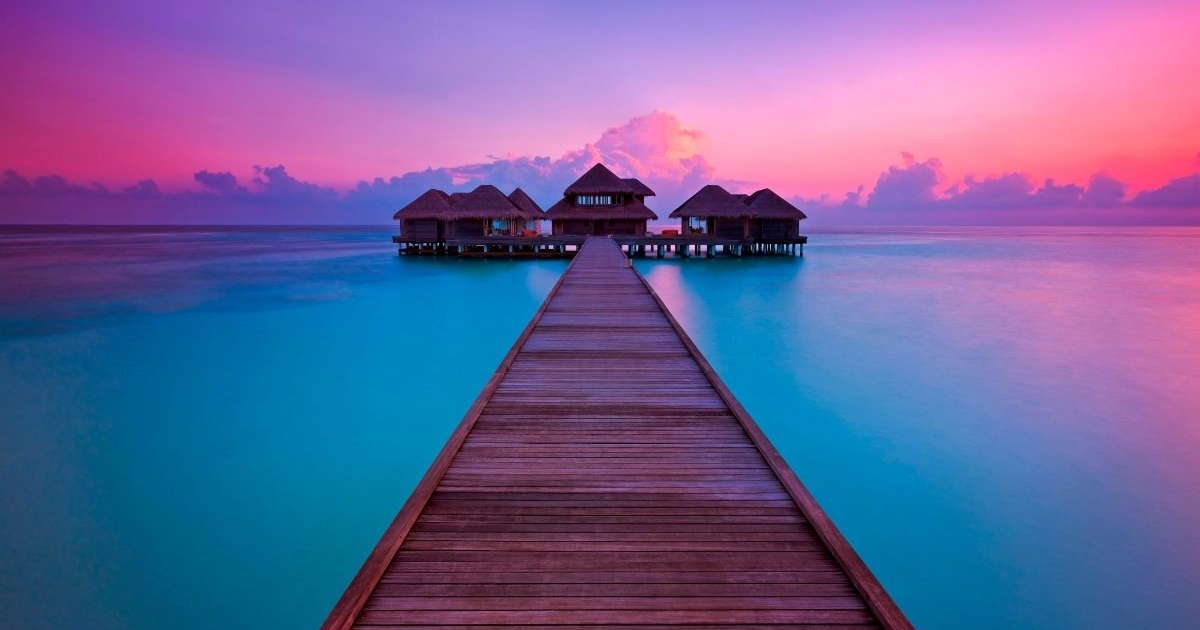 Not for nothing is the Maldives known as one of the globe's most hedonistic beach escapes, a place where seven star luxury and every possible creature comfort are served up in blissful isolation far from the white noise of the rest of the world.
And nowhere does it quite as stylishly or elegantly as Huvafen Fushi. Whether flying into Malé aboard Qatar Airways' stylishly elegant multi award-winning Business Class cabin from Doha or beyond (the airline boasts in excess of 170 routes during non-Covid times) or dropping anchor from your yacht to sample island life at its most alluring, this haven in the North Malé Atoll is the castaway paradise you've always dreamed of.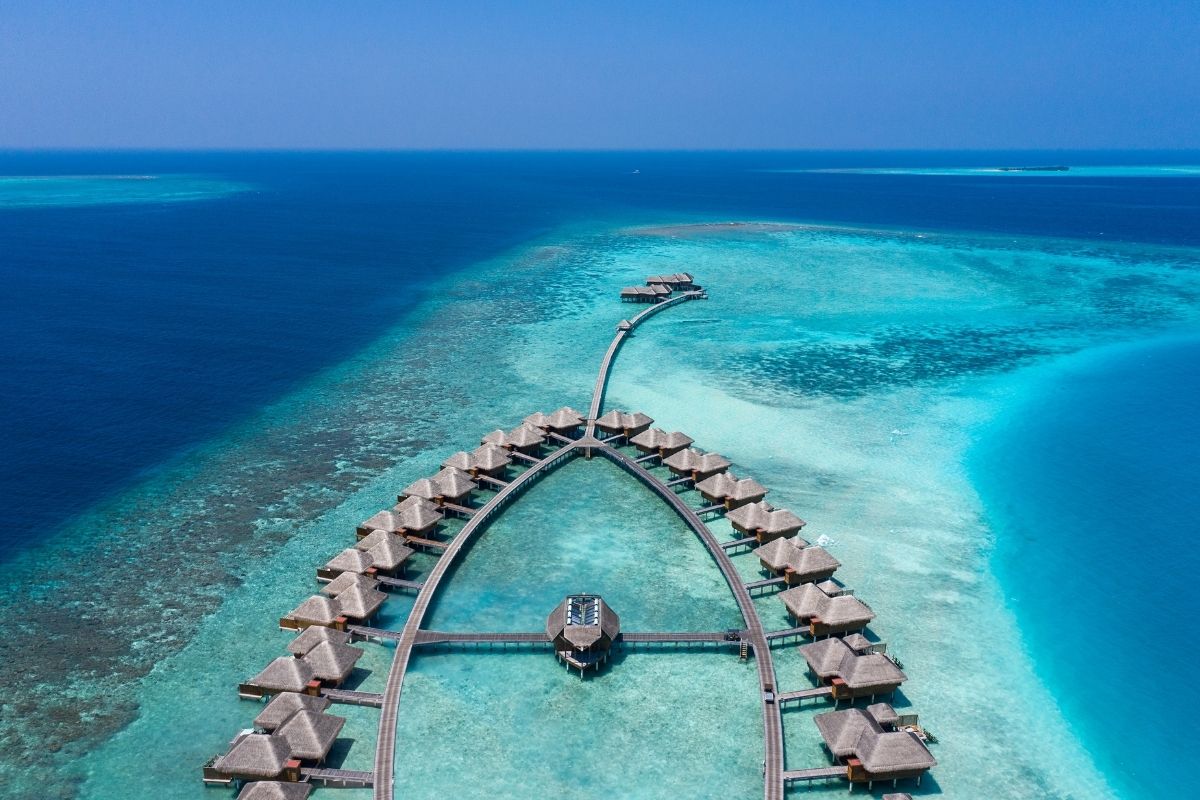 A grande dame of the region since 2004, Huvafen Fushi's recent revamp has enhanced its distinctive Maldivian flavour and laidback vibe, keeping it right up there with the A-list; George Clooney, Kate Moss, Naomi Campbell, Roger Federer, Linda Evangelista, Tom Cruise and Mamma Mia star Dominic Cooper are just a few of the resort's regular visitors.
The scene for a holiday experience like no other is set on arrival at Malé. A leisurely 90 minute cruise aboard a dhoni invites you to stretch out on the sundeck sipping chilled champagne or coconut water while nibbling on fresh sushi, Vietnamese spring rolls and miniature patisseries. All this while gliding effortlessly through the aquamarine waters of the Indian Ocean, marvelling at sightings of flying fish and dolphins en route.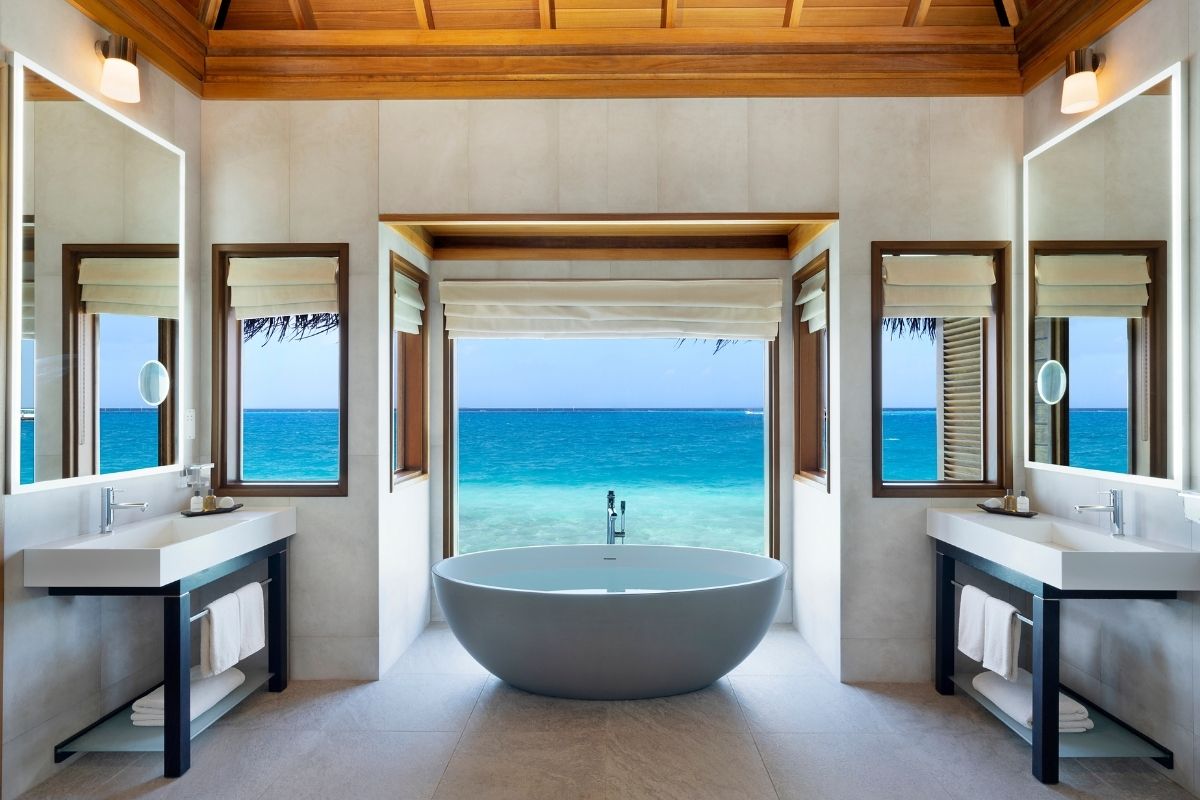 The resort's 44 residences were designed with privacy, discretion and understated luxury at their heart alongside an admirable eco policy to minimise plastic and waste at every turn. Every suite boasts a pool and a resident thakaru or butler on call. The staff ratio is 2:1 and their smiles and friendly demeanour make you feel immediately welcome.
Beach villas offer double height gabled ceilings and floor to ceiling windows overlooking the garden and pool area while the Lagoon and Ocean overwater bungalows boast stunning sunrise and sunset views. There's also an oversized home bar offering a range of Nespresso, organic herbal teas, spirits, fine wines and Champagne as well as refillable glass water bottles, Bottega Veneta toiletries and, hip hooray, not a plastic bottle or bag in sight.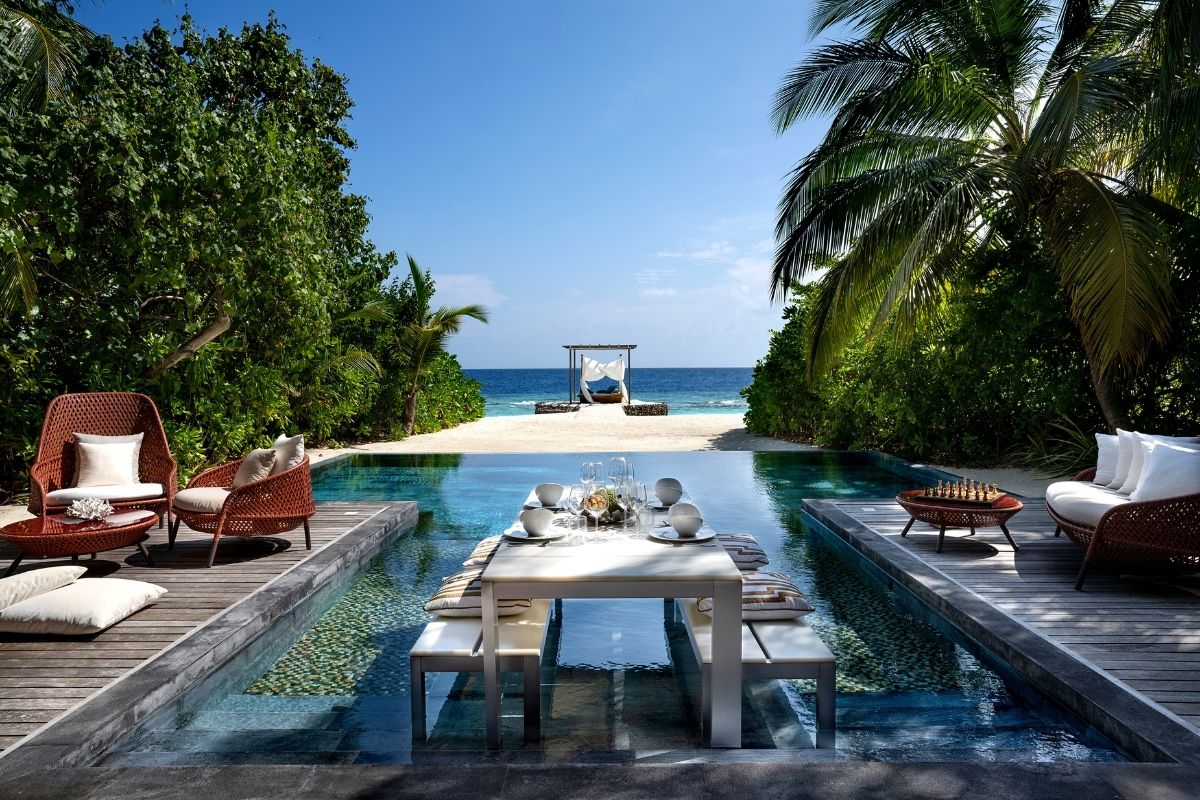 My jet lag is alleviated by a swim before watching the friendly local stingrays get fed by resident marine biologists Alex and Haamid at the aptly named Stingray Beach. The stingrays all have names...Peter, Paul, Holey (so called because she has a hole in her head), Whitey because, well, you get the picture...and to feel them lightly brush past your hands as they leap out of the water when Haamid throws them scraps of fish is truly a spectacle to behold.
The next day begins with a bracing session of sunrise yoga with Keralan-born Jay on the overwater yoga shala, surely the most wonderful way to wake up. Then it's breakfast at Celsius while looking out for manta rays from the dining deck. As something of a wellness warrior, I'm impressed by the huge selection of gluten free, dairy free and nut free options available, from mini beet and wild rice pots, muesli shooters, acai bowls, chia seed pots and daily smoothies through to a bakery array that would give a Montmartre boulangerie stiff competition.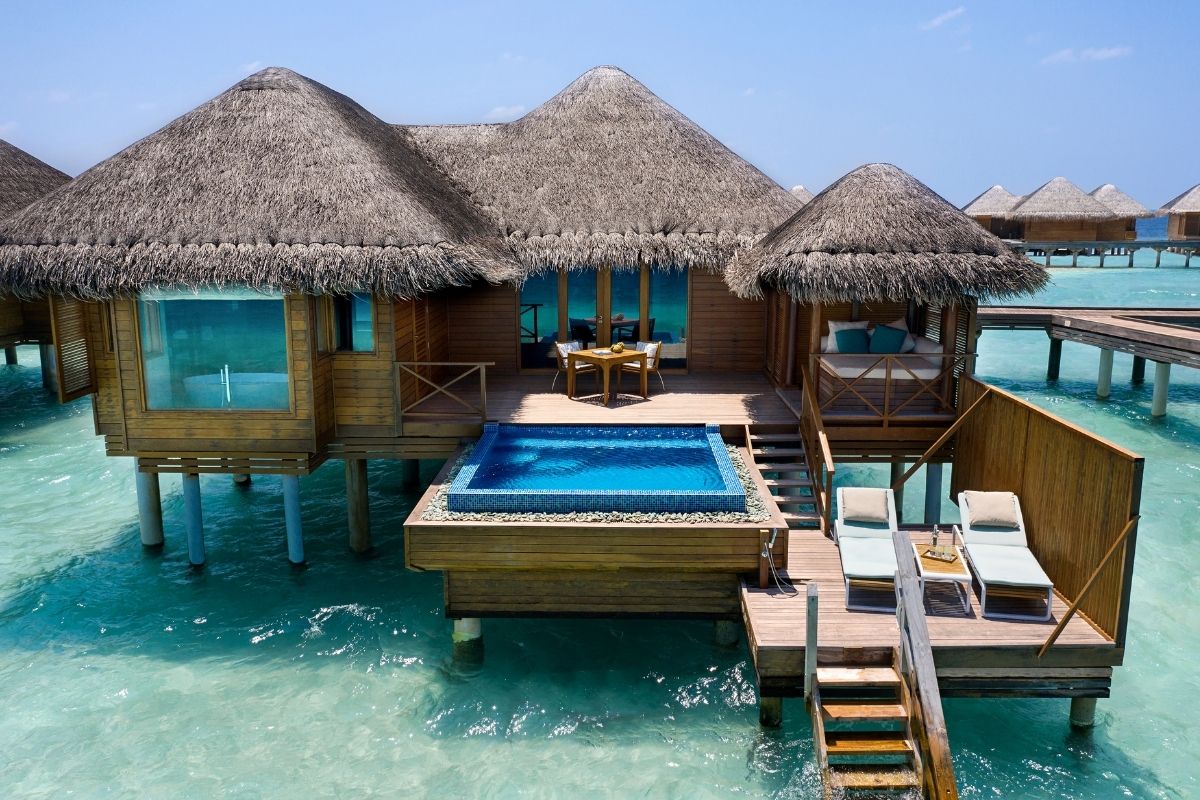 Another quality elevating Huvafen Fushi to dizzy heights is their incredible Pearl health and beauty spa, housing the world's first and only underwater spa. I'm greeted with a chilled lavender-infused towel as I pad across the teak jetty to the reception, which leads to six overwater and two double underwater treatment rooms (which can also be transformed into a private subterranean dining room).
Depending on the time of year, you might be lucky enough to experience sessions with the world's leading beauty and health practitioners who run retreats here, including celebrity facialist Teresa Tarmey and Pure Massage founder Beata Aleksandrowicz, who comes twice a year to train the in-house therapists. Treatments available include healing, reiki and crystals based experiences.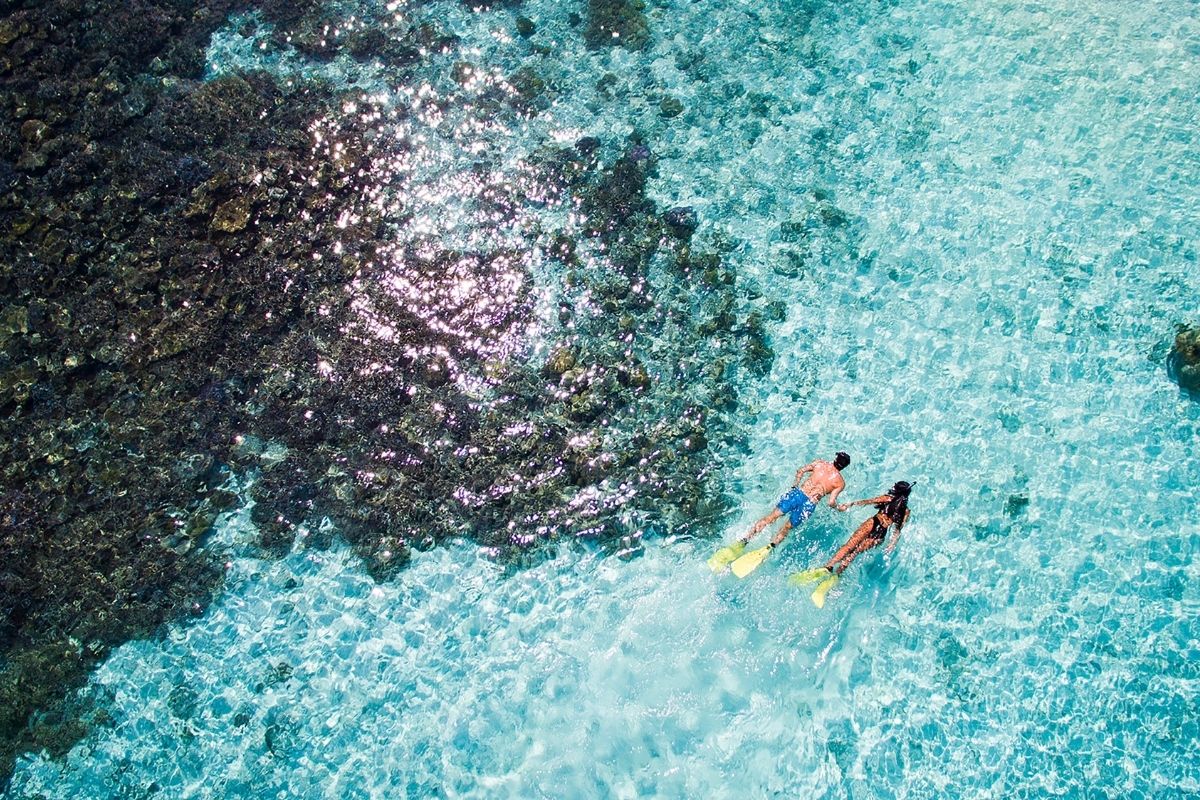 I opt for a Signature Body Pure Massage, which can be performed upright in the underwater spa nine metres below sea level so as not to miss a second of watching the colourful clown fish, nurse and blacktip reef sharks, snappers, eagle and manta rays swimming around the island's house coral reef. A medical clinic, steam room, sauna, juice bar and mani/pedi pavilion complete the comprehensive facilities.
For the more active, an overwater gym bungalow offers perhaps one of the most spectacular spots in which to enjoy a morning workout, while the generous sized infinity pool has an adjacent saltwater flotation tank for those in search of some natural thalassotherapy. The Padi-registered water sports hut offers dive expeditions, kayaks and snorkelling gear for those who want to get up close with the diverse marine life.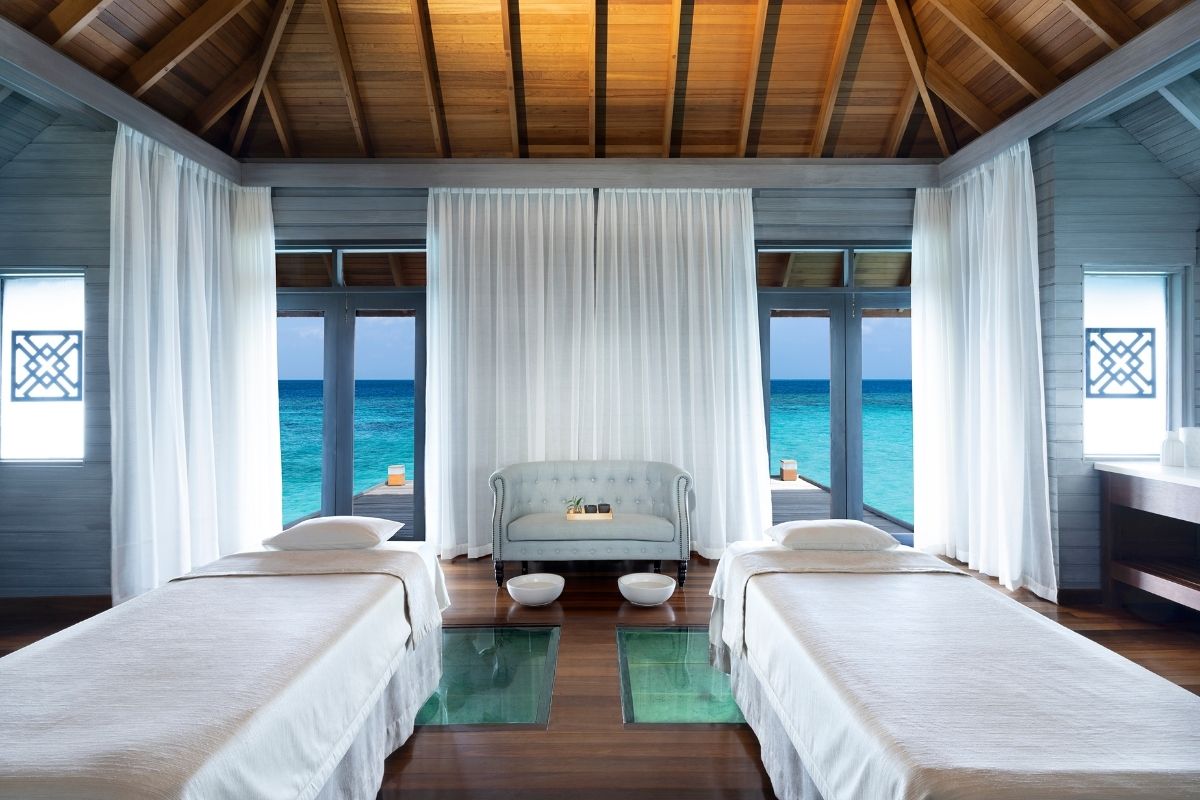 In line with Huvafen Fushi's commitment to conservation, Haamid and Alex give educational lectures and lead practical snorkelling sessions with guests replanting coral fragments onto metal A frames on the house reef. These will propagate and you get to name them and be kept informed of their growth. With 50% of the globe's coral reefs lost and 90% in serious danger, it's exciting to hear that their efforts are paying off.
Other initiatives include distilling their own drinking water, solar water heating and segregated recycling and waste management. Even natural wastage is put to good use, with rotting palms shredded and used as compost fertiliser.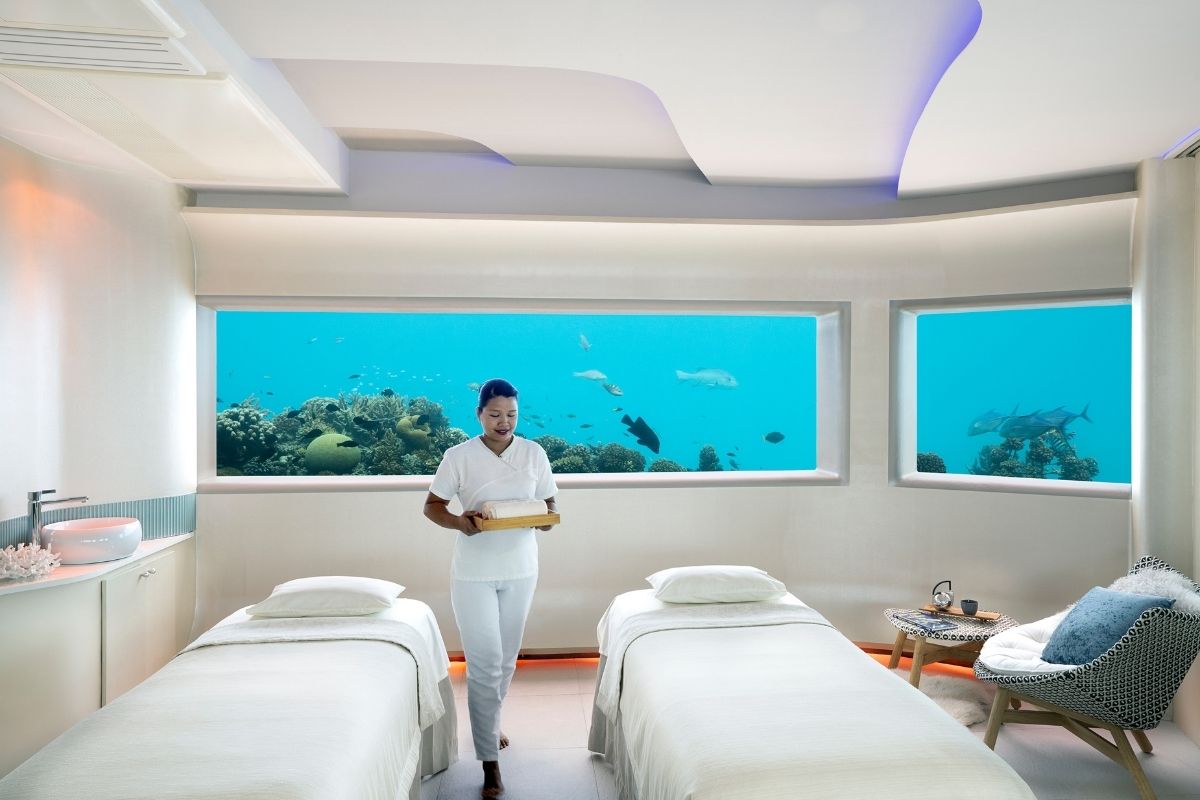 The resort also leads when it comes to gastronomy. Japanese fusion restaurant Salt offers an innovative and delicious menu alongside intriguing wellness choices such as dehydrated fish pizza and avocado carpaccio at the health bar Raw. Huvafen Fushi also created the first underground wine cellar in the Maldives, run by the charming sommelier Jude, who presides over 7,000 bottles of wine, with the rarest vintages setting you back a cool $65,000.
Such is their reputation that Ivy restaurant owner Richard Caring Ivy has hosted degustation dinners at the resort in his visiting role as wine consultant.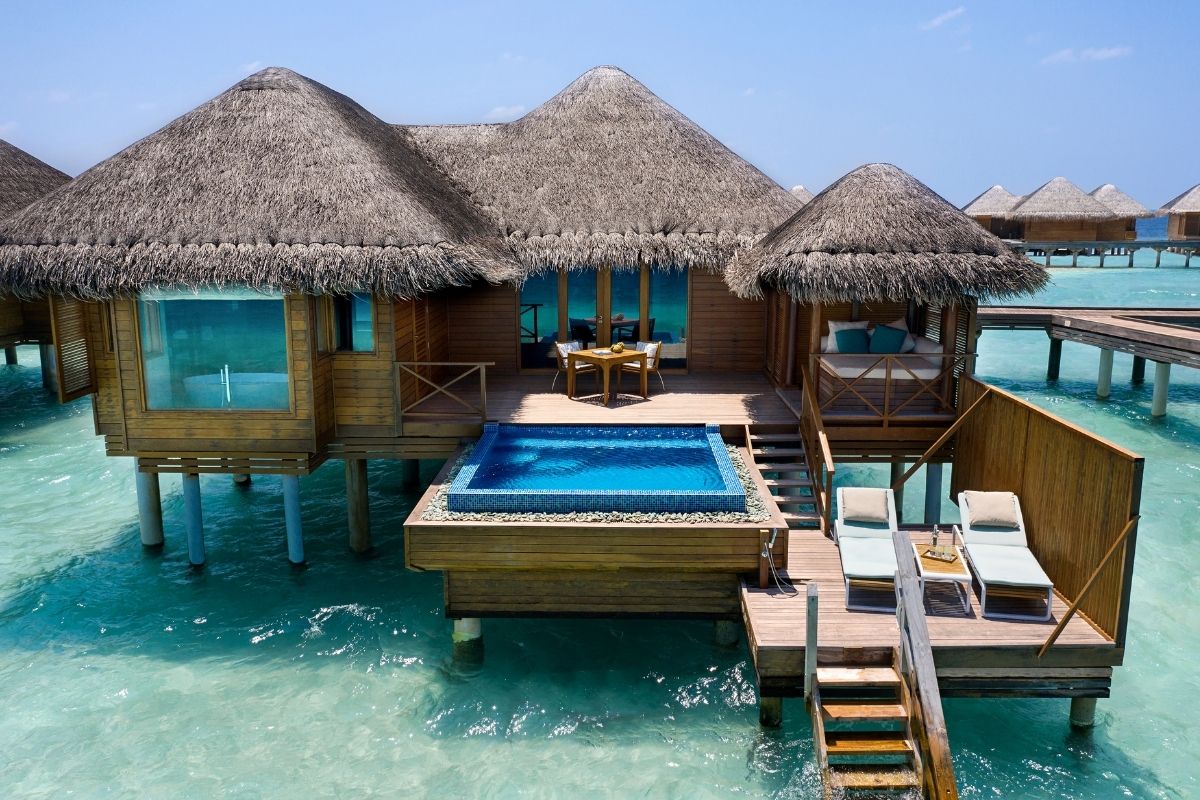 All in all, this is laidback and unpretentious luxury living at its finest. While the macramé hammocks by the pool conjure up visions of Ibiza and the chic island boutique selling colourful bikinis and kaftans feels just a little bit St Tropez in flavour, make no mistake, Huvafen Fushi is where inimitable Maldivian charm and beauty meet eco-conservation, delivering a feelgood factor par excellence.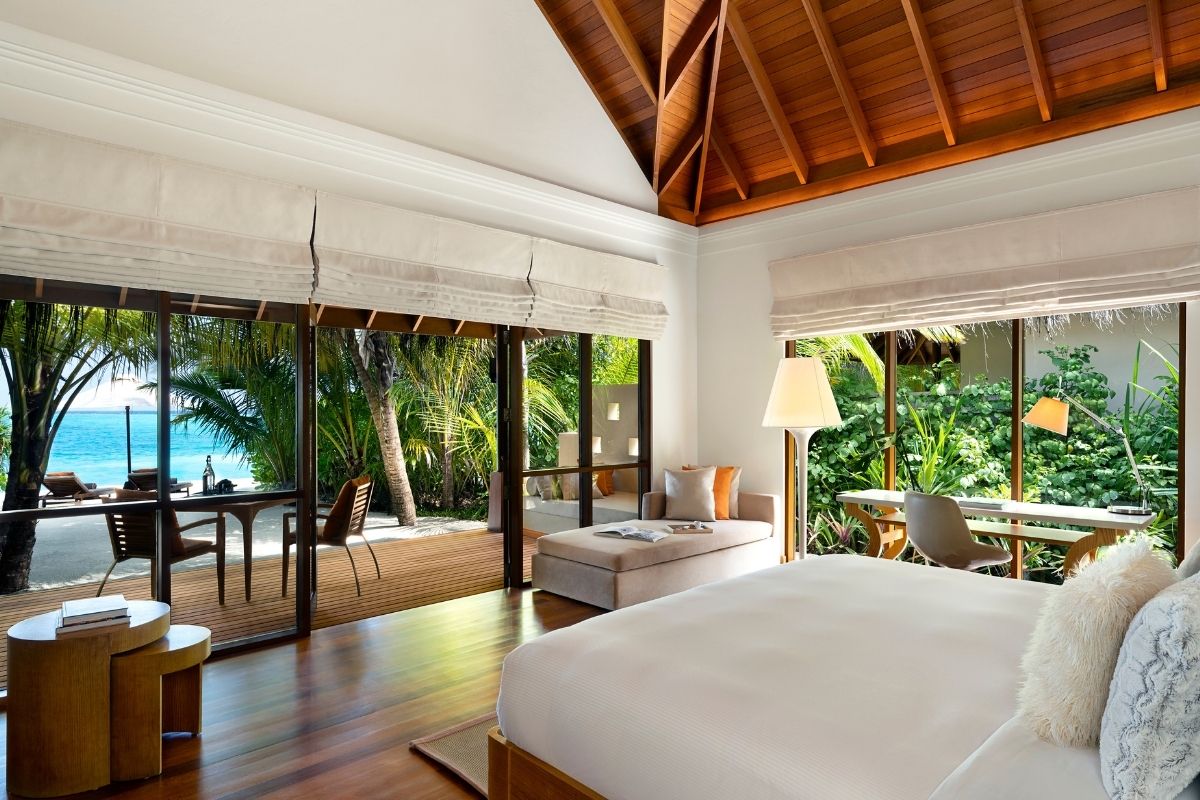 Getting There
Stays at Huvafen Fushi start from £1,312 per night in a Beach Bungalow with pool based on two adults sharing on a bed and breakfast basis, excluding service and tax. The resort reopens on October 1st 2020. Book through www.huvafenfushi.com.
Qatar Airways, the World's Best Airline as voted by Skytrax 2019, offers flights to Doha with onward connections to destinations including the Maldives. Return flights from the UK to the Maldives start from £606 per person at qatarairways.com.
* Flights and departure airports may have changed due to the Covid-19 global pandemic. Please check the Travel Alerts section of the website before travelling.
Read Next