The Most Impressive Superyacht Beach Clubs in the Business
Designing a superyacht is no easy feat. From lighting and cabin space to furniture, materials, artwork and accessories, there are 101 factors to consider. First things first? The beach club.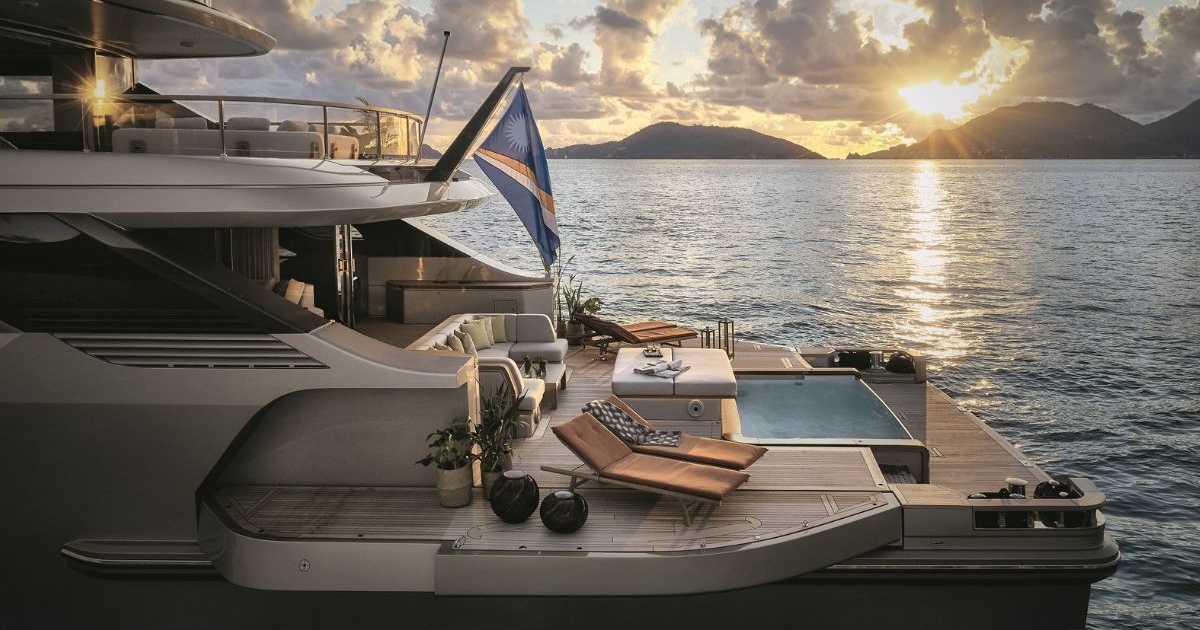 Perhaps more important than ever before, the leisure space at a yacht's stern, otherwise known as its beach club, has recently catapulted its way to the top of the list of priorities for superyacht owners who, alongside their designers and superyacht builders, are placing more emphasis on being close to the ocean than ever before.
From terraces complete with sea views to heavenly wellness centres, these seven slick superyachts are taking beach club design to a whole new level.
Resilience
As one of the newest yachts on the charter market, built just last year in 2021, the 64.76m superyacht Resilience was certainly designed with entertaining in mind. Brainchild of Enrico Gobbi and the Team 4 Design team, it's home to two serene pools, one of which is located on the main deck aft with steps that lead down to the swim platform. Here the stern door folds down to sea level, creating an extremely sleek beach club with its own lounge complete with Murano glass bar.
An ideal setting to have a drink or two while waiting for your crew to swing around one of the Castoldi tenders, jet skis or many other water toys, it also makes for both a comfortable and stylish spot to laze away the day. On a wellness break? Resilience also comes complete with gym, Turkish bath and sea-view massage room on the lower deck.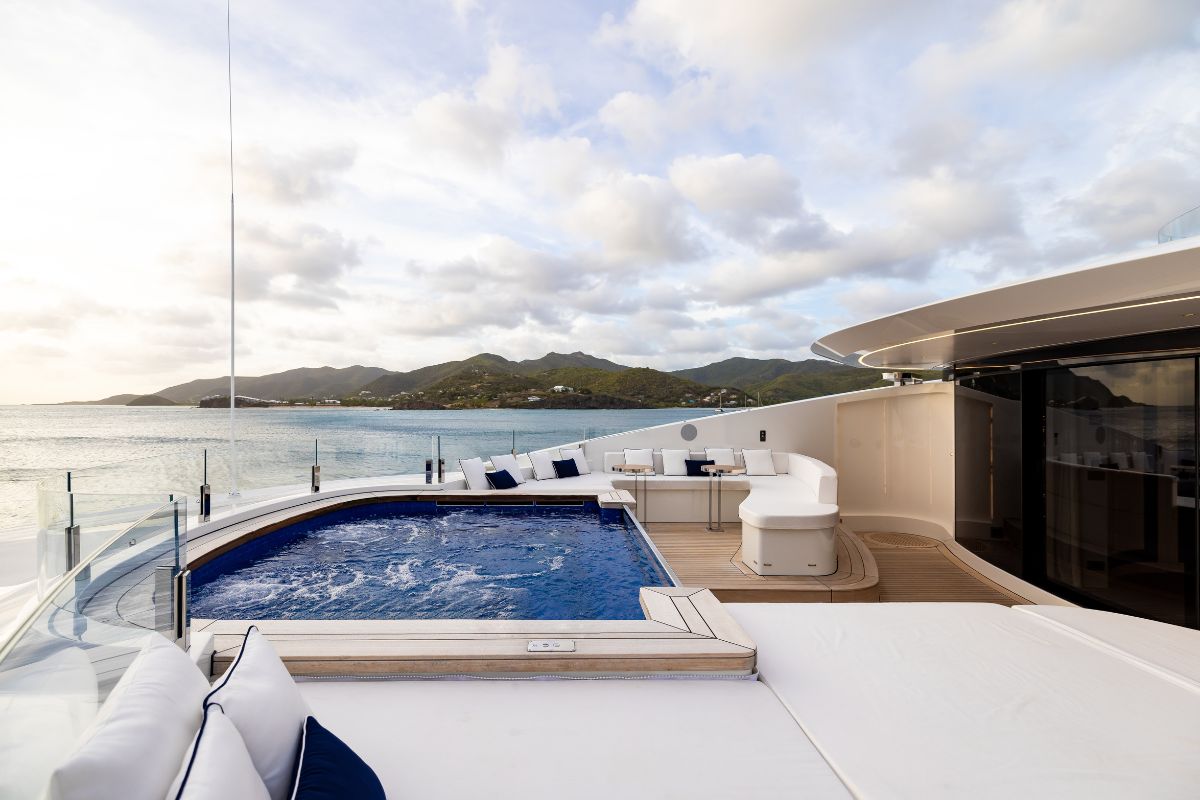 B2
A popular charter yacht since her inception back in 2008, the Abeking & Rasmussen-built B2 is a first-class vessel in every regard complete with fully-equipped gym, massage room and elevator to all decks. Yet while her most impressive feature is perhaps her glass-bottomed pool which is located to aft on the main deck, what lies below it is one of the most stylish beach clubs on board a charter yacht which, with fold-down balconies port and starboard and the influx of light through the pool above, is bathed in rippled sunshine. Designed to be welcoming, she also has access to a whole host of advanced water toys – a strong selling point for any guest.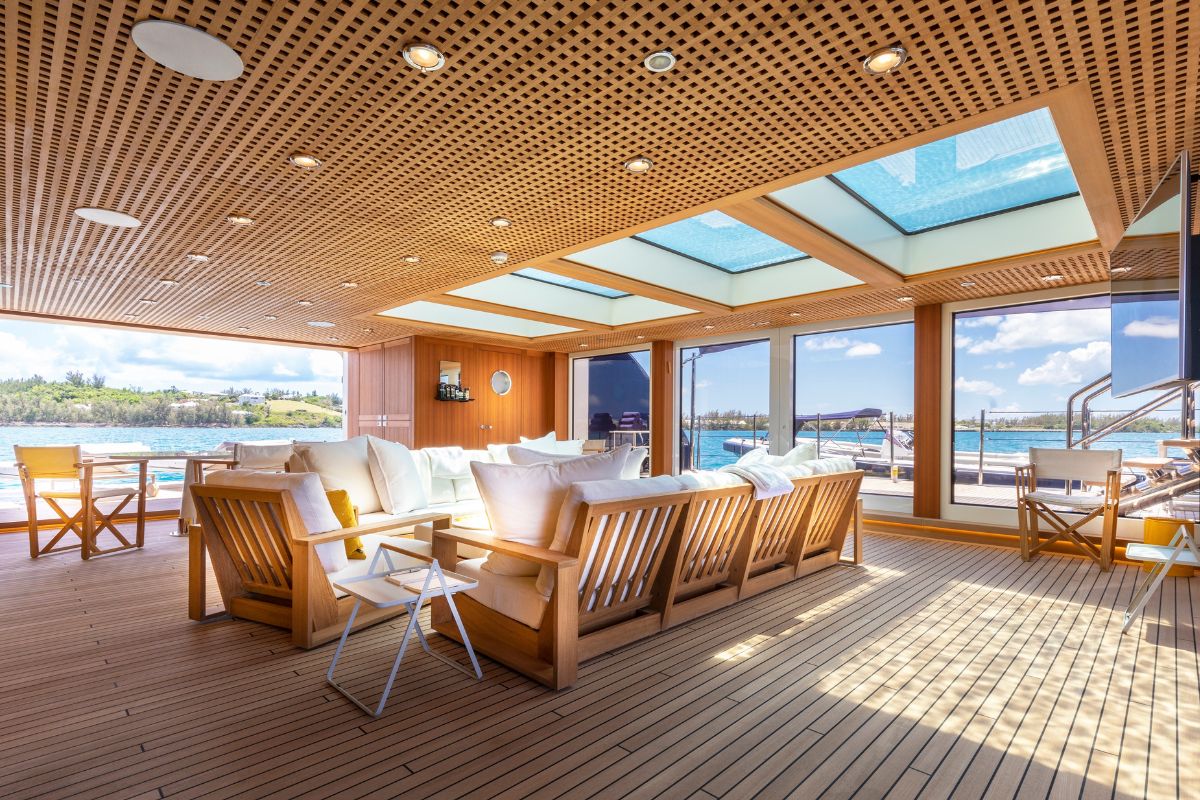 Oasis 40
Taking the seaside resort philosophy to a whole new level, the Benetti Oasis 40m deck is as grand as they come. In fact, so successful is the superyacht's design that she won a prize in the DNA Paris Design Award for its interior design, which was led by the team at Bonetti/Kozerski Architecture.
Flowing seamlessly from the cabin, the aft deck offers uninterrupted 270-degree views of the glistening ocean which is possible thanks to the pair of fold-down bulwarks that create free-flowing additional space. Guests will also find an integrated pool as part of the deck, which sits alongside loungers and a sun pad, making it one of the comfiest beach clubs to laze about on in style. If the sun gets too much for you, there's also a partially-shaded space in which to recline.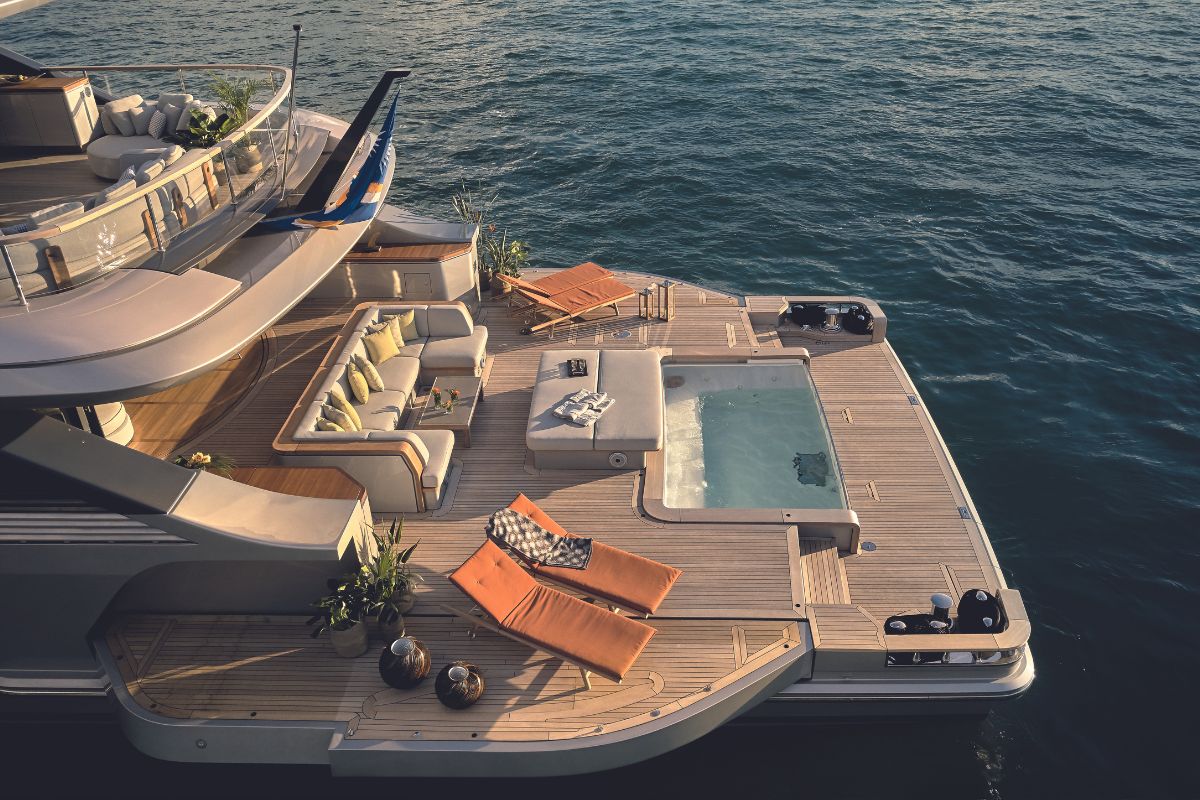 O'Ptasia
Discreet sliding glass doors to keep the beach club cool, even on a scorching hot day? Check. Fully fitted bar? Check. White marble steam room inspired by the Turkish Hammams? Check. Everything about O'Ptasia's serene beach club screams good times, right down to the generous swim platform with additional section that raises and lowers for easy access to the sea. But that's hardly surprising seeing as her design was masterminded by the renowned Studio Vafiadis. Ideal for all weathers, whether you want full access to O'Ptasia's array of water toys or simply want to relax on your sunbed with a freshly-mixed smoothie, this is the place to do it.
Read O'Ptasia's full yacht profile here.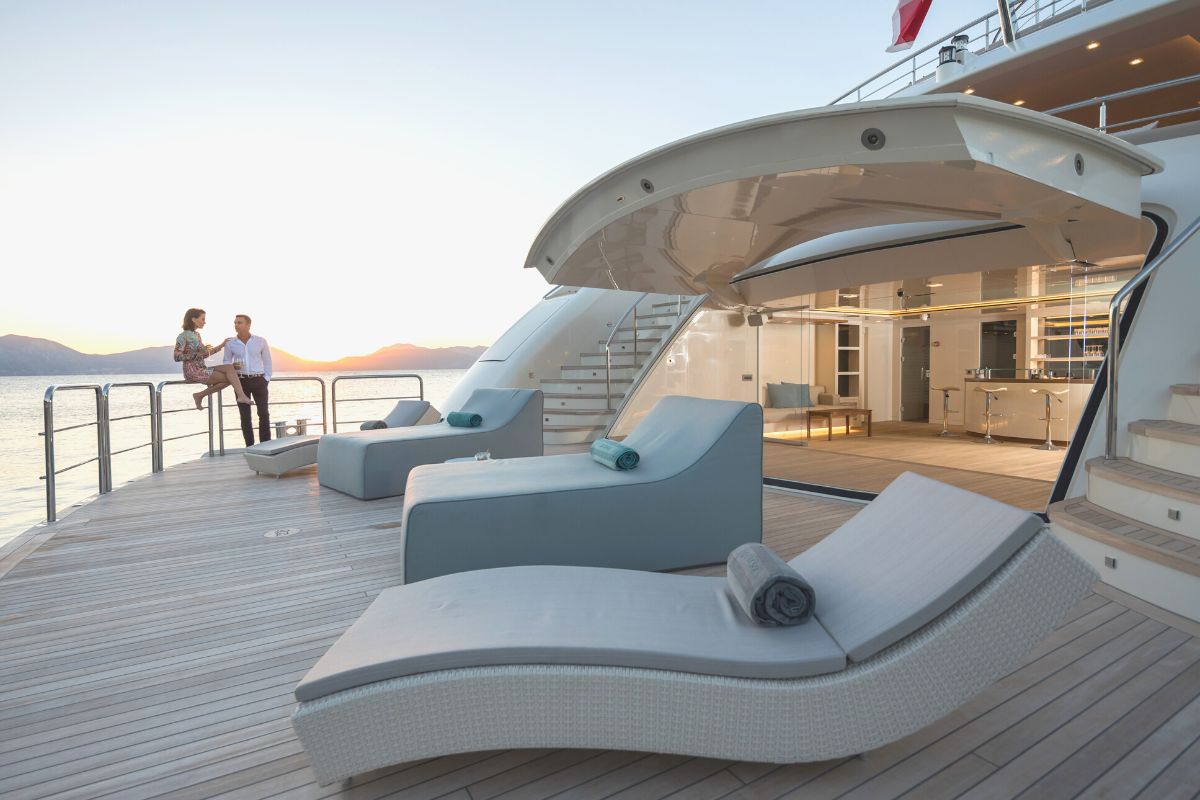 Tatiana
When Tatiana's owner briefed Bilgin about the design of his new superyacht, the beach club was the first port of call. "They spend a significant part of summer on board so it was vital the yacht had generous socialising areas including a huge spa and beach club," explains Tugba Sengun, marketing director of Bilgin Yachts. Created in collaboration with Antalya-based Unique Yacht Design, the team did just that.
Unusually placed on the lower deck in the middle of the yacht, Tatiana's beach club is home to a stunning swimming pool complete with a special heating system that allows it to be enjoyed all year round. Its clear glass sliding doors allow for a sea view even in cold weather, with one opening up to a massage room and the other leading outside where sunbeds await.
Rather impressively, the beach club is also directly connected to the main saloon via a dramatic staircase and features a second pool – the two sit one above the other with the main deck pool boasting a glass bottom, allowing guests to see their friends and family swimming from below. Elsewhere, a fully-equipped gym with sauna on the portside lower deck and large movie theatre seal the deal.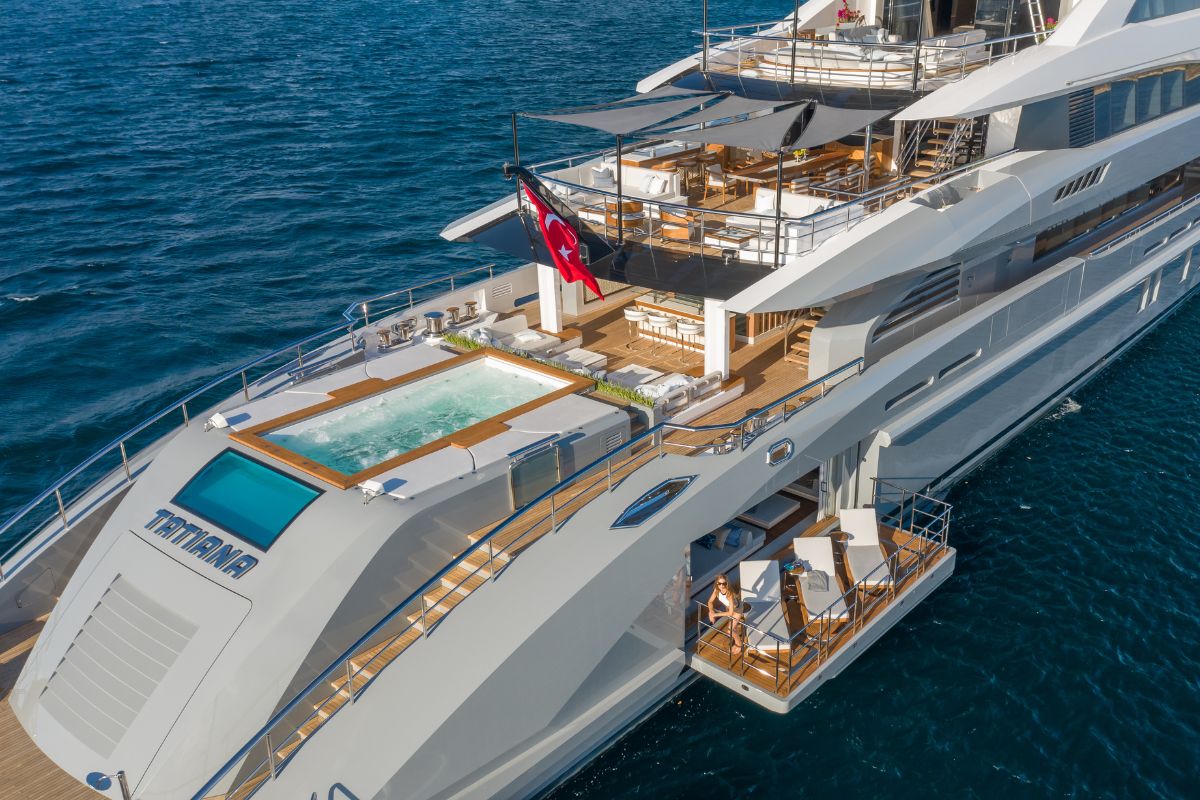 O'Pari
When Golden Yachts unveiled is 95 metre charter yacht O'Pari back in 2020, it's clear that the Greek yacht builder used its experience gained from the 13 vessels conducted before her to really outdo itself. Once more drafting in esteemed partner Studio Vafiadis to work its magic on her design scheme, she comes complete with huge longitudinal swimming pool on the bridge aft deck, touch-and-go helipad on the foredeck, forward jacuzzi on the sundeck plus outdoor cinema where guests can relax at the end of the day with a screening of the latest films under starlight.
Perhaps most impressive though is her multi-faceted beach club which has been painstakingly designed with guest enjoyment in mind. Here guests can relax with a treatment in the massage room, dry Finnish sauna or Turkish Hammam, with easy access to both the main and spa pools. Surrounded by sliding glazings, the lounge creates the feeling of being outside yet in the comfort of air conditioning, while a louvre-style ladder leads guests into the water below.
Read the full O'Pari yacht profile here.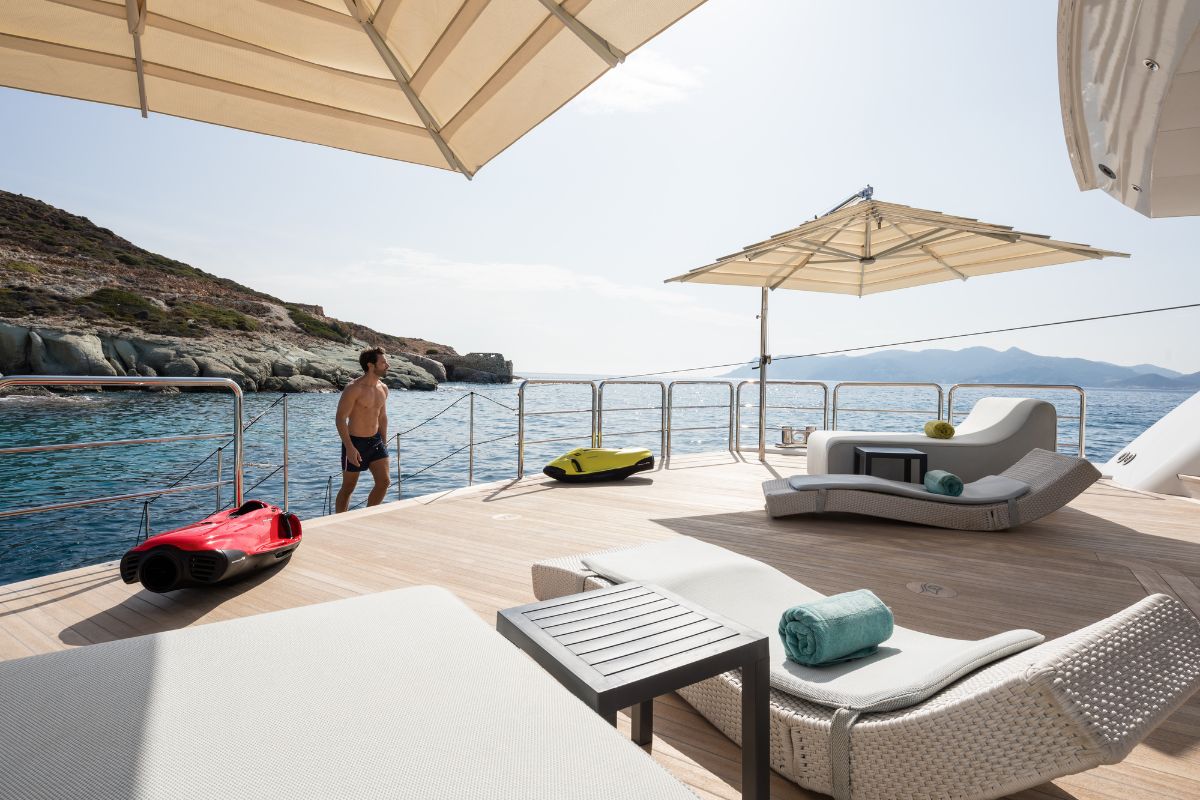 Tranquility
If you're after a luxury wellness charter, the 91.5m Oceanco superyacht Tranquility could be just the ticket. Not only is her impressive lower deck wellness area home to a sauna, a hammam and massage room to name a few, but at 42 square metres, her open-plan beach club comes complete with bathing platform, fully-equipped bar and indoor lounge area that is the perfect chillout haven.
A generous and welcoming space, it also serves as the gateway through which guests embark when the yacht is at-anchor and from here they have direct access to the generous toy and dive store from the beach club and swim platform, as well as the aforementioned wellness area and its 64 square metre spa and 57 square metre gym. Whether you choose to fold out her balcony to starboard and roll out your yoga mat or pull up a sun lounger onto her bathing platform before cooling off in the sea, it doesn't get more zen than this.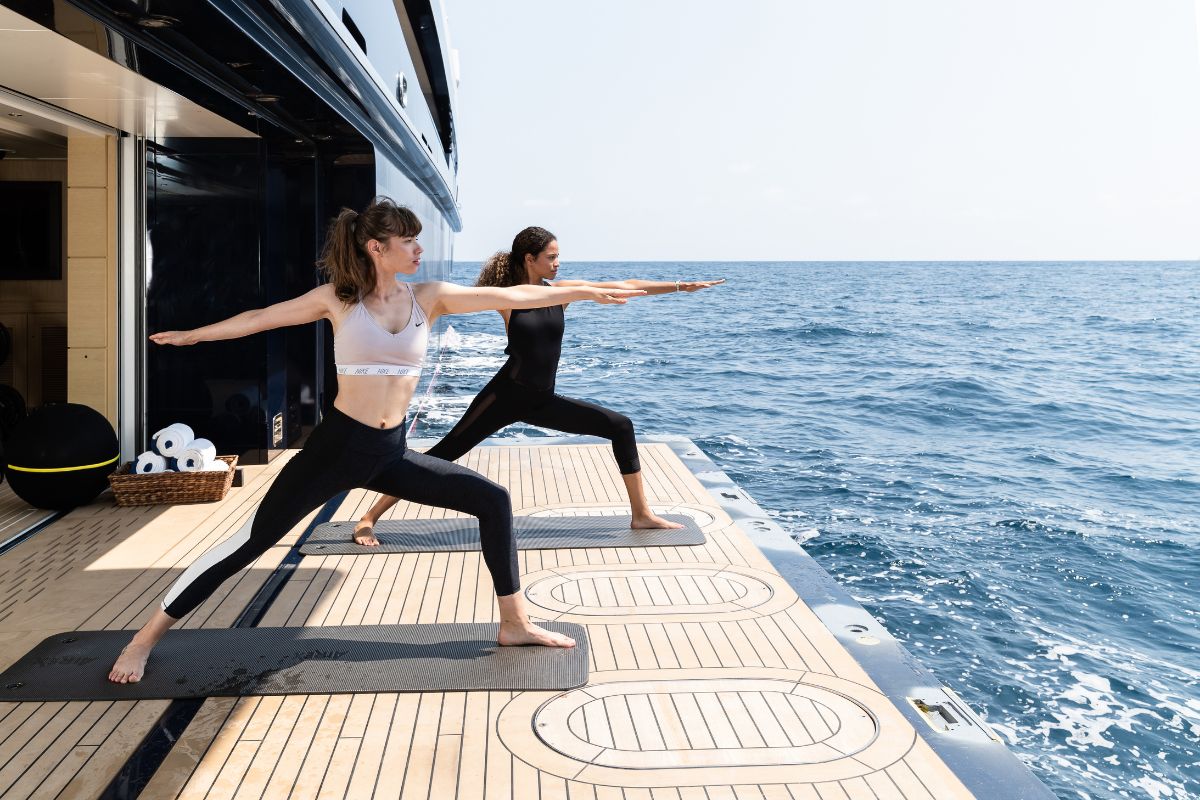 Image credits: Jeff Brown, Jim Raycroft
Read Next: