Exploring the Magic of the Underwater World with Younger Guests
Exploring the underwater world from the luxury and comfort of a superyacht is not just a wonderful experience for adults - some of the most exciting dives a family can do are their first dives together.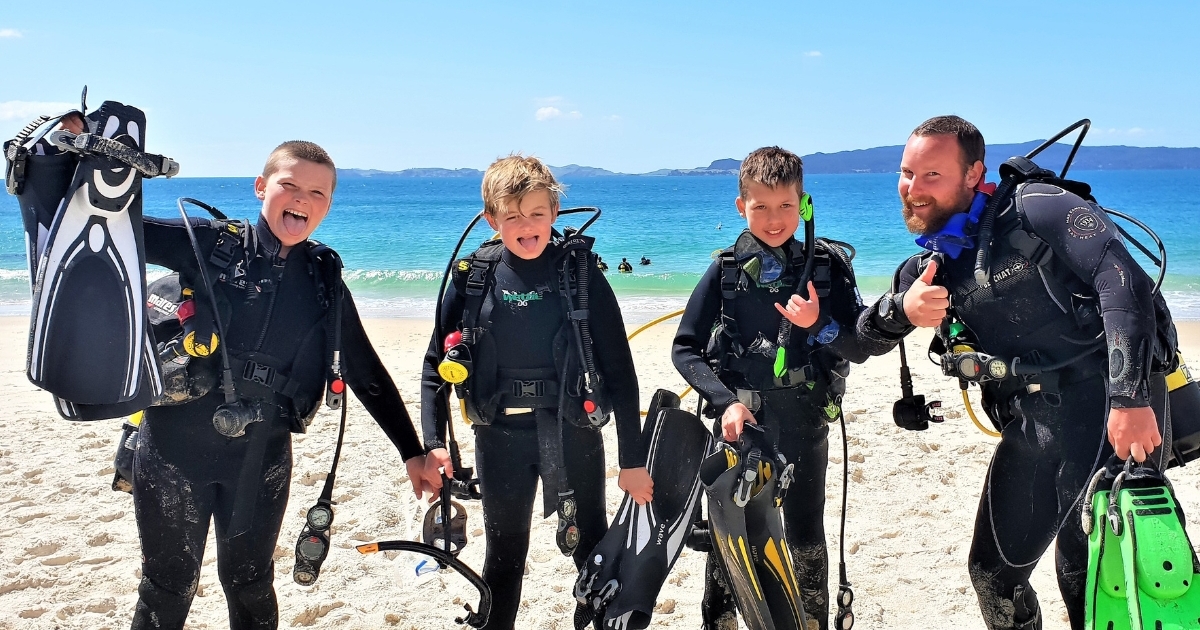 Being able to offer children a glimpse into the world of diving and helping create magical and memorable family adventures that will last a lifetime, is undoubtably a beneficial skill for crew to offer.
Diving is a great way to broaden experiences and connect with nature and with their natural curiosity and affinity to learn new skills, children can make excellent scuba divers. Scuba diving helps kids become more confident people, both above and below the surface, through training and exploration of the underwater world. It's a great way to deepen bonds and cultivate family relationships while also having fun and giving them a much-needed digital detox!
There are a range of fun options for children aged 8+ to get started with their dive journey and a good way to determine if children are ready for scuba diving certification is to first enrol them in the Bubblemaker or PADI Seal Team programme.
PADI Bubblemaker is a one-day programme in a pool or confined water for children eight and older, with a maximum depth of two metres. PADI Seal Team is a more extensive pool programme for children eight and older that covers basic scuba diving skills in addition to fun activities such as taking underwater photos, practicing buoyancy and learning environmental awareness.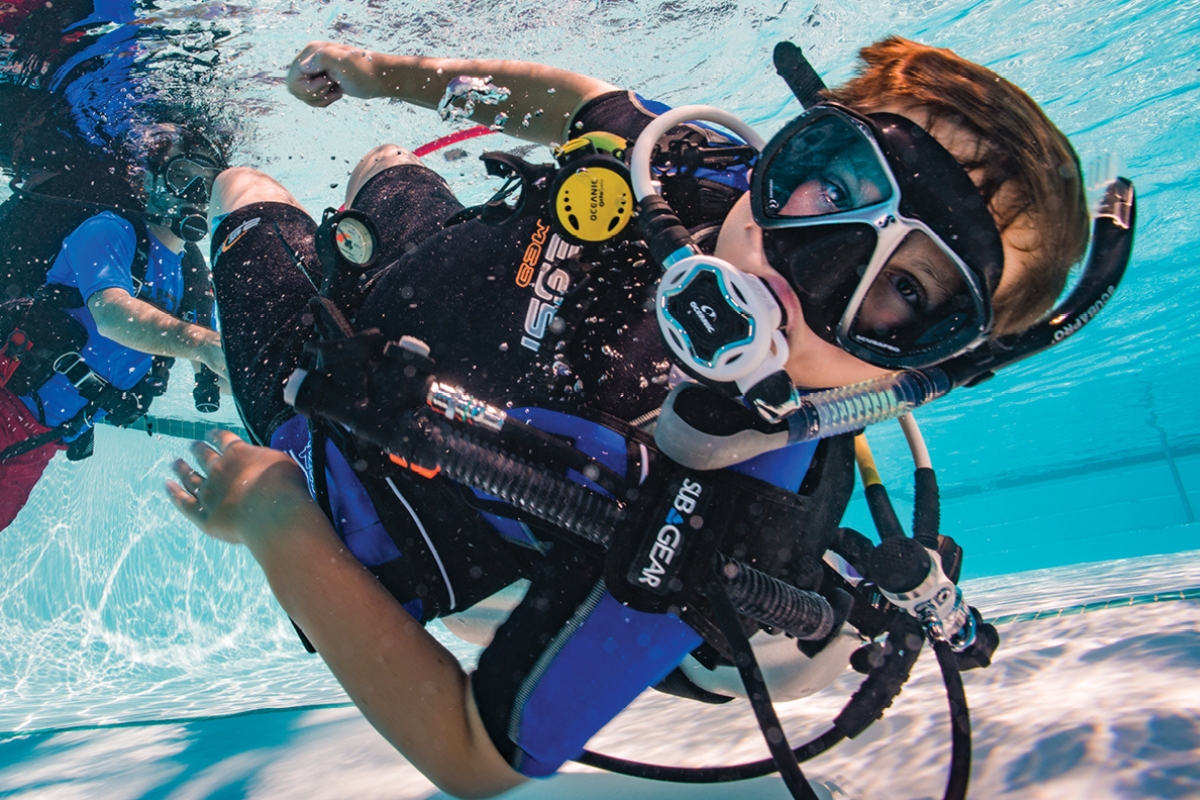 Children as young as 10 years old can enrol in the PADI Open Water Diver course to earn a Junior Open Water Diver certification and when they reach age 15, they can upgrade their junior card to a PADI Open Water Diver certification card.
We asked PADI, the world's largest diver organisation for some advice for superyacht crew on how to manage younger divers.
Rich Somerset, Territory Director, PADI Course Director and Instructor Examiner tells us: "Bringing kids into diving is a wonderful experience – but you should always be mindful of the following…"
Diving is fun! Keep your training and interactions light and enjoyable for youngsters. Focus on gently developing them and staying within their comfort levels.

Show them to underwater world and how to respect it. Children are naturally curious – help them understand the need to "look, don't touch" and their role in protecting the environment.

Use the right kit. Children are not 'small adults' – make sure you have properly fitted BCDs and wetsuits for maximum comfort and enjoyment.

Use the PADI system – there are courses specifically designed for differing ages and abilities. Make sure you select the right course for the right child.

Let them grow at their own pace. A proper introduction into diving can foster a lifetime of exploration. Don't rush or pressure children as the develop – if in doubt, stay shallow, keep your ratios low and make sure they are having fun!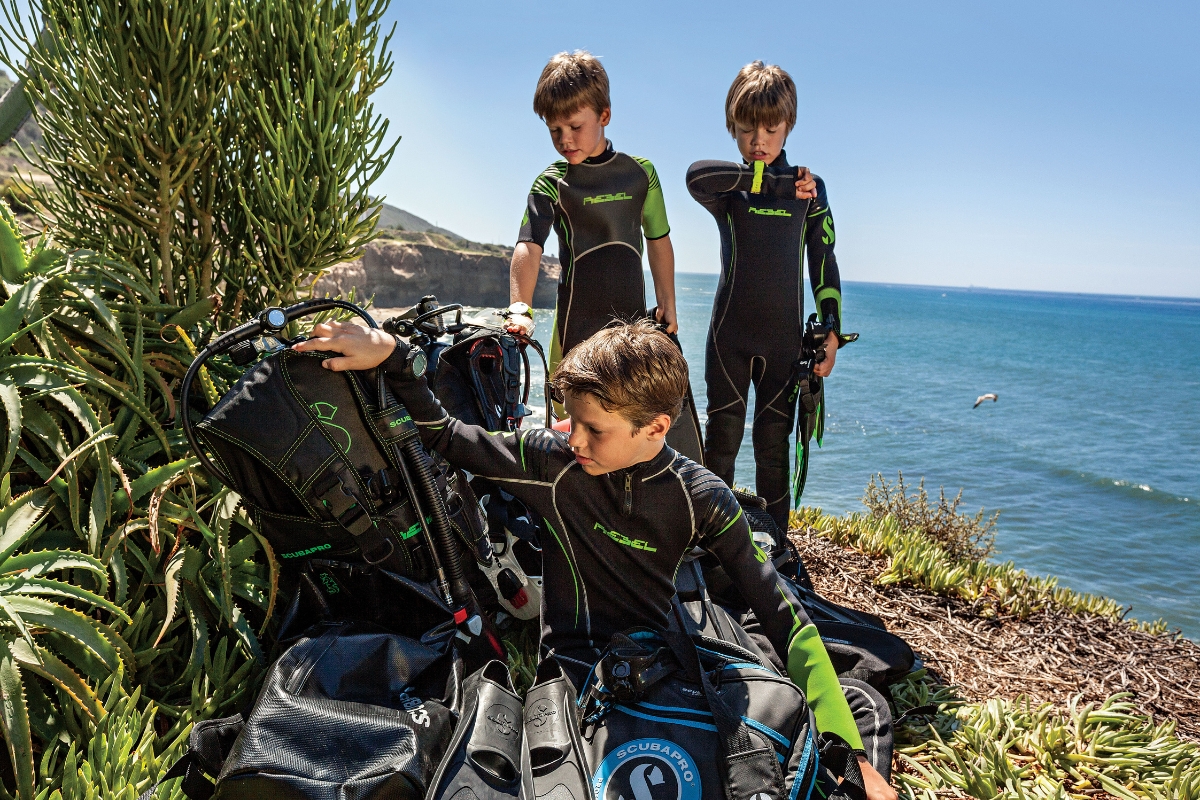 Tips for teaching the next generation of divers
Ease their nerves. "The main thing I've learned over the years is to make them laugh right away," says Alex Robertson, PADI Open Water Scuba Instructor and Diving Operations Manager of PADI Five Star Dive Resort Cape Eleuthera Island School in the Bahamas. "They are a bundle of nerves when they start their course. But by cracking a few jokes, it lightens the mood and gets them focused on what we are learning."
Be patient. "Patience and persistence are two skills to incorporate with children that can take longer to learn than adults," says Barbara Gentile, PADI Course Director and owner of PADI Five Star IDC Malibu Divers in California, USA, "Add more pausing and allow divers to self-correct more frequently when learning new skills. Safety is a priority but, when possible, take those extra few seconds to allow a diver to self-correct. Repetition is still a very important and keen ingredient as is keeping it fun. It's important to include just diving time and not just learning new skills."
Adaptability is key. "There is no magic bullet when it comes to teaching youth to scuba dive. Any instructor that has been teaching for a while will have a 'tool kit' of different techniques for teaching different skills," says Angelo of Florida Sea Base. "If one does not work for a specific person then try another for a specific skill. Sooner or later, they will get it."
Build trust. "We recently worked with a cohort of children with learning disabilities," says Rachel Hyde, PADI Open Water Scuba Instructor at PADI Dive Center Intrinity Divers in Bali, Indonesia. "We used one-on-one training to build up trust with each student. In this way, we could adapt training to their individual learning style, and make sure they were well supported. In some instances, we even brought their teacher aid into the pool to help with clear communication; they ended up going on to do their open water training."
Read Next: