Exploring the Aegean Islands and Ancient Wonders on a Small Ship Cruise
Swim stops at remote bays, expert-led tours of UNESCO World Heritage sites and unexpected detours uncover another side to Greece with Variety Cruises.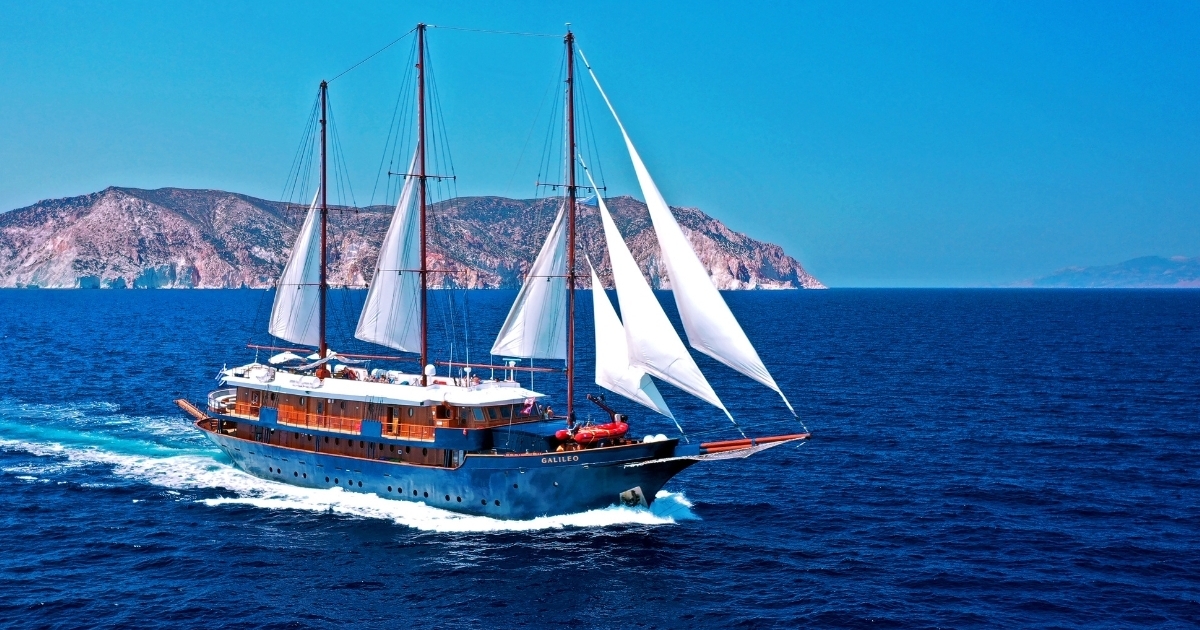 "Did you know that Harvard University operates a branch in Nafplio? Not an affiliate body, but an actual branch," asked a wide-eyed Josef Serafeimidis of the 26 passengers on the tour coach heading to the nearby ancient Greek city of Mycenae.
I shrunk back in my seat, hoping he wouldn't point me out. How could I not be aware that the historical Peloponnese port town has hosted Harvard's Center for Hellenic Studies since 2008?
In 25 years of living in Greece, I'd visited Nafplio - an easy two-hour drive from the capital, making it a much-loved weekend destination for Athenians - at least half a dozen times. This revelation about my ancestral country was just one of dozens I experienced, together with my fellow 32 passenger during a seven-night, eight-day small ship cruise of the Aegean aboard the Galileo.
The grand, three-masted navy blue 47m (157ft) motor sailer, launched in 1992, rebuilt in 2007 and renovated in 2016, is equipped with 24 spacious sea view cabins hosting up to 49 passengers. A member of Greek small ship cruise operator Variety Cruises' 11-strong fleet, its top cruising speed is 11 knots.
Josef was our straight-talking, highly entertaining cruise director for the week, and Nafplio wasn't even in the itinerary. However, Josef and his warm dedicated fellow 17 crew members ensured we made the most of our time there. I was curious to see what else I would unearth about my country in the days to come.
Founded in 1968 as Zeus Tours & Yacht Cruises, the company introduced weekly scheduled cruises throughout Greece aboard wooden boats. Cabins were basic and bathrooms were shared. Even the dress code was different then. Women wore little more than teeny bikini bottoms while sunbathing on the deck between island stops.
As a Greek boutique cruise operator that has been successfully operating for more than 50 years, it's this deep-rooted knowledge of Greece's destinations, history, culture and people and the intimacy of a small ship experience that sets their cruises apart. Their motto is "Family at sea" and, by the end of the week, I understood exactly what that meant.
Dancing with the meltemi
Entitled Jewels of the Cyclades, this cruise usually calls in at heavy-duty destination brand names like Santorini and Mykonos, both of which I adore, but I was more interested in reaching smaller, less-visited islands like Folegandros and Antiparos. That wasn't meant to be though.
The Aegean Sea might look calm and inviting, however it can also be a little unpredictable in the height of summer. A dry northerly wind known as the meltemi, or the Etesians, blows through between May and September - nature's way of providing welcome relief from the heat. And the phenomenon definitely makes its presence felt in July and August, when Greece needs it most.
Therefore, when the meltemi creeps into the 30- and 40-knot range, captains take heed and, in many cases, need to divert their course and take shelter in a protected anchorage or at a marina.
In the case of the Galileo, captain Yiannis Karathanos explained that the ship is most comfortable in wind speeds of up to six on the Beaufort wind scale, or 22 to 27 knots. In Greece, seven and eight on the Beaufort scale, equating to 28 to 33 knots and 34 to 40 knots respectively, is quite common in August.
"Beyond six, the ship starts rocking and rolling a bit - it's not so great for passengers," he said with a smile. "The Galileo crosses the Atlantic no problem, but you wouldn't want to be on it for the passage." So, when the forecast indicated powerful winds in the Cyclades in coming days, Captain Yiannis adapted the route and initially took cover in the Saronic Sea, followed by the Peloponnese's well-protected Argolic Gulf.
A first taste of island life
Setting sail from Marina Zea in the gritty port city of Piraeus on a searingly hot late August afternoon, passengers milled about the sprawling sun deck and upper deck outdoor bar and lounge, relishing the fresh sea breeze. Spaniards, known for their love of cruising, represented the majority, followed by Americans, French, Greeks, Germans, Britons and Austrians. For some, it was their inaugural trip to Greece. For others, it was their first small ship cruise. One British couple were repeat guests, having taken several cruises with Variety Cruises in recent years.
Our first port of call, true to the original itinerary, was the Saronic island of Poros, 29 nautical miles southwest of Athens. Sailing yachts often overnight here, as it's one of Greece's safest harbours, before making their way to the Cyclades or Dodecanese islands. I visit the island regularly with my sailing club to train and race but arriving with the Galileo was a different story.
Looking through my cabin porthole as we sidled up to the pastel-hued neoclassical buildings built amphitheatrically on a verdant, hilly main town gave me a whole other perspective. From the top deck, which towered above all the other vessels in port, the island's pale yellow clock tower shone like a beacon in the night.
"Look," I said as I pointed to flickering lights opposite Poros town to passenger Matthew St Peter, who was travelling with his husband, both from Boston. "That's the mainland and the town is called Galatas. We're moored in a very narrow strait that separates Poros from the Peloponnese." My husband Carlo and I disembarked and walked along the waterfront, passing by the taverna Naftis, where a pang of nostalgia hit me, as it does every time. There, we had flirted over dinner during our first holiday together 14 years ago. It hasn't changed since.
Another favourite dining haunt of ours, Oasis, was teeming with diners. A jumble of French, German, English and Greek, among other tongues, wafted in the warm night air. Three sun-bronzed, platinum-haired pre-teen siblings hopped around on the waterfront, laughing and enjoying their free-wheeling Mediterranean summer.
In the first alleyway parallel to the esplanade, it was much quieter. Josef's words from our pre-disembarkation briefing echoed in my head: "Every island is built the exact same way. First you see the waterfront esplanade, which is the busiest and has touristy restaurants and shops. The first street in is a commercial street where it's quieter, and you'll find places to eat where the locals go. But make sure you delve further into the backstreets, the residential area, where you'll find the true heart of the island."
On one corner, at patisserie Glykisma, trays of syrup-soaked kataifi, orange pie and chocolatey walnut cake tempted like sweet, silent Sirens. Next door, at Ergani Weaving Workshop, rows of tiny Greek flags hung like waves in the window display – a nod to the 200th anniversary of the 1821 Greek War of Independence. One young woman was assisting another to work a traditional weaving loom as I pored over cushions adorned with the evil eye present in the home of every Greek, even those who ridicule superstition. It's thought to ward off potential harm, often a persistent headache, brought on by the jealous thoughts, looks or words of others.
Across the street, I noticed a free lending library had opened, with open books suspended in the air, serving as light shades. No staff, just dozens of books to choose from.
Upon returning to the ship to retire for the night, I stopped to admire a blazing white, almost-full moon shining high above the Galileo's bowsprit. Passerby after mesmerized passerby halted in their tracks and voiced their admiration for the ship's classic old world beauty. And as I drifted off to sleep in my well-soundproofed cabin, the port chatter melted into the night.
Swimming at a hidden bay and strolling through Spetses
On day two of our cruise, we dropped anchor in the serene, blue-green waters of Ververouda Bay near the summer resort town of Porto Heli in the Peloponnese prefecture of Argolis for our first swim stop. Everyone on board could barely wait to descend the stairs starboard and slip their bodies directly into the sea after the stifling heat of Athens.
I had never heard of this bay and, no wonder. Unless you're a member or friend of the European royal families, business tycoons or privacy-seeking celebrities who own or rent villas in the vicinity, well-hidden amid pine forests, reaching this spot isn't easy. It's best done by sea. Some passengers grabbed a SUP or kayak to explore the bay. I donned fins and a snorkelling mask and made my way around the rugged coastline, following schools of fish darting between shallow caves. Above the surface, I marvelled at a rocky cliff resembling the profile of a human face that the wind and sea had carved into the seascape.
In the early afternoon, the crew gathered up the bowlines and anchor and we sailed to our next port of call: sophisticated Spetses. Porto Heli's jetsetters make a beeline for the Saronic isle with their yachts for an afternoon. Most try to find a spot to moor in the Old Harbour, sharing space with dozens of traditional fishing caiques large and small, which have their designated berths.
Captain Yiannis secured a spot on a quiet dock just a few metres from the seafront cafes of Dapia, the new port, and the plush Poseidonion Grand Hotel which was built in 1914. In the square in front of the hotel stands a statue of Laskarina Bouboulina, a naval commander and war heroine whose contribution to the country's uprising against Ottoman occupiers is known among all Greek schoolchildren.
I took a brief afternoon snooze in my cabin before freshening up and taking a long stroll along the coastline, past 19th century mansions and through the Old Harbour. As night fell, the port transforms into a buzzy concoction of upscale fish tavernas, slick restaurants, hip waterfront bars, contemporary art galleries and resort wear boutiques. The twenty-somethings travelling on the Galileo stretched the evening till late, gathering at hip bar Bikini for cocktails, since we didn't need to be back on board till 4am. I preferred to venture to the far western end of the Old Harbour, where I found Spetsiot home entrances adorned with pebble mosaics depicting mermaids, octopi, ships and other nautical themes.
The inside story on Ancient Epidaurus and Mycenae
As I slept, the Galileo sailed to our next destination: Nafplio, where we ended up spending a full two days due to strong winds.
Nafplio's architecture is a blend of Ottoman, Venetian and neoclassical era styles. It's filled with all sorts of curiosities, like a komboloi (worry bead) museum, a store selling beautifully-handcrafted toys and a lovely, quiet park. One of the most unlikely finds is Antica Gelateria di Roma, which serves possibly the best gelato in Greece. Try any of the seasonal fruit sorbets, like fig in August. But these weren't the only surprises in store.
One morning, Josef took us to the nearby resort area of Tolo. I had never visited as I knew it was a popular cruise ship port of call and I assumed it was overly touristy. Instead, its long, sandy beach, green surrounds and flat, crystalline waters seemed comparable to beaches on the Ionian isle of Corfu.
Back at the Galileo, from the sun deck we could look out at the 15th century island fortress of Bourtzi and up at the majestic Palamidi Castle rising up above the town, especially impressive when illuminated at night.
Nafplio is a strategic jump-off point to visit some of the country's most significant archaeological sites. With ample time on my hands, I grabbed the opportunity to take guided tours of Unesco World Heritage-listed Mycenae and Ancient Epidaurus that shed all-important light on the well-preserved ruins. What a difference if makes when a guide vividly brings archaeological sites to life for you on the spot. It really doesn't compare to trying to recall your ancient history textbook or hastily doing a little research beforehand.
What made it even more special was that, when the sun started to set over the Stoa of Abaton at the Asclepieion of Epidaurus, the birthplace of western medicine, we were fortunate to have this world-famous location almost completely to ourselves. "Even if you spent a year in the Peloponnese, you still wouldn't be able to see all of its beauties," Josef said as we returned to the Galileo.
That evening, we celebrated Greek night with two quietly-spoken young black-clad men from a local dance group who spun their heels in the air and demonstrated a heartfelt syrtaki. High-spirited, quick-witted hotel manager Yiota Vasilakopoulou even encouraged a little plate-smashing.
Another swim stop and, finally, Santorini
One of the advantages of choosing to travel with a locally-based cruise line is its captains. Captain Yiannis is profoundly familiar with the waters of the Aegean. While he might look to the latest technology to gauge where to alter an itinerary, ultimately, it's his decades of experience in these fickle waters that guide him in making a final decision on where to go next, prioritizing passenger safety and comfort above all else.
Arriving at remote Fokianos Bay in the Arcadia prefecture's Myrtoan Sea, our second and final swim stop, he explained that it's a handy anchorage to wait for the meltemi to lose a bit of steam before cruising east to the Cyclades. Some passengers jetted off to the stark white pebble beach in the ship's Zodiac tender, while others swum laps in the deep indigo waters around the Galileo, savouring the freedom of the open sea.
During lunch on board that day, the good news broke. Wind god Aeolus had taken pity on us. We would make an overnight passage to Santorini. For many on board, it would be their first time visiting the renowned, white-washed Cycladic isle, so the excitement was palpable.
The following morning, just before 8am, Captain Yiannis manouevred close to a giant buoy in the caldera, a crater formed when Santorini's famed volcano erupted some 3,600 years ago, sinking half the island below the sea and killing more than 40,000 people. "It was such a cataclysmic global event that it caused giant tsunamis, resulted in a worldwide drop in temperatures and led to unusual sunsets reported over a period of three years as far away as China," said Josef, who studied archaeology. Still alive today, the submerged volcano last erupted in 1956.
The rising sun hadn't yet peeked over the steep cliffs that rise up as high as 300m, whose layered colours of mustard, taupe and rust illustrate different eruptions through the centuries. I joined Patricia O'Callaghan, 22, visiting from Barcelona with family, on the top deck to take in the views. "I'm in awe," she said. Her bright-eyed compatriot Bibi, from Granada, blew kisses at the island.
Shortly after breakfast, we boarded a tender and stepped into a cable car, a gift to the island from the Nomikos shipping family, that swept us near vertically up to the capital Fira in just three minutes. We boarded a coach for our half-day tour of the island, which started at the ancient city of Akrotiri. There, state-licensed guide Evie Barbouni led an in-depth tour of the meticulously-preserved Mediterranean Bronze Age settlement which is shrouded in mystery. Buried beneath volcanic ash since the eruption of 1630 BC, archaeologists only unearthed the ancient site, one of the country's most significant, in 1967. "We compare Akrotiri to Pompeii as they were the same type of eruption though in completely different time periods … but here we have an absence of human remains," she said.
No written material has been found and the city, estimated to have a population of 20,000, is not mentioned in any ancient texts.
"There is a hypothesis that these people, who were seafarers, had the time to board their ships and leave but the question is where did they go? We have no idea," Evie said.
Walking through the site, which is completely indoors and protected by a bioclimatic roof, we inspected various buildings including two- and three-storey homes equipped with complex drainage systems, illustrating the advanced level of its inhabitants and their prosperity. Just three per cent of those who travel to the island visit Akrotiri. If you're part of the 97 per cent who don't, you're truly missing out.
At the caldera cliffside town of Oia, which is usually jammed with holidaymakers rushing to capture its iconic twin blue and white church domes, colourful cave residences and sunset, the cobblestoned streets were quieter than I'd seen them in years. I felt for the shopkeepers at the many galleries and boutiques who stood at their doorways, awaiting the odd customer.
On board the Galileo that evening, we raised a toast to Santorini's enduring magnificence. "The sun sets around the world but it's all this around you," Josef said, motioning at 360-degree views of Santorini and its sister islets of Thirasia, Nea Kameni and Palia Kameni, "which makes it so unique."
For the captain's dinner that night, head chef Mohamed Elsayed Alameldin and pastry chef Tarek Eltoukhy, both from Egypt, sourced a freshly-caught grouper and local produce for a fabulous fish and seafood spread paired with Santorini's crisp white Assyrtiko wine. All week, the two chefs wowed us with an array of delicious dishes, including plenty of inventive salads and a surprise falafel breakfast, all prepared in a relatively tiny galley.
Paros and a fond farewell
Our final destination was Paros which, in recent years, has evolved into a low-key alternative to Mykonos while staying true to its Cycladic island soul.
High up at the matriarchal village of Marpissa, we weaved our way through empty alleyways past a church with tall bell towers and spotless, whitewashed homes dripping with magenta bougainvillea.
Resident Marigoula Fisilani welcomed us into her abode, a living folklore museum, excited to host guests from abroad. She offered us home-crafted spoon sweets made with fruit, such as watermelon. Sitting at her traditional loom that dates to 1858, one of Greece's oldest, she lamented that she would be the last generation to work it. "It's important that we support these traditions," said passenger Maria Mertzani as she purchased a delicate, one-off cream purse Marigoula had painstakingly woven.
After our last dinner on board that evening, with fellow passengers some of whom were destined to become good friends, the Galileo quietly set sail for Piraeus. I looked out at the faintly glowing lights of island homes, reminiscent of a starry constellation, and thought about all the new places I had discovered, the individuals I had met and how much I had learned about my small but mighty country on this cruise. I also wondered how many tens of thousands of secret corners in Greece still elude me.
The Jewels of the Cyclades itinerary runs from April through October. The Galileo is also available for private charter. For more information, see Variety Cruises.
Image credits: Variety Cruises, Visit Greece
Read Next: