Superyacht Chef Sascha Lenz: A Michelin Starred Chef Continually in Pursuit of Perfection
Leaving home at 16 to follow his dream of becoming a world class chef took Sascha Lenz to some of the finest restaurants and superyachts around the globe.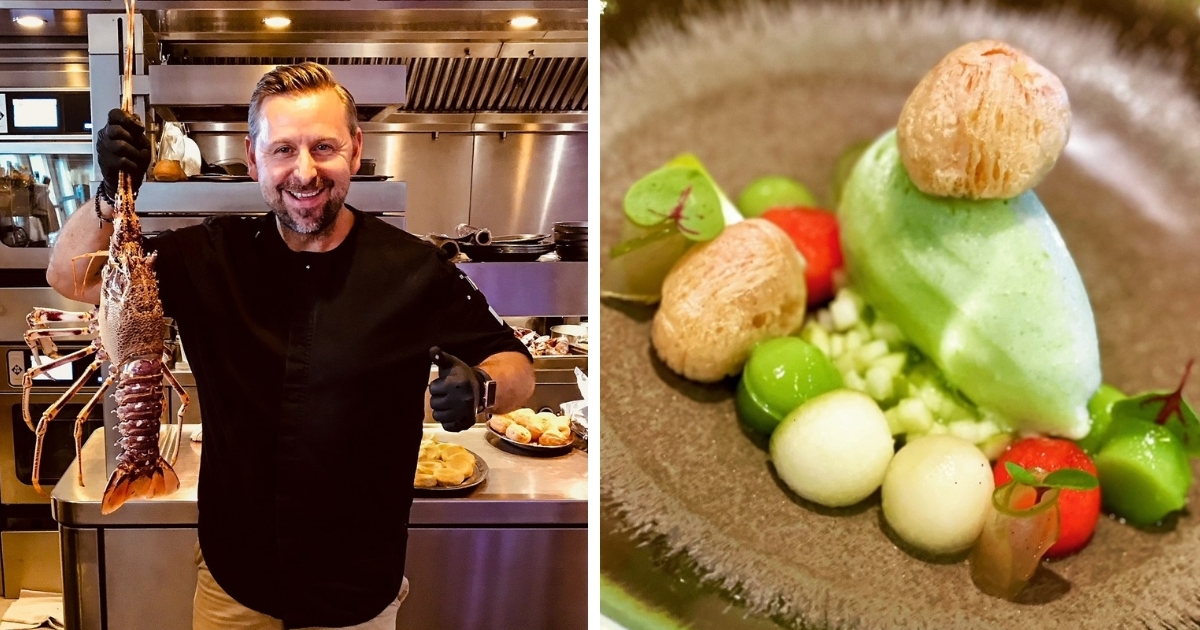 Having earned Michelin stars in Austria, Switzerland and Germany, as well as building an impressive 56k following on his @billionaire_ch3f Instagram account, many might assume that after almost three decades in the industry, Sascha is at the top of his game.
But the head chef of 87m Avantage spends each day endeavouring to better his skills. "You have to deliver your knowledge on a plate," he says. "I'm travelling a lot, going to restaurants, looking at what other chefs are doing. I'd like to refresh my knowledge with courses and stages as soon as I have the time. I have 28 years of experience so I have a lot of dishes in my repertoire…but there's always room for more."
Swapping soccer for the kitchen
Sascha's passion for cooking dates back to his childhood in Dusseldorf when he would spend time with his grandma while his parents worked. "I was six or seven and my grandma would show me how to make different recipes.
"Back then, I wanted to become a professional football player. I trained hard as a midfielder until I was a teenager before realising that maybe I didn't have the power to make it. Then I remembered how much fun I had cooking and creating food. I knew I needed a creative career – I could not be happy sitting in an office."
At 16, he left home to join hotel school, spending three years learning culinary arts, taking exams and practising in a restaurant under the influence of a Michelin starred chef.
Michelin road to success
"My first restaurant placement was Michelin-starred Keidenzeller Hof in the middle of Bavaria," he recalls. "I spent four years there, learning all the positions in the kitchen from the lowest up, shadowing the other chefs working with fish, meat and sauces and absorbing as much as I could step by step.
"At the time I learned to cook, you had to do it by travelling or looking through cookbooks - there was no internet and you learned the hard way. I couldn't google recipes or photos of dishes and I still don't. I think learning the trade in a different way makes you a bit better than the people who look everything up online. I think of my generation as the golden generation."
He moved to Switzerland to work with a two Michelin star chef where he remembers the culinary and gastronomic standards were "very, very high" before heading to Austria, Bangkok, (where he ran the CIAO Terrazza at the Mandarin Oriental), Slovenia and Croatia. "I always aimed for five star hotel restaurants as a chef because I wanted to learn at the highest level from the best in the business."
There were hard times too, and he recalls the homesickness he felt leaving home as a teenager and the frustration of hard services and fraying tempers as he battled his way to the top.
"I spent a lot of time crying into my pillow, asking myself if it was the right thing for me," he reveals. "If you have a very hard service behind you, you don't sleep well and the next morning you're going back to work, where the chefs are shouting and pans are flying. It was a different, much harder way to learn but in the end, it makes you better at what you do!"
A foray into TV before yachting beckons
In 2014, having spent several years in hotel restaurants, earning his first Michelin star in Austria in 2007, in Switzerland in 2009 and in Germany in 2013, Sascha went into TV, spending a year as culinary advisor to German cooking shows including Masterchef. "I was assisting the big name chefs, cooking the dishes in the background and doing all the work so that they could finish it off on the show! It was interesting work but I felt burned out and needed to try something different."
He confided in his friend, Monaco-based olive oil producer Fernando Pensato, who advised him to bring his CV to the principality and see where it led. "He suggested we go out and give my CV to some yacht captains. I felt I couldn't go on a boat at my age and sleep in close quarters with other crew but I went to Monaco and had a night out in the Buddha Bar with some other chefs.
"I gave my CV out to a few people and it ended up on the table of a captain two days later. He asked Fernando if he thought I could manage a superyacht chef position as I'd never worked on a boat and Fernando said: "If you take him, you'll never have a problem."
"Two days later, I was on a plane to St Tropez to join a 70m private yacht. The owner had eaten at the Ca d'Oro Italian restaurant at the Hotel Kempinski in St Moritz – at a time when I was chef de cuisine - during one of his ski trips and it was his favourite restaurant."
Arriving on the Med was a revelation for Sascha, although he felt the pressure during his first few weeks on board Hermitage. "I fell in love with yachting, the travelling, the fish, the markets. When I arrived at the boat on a tender in St Tropez, it was like being in a Hollywood movie. But I had to learn everything…how to use a radio, how to plan deliveries and make sure they arrived before we set sail!
"That first summer was a nightmare but I'm a fighter and despite my lack of yacht experience, my first season was a success."
After three years cooking on the yacht in the summer and at the owner's Moscow home each winter, Sascha moved to 72m charter yacht Axioma before joining Avantage 18 months ago.
"It's really good. There's three of us in the galley, it's a beautiful boat and we have lots of time to prepare when we know the owner is coming."
Mentored by the world's best chefs
True to form, Sascha developed his culinary techniques with the most talented mentors he could find, learning macrobiotic and vegan cuisine at the world-renowned SHA wellness clinic in Alicante. He was trained in molecular gastronomy by three star Michelin chef Juan Amador, one of Europe's most avant-garde and highly regarded creatives.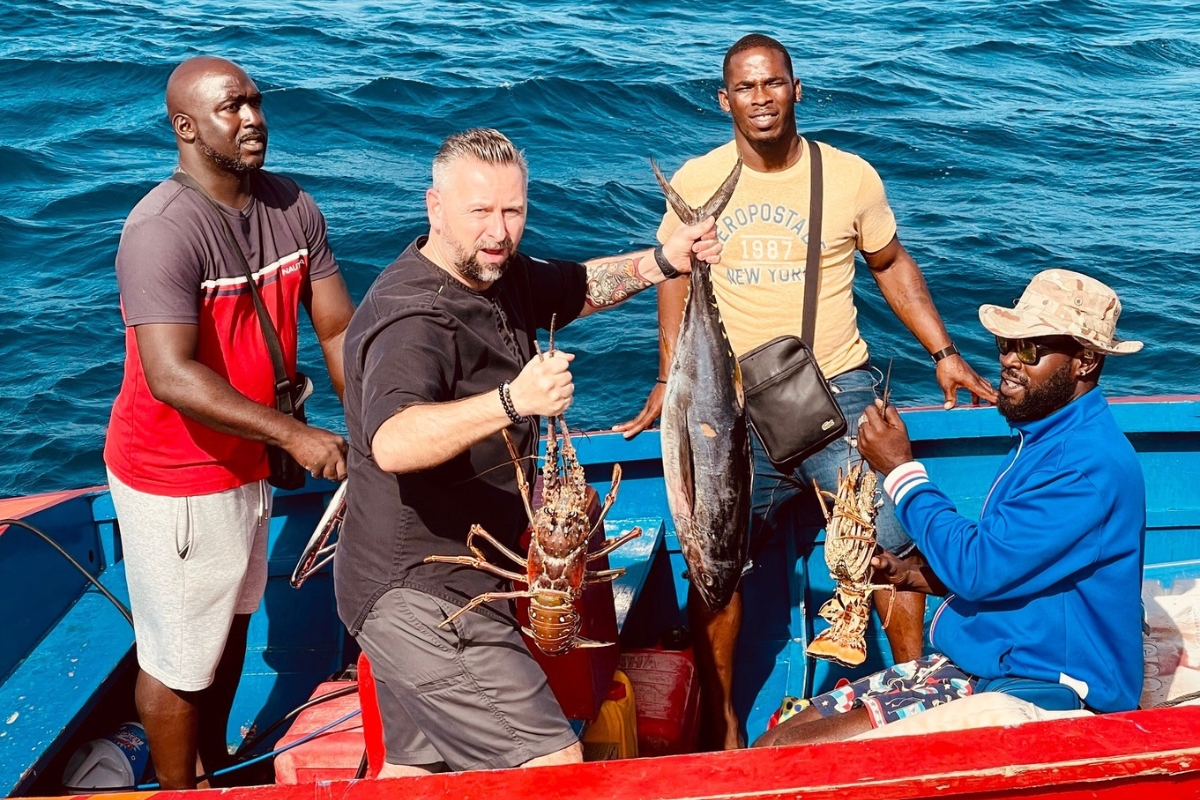 "My food heroes are the three star Michelin chefs I've worked for, not people like Jamie Oliver or other TV chefs," he says. "The chefs who do the same job every day and try to be perfect are my heroes. My favourite chef is Juan Amador in Vienna, this guy is amazing. He cooks in a very exciting European style."
Sascha describes his specialities as fish, macrobiotic and Ayurvedic cuisine, "because I like creating very light dishes using less gluten and fat. Guests and their tastes are changing, they order less bread and less white products.
"My boss prefers to eat healthily so I love cooking Asian mixed with Mediterranean cuisine – Turkish and Moroccan flavours as well as Italian and Greek. I love the fermentation style, umami flavours, and all this together is fantastic. Less is more.
"I need to cook authentically, that is very important to me, so I go to chef events and look at cookbooks, and also research the restaurants my owner goes to, to find out what he ordered and what he enjoyed there."
Favourite Med destinations
Italy and Spain are the top foodie destinations on Sascha's list. "Italy is not just about the cooking but how they present food – the easy way, no fuss, just simple and characterful. And Spain I also love because they have some excellent products and styles of cuisine.
"My favourite restaurant is Paolino, in Capri, where you can sit under the lemon trees eating lemon pasta. You can show me 100 other restaurants but I always want to go to Paolino's and eat the dishes cooked by grandma!"
With a four month summer cruising schedule which will take him to Turkey, Sardinia, the South of France, Corsica and Croatia, Sascha is looking forward to the season ahead.
His current signature dish is Carabineros shrimp - large deep sea red prawns – served carpaccio style, simply grilled or sous vide, and when asked to name his favourite ingredient, he says it's character!
Superyacht Chefs: Remarkable, Unique, Rising Stars, with special thanks to Amandine International Chef Placement
The leader in international chef placement, Amandine Chefs is the brainchild of food fanatic Kate Emery whose overriding passion in life has always been great food and wine. Kate launched Amandine in the South of France in 2011, subsequently expanding across the globe with offices now in Monaco, London and Fort Lauderdale, cementing her commitment to raising standards in the yachting industry and providing the right support, motivation and inspiration to enable chefs to perform at the highest level.
When she's not working or looking after her two daughters, you'll find Kate eating her way around the world and working through San Pellegrino's top 50 list.
Read Next: