Superyacht Chef Jack Middleton: From Mountains to Motor Yachts
It was Jack Middleton's love of skiing that probably led to him becoming one of the superyacht industry's most exciting young chefs, who now presides over the galley aboard the impressive 62m MY Rio.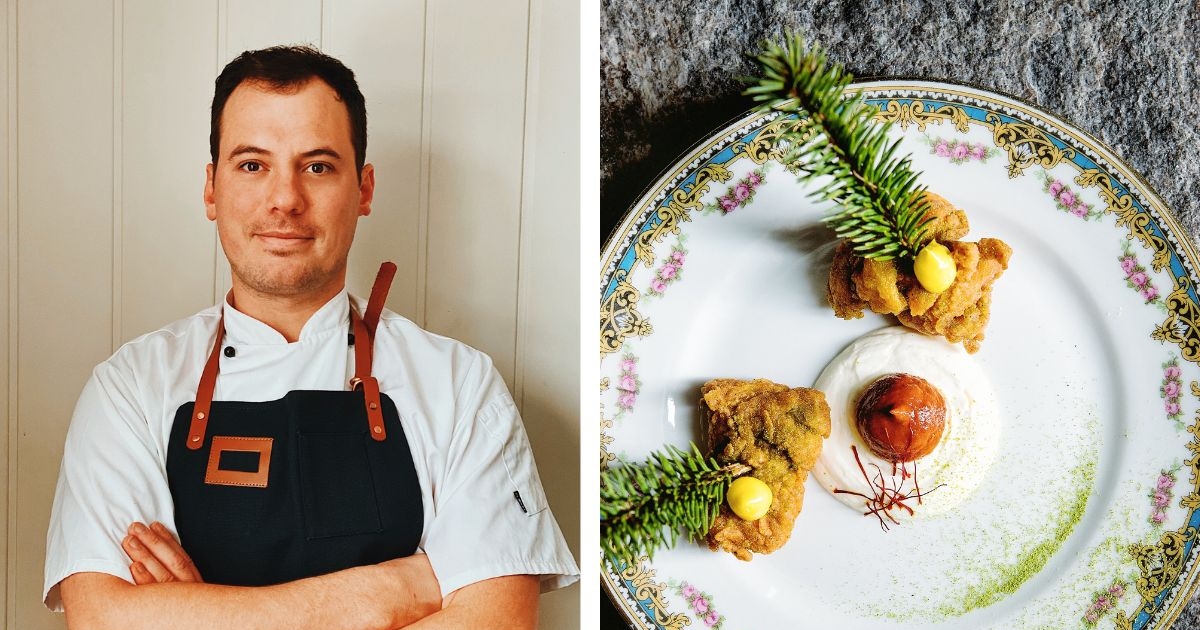 A year off to do a ski season during university saw him take a gamble, swapping his course for a job in a hotel kitchen. You could say it paid off - Jack now presides over the galley aboard the impressive 62m MY Rio - but it was home cooking which first drove him to take his passion for food to greater heights.
The youngest of five children, he was first inspired by his mum's deft kitchen skills. "My mum is still one of the best chefs I've ever met, she is incredible," he says. "Food was a huge part of my upbringing; our family life was centred around big family meals. I've always been exposed to good quality food and my mum is very skilled at making even the cheapest ingredients stand out."
Technical wizardry in Austria
When she urged him to give it a try as a career, Jack started at the bottom, washing dishes in a five-star hotel in Austria and working his way up to commis chef. Landing a job at the renowned Tannenhof (which held 18½ Gault Millau points) was a turning point and he spent six years there, starting as demi chef de partie and later becoming sous chef.
"I also headed their test kitchen where we did research and development, which was extremely exciting," he recalls. "It was an opportunity to answer all the questions I had about cooking with all the equipment and time I needed. We weren't rushed to do things and created some really good new techniques and dishes during my last summer there."
One such dish was based on a classic bonbon recipe using Schnapps, corn starch and powdered sugar. By dripping in a liquid sugar solution, he created a sugar shell around the liquid over a two-day period, heating it to 107 degrees centigrade to reach the crystalline point. "The perfectly coated small disc was served on top of a Schnapps bottle as one of the petit fours," he says.
"We also did a lot with pine in spring, using the extremely soft, luminous yellow fresh pine sprouts which come off spruce pine needles to make honey, sugar, salt, and vinegar. That earned the Tannenhof an extra point as a result."
The world's best stages
Heston Blumenthal was a huge influence on Jack and he spent a month on a stage at the renowned chef's Dinner at the Mandarin Oriental Hotel in 2014 under the command of two-star Michelin chef Ashley Palmer-Watts, who was at the helm while Heston ran The Fat Duck. Ashley also started his career washing up at a restaurant in Dorset.
'Dinner was the 7th best restaurant in the world when I was there and it was such an interesting place to work," Jack recalls. "The sheer scale of it was incredible - the chef brigade was 48 and it was chaos but an amazing experience. They served 240 for lunch and 260 for dinner. I learned a lot about the appreciation and importance of recipe.
"With that number of chefs, you cannot have someone blagging it - it has to be uniform throughout the whole week's service – so everyone has to abide by the recipe book. The attention to detail is everything; measures under 10g are weighed on a micro-scale and all the temperatures are consistent."
The Tannenhof encouraged Jack to complete further stages and he found himself working in three Michelin starred The Table by Kevin Fehling in Hamburg. "That was a crazy high-end experience – they do two sittings of just 11 people per night – and everyone sits at the same crazily shaped table with the kitchen set up in front of you."
Making the move to superyachts
Jack spent time writing restaurant concepts for another eaterie in St Anton but it was the pandemic which opened his eyes to the elusive world of superyacht cheffing.
"Cooking on land is not as attractive or rewarding as it used to be," he admits. "During covid, it was a struggle to find good chefs to work with and around 20 restaurants a day were going under in London. Even though I had no yachting experience, yacht chef experts Amandine helped me to find a job."
His first placement was as sole chef on MY Princess AVK, a busy charter and owner use boat where he was cooking for 12 guests and 12 crew. "I wanted a job to accelerate my yachting career and I was told this was a job which would make or break a yacht chef! It was very tough – you set yourself such high standards in a team but working on your own, it's hard to divide your time and deliver quality on every level, particularly on plating. It was a steep learning curve but great for experience and contacts."
He joined MY Rio in Spring 2022 while it was being built in Italy, and was entrusted to help design the galley layout, having it fitted with equipment he has worked with during the past decade.
"The trust that Captain David Kirkbride and the owners gave me was amazing. I built a good rapport with them from an early stage to the point where I know what they like and don't like and they eat whatever I cook. Sometimes I ask for guidance on whether they want a more formal setting or a bit more flash if they have guests, but they are happy to leave it to me. It's fabulous to have a free rein."
Food and flavour inspiration

Jack loves to impress from the first welcome canapes on board, stepping up the creativity with each course. "It's important to create a warm welcome with snacks and I stick to two or three well balanced flavours to get people excited for what's coming in the next few courses.
"I like prepping two or three sharing starters for the middle of the table so guests can choose what they want before they go on to a plated main course. It also buys me a bit of time to plate those mains. I always want people to remember how good the food was on board."
A big fan of Mexican and South American food, he fuses classic French techniques to create something a bit different, like ahi chilli beurre blanc, or ceviche served with purple carrot puree. "I like to keep things fresh, make sure I'm developing and not stagnating and also ensure the guests are having a good time too."
Inspiration often comes from cookbooks. "I always have a decent cookbook at the side of my bed – I bought the Stockholm chef Björn Frantzén's book recently – and I also love old editions. I found one about plating techniques in Austria from 1986 recently. My fiancée is an amazing cook, but she also likes being wined and dined when I'm at home!"
His signature dish is currently a rolled chicken thigh with lemon and smoked celeriac and his food heroes include Rick Stein for his simplicity and passion and James Baron, Jack's erstwhile head chef at the Tannenhof. "He was always pushing me and putting me forward for stages. He sent me to work with a wagyu farmer in Austria for two weeks, where I was in the abattoir, learning to butcher and also did nose to tail of Iberico style pigs. He also sent me to work with Austrian cheesemakers…he really believed in me."
Jack's favourite culinary destination is Mexico City. "I spent eight weeks travelling through Mexico which was insane, from suburb to suburb, and the food scene there is very exciting right now."
When it comes to his favourite chef and restaurant, "Bjorn Franzen is up there, but the best meal I've had was at Trattoria al Gatto Nero in Burano last year. It was super simple but everything was perfect. A meal is not just about the food – it's the service, the wine, all the elements combined."
Jack is looking forward to the 2023 season following last winter which was spent in the Caribbean. "This summer, we'll be in Greece and Turkey, and I'm really looking forward to it."
Superyacht Chefs: Remarkable, Unique, Rising Stars, with special thanks to Amandine International Chef Placement
The leader in international chef placement, Amandine Chefs is the brainchild of food fanatic Kate Emery whose overriding passion in life has always been great food and wine. Kate launched Amandine in the South of France in 2011, subsequently expanding across the globe with offices now in Monaco, London and Fort Lauderdale, cementing her commitment to raising standards in the yachting industry and providing the right support, motivation and inspiration to enable chefs to perform at the highest level.
When she's not working or looking after her two daughters, you'll find Kate eating her way around the world and working through San Pellegrino's top 50 list.
Read Next: