Superyacht Chef Neil Walker: A Career Encompassing Hotels, The House of Lords and Life on the Ocean Wave
Lightbulb moments can happen at any point in life and Neil Walker's occurred almost 30 years ago when he was backpacking around the world. Having left his hometown of Solihull in England, he arrived in Sydney via South East Asia and quickly found himself juggling three jobs.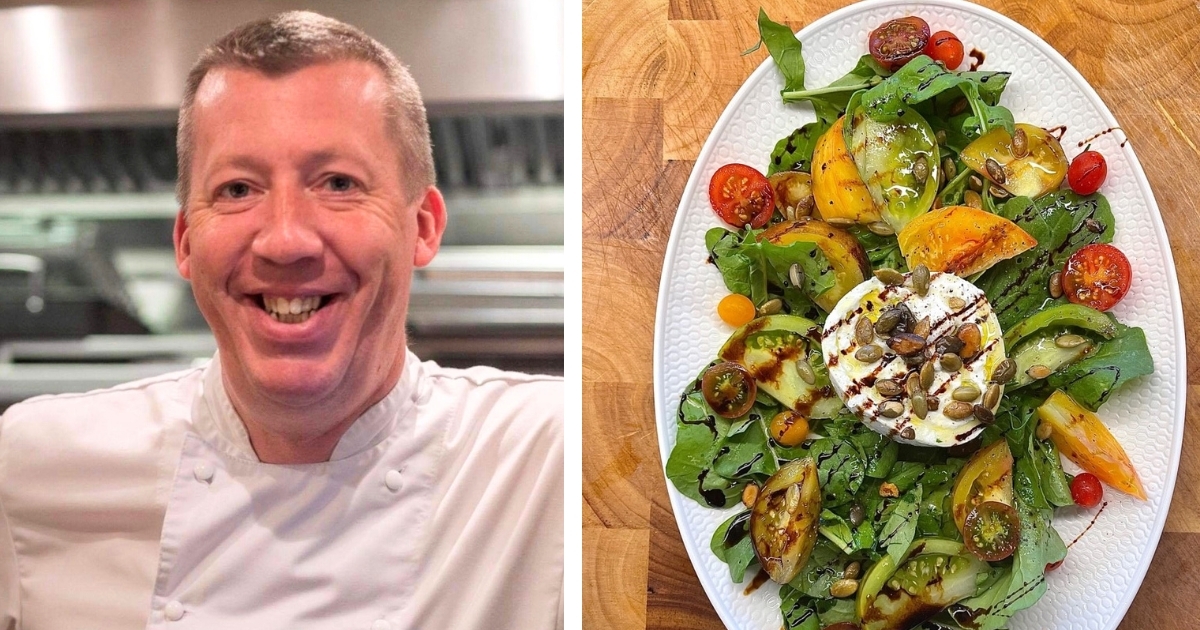 Lightbulb moments can happen at any point in life and Neil Walker's occurred almost 30 years ago when he was backpacking around the world.
Having left his hometown of Solihull in England, where the self-taught jobbing chef started his career working in pubs and restaurants, he arrived in Sydney via South East Asia and quickly found himself juggling three jobs.
A global career path
"I worked in a pizzeria, a café and the Metro Bar & Grill on Sydney's North Shore, where it was just me and the head chef Parham in the kitchen," he recalls. "I stayed for six months and found his passion and enthusiasm for cooking and ingredients was infectious. That was the moment where I knew this was for me.
"The late 1990s in Australia was very exciting – they were light years ahead of everyone else in terms of healthy eating culture. I was less aware of culinary trends back then but I remember feeling very excited by what I was seeing, cooking and eating. It was the catalyst for me deciding this was what I wanted to do with my life."
After leaving Australia, Neil returned to the UK, working at Foliage restaurant at the Mandarin Oriental in Knightsbridge, which he describes as "an amazing place with serious chefs and very high standards" as well as the House of Lords.
"The House of Lords was a fantastic place to work," he recalls. "It was very interesting and varied; one day, I'd be cooking à la carte for MPs and the next, I'd be creating a lavish banquet for 500 returning troops from Afghanistan. I loved my time there."
The high life
Viewing his career as a chance to travel, Neil started cheffing in catered chalets, completing 11 ski seasons in France, Austria and Canada. "It's not dissimilar to yachting, because there's 10 to 12 guests, you're working on your own and it's breakfast, afternoon tea and dinner," he explains. "It's not as intense but there's a similar structure in terms of the service we offer."
It was while cooking for a party of superyacht captains and their families in Val d'Isere that Neil's opportunity to move into yachting presented itself. They were so impressed by his kitchen skills that they invited him to do a trial on one of their yachts in Antibes. He soon landed a role as chef/deckhand on a 24m Sunseeker for the summer, and three decades on, he hasn't looked back.
One of his most memorable superyacht chef stints was on the 58m motor yacht Odyssey, based in French Polynesia. "We sailed around the Marquesas Islands and the Tuamotu Islands. The area is very remote, which makes provisioning quite challenging, especially for long trips.
"The owner was seriously into fishing so we were able to use a lot of fresh catch each day, including tuna, but we had to fly in fruit and vegetables from the US and Europe. I always try to source whatever I can locally but expectations with charter clients can be unrealistically high. Luckily, we had big walk-in fridges and freezers for storage and I planned my menus carefully, using the most perishable ingredients first."
His current role as sole chef on the 56m motor yacht Jaguar – a private and charter vessel - suits his independent working style perfectly, and he says: "I'm more comfortable as sole chef than I am as head chef, managing a team. You're twice as busy but ultimately you're responsible for everything and you can do it the way you want to."
Culinary styles
His favourite style of cuisine is Asian, but he enjoys the challenge of changing things up a gear according to his owner's tastes.
"I lean towards Asian cooking, namely Thai and Vietnamese, and try to keep it as varied as I can. We usually do a theme for each meal – whether light Mediterranean or a Middle Eastern mezze. I like food that's easily shared, so lots of big platters, local fish and seafood and seasonal ingredients like lemons from Amalfi, which I try and showcase as best I can.
"The guests love this style of cooking. On a recent owner trip to the Maldives, we caught a few marlin and it keeps it interesting for me to discover how the local chefs in the Maldives would cook marlin and then adapt it to our menus and the guests' tastes.
"Fortunately, my owner's preferences are quite broad so there's a lot of cuisines and styles I can choose from. Most people are open to whatever dishes and menus the chef is presenting, it's only dietary requirements which can sometimes limit things."
Keeping up with the evolving food scene
Neil is constantly inspired by his far-flung travels - this year's summer season will take him to Nice, Saint-Tropez, the Amalfi coast, Corsica and Sardinia – and he eats out a huge amount to keep abreast of what his chef peer group is achieving.
"I enjoy planning where to eat during my time off with my girlfriend, because you can't help picking up influences and trends," he says. "I'm pretty friendly with a lot of chefs all over Europe, and we chat about how gastronomy is changing and which new trends are dominating the food scene. Even seeing the way a dish is presented might inspire me to try a different presentation myself.
"I've also been creating food tours for friends for a while now, as I eat in around 200 restaurants a year. I'll put together a week in Andalusia, picking and reserving the restaurants, transport and hotels."
When asked about his food heroes, Neil cites his former Australian colleague Parham as the most influential. "He was the strongest influence in terms of my career direction. Working with him was very inspiring. I'm also a fan of Rasmus Munk at Alchemist in Copenhagen, who is at the forefront of taking gastronomy in a different direction and using it to create social commentary and influence the way people eat.
"He'll create dishes which make you think about donating blood or not using plastics, and he'll introduce an animal that isn't used much as an alternative source of protein over something that has been over-farmed. He is even an influence when I'm shopping for provisions because I select products more mindfully.
"Fergus Henderson at St John in London was one of the first adopters of nose to tail dining – and there are a lot of chefs pushing for that target of sustainability. The Michelin Guide has now introduced a green star which is a great incentive for restaurants to be more mindful of their impact on the environment."
Influences and inspirations
When it comes to choosing his favourite culinary destination, Spain, Italy and Thailand all vie for the top spot. "They are my favourite destinations from a chef point of view, from what's on offer in terms of products and ingredients and from the point of view of simply going on holiday to enjoy good food. Italy is right up there too; I love their culture of prepping and eating good food wherever you are, with nonna in the kitchen making fresh pasta.
Alchemist gets a second mention as Neil's top restaurant choice and he describes their MO as "modern, molecular and forward thinking," adding: "I've been lucky enough to go a few times and I'm friendly with Rasmus. You can't fail to be blown away by their spectacular seven hour, 50 course extravaganza."
A close second is the Basque region's legendary Etxebarri, which specialises in wood-fired cooking and consistently features in the World's 50 Best Restaurants list. "It's grown into one of the hardest and most sought-after reservations on the planet," says Neil. "It's an old school guy cooking over fire in a beautiful spot where you can easily enjoy a lazy five or six hour lunch."
Instead of a signature dish, Neil aims for seasonality which chimes with the tastes of his owner and guests. "I enjoy cooking as hyper seasonally as I can. If Wye Valley asparagus or Dénia red prawns are coming into season, I'll be hunting them out. And I'm never without galangal, ginger, lemongrass and lime leaves."
Superyacht Chefs: Remarkable, Unique, Rising Stars, with special thanks to Amandine International Chef Placement
The leader in international chef placement, Amandine Chefs is the brainchild of food fanatic Kate Emery whose overriding passion in life has always been great food and wine. Kate launched Amandine in the South of France in 2011, subsequently expanding across the globe with offices now in Monaco, London and Fort Lauderdale, cementing her commitment to raising standards in the yachting industry and providing the right support, motivation and inspiration to enable chefs to perform at the highest level.
When she's not working or looking after her two daughters, you'll find Kate eating her way around the world and working through San Pellegrino's top 50 list.
Read Next: