Superyacht Chef Kelly Minne: Fusing Asian Cuisine with the Finest of South Africa
We all have that moment of truth when the chips are down yet instinctively, we know that we're going to make it. For Kelly Minne, that time came when, despite almost capsizing on arrival at the MYBA Charter Show in Barcelona, she went on to win top prize at their Superyacht Chef Competition.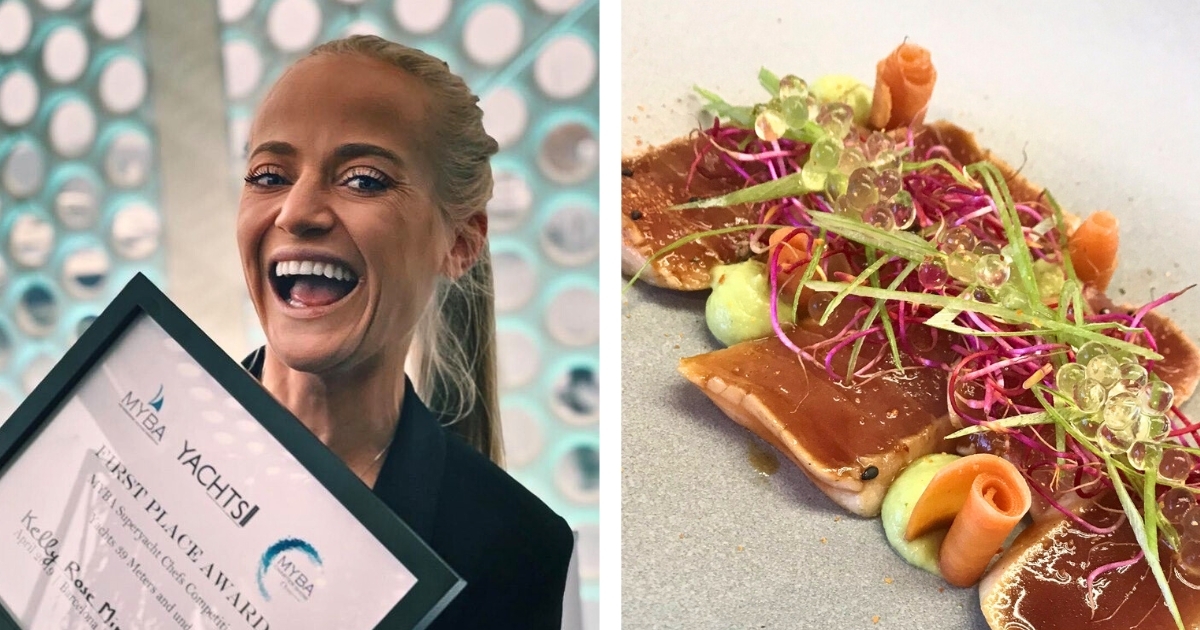 We all have that moment of truth when the chips are down yet instinctively, we know that we're going to make it. For Kelly Minne, that time came when, despite almost capsizing on arrival at the MYBA Charter Show in Barcelona, she went on to win top prize at their Superyacht Chef Competition.
"It was a huge feather in my cap, I felt extremely boosted and motivated," she recalls. "It was one of the peaks of my creativity."
From farm to table
It's a creativity that started young, with Kelly's passion for food ignited through cooking with her mother and grandmother while growing up in Port Elizabeth, South Africa.
"They used to live on a farm and my gran used to churn her own butter and fetch the eggs from the chickens in the morning," she says. "Baking was a big part of our family culture too – our freshly baked scones still stick in my mind.
"My grandfather and uncle were fishermen so we were very spoiled with fresh fish and abalone straight off the boat or the rocks. It was amazing."
Kelly stopped eating meat at the age of 13 and it was then, when she started cooking independently for herself, that she first considered cheffing as a potential career path. "Initially, I never thought that being a chef could be an option from a financial point of view but my mother suggested that I enrol at the South African Chefs Academy in Cape Town and that gave me the courage to go forward."
A baptism of fire
Following an intensive one-year course in culinary arts, Kelly spent a month interning at hotels in Cape Town before joining her first yacht, the 32m catamaran Hutiane, as sole chef. "I was petrified when I packed my bags and headed to France," she recalls. "The yacht had a French owner and a completely French crew. I didn't speak French so it was a baptism of fire.
"It was a big adjustment orientating myself around the different cuts of French meat and the variety of fish in the Med, as was working with the language barrier, but we pulled through and it was a successful season. My owner pushed me but he was always happy, which gave me the confidence I needed."
Competition success at MYBA
Winning the 2019 MYBA Superyacht Chef Competition on her next boat, 30m Quasar, was a huge career highlight, all the sweeter for having been preceded by terrifying drama.
"The electronics ripped out of the boat during the crossing and we almost capsized," Kelly recalls. "I really didn't want to take part in the competition, I was very hesitant, but I had a fantastic captain who believed in me so I believed in me too.
"We were one of the smallest boats in the 39m and under category so it was very cool to actually win. We also won Best Charter Boat under 50m. The crew dynamic on board was wonderful and we gave charter guests such a good experience. The boat had its problems so our success was entirely down to a great crew vibe."
Following a stint on 30m Sunseeker Alina, Kelly moved on at the end of last season and recently joined 35m Lady Volantis. "I've just cooked my first lunch and it was good. I'm looking forward to a summer season in Corsica, Elba and Croatia."
While there isn't yet parity in the number of female superyacht chefs compared to male, Kelly is hopeful that the gender gap might be closing. "There's still a very male outlook in the industry, which can come across as condescending, but I think it's getting better. I've seen a lot of young female yacht chefs looking for work."
Private vs charter
Having just swapped a private yacht for a charter yacht, Kelly is excited about what's in store this season. "I had a lot of freedom with my past owners, but your repertoire has to be vast if they're spending a lot of time on board. It's tricky to constantly reinvent yourself throughout four or five months and, at some point, your creativity starts to dwindle.
"With charter, guests get very excited and the possibilities to wow them are endless, whereas with private use, the owner tends to eat what they're comfortable and familiar with because it's the norm."
Kelly also thrives on the challenges posed by special requirements like keto, gluten-free, dairy-free and plant-based diets.
"I've just started eating meat again for the first time in 16 years," she says, "but I eat it as a treat now. I stay away from processed meats and do my best to source organic, high quality meat and fish whether I'm feeding guests or crew.
"The meat-free movement is growing fast, so it's quite likely that many guests won't eat some kind of meat. My owner on Alina ate everything but also enjoyed vegan themed nights and dégustations when on board with guests.
"What you can do with vegetables is infinite - so many chefs overlook the power of a veggie done correctly. I love to showcase good quality fruit and vegetables, simple ingredients from the earth. The Med has such great market produce and sometimes less can be more."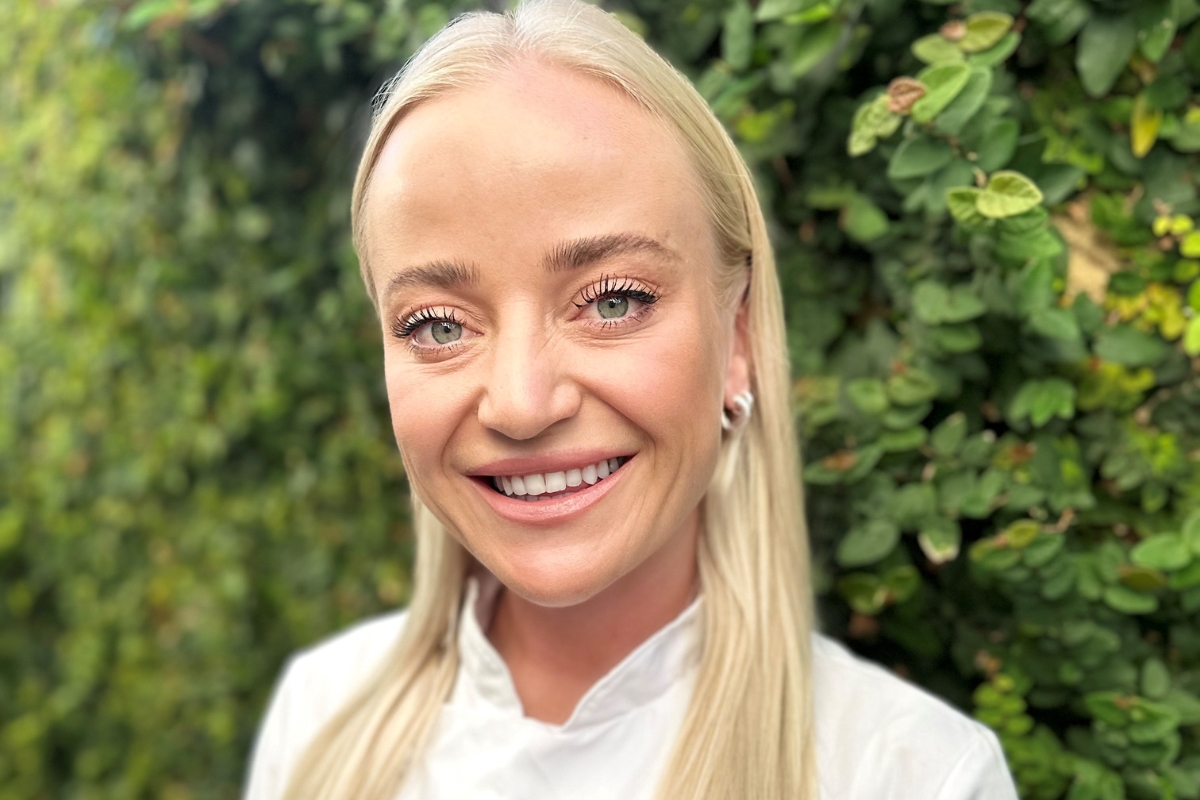 Destinations and dishes

Her favourite cuisine – and the one most requested by guests – is Asian fusion, whether influenced by Indonesia, Thailand or Vietnam, and she says: "I merge them together but respect the harmony of the ingredients on the plate. And during the last two seasons, I've had requests for more quirky ingredients like black cod and Alaskan king crab."
Kelly spent two months travelling around India and it tops her list of favourite culinary destinations. "The street food in India is so vibrant, colourful and tasty if you're brave enough to experience it. There are huge areas of India that are veggie based, and they really know how to work a vegetarian dish. I don't know how Indian chefs create such a symphony because there are so many spices."
Noticing an increasing Asian influence in Cape Town too, she is excited by how quickly the food scene is developing there. "Cape Town is heavily influenced by Asia with lots of fine dining restaurants springing up. It's a food mecca and while they can sometimes lack the level of service found elsewhere, everything else is incredible."
When looking for inspiration, Kelly turns to recipe books and food blogs. "The question I always ask myself is would I want to eat this? Does it make me excited? I have a couple of recipes from my mum and my gran that I put my own spin on. You need to be confident in your techniques and work out how to translate that to the plate.
"I always try and have a back-up plan. I've never had a complete mess of a service. I have some go-to sauces and glazes which I stock up with in the freezer as a get out of jail free card! And I'm never without Maldon salt, fish sauce and tahini."
Her food heroes are David Chang, Ivor Jones and Anthony Bourdain, who was a huge influence on Kelly from a young age. "Growing up reading his books and watching his shows was so inspiring."
Kelly's signature dish is Korean octopus served with labneh and Asian pickles, and in keeping with her love of all things Asian, she cites Cape Town's Japanese fusion restaurant Fyn as her favourite. "It's absolutely off the charts. They started a couple of years ago and the way they use South African ingredients to deliver the most incredible Japanese experience just blows my mind."
Read Next: