Superyacht Chef Dennis Maroudas: From the Winelands of Stellenbosch to a Lifetime of Travel
Growing up in the wine region of Stellenbosch, and later Hermanus in the Western Cape, was where Dennis Maroudas first learned about the importance of good ingredients.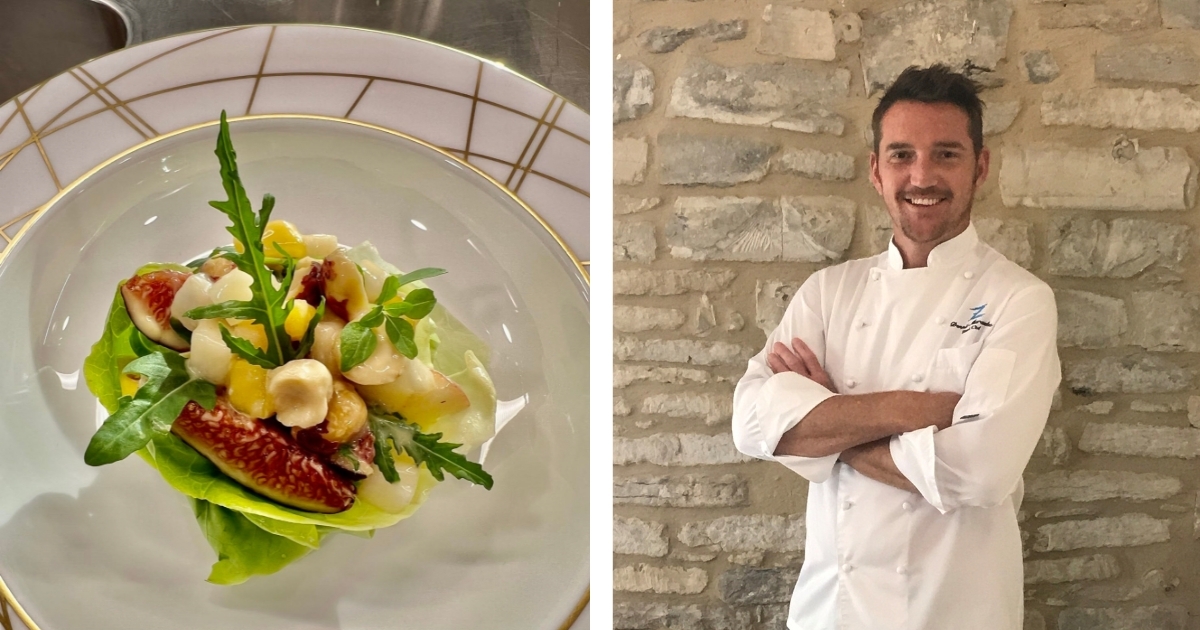 The son of restaurateurs who ran two of the region's most successful eateries - The Drostdy in Stellenbosch and The Milkwood in Hermanus – he cut his teeth at 13 rolling out dough and making fresh pasta, learning all he could from the head chefs at each establishment as well as his foodie parents.
"We lived slap bang in the middle of the vineyards so there was a very strong culinary influence like you have in France, Italy and Spain," he recalls. "Being surrounded by the most incredible products, like A grade top quality beef, venison and an abundance of amazing seafood…we were so spoilt for choice and working with that variety and excellence accelerates your confidence in your cooking.


Mediterranean influences
"My dad was from a strong Greek-Italian background so we grew up making home-made ravioli, tortellini and panzerotti as well as bread. It was a normal way of life and being exposed to that culture plus the seafood we had at our disposal when we later moved to Hermanus was incredible. By the time I was 19, I wanted to take that knowledge, become a professional chef and explore the culinary world."
Dennis's first job abroad was on the Isle of Skye, working at the Rosedale Hotel in Portree on a six month apprenticeship. "It was very old school Scottish cuisine and being part of the kitchen brigade and working my way up learning the nuts and bolts of everything gave me a good grounding and a stepping stone to the real world," he says.
By the age of 20, he was running the kitchen at The New Inn pub on the Duke of Wellington's estate in Stratfield Saye, Berkshire, with his then girlfriend in charge of front of house. "We were young and ambitious and it was the birth of the gastropub, when chefs were becoming more experimental with new takes on classic dishes. The manager told us to use local products and just have fun with it."


Elevating his skills
Always keen to spot the next opportunity and to follow his dream to travel more widely, Dennis left after a year and landed a stint as a breakfast chef on the 1931 Turkish-owned classic Savarona – at 136m, still one of the world's largest moto yachts - for their first year of charter, followed by a four-year stint as crew chef on the 60m motor yacht Lady Beatrice.
Before long, Hermanus beckoned once more and on his father's advice, Dennis bought La Bodega restaurant, renovating the 125-seat venue in just three weeks and reopening it as a Spanish influenced fine dining outpost for locals, which became a huge success.
Yearning for more freedom and creativity, he returned once again to yachting, completing stints on motor yacht Netanya 8 (58m), motor yacht 'Z' (65m), motor yacht Constellation (80m), Amaryllis (80m) and sailing yacht Cinderella IV (39m), where a temporary position turned into a two-year tenure. 'Cinderella IV had a fantastic programme and great boss, Glenfiddich owner, the late Charles Gordon, so we did lots of elaborate entertaining for product launches, hosting parties in the South of France and the Caribbean."
Working with the best
Dennis has spent the last year as rotational head chef on the hybrid 80m motor yacht Artefact where he says he couldn't be happier. "I'm used to working 14 hour days for Russian owners and it's refreshing to be on Artefact," he adds. "The core team is very sound with a sailboat mentality and the captain is fantastic.
"The owner and his family have their own dietary needs which keeps you challenging yourself…sometimes the same main course will be done four different ways. That can be a juggling act but it soon becomes second nature. We chat about the dishes at the end of each day and all contact is direct between me and them which is how it should be. I keep thinking, what's the catch but there isn't one!"
Dennis concentrates on refining the owner's favourite dishes, raising the bar of excellence each time, no matter what kind of dish he's making.
"They are very specific about what they like and what they don't like. They live in London and they eat out a lot so it's not about trying to wow or impress them, you just try and do it better than they've ever had it before. My style of cuisine is Peruvian-Japanese, Nobu style, with Asian flavours brought in alongside fresh seafood.
"We have a vast budget and work with the best products out there including lots of hand-made pastas and different grades of Wagyu, like the phenomenal Tomahawks that you can cook on the hibachi indoor Japanese barbecue. They also like triple cooked chips on the side so I try and do those really well, channelling Heston Blumenthal's style and refining them to make sure they are incredible every time. There's no room for complacency."


Culinary inspiration
Dennis was impressed by Barcelona's experimental cuisine and copious Michelin-starred restaurants but he cites southern Italy and Sicily as culinary destinations to watch now.
"I love the old school recipes you find at the little hole in the wall restaurants, with a few plastic tables and chairs outside. There'll be five or so dishes which are incredibly authentic and which keep the reality of why we do what we do alive for me.
'Growing up with my father's Mediterranean heritage makes me appreciate the authenticity of it all. You always relate to the flavours of the food your mum used to cook for you and try to recreate the balance of what makes an all-round enjoyable experience, and they have that passion in Italy. If I find a good restaurant in Italy, I will eat lunch and dinner there every day!"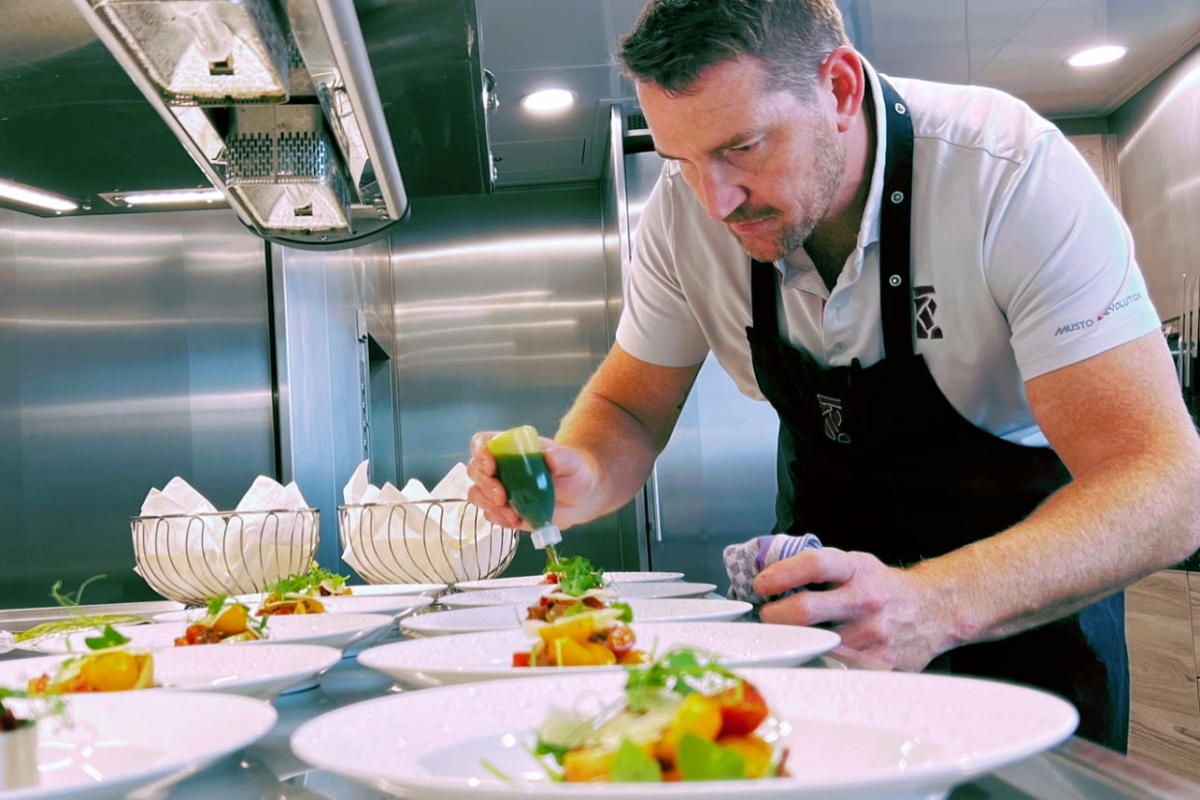 His inspiration comes not from social media but the books and adventures of traveller chefs like Anthony Bourdain, "a good chef who knew what good food was," according to Dennis.
He also enjoys stages, recently completing a two week Cantonese wok and dim sum course at Jeremy Pang's School of Wok in London in order to tailor more dishes to the owner's tastes. "We made over 85 different dishes in an original and authentic way," he enthuses. "Bringing new flavours into dishes I know they like keeps them guessing within their parameters."


Food heroes
His food heroes include Nobuyuki 'Nobu' Matsuhisa, Marco Pierre White "back in the day when he was at his best" and Heston Blumenthal, whose pioneering molecular gastronomy in the late 1990s was a big influence when Dennis cooked on charters where often, the cuisine was the major attraction for guests.
"I looked up to Heston, I've met him a couple of times and he's very pleasant and enthusiastic about the industry," he reveals. "You have to take the basics and techniques and make them your own. It's science - there are things that work and things that don't work - and he was at the forefront at that point, decades ahead of his time."
Dennis's favourite restaurant is Hakkasan in London's Soho, where true to form, he eats every night when he's in town, and his signature dish right now is braised monkfish cheeks with a dill beurre noisette, dauphin potatoes and wilted baby leeks and spinach. "It's a difficult dish which I've perfected and it's now my go to," he says.
With a cruising itinerary taking in the US, Alaska, Tahiti and New Zealand up until the end of 2024, Dennis is looking forward to creating many more memorable and unforgettable menus to come.


Superyacht Chefs: Remarkable, Unique, Rising Stars, with special thanks to Amandine International Chef Placement
The leader in international chef placement, Amandine Chefs is the brainchild of food fanatic Kate Emery whose overriding passion in life has always been great food and wine. Kate launched Amandine in the South of France in 2011, subsequently expanding across the globe with offices now in Monaco, London and Fort Lauderdale, cementing her commitment to raising standards in the yachting industry and providing the right support, motivation and inspiration to enable chefs to perform at the highest level.
When she's not working or looking after her two daughters, you'll find Kate eating her way around the world and working through San Pellegrino's top 50 list.