Just Desserts: Sweet Talk with Michelin Star Pastry Chef René Frank
With an army of accolades and two Michelin stars under his belt, René Frank has made quite a name for himself during his 15 plus years in the food industry. You won't find any Wagyu steaks or tuna tartare on his menus, though.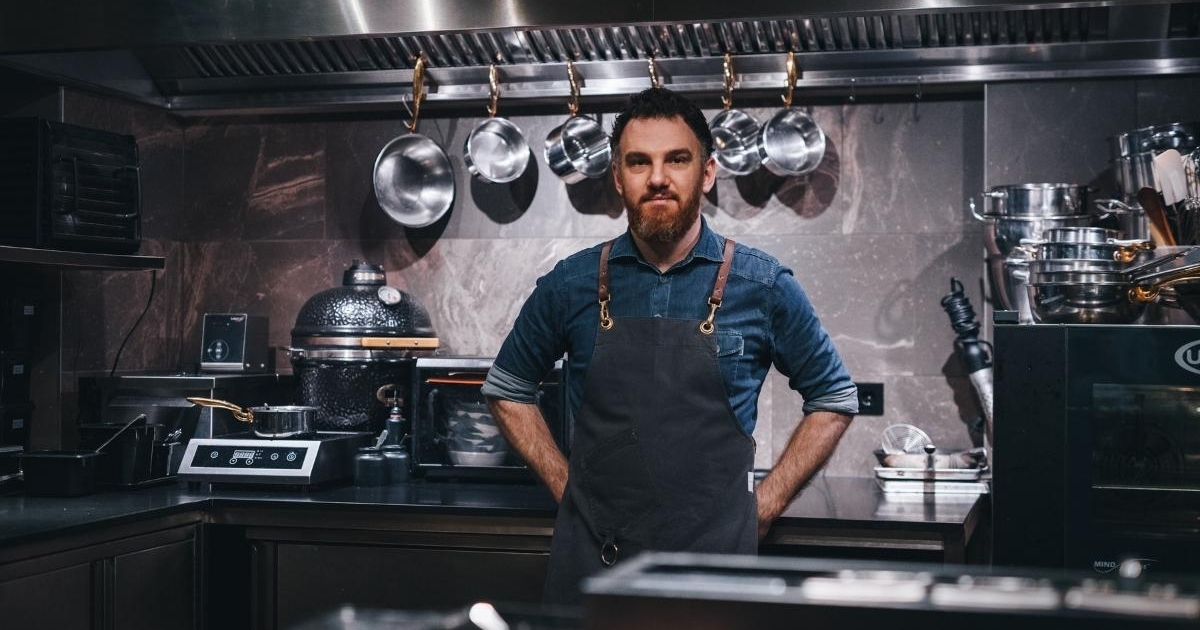 Heading up the first progressive dessert restaurant to be honored in the Michelin Guide, Coda, Chef René is all about the sweet stuff.
Following hot in the footsteps of his prestigious collaboration with FIVE Hotels & Resorts in Dubai, where the dessert connoisseur created desserts for FIVE Palm Jumeirah's Maiden Shanghai, The Penthouse and The Delisserie, as well as FIVE Jumeirah Village's Soul Street, Chef René talks to us about his passion for pastry, his search for excellence, and the eclectic experiences he has gained from working in Michelin-starred restaurants around the world.
Can you tell us a bit about your background? What motivated you to become a chef?
It was always my dream to become a chef, and there was never a question of me doing anything different. As a child I was always cooking, and if I was in a restaurant, I always needed to face the kitchen so I could watch what was going on. I was always very, very focused on cooking and food - I just couldn't wait to start my apprenticeship training to become a chef.
Did you always want to specialise in pastry?
At the start of my career I spent time working in Spain, France, the US, Japan and Switzerland, and it was on returning home to Germany that I started working as a pastry chef. I always loved pastry and I studied it a lot, but to be honest I just fell into it as, at the time, there was a position going in two Michelin star restaurant La Vie (in Osnabrück) as the head pastry chef. I thought, why not? I ended up staying there for six years.
After that I made the decision to stick pastry rather than go back into cooking, but I'd always had a dream to open my own restaurant. That meant it would have to be a dessert restaurant. I started to come up with ideas, brainstorm with friends, and then I finally met my business partner Oliver. He comes from a different background - he studied industrial design and has an agency that works on the conception and interiors of restaurants – but somehow we had the same idea of making a concept restaurant around desserts. You don't meet a person everyday who has a crazy idea like that, so we decided to stick together and get it done.
I quit my job, moved to Berlin, and we opened Coda in 2016.
How did it feel when you finally opened Coda?
It felt great! At the time it was just something we knew we wanted to do – we didn't even know if it made sense, or if it would work. It was very much driven by passion rather than the business side of things. We started with a two-course menu, then a three-course menu, making our way up to five, six and seven courses. We got a Michelin star, and then the second came. It was unbelievable.
How would you describe a dining experience at Coda?
We call ourselves a dessert restaurant, but what we do has nothing to do with classic desserts. We are just inspired by them, like modern Japanese fusion restaurants are inspired by Japanese dishes. We treat the dishes and the food like desserts and prepare them as such, but we also incorporate a lot of savoury ingredients too, and we have a charcoal grill on which we grill certain ingredients like apples.
As you would expect, our dishes are very sweet, so we really care about our sugar - we don't use white sugar, and no industrial products. We make everything from scratch, even our chocolate. And that's why we have two Michelin stars - not just because we make fancy things, but because we really focus on quality ingredients and products. Normally when it comes to pastry, the only thing that is natural or pure is the little garnish on top. It's the complete opposite at Coda.
Texture is also very important to us, and we're careful to provide those textures that you get from eating savoury food, because if you come for our seven-course dinner menu, we need to make sure that you don't want to go for a burger afterwards.
So people actually come to Coda for dinner, not just dessert?
Yes, our main concept is dinner. That's where our slogan, 'Coda Dessert Dining' comes from. We wouldn't get a Michelin star with just another dessert bar – our menus are designed to leave you full and satisfied. Some people leave and they are amazed, like they don't understand what they just ate!
What is a typical sample menu at Coda?
A first course: hay milk yoghurt with carrot, ginger and fingerlime; second course: eggplant with pecan nut, apple balsamic and licorice salt; third course: raclette waffle with kimchi yoghurt; fourth course: grilled apple with oats, shallots and sultanas; fifth course: cironé cheesecake with coffee and celery; sixth course: frozen beetroot with cranberry tofu; seventh course: mousseux with chickpea, Ecuador cacao, shiitake and hazelnut.
Why did you choose to specialise in desserts?
There are a lot more savoury chefs that pastry chefs so, to be honest, I saw more potential to do something different. In cooking, it's very hard to make something new or different because somehow everything is already done. With desserts, most chefs all over the world use the same recipes and ingredients – you go to Dubai, Tokyo, Hong Kong or Berlin and you'll find the same chocolate mousse, the same passionfruit sorbet and the same ingredients.
I saw an opportunity to do things differently. Everybody talks about fancy silicone moulds, new garnishes and new chocolate flavours, but they don't talk about the actual products. That's why, at Coda, from the start we decided to make everything from scratch because we want to do the things differently. Our chocolate is like another restaurant's Wagyu beef – it's the star of the show and needs to be our best product, so we're careful to check where the beans come from and how we can roast them to make sure you really taste the cacao bean rather than the chocolate itself.
Do you have a sweet tooth yourself?
I love eating sweet things, but I'm around them all day so it's rare I sit down and eat dessert – I tend to crave savoury and spicy foods instead. When I do eat chocolate though, I prefer to eat my own – chocolate that tastes like cacao rather than sugar. When it comes to pastry, most people just think about the optical and the sugar. I don't think it's fair that pastry and desserts are reduced to that. They deserve the to be on the same level as all fine dining.
You've won a lot of awards during your career, what are you most proud of?
While I wouldn't call them an award, I would have to say my two Michelin stars, especially as a business owner. We started from the ground up with no outside investment, with a concept that no-one expected or even really believed it, and we managed to get two Michelin stars. That's what I'm most proud of.
Do you have any chef heroes?
I've always admired Alain Ducasse. I attended his school just outside of Paris around 12 years ago, and I have always wanted to work with him – so much so that at the start of my career I would go to his restaurant with my CV under my arm. At that time, as a German chef, it almost impossible to get into his empire. I love his style of cooking, of course – it is very product-based and he is an expert at making lighter dishes – but on the other hand, the business he has built up is amazing too.
I'd also say Albert Adrià too, especially for his diverse dining concepts.
You recently collaborated with FIVE hotels in Dubai – can you tell us a bit about that?
Sure. At the beginning of the first lockdown, FIVE contacted me to ask if I would oversee their dessert menus. I'd never been to Dubai but I went to check the hotels out and they felt like a good fit. It wasn't about making Coda in Dubai, it was about myself doing something in Dubai. Of course I follow the same philosophy, but I had to adapt to fit to the market in Dubai because the customer is very different to those in Berlin.
Our collaboration is currently until March 2022 and then we'll see what happens. I've developed five desserts for a number of the hotel's restaurants – Soul Street in FIVE Jumeirah Village, and The Penthouse, The Delisserie and Maiden Shanghai at FIVE Palm Jumeirah.
The concept is the same – we don't use refined sugar. Many of the desserts are inspired by the places in which they are served too. Maiden Shanghai, for example, is a Chinese restaurant, so some of the creations have an Eastern twist such as Coconut Nectar Custard (coconut bone marrow custard, beetroot-raspberry cookie, blood orange sorbet) and inventive Mooncake (sweet potato, passion fruit). We also serve the likes of Japanese Adzuki Cheesecake (cherry, adzuki bean), Champagne Creme Sorbet (Champagne, raspberry & longan) and a Cheddar Cheese Fondant (baby red pepper, red pepper ice cream) across the other venues.
What's the most unusual ingredient you've ever worked with?
Right now, on our menu at Coda, we have a caviar ice cream popsicle – it's pretty unusual to use caviar in dessert! I'm not the first chef to ever combine the two, but I am in this way. It's 12g of Caviar d'Aquitaine 'Sturia' Jasmine wrapped around Jerusalem artichoke, bourbon vanilla and pecan ice-cream.
We're also working more and more with fermented starch, which is interesting. It doesn't raise your blood sugar levels, and you can make everything from ice cream to caramel with it. I think we're going to see much more of it.
What's your all-time favourite dessert?
I love anything with chocolate, but I never order them in most places as they contain so much sugar they never actually taste like chocolate. Once you've experienced how cacao beans smell when they are fresh from a country or region before they get roasted, you can never go back.
What's the most memorable culinary experience you have ever had?
It was during a trip to Peru to see the farming of cacao trees. We went to meet the indigenous community who lived without power, electricity and water. They were so proud and happy to welcome us that the leader said they wanted to cook us a meal. They grabbed two chickens, killed them and then cooked them for us. It was the most rustic dining experience I have ever had but it was just amazing. You can't get that sort of experience in a restaurant – moments like that just happen.
What do you love most about your job?
I get to be creative, and be myself. When you run your own business you can do what you want to do and when you want to do it. I'm not a person who likes to talk too much, so I love being able to express myself with food.
And most challenging?
If you open a restaurant, it's very easy to get inspiration from others as there are just so many different options. With pastry, however, we don't have so many sources of inspiration.
What trends are you seeing in pastry right now?
People are definitely more interested in where their ingredients come from. It's always been normal to go for breakfast and to know where your eggs or your bacon has come from, but it's never been like that for desserts. No-one cares where the eggs in a cake come from. This is going to change. Plant-based and desserts with no refined sugar are also increasingly popular.
Can you tell us a lesser-known fact about yourself that would surprise your colleagues?
I love salsa. I've been doing it for years now and have even been to Cuba for intensive classes. I love the fact that it has nothing to do with pastry so I can really free my mind. That doesn't work when I run or cycle.
What piece of advice would you give an aspiring chef?
Make sure you are 100 per cent passionate about what you do. And don't burn yourself out when you are young and highly motivated. It happens to a lot of chefs, and later when they want to open their own businesses, they are too burnt out and can't work anymore. Chefs are always saying they want to work 16-hour days but I think it's a mistake. Normally those chefs don't last too long in the business.
If you weren't a chef, what other career would you have chosen?
I always had an interest in joining the police – I always wanted to be a detective! But they have such a tough time in Berlin, so I'm definitely glad I went down the route I did.
Image credits: FIVE Hotels, Chris Abatzis, Jakob Nawka, White Kitchen
Read Next: