Chef Takeo Yamazaki Blending East and West at Yoshi Monaco
When a young Takeo Yamazaki started working in a small Japanese restaurant to save up for his first motorcycle, little did he know that he would go on to become one of Japan's most respected culinary wizards.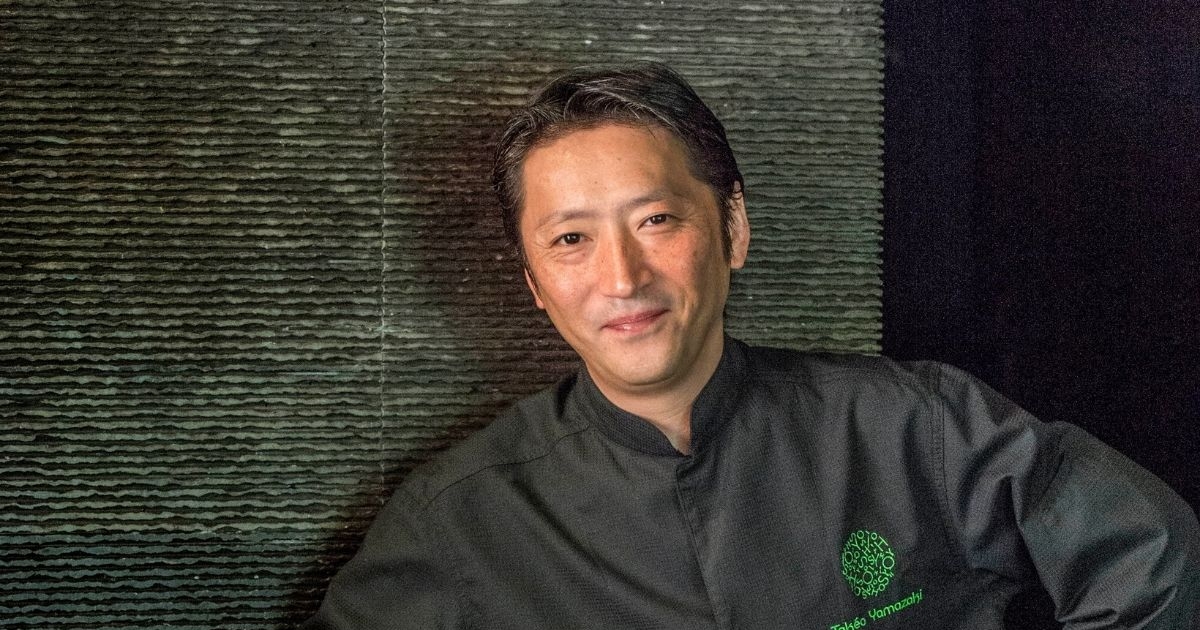 A master at blending the eastern flavours of his home country with those of Europe, Yamazaki is now Head Chef at Yoshi, the first Japanese restaurant opened by his mentor, Joël Robuchon, in the heart of Monte Carlo in the famous Hôtel Métropole - and the only Japanese restaurant in the city with a Michelin star.
Here Chef Takeo talks to Superyacht Stories about his journey through the ranks of some of the industry's most sought after kitchens, his love of east-meets-west cuisine, and the chef heroes and mentors who have helped him succeed.
What motivated you to become a chef and where did you train?
I was born in a small town near Tokyo on October 30, 1969, and it was by chance that I became a chef. I started working in a small Japanese restaurant for pocket money, making chicken skewers in order to buy my first bike. I took a liking to it and decided to continue in the kitchen. The passion for my profession quickly took over, but I lacked know-how. I decided to join the Osaka Hotel School where I was quickly noticed by the teachers, and in my second year I was one of two students selected to join the Paul Bocuse school in Lyon for free.
What was the first kitchen you worked in?
I joined the kitchen of the restaurant Le Château first before spending six months in the brigade of Paul Bocuse.
What other establishments you have worked at during your career?
I returned to Japan for the opening of L'Atelier of Joël Robuchon, and have worked in various fine dining establishments all over the world, including London, Hong Kong and Monaco. In 2008, Joël Robuchon asked me to oversee the kitchens of Yoshi in Monaco, and the rest is history.
Who are your typical clientele at Yoshi?
We tend to see a big mix of hotel guests, local Monegasque clientele as well as tourists who are visiting the region and wish to try a great one Michelin star restaurant on the French Riviera. They already tend to love Japanese cuisine and come for a quality dining experience. As the majority of our clientele is European, I took that into consideration when creating the menu. The result is a Japanese fusion menu adapted to European tastes.
Who are your chef heroes, and which chefs have influenced your style of cooking?
It has to be Joël Robuchon, Paul Bocuse et Bernard Pacaud.
I have learnt a lot from Paul Bocuse - he is the first chef I worked with when I arrived in France, while Joël Robuchon was my mentor. He taught me that simple is complex, and he also encouraged me to propose a menu at Yoshi that is Japanese but can still suit the European palate.
As for Bernard Pacaud, his cuisine is without doubt one of the best in France. When I go to Paris I always book a table at L'Ambroisie where his impeccable cuisine pays respect to the best products and their seasons.
How would you describe your own culinary style and where do you get your inspiration?
I love to mix Japanese and European flavours, and I draw my inspiration from my numerous trips to different countries abroad. I love to travel, and those moments where I get to visit different restaurants around the world and sample different cuisines are extremely special.
If you had to showcase your style in a three course menu, what would that be?
Firstly, there is definitely the surprise element. With my Ebi Shinjo, or shrimps balls with Kombu, you obviously have the shrimps, but when you bite into them you find small Tobiko eggs - I like to surprise guests with different textures. Secondly, patience. My main dish of Ghindara No Saikyo Yaki (marinated black cod) takes a long time to prepare as we marinate the fish for 72 hours. And finally versatility. For dessert, I use the ornamental green of Shisho which is often used to provide a refreshing garnish to fish, rice, tempura, soup and vegetable dishes in Japanese cooking.
What's your all-time favourite cuisine or dish to eat
I can't resist a good ramen dish!
What's the first dish that you learned to make really well?
It's not something I cook in the restaurant, but it has to be Omurice. It consists of an omelette made with fried rice and usually topped with ketchup. It's my earliest memory of food, and I still like to cook it for my family.
What is the most memorable culinary experience you've ever had?
Catering for 450 guests at the Grimaldi Forum of Monaco at an event called 'Tokyo – Monaco'. It was an amazing event I was proud to be part of and it highlighted the Japanese culture incredibly well.
Are you seeing any trends at the moment? What's on the horizon?
Sustainability, definitely. Cooking and sourcing are becoming less of an aspiration and more of an expectation by our customers. The Principality of Monaco is very attached to sustainability, and the hotel has adopted an environmental policy called 'Green Attitude' which also impacts the way we cook and consume. For example, we follow the 'Mister Goodfish' program, encouraged by the Foundation Prince Albert II of Monaco, which optimises seafood consumption. It helps us to contribute to the sustainable management of resources on a regular basis by choosing the right fish.
How have tastes changed since you first started out?
We definitely have more connoisseurs of fine dining than when I first started. People travel more these days and their palates are more developed. It means they are open to trying and discovering new dishes and experimenting with new tastes.
What do you enjoy most about your job?
I enjoy finding new ingredients or flavours and mixing them up. I also think presentation is the key – in Japanese culture you carefully choose the napkins, the cutlery and a nice flower arrangement. I like to think about the whole picture. Visual presentation is as much a part of the dining experience as the taste of the food itself, so beauty is always an essential ingredient in a Japanese meal.
For those interested in becoming a chef, what would be your advice?
To be ready to work hard, and with intelligence.
What's your ambition for the future?
To continue to do an excellent job and always surprise our customers.
If you hadn't become a chef, what career would you have chosen?
I would have loved to be an interior designer!
Read Next: