How Chef Shahar Dahan's Couture Cuisine is Redefining Monaco's Japanese Food Scene
Chef Shahar talks us through his dream three-course menu, his most bizarre culinary experiences, and how he brings Japanese couture cuisine to the heart of Monaco.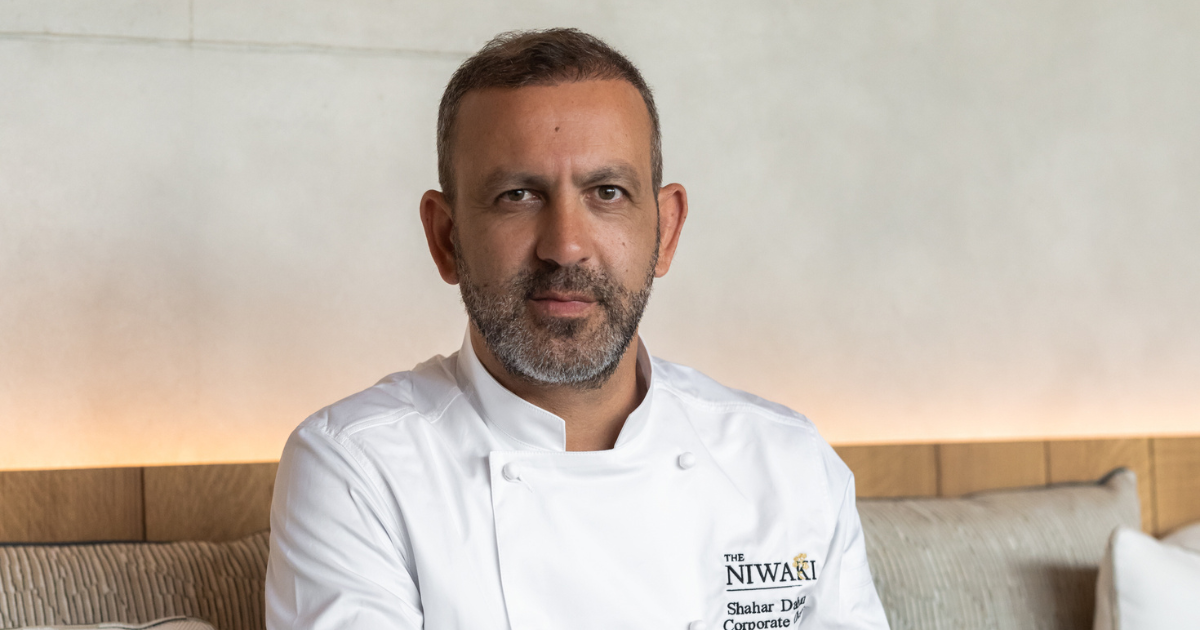 As a culinary master of Japanese cuisine, it might shock you to learn that Chef Shahar Dahan had never eaten sushi before taking up his role as corporate chef at Monte Carlo's renowned The Niwaki restaurant. Hailing from Israel but honing his skills in the US, he has been working in some of the world's top restaurants, including Nobu NYC, since starting his career back in 1999.
Here Chef Shahar talks us through his dream three-course menu, his most bizarre culinary experiences, and how he brings Japanese couture cuisine to the heart of Monaco.
What motivated you to become a chef and where did you train?
It all stemmed from love. I met a woman in New York City when I was around 30 and we went on to get married. She was into gastronomy and loved all type of cuisine – she inspired by interest in culinary art. I started watching food channels and cooking by myself before enrolling in the French culinary institute in Broadway, New York. I landed my first restaurant job at Bobby Flay's Mesa Grill on the 5th Avenue in New York before joining the team of Nobu NYC, and now The Niwaki in Monaco.
You currently head up the kitchens at The Niwaki and Sass Café Monaco – how do you juggle the two?
Both are few metres away from each other, so I do it by electric scooter! In each of these two restaurants I have amazing teams who run the kitchen when I am not there. My role for both brands is to supervise the teams and to check that chefs hand out the food the way that we want: beautiful and tasty dishes piled high with quality ingredients.
How would you describe a culinary experience at The Niwaki?
The Niwaki unveils a new way of experiencing Japanese food with the finest ingredients and exquisite flavour combinations in an exclusive and cosy environment.
Our 'couture' menu, offering a trendy and sophisticated twist on the Japanese culinary universe, combines unique flavours, colours and textures. Our essential mouth-watering dishes are made out of specific techniques of infusion and fermentation.
Hamachi sashimi truffle ponzu, Chicken chipotle mayo, King prawn seaweed butter and Black Angus rib eye with daikon mustard are part of an abundance of exclusive dishes to discover. Guests also love our selection of sushi by Chef Wagner Spadacio, who is a vice-world champion on the art, as well as the apricot and sobacha sensation by our pastry chef Ilaria.
The concept, based on sharing, will take your palate on the most decadent adventure through texture and flavour. We pride ourselves on using the finest quality of local and seasonal produce sourced with a painstaking attention to detail.
And at Sass Café?
Sass Café is an iconic restaurant in Monaco offering world-class cuisine. I was hired as Corporate Chef to change the reason people come to Sass. Until few years ago, clients mostly came for the club, but my goal was to have guests come for the food and stay for the party. We want to wow them with the dinner, and then get them up on their feet dancing afterwards.
Who are your chef heroes?
Chef Toshio Tomita. He was the head chef at Nobu NYC and after that he opened his own omakase restaurant in New York where I used to work with him. He's now around 70 years old and still wakes up every day at 5:00am to make soba noodles. His dedication spurred me on to work in the culinary industry.
If you had to summarise your style in a three-course menu, what would that be?
My style is very eclectic. A menu according to my own taste would be a selection of toro tartare with caviar from The Niwaki menu, grilled Wagyu on the robata with some mustard on the side and Baba au Rhum – cake saturated in syrup and rum - which is my favourite dessert. It's a best seller at Sass Café.
What's the most unusual ingredient you've ever worked with?
When I was working in Nobu NYC, I used to make shark fin soup and alive lobster sashimi. At that time, around 20 years ago, it was allowed. We would take the lobster alive and cut them into sashimi in front of clients. Many of them were, of course, very shocked, and this practice is forbidden now.
What's your all-time favourite cuisine or dish to eat?
I grew up in a Moroccan house, so my all-time favourite dish is couscous.
What's the first dish that you learnt to make really well?
Spaghetti Vongole. I saw the recipe on a food channel when I was living in New York, and I decided to make it for my wife. I've kept a picture of the dish to this very day. From what I remember my wife loved it, and was always asking me to cook it for her again! It was actually this very moment that I decided to go to the culinary institute to become a chef.
What was the most memorable culinary experience you've ever had?
During my holidays, 17 years ago in Tokyo, I went to a very small restaurant set up like a sushi bar. There were only two chefs, and I sat at the bar in front of them and they offered us a tasting menu which included turtle brain soup and, as a drink, turtle blood mixed with saké. Of course, my girlfriend at that time did not like it!
Are you seeing any trends at the moment? What's on the horizon?
For me, Israeli food will be the next big trend. We see more and more Israeli restaurants opening worldwide, especially in New York, Los Angeles and, more recently, in Europe. Food lovers are more and more interested in this type of Middle Eastern cuisine, using fresh produce, a lot of vegetables, spices and ingredients like labneh, za'atar and tahini.
What has been the proudest moment of your career?
The Niwaki is my pride and joy. Building a new brand of Japanese restaurant in Monaco is one of the proudest moments of my career.
What do you enjoy most about your job?
I love seeing the expressions of people when they eat something and they just love it. That makes me very happy indeed.
And what do you find most challenging?
Making all clients happy. We want to make them something to eat that they will remember for years to come.
Tell us a lesser-known fact about yourself that would surprise your colleagues.
I love driving cars. My colleagues would be very surprised to learn that I used to drive at the historical rally of Monaco back in 2011 and 2012.
For those interested in becoming a chef, what would be your advice?
Love what you do, be precise and don't turn right or left on the way to achieving your dream - go straight there. Even if it's difficult, work for it, don't complain and don't cry because in the end you will make it.
If you hadn't become a chef, what career would you have chosen?
I would have loved to be a formula one driver in another life!
Image credits: Fabbio Galatioto
Read Next: