A Taste of the Maldives: In Conversation with Chef Gaushan de Silva
Cooking up a storm for some of the world's most discerning clientele at Velaa Private Island in the Maldives, Chef Gaushan de Silva unravels his life, career and exemplary cooking skills.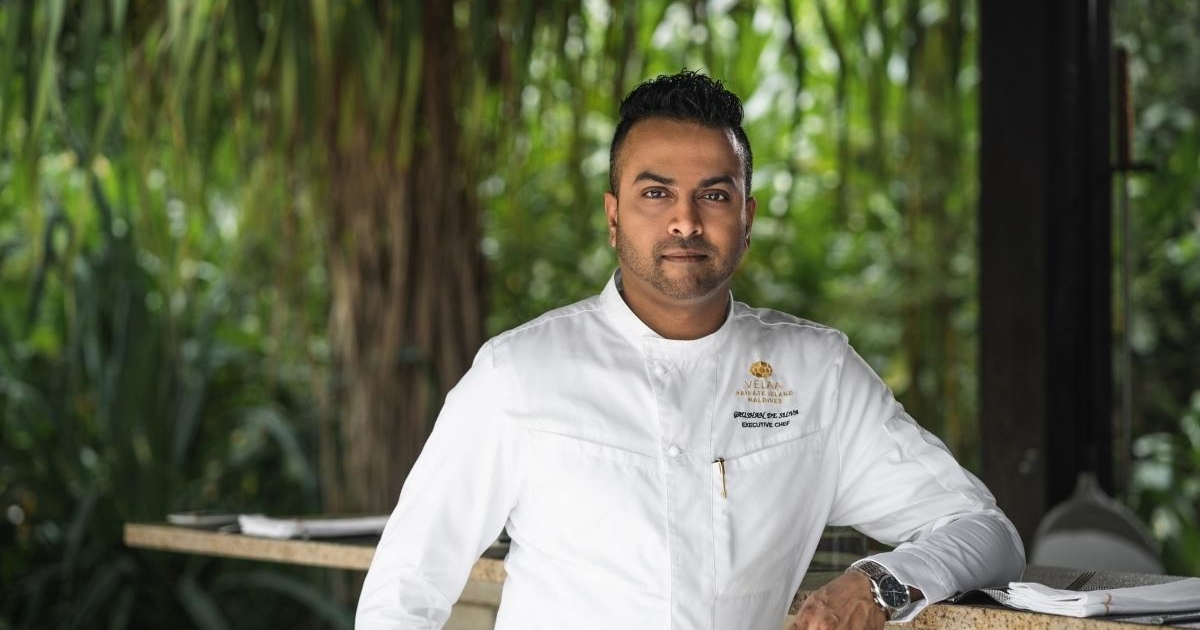 There aren't many chefs who can say they have cooked for royalty – but then again, Chef Gaushan de Silva isn't your average chef. Once the private chef at the royal palace for the Queen of Jordan, the Sri Lankan culinary wizard now heads up the many kitchens at Velaa Private Island in the Maldives – one of the archipelago's most intimate five-star destinations.
Whilst he oversees many different restaurants in the resort, Velaa's real claim to fame is his own food, and he works tirelessly to ensure he has time to whip up tasty international dishes packed with the flavours of South Asia, chiefly Sri Lankan and the Maldivian, for his discerning clientele.
Here Chef De Silva talks us through a childhood spent cooking for his family, his all-time favourite dishes to eat, and what guests can expect from a culinary journey on their next visit to the Maldives.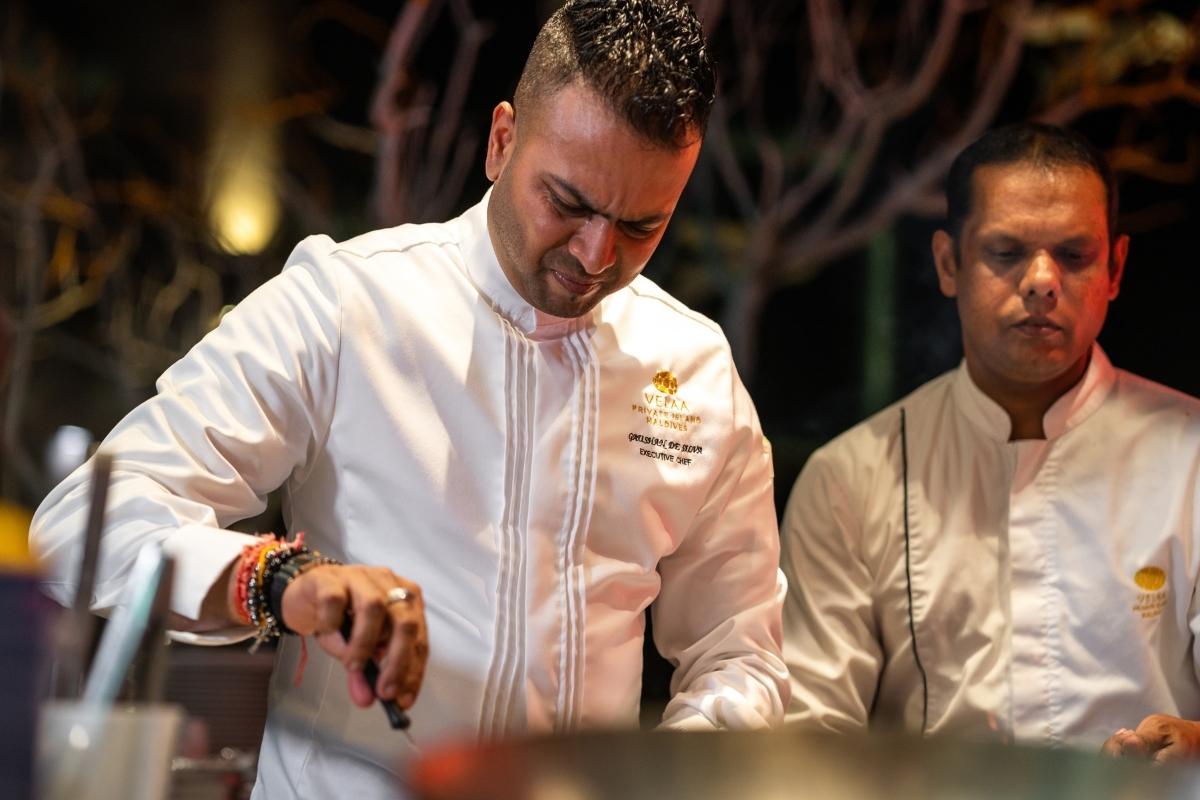 What or who motivated you to become a chef?
I've been passionate about food since childhood, and I used to love cooking for my family - with strict supervision from my beloved grandma, of course.
My culinary knowledge has been enhanced and enriched by many talented people from all walks of life throughout my career, and I find myself constantly inspired. It's the generosity of countless individuals that I have met along the way that gave me the exposure to various foods of different ethnicities around the globe, introduced me to unique ingredients, and gave me the opportunity to hone my skills.
What was the first kitchen you worked in?
I started at the age of 16 as trainee cook at Swiss Hotel in Kandy, Sri Lanka. I had a great mentor there and my passion has continued to grow ever since. I've experienced so many amazing culinary adventures around the globe.
What are some of the establishments you have worked at during your career?
There's probably too many to mention, but highlights include Stagier Restaurant Noma in Copenhagen which is known for its reinvention and interpretation of the Nordic Cuisine and was named one of the best restaurants in the world for three years. I also worked in Prague at premier fine dining restaurant Kampa Park.
In France I did some training with Edouard Loubet at his two Michelin-starred restaurant Le Domaine de Capelongue Maisons Edouard. I also visited and stayed for a month at Monsieur Lalleman Robert's one Michelin star, Auberge de Noves.
Much more happened in between before I headed to the Maldives for a three-month food consultation position at One & Only Reethi Rah. Now I'm entirely in charge of the culinary preparations at Velaa Private Island in the Maldives.
How do you make sure guests are always satisfied with your meals?
I taste everything that comes out to evaluate its flavours – I believe everything we serve ought to wow the guests.
What's the most interesting flavour combinations you've ever worked with?
Pasta with chopped basil, oregano and marjoram infused into a sauce of tomatoes, mushrooms, and onion. It's like a curried sauce but designed to fit a fancier menu.
What's your all-time favorite cuisine or dish to eat?
A simple homemade Sri Lankan meal every time!
What's the first dish that you learnt to make really well?
A perfect omelette - fluffy and golden on the outside and creamy on the inside.
Are you seeing any trends at the moment? What's on the horizon?
Home-cooked, healthy meals are trending around the world. Chefs have also been integrating healthier options into their menu, whether that's a switch to plant-based proteins or a meatless diet, dairy alternatives or experimenting with flour such as nut- or fruit-based options for baking. Home cooking also meant healthier dishes.
What do you enjoy most about your job?
I believe that the proudest moment in your career is when you receive overwhelming appreciation from your clients, and that's definitely what I enjoy most about the job.
I'm enjoying a wonderful journey of more than two decades and counting, and since I love to cook and experiment with food and flavour, I've had the chance to understand the various cultures in different countries too. I've enjoyed so many experiences that have helped me to understand food and how close it is to people's hearts.
And what do you find most challenging?
Staff turnover. Chefs will typically work at one place for a few years before moving on to gain experience at another venue, and whilst this is a benefit for the chefs moving on, it is a huge challenge for the head chef trying to run a busy kitchen. Head chefs will do what they can to ensure their kitchen staff are as content as possible to try and maintain some consistency.
For those interested in becoming a chef, what would be your advice?
Firstly set your own goals and learn the all-important basic skills properly. Your first job is very important, and I would recommend staying there for at least five years and to only move on once you feel armed and equipped with the right skill set. I often find that young chefs try to fast track their careers but there is no substitute for the experience they must learn when walking before trying to run. And always work hard.
If you hadn't become a chef, what career would you have chosen?
That's hard to answer as I am doing what I love. I was born with a love and respect for food and I couldn't see myself doing anything else.
Read Next: