Three Coolest Tenders of the 2021 Monaco Yacht Show
Whether it's flashy good looks, interesting styling or revolutionary features, these are the three superyacht tenders of 2021 that deserve your attention.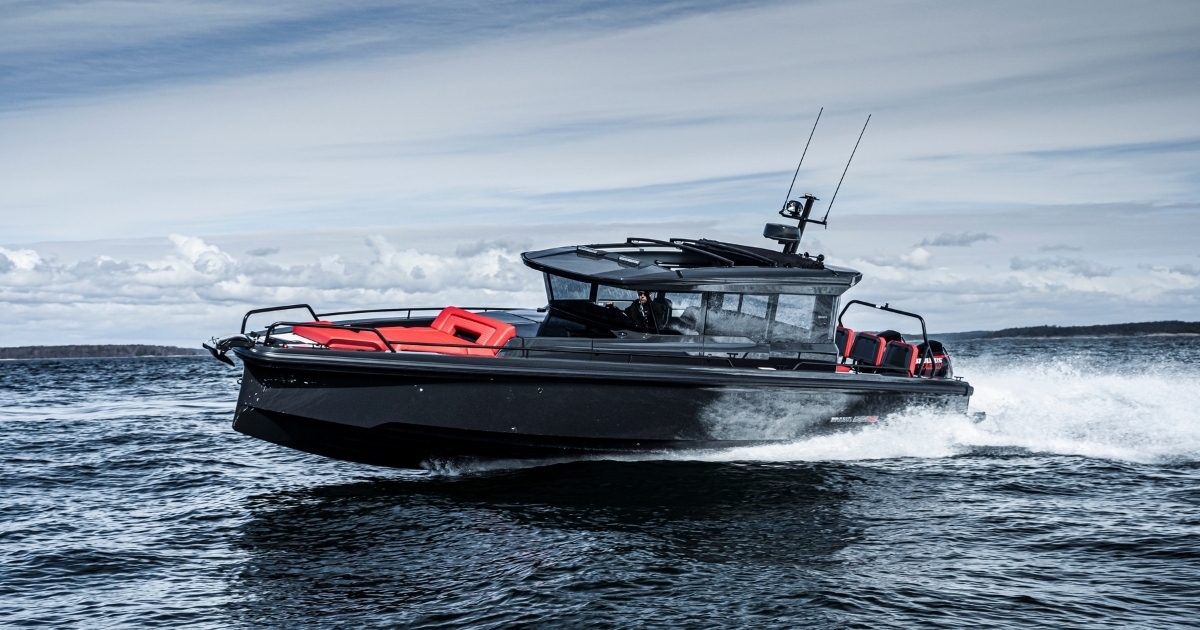 September 2021 saw the successful hosting of a slimmed-down but altogether fantastic Monaco Yacht Show. Given its unprecedented last-minute cancellation in 2020, the industry was itching for an opportunity to meet its customers and each other in person once again.
The world's yacht and boatyards arrived at the show in full force, ready to impress a boating public that is hungrier than ever to buy new superyachts and boats and just generally to spend time on the water.
Following the event, we bring you three of the best new superyacht tenders that were shown off at the 2021 Monaco Yacht Show. Whether it's flashy good looks, interesting styling or revolutionary features, these are the three superyacht tenders of 2021 that deserve your attention.
Falcon Tenders 'Miss Wonderly'
The fabulous Miss Wonderly by Falcon Tenders stole the show at Monaco this year, and at a length of 10.5m, she's got quite a presence. Designed by superyacht design firm Michael Leach Design and intended to accompany superyachts of 100m+ in length, she boasts a luxurious indoor cabin with limousine-style seating for up to fourteen passengers. Tinted windows run the length of the cabin, allowing for plenty of natural light and spectacular views as the ocean rushes past. Super plush upholstery, accent lighting and high end finishes make this an extremely beautiful place to be.
Forward of the cabin, there are two equally plush bench seats for guests wishing to enjoy the fresh air. A single helm station is located in the bow, boating a wraparound windscreen enclosing all of the tender's navigational equipment.
The exterior of the boat includes underwater lighting, forward-facing LED spotlights built into the hull, and teak decking, while power for Miss Wonderly comes from a pair of diesel-electric hybrid engines linked to lithium battery banks.
Falcon Tenders are manufactured in Southampton in the UK by a highly-skilled workforce. The company was recently awarded 'Most Innovative Superyacht Tenders Manufacturer 2021' by SME News' British Made Awards 2021.
Brabus Shadow 900 Black Ops
Monaco Yacht show saw the presence of two beasts from Brabus: The Shadow 900 Sun Top, and the Shadow 900 Black Ops Cross-Cabin. While the two are very similar, the highlight for me is the Brabus Shadow 900 Black Ops Cross-Cabin.
The Shadow 900 Black Ops Cross-Cabin is a heavily modified version of Axopar's popular 37 Cross Cabin, or '37 XC'. The 37 XC has proved to be a huge hit worldwide for Axopar, with reviewers praising it for its excellent handling, its generous features, its shallow draft, and its extremely cool gullwing cabin doors. It's a boat that is designed for fun and adventure and it does both, extremely well.
The 37XC was already a perfect package without any flaws worth mentioning, but Brabus has taken it and done exactly what Brabus does: it has turned the volume up to 1,000.
Since Brabus is particularly known for its love of high power, let's talk engines first. The Shadow 900 Black Ops Cross Cabin is fitted with twin Mercury 450R (Racing) 4.6 litre 8 Cylinder outboards. Brabus says that the two engines together supply 900 horsepower and will push the boat to a heart-pounding 60-knot speed.
On deck, there's a fully enclosed wheelhouse with seating for about eight adults and a table. Inside, there is carbon fibre trim details galore, and there's a motorised sunroof above to let the fresh air in. Forward of the wheelhouse, there's a cabin with a large queen-sized berth, a heads compartment and some seating. The highlight of the accommodation is the two large gullwing doors that open to both sides of the boat, allowing loads of air and natural light in and making access in and out extra convenient. There's some seating in the bow and in the stern, there's an optional additional cabin. If you choose not to have the cabin, you can have a wet bar/grill area with some seating, or you can opt for a host of additional storage.
The Black Ops boats are an extremely limited edition build, with only 37 planned for production. To remind its owners how special these boats are, there are unique Brabus touches all over the boat, including a metal stamp of authenticity, special upholstery options, fancy finishes like carbon fibre, and various other design details that tell a high-impact go-fast visual story.
X Shore Eelex 8000
Swedish boatyard X Shore has been making waves with its all-electric highly technologically advanced Eelex 8000. Rather than do as many of its competitors have done and simply fit an electric drivetrain to an existing hull, X Shore designed the Eelex 8000 from the ground up to be an electric boat.
The 26.2ft vessel is driven by a 225kw motor that, according to Eelex, gives the boat a 30+ knot top speed and a 20 knot cruising speed. At cruising speed, the company claims a range of 100nm. All of this is powered by a 126kwh battery bank which can be charged by any outlet, but under ideal conditions, it can top up from a charge of 20% up to 80% charged within 70 minutes, which is quite impressive.
An electric drivetrain is no longer that unique on the water, but what makes the Eelex 8000 interesting is more about the features it offers its owner.
The deck includes a set of integrated rails on which the buyer's choice of modular furniture can be installed. Once hooked into the rails, the furniture modules can be moved around to best accommodate whatever activity the boat is being used for. Whether it's diving, socialising or commuting, owners can find a configuration that works best for their needs.
I think the technology on board is particularly exciting. The boat includes a special smartwatch and an app. Amongst other things, the app allows the owner to monitor the boat's location in real-time and it includes a geofencing facility that activates a silent alarm when the boat crosses that boundary. The watch, apart from looking quite stylish, is also a kill switch that will automatically tell the boat to switch off if the watch wearer - presumably the skipper - falls into the water. Given that the Eelex 8000 lacks a transom, this seems like an especially important feature. The app and the watch both connect directly to the boat's 24 inch touchscreen multi-function display from which the boat's features and functions are controlled.
And just to ensure that your silent ride has an enjoyable soundtrack, X-shore will include some 'premium speakers' in the boat so you can enjoy your favourite tunes whilst heading out for a whisper-quiet ride on the water.
Image credits: Guy Fleury (Falcon); supplied.
Read Next: