Why Your Next Boat Should be a Catamaran
Catamaran hulls are quickly becoming the next big thing in boating. With more people spending time on the water than ever before, they're demanding more space, features and comfort. And manufacturers around the world are listening.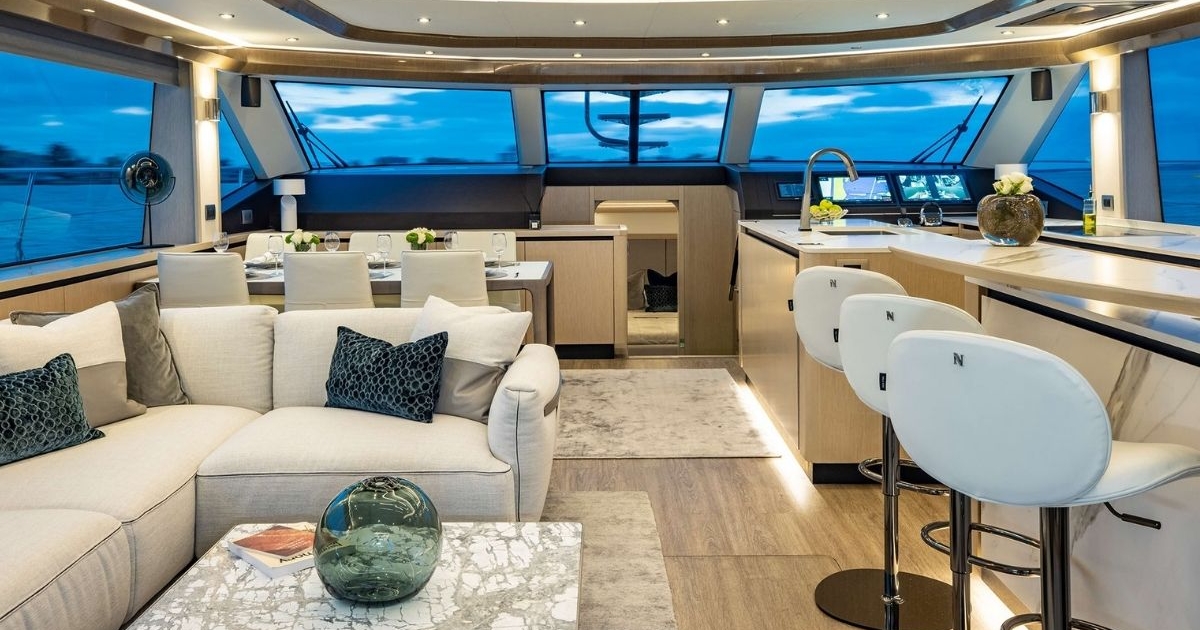 In the past year, we've seen groundbreaking new catamaran hulls rolling out from yards all over, often boasting features that were previously only available in superyachts. Here we look at some of the reasons why catamarans have become so popular, and how these yachts are seeing previously superyacht-only features trickle down into their designs.
Huge living & socialising areas
The sheer volume of floor space available on a catamaran versus a monohull has become one of the leading reasons for the popularity of this hull type.
Most catamarans offer a similar deck layout: A large saloon with full height standing headroom, flanked by the two hulls each with the accommodation. The specific layout of the accommodation varies slightly from one manufacturer to another but the typical arrangement is for between two and four cabins, with each hull hosting either one or two cabins, with a dedicated heads and a separate shower compartment in each hull.
But recently, even this time-tested layout has started to see superyacht features trickle in. The new-for-2021 Aquila 70 offers its lucky owners, a massive and quite spectacular full-beam master stateroom just in front of the saloon. It's complete with its own set of windows providing 180-degree views around the boat, for the perfect start and end to any sleep in its king-size bed.
With catamarans becoming bigger and bigger, the huge deck saloons offered by catamarans is becoming more and more attractive. This is because a monohull's deck saloon in the 40-50 foot size range, is often a story of compromises. For example, monohull owners must often choose a galley up or galley down configuration, with consequent losses in social areas or even sometimes in accommodation. That's not the case with catamarans.
Catamaran deck saloons almost exclusively feature a large galley, often with domestic-sized appliances (because there's enough space for them) and no compromises on social areas. This means that no matter what configuration the owner specifies for the accommodation, the social areas and the galley are unaffected. And it means that anyone working in the galley is right there in the social action on deck.
Stable and safe ride qualities
Catamarans are famous for their dry, stable and safe ride qualities and this is a major reason why they continue to be an extremely popular choice.
They can be safely and effectively operated by novice skippers and due to their stability, it's difficult - if not impossible - to make a fatal error whilst piloting a cat.
But catamaran manufacturers haven't packed away their design tools just yet. In fact, far from it. We continue to see innovations in catamaran hull design to make them that much safer, more durable, and easier, and this is adding to their appeal and saleability with boat buyers.
A perfect example of this ongoing innovation in hull design and safety is the Garcia Explocat 52. This big cat features shallow-draft aluminium hulls and reinforced bows, to allow its owners to go wherever they wish and 'brave all storms in complete serenity'. And the manufacturer claims that the boat can be easily crewed by two people.
With this much to offer and this level of durability and safety, it's no wonder that the Garcia Explocat 52 won Multihulls World magazine's 'Multihull of the year 2021' award in the 45 to 55 foot category, as well as scooping the reader's choice award in that category.
Garcia Yachts isn't the only example of a company pushing the envelope on cat hull designs to make them safer and more stable. The OYachts Class 6, which won Multihulls World magazine's award in the hotly-contested 'Over 55 feet' category, is another catamaran making it easy for buyers to choose cats instead of monohulls.
The Class 6 features a unique 'central longitudinal beam'. The company claims that this is both a wave-piercer, reducing stress on the two main hulls, and a buoyancy aid to keep the bows up and on top of the water even in the worst conditions. And finally, the manufacturer says the Class 6 is designed with large interior volumes and for easy sailing with a small crew. Once again, an irresistible marketing angle for boat buyers.
Superyacht amenities in an affordable package
One of the most exciting aspects of the growing popularity of catamarans is the awesome superyacht-like features that we're starting to see made available in mainstream boats.
The Aquila 70 powercat features a hydraulic swim platform that also holds a tender - it wasn't too long ago that this was an option only available on far larger boats. Both it and its smaller Aquila 54 both feature domestic-size appliances inside as well as large TVs, bar areas, and full-size galleys. As mentioned earlier, the Aquila 70's master suite even boasts a king-size bed, although it's by no means the only one to do so. Full-beam master staterooms are becoming the norm. And social areas are absolutely exploding in size. The Privilege 510 - a nominee for the 2021 Multihulls award - has a dining table with seating for eight, a full-beam master stateroom, and an interior that is fully customisable by the owner - a privilege (excuse the pun) that was previously reserved only for owners of much larger yachts.
All of this comes about because boatyards are competing amongst each other to provide higher and higher levels of luxury to woo potential customers. Exotic timber and fabrics are the order of the day, as well as gadgets like USB charging points, air conditioning, and snake lights over the beds. Some boats are even now offering diving stations complete with air compressors. The list really does go on.
Conclusion
The catamaran market continues to surge in line with global trends. But catamaran manufacturers are not resting on their laurels. They are offering increasing levels of luxury and customisation on their boats, to an extent previously only seen on superyachts, as well as huge living spaces, safety and stability that make catamarans an irresistible option to buyers.
Read Next: