The Six Concept Designs that are Rocking the Superyacht World Right Now
From Star Trek-inspired hulls to onboard hydroponic farms, these six out-of-the-box superyachts are pushing the boundaries of creativity when it comes to design and innovation.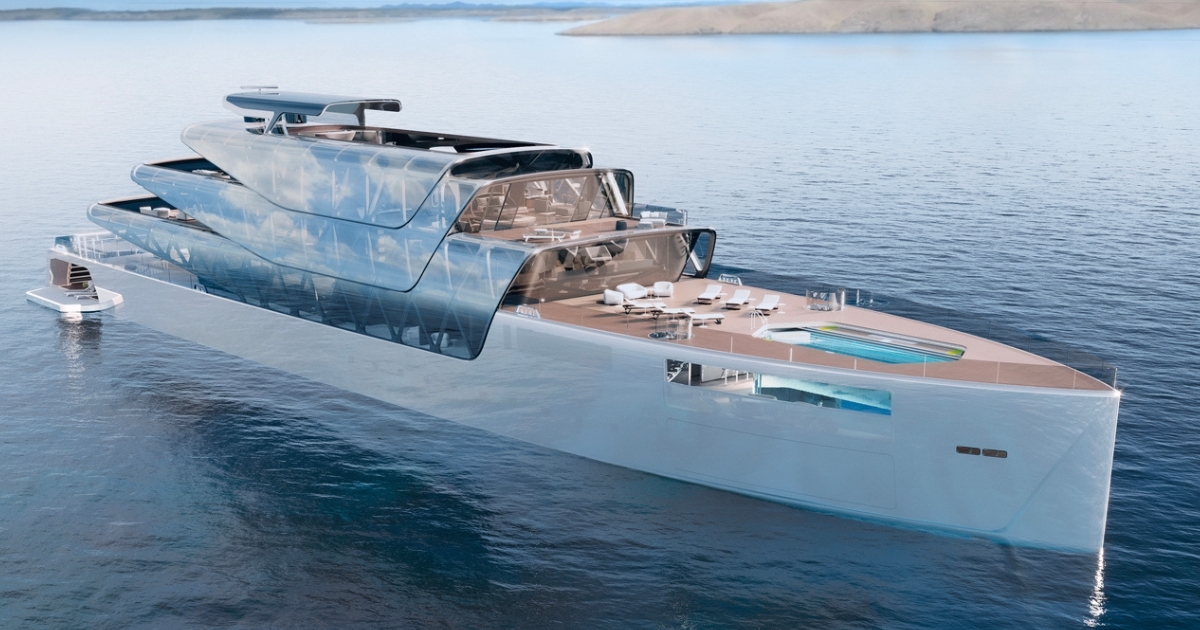 Concepting is an essential part of the yacht building process as designers work out how to bring their client's dream to life – or simply put their own wild ideas to paper. Very few finished concepts come to fruition, but they still serve a vital purpose – to inspire owners to think outside the box and encourage designers and shipyards to test the limits of possibility.
While some projects are more realistic than others, each presents ideas that can lead to change and growth, which is essential as the industry continues to evolve. With so many creative concepts floating around, we highlight the most innovative designs making waves and how they could inspire the future of yachting.
Poetry
Sinot Yacht Architecture & Design has released a series of impressive designs in recent years, but none are more transfixing than Poetry, a 130-metre concept yacht that the studio calls its "tribute to yachting". The design, founded on the philosophy of living close to the water, creates a seamless harmony between the guests and the aquatic environment – on the aft, for instance, a sprawling aft beach club extends to touch the waves.
The project epitomises indoor-outdoor living. The superstructure has been fully opened to create unobstructed decks with panoramic vistas. This is best seen in the owner's suite which spills onto a private deck. Throughout the interior, a connection to nature is maintained through water features and living vegetation, plus the installation of giant windows that flood each space with natural light – and views.
Aeolus
Named after the Greek God of the wind, Aeolus is as bold and impactful as her namesake. Designed to look as though she's been "sculpted by the wind", the 131-metre Oceanco concept yacht stands out with her sleek lines and dynamic curves that extend through the exterior and interior.
But more than being impressive to look at, Aeolus is technologically forward thinking. She's equipped with innovative NXT technology, which was developed by the shipyard as part of its ambitions to develop a net-zero yachting industry. She's also decorated mostly in bio-materials to further promote sustainability. And when it comes to layout, designers have taken a modern approach which re-thinks how guests live and work onboard. Aeolus is inspiring on all levels.
Slice
Feadship describes its 85-metre superyacht concept Slice as a project to usher in a "new era of interiors". Designers at Studio De Voogt took her name literally, engineering a glass strip that runs through the yacht from bow to stern, flooding all decks with natural light. The revolutionary solution tackles the long-standing issue of lighting in the centre of superyachts, which are often dark and lit artificially. Slice "turns the inside out and the outside in," says lead designer Chris Bottoms.
The concept was designed with modern families in mind and reimagines the way guests live on a yacht, with multi-level living spaces to keep guests connected, indoor-outdoor layouts and dual-function areas which can be adapted to suit all manner of activities. Highlight features include the 70 square metre atrium with cascading balconies at the heart of the yacht and the 10-metre-long data science-engineered pool, which features anti-slosh technology for swimming on the move.
Project Enterprise
As a company that specialises in conceptual design, M51 Concepts has not shied away from pushing boundaries with its disruptive yachts. The studio's latest work, Project Enterprise, is a trimaran with a wide beam design to maximise storage for toys and tenders – set off directly from a direct-to-water platform within the yacht's lower deck – and curved decks offering panoramic views from the interior.
The pools on this yacht are particularly interesting. While most designers place a pool on sun or aft deck, this 84-metre yachts places it inside a partially enclosed courtyard topped with an open sky light – sun enters during the day and the stars shine overhead at night. A secondary pool can be found on the yacht's pointed bow which dramatically pierces the water.
Inspiration for the project was subconscious, reveals designer Anthony Glasson: "The exterior styling inspiration was only realized once finished as I had been watching the first season of Star Trek and unconsciously designed a yacht that resembles the original Star Trek Enterprise."
Pegasus
Pegasus is a project of firsts. Designed by Jozeph Forakis, the design conceptualises the world's first 3D-printed superyacht. But that isn't its only USP. The 88-metre vessel features a distinctive mirrored exterior (another first) to make the yacht blend in with its surroundings. The designer was inspired to create a yacht that could be "virtually invisible", both in design and in environmental impact. "I was inspired to create a yacht as close to the sea and nature as possible, made of clouds floating above the waterline. I wanted to honour nature by blending into it, becoming virtually invisible," he says.
Inside, it gets even more interesting. The interior centres around a multi-level hydroponic garden that the designer calls a 'tree of life'. Plants grown in the farm – including vegetables, herbs and flowers – provides fresh food for the galley. The plants also purify the air. "Pegasus is a bold but achievable vision for the near future of the superyacht industry, where man and machine live in harmony with nature rather than competing or compromising it," Forakis adds.
Plectrum
Lazzarini Design Studio is behind some of the industry's quirkiest designs, from Avanguardia, a swan-shaped megayacht with detachable 'head', to The Shape, which bears a gaping hole in the middle of its superstructure. The firm's newest concept Plectrum takes the concept of a hydrofoil to a new level. The 74-metre yacht features giant wings that enable her to 'fly' across the water at staggering speeds of up to 75 knots, thanks to her three hydrogen motors. The sleek yacht also stands out with her bold orange exterior and fun features including a generous beach club, aft pool, and retractable helipad hidden the bow.