Art for Seas' Sake: A Collaboration Between Rossinavi and Parley
An underwater art installation isn't the first thing that comes to mind when speaking to the boss of a shipyard in Viareggio. But considering Rossinavi's heritage and expertise with metal in water, no wonder Parley for the Oceans sought their advice on the rebuilding of a sculpture destined for the shores of St Barths.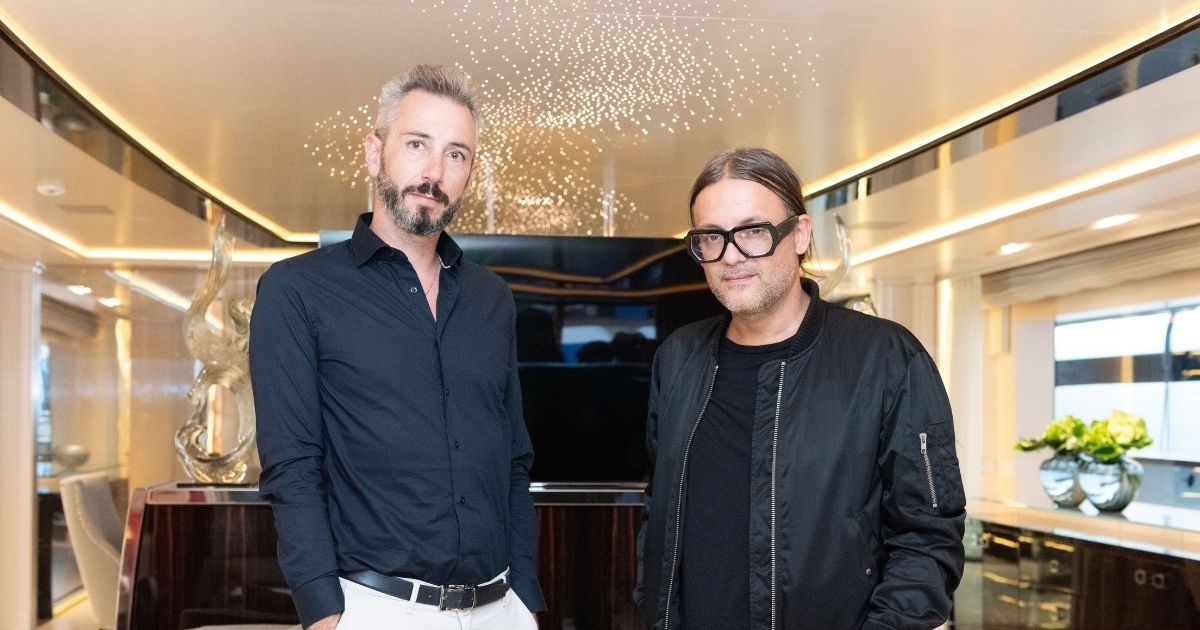 Instead of shaming and blaming, Parley for the Oceans chooses to work with its network of creatives, which also includes manufacturers, governments and scientists, to raise awareness of ocean conservation and collaborate on projects that can end their destruction.
"Jacques Cousteau once said that 'People only protect what they love' – and beauty is the invitation to do so," says Cyrill Gutsch (pictured above, right), who founded Parley for the Oceans in 2012. "We believe that we can save the oceans by changing people's minds, by inspiring and empowering creators, thinkers and leaders to rethink the way we're making things."
To date, Parley has focused its attention on plastic pollution, trademarking the term 'Ocean Plastic' and partnering with big-name brands like adidas to find new uses for the waste material such as shoes, sportwear and sunglasses. But its end goal is more far-reaching. In 2018, it announced the Parley Institute for Material Science to identify and speed up the development of alternative materials that do not produce toxic waste during their manufacture, disposal or reuse.
Ultimately, Parley aims to redesign the whole supply chain from collection to final product and beyond to establish a new form of transparency to how products are being made and what footprint they have. In the process, says Gutsch, "we can also make sure that everyone involved works under fair labour conditions, has personal growth opportunities and has a clear purpose in the environmental movement."
Gutsch believes that art plays a key role in achieving this objective by raising awareness of the vulnerability of our oceans. In a recent initiative, 12 contemporary art galleries from around the world presented a series of virtual art exhibitions, helping fund Parley's Global Cleanup Network to remove plastic waste from beaches, islands, rivers, mangroves and the high seas. But one of Parley's earliest collaborations, in partnership with The Museum of Contemporary Art (MOCA) in Los Angeles, was with American artist and filmmaker Doug Aitken and his Underwater Pavilions installation.
The installation comprised three geometric sculptures submerged off the coast of Catalina island, California. Anchored to the sea bed at different heights, the structures served as portals into the marine realm that swimmers and scuba divers (and the occasional sea lion) could swim through and experience. Parts of their surface were mirrored to reflect the underwater seascape; others were rough and rock-like like the ocean floor. Constantly changing with the currents and the time of day, the installation focused attention on the natural rhythms of the ocean.
"I was very interested in the idea that the oceans present this kind of enormous landscape or canvas to use for creativity and exploration," says Aitken. "In a lot of ways, this artwork came out of a kind of curiosity and restlessness, a desire to create a situation where an artwork becomes a sense of discovery."
Of course, the sheer power of the sea tends to take its toll on manmade objects, and although Underwater Pavilions was devised as a temporary installation, the sculptures took a beating in the powerful currents and saline environment. What was really needed was an expert at building structures specifically designed to withstand everything the ocean could throw at them.
Enter superyacht builder Rossinavi. After meeting at an event in Monaco hosted by Gutsch, last year Parley began a partnership with the Italian shipyard in a call to action for the yachting industry to embrace eco-innovation and the development of new technologies with low environmental impact. For Gutsch, Rossinavi represented the ideal partner: "The knowledge, craftsmanship and skills they have really blew my mind. I was impressed and intrigued and, of course, it felt like a natural start to our partnership to have Rossinavi fabricate the Underwater Pavilions."
Rossinavi set about rebuilding the Pavilions based on solid shipbuilding principles out of marine-grade stainless steel and other non-polluting materials. The lunar-like surface texture, for example, was created using a specially researched recycled material that could survive the harsh marine conditions and scale mock-ups of the structures were tested in the sea. Aitken travelled to the Rossinavi shipyard in Viareggio, Tuscany, to discuss the best methods to ensure robust construction while preserving the original artistic intent.
"This has been a very interesting dialogue because the artwork actually has to withstand the brutality of the ocean," said the artist at the time. "We're not making something that is designed to exist within a gallery or museum space."
The plan is to relocate the Pavilions to the waters off St. Barths in the Caribbean, but the project has been delayed by Covid-19. The structures are ready and waiting at the Rossinavi shipyard for transport restrictions to ease in the wake of the pandemic.
"The Pavilions project has been of particular interest to us for two very important reasons," says Federico Rossi, COO of Rossinavi. "Firstly, as yacht builders we have a natural responsibility to respect and protect the oceans; and secondly, many of our clients are art collectors whose wealth and influence can really make a difference. Put the two together and our interests are perfectly aligned with those of Parley."
Rossinavi's partnership with Parley comes at a time when there is a growing realisation that the yachting industry – and yacht owners – are duty-bound to prioritise sustainability and responsibility for the oceans. Sunseeker International, for example, has a corporate partnership with the Blue Marine Foundation, helping fund the charity's mission to put 30 per cent of the world's oceans under protection by 2030. In an on-going partnership with Plastic Oceans, brokerage house Fraser has created a set of guidelines for its owners, crew and employees on how to reduce their plastic usage. And superyacht builders Lürssen, Feadship, Amels, Abeking & Rasmussen, Heesen, Benetti and Sanlorenzo have all thrown their weight behind Water Revolution Foundation to neutralise the industry's ecological footprint and accelerate the shift towards sustainability.
Rossinavi is committed to advancing its eco-technology and innovation research over the next decade, but is already using AI technology to monitor and reduce energy consumption on board and is in dialogue with clients to deliver yachts that are plastic-free. It is even working on a project to build small vessels designed to recover plastic from the oceans that can be carried on superyachts.
"Creative collaborations give us an opportunity to learn from other people, other disciplines, and push the limits of our capabilities," concludes Federico Rossi. "Working with Parley has equipped us to challenge ourselves and our industry to help move us forward responsibly. After all, we would not be in business without the oceans."
Five Minutes with Cyrill Gutsch
Cyrill Gutsch, the German-born founder of Parley for the Oceans, is an award-winning designer and creative entrepreneur based in New York. In 2018, Parley was named Environmental Organisation of the Year at EARTHx and Gutsch was honoured with a Special Recognition Award for Innovation by the British Fashion Council. In 2019 he was inducted into the UBS Global Visionary community, a group of leading entrepreneurs and individuals working towards the 17 UN Sustainable Development Goals. "Purpose is the new luxury", says his LinkedIn profile.
You believe the power for change lies in the hands of the consumer, and the duty to empower is with the creative industries. Can artists really empower ordinary people to make a difference?
Yes, especially with the current fragile state of the world and moment of uncertainty, we see the creative community playing a key role. The artists have pure intentions, the ability to create that bridge for us. When we collaborate with artists we strive for inspiring perspectives and expressions of a new attitude towards the Earth rather than mere illustrations of environmental issues. In a much deeper sense, it is addressing the artist's ability to re-imagine and re-narrate reality, to push boundaries creatively. Without the power of imagination there will never be change.
What is the relationship between underwater art and ocean conservation?
The ocean can seem unknown, even scary. The idea with underwater art, specifically the Underwater Pavilions by Doug Aitken, is to provoke the viewer to go into the ocean and into a different realm. There is a very personal experience that you have when you dive the Underwater Pavilions, but there's also a group aspect to it, like meeting other people, starting conversations; using that moment of being there as a collaboration, a moment where you're ready to experience new perspectives and to have new thoughts. It helps put the local marine environment and the global challenges around ocean conversation in dialogue with the history of art, inviting the viewer to write a contemporary narrative of the ocean and to participate in its protection.
Parley is implementing strategies to preserve ocean ecosystems – what are the success stories you're most proud of so far?
In 2020 on World Oceans Day, we announced our partnership with the World Bank, which will work in eight countries in South Asia: Afghanistan, Bangladesh, Bhutan, India, Maldives, Nepal, Pakistan and Sri Lanka. Together we are providing these countries an end-to-end solution to fight marine plastic pollution. What started in 2012 with an idea is now an official strategy to end one of humanity's biggest crises: plastic pollution. Today, Parley operates in nearly 30 countries. Our goal is to bring Parley to every country with a coastline. The partnership with big brands helped us a lot; with the World Bank we are now working on another, even more impactful, level and believe that we have a real chance to end marine plastic pollution in partner countries within the next 10 years.
Featured image credit: Michele Chiroli
Read Next: