Shipyard Stories: Why Pendennis Shipyard is the Best of British
As Pendennis approaches its 35th anniversary, we discover how the shipyard remains the beating heart of Falmouth, Cornwall.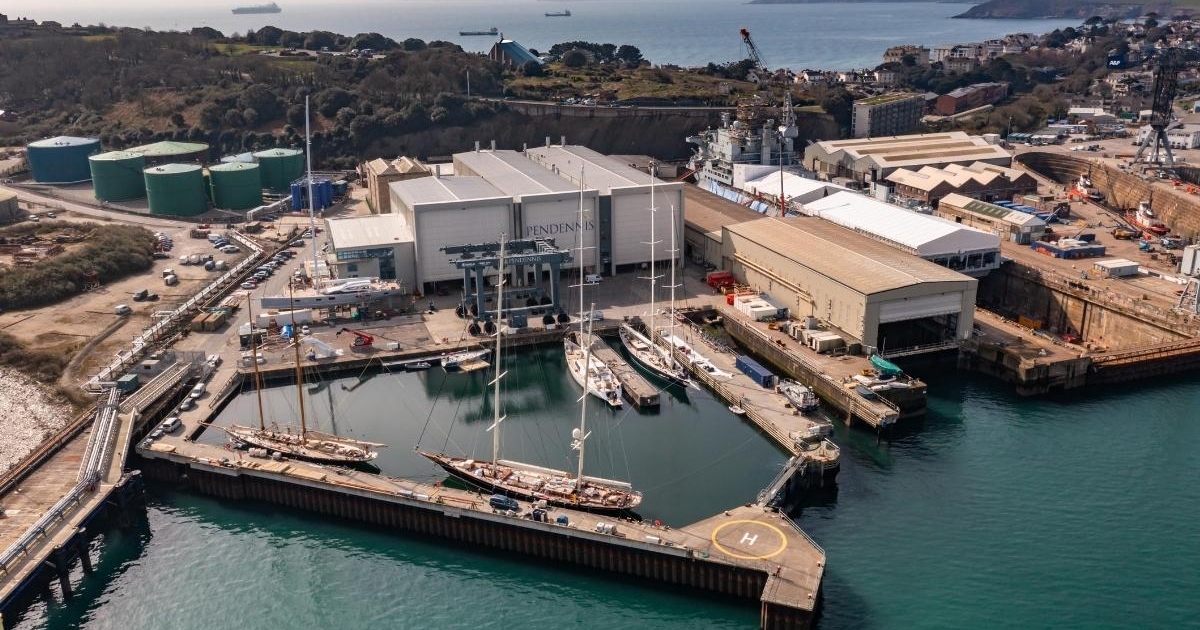 In the shadow of the Pendennis Castle, once owned by Henry VIII, lies a custom shipyard with a purpose than extends beyond boatbuilding. Named after the Cornish word for 'houses on the hill' – or should we say 'castle' on the hill – Pendennis Shipyard grew from a small sailing boat manufacturer to a global boat and ship builder in just over 30 years. Celebrating its 35th anniversary in 2023, the company is as integral to its home, Falmouth, as the Cornish town is to British boating.
"The history of Falmouth and why we're here goes back to way before Pendennis was founded," says the company's chairman Mike Carr. "Falmouth's shipbuilding and boatbuilding history dates back to when this town was founded in the 1600s. It was a strategically important port for Great Britain back in those days and the castle was often used as a lookout point. In recent years, Falmouth has been the start and finish point for many solo adventures – most recently Ellen MacArthur who holds the record for sailing around the world in 71 days."
The shipyard's history begins in 1988 when British entrepreneur Peter de Savary used the Falmouth Docks as a base for the America's Cup challenge. "He saw a big increase in demand for sailing boats, which were mostly being built in Holland at the time, and thought 'we could do this here in Cornwall'. He very bravely set up the company which has grown over 30 years into a very modern yard. I like to say the Dutch stole boatbuilding from us and we're in the process of stealing it back," Carr says.
Pendennis' first commission was a 125' ketch Taramber for an American client. This was soon followed by a major refit of Adix, a 228' three-masted sailing yacht, which put Pendennis on the global boatbuilding map.
In 1993, Mike Carr and his partner Henk Wiekens were given the opportunity to buy the company from de Savary. "We had nothing to lose and everything to gain. We'd become deeply engrained in the company and we wanted to see it go forward, so we did it," Carr says. "At heart, we're engineers not businesspeople. Our background comes from making things, so it was a very steep learning curve, but we've been lucky in that we've managed to get other investors in along the way and build the company up to the point it is today."
Pendennis Shipyard specialises in three types of work – refits, restoration projects and bespoke builds. This is no cookie cutter operation – each yacht is vastly different from the next. "We are a truly custom yard," says Pendennis managing director Toby Allies. "You're not picking an off-the-shelf product that says, 'this is a Pendennis'. When you look around the shipyard today, we've got all those different streams of activity happening at once. We're able to complete complex projects that require a multi-trade delivery with fast turnaround because we've invested in tradespeople over the years. Having such a strong core team available on-site in our facility is that's quite unusual in the industry."
Refit projects often involve much more than a fresh lick of paint and a new interior – most require deep restoration work. This could be bringing a classic 1920 or 30s ship such as Malahne or Fair Lady back to life, or transforming a 1980s Feadship and rebirthing it with updated power train systems and interiors. Repurpose projects, meanwhile, call for a total transformation of a boats from a different activity in the marine industry into a private superyacht. "Our history with sail boats gave us a solid foundation blocks for building a great motorboat," Carr says.
"One of the boats that took us into the sphere of large boat refits was the Aquila project, which remains one of the fasted programmes that you'll find," he adds. In just 12 months, the team carried out an extensive refit of the 86m motoryacht and all of its five deck levels. Delivered in 2016, it was the largest refit project the UK had seen at the time. Off the back of this success, Pendennis was able to step up into a new segment of mega yachts and, following further investment in the site and facilities, the shipyard has since grown into larger and larger vessels.
Before the pandemic, the refit market had been growing, and the Covid crisis only escalated demand, Allies reveals. "If you've got a 70m vessel and you want to change the interior and upgrade all the systems on board, your route to getting a vessel could be shortened by two or three years compared to going through a new construction process," he says. "I also think people like the history that the boat has been on the water before. I think there's a certain romance and provenance associated with that."
On the new construction front, Pendennis has built a number of game-changing vessels, including the 45m Ilonka, the shipyard's first luxury motoryacht build, which featured a host of top-class elements such as a helicopter landing pad; and Hemisphere, which at 44m is the world's largest privately owned luxury sailing catamaran.
Currently in construction is Project Fox, a modern explorer yacht which is set to take Pendennis into another new space. "We previously built an explorer ice vessel called Steel, but Project Fox is much more contemporary. It's an exciting project with new partners that's helping us to enter a new pathway," says Allies. The 35m yacht is design for exploration in comfort and features high-end interiors by Q London as well as a large 103 sqm main aft deck enabling her to carry a wide variety of equipment, including submersibles and launching cranes.
Project Fox is named after Robert Were Fox, a 19th century scientist based in Falmouth who invented a compass that ultimately guided the expedition that discovered the South Pole. "One might say that it's obvious that you should built your explorer boat here in Falmouth because this is where exploration was enabled," says Carr.
Being so linked to Falmouth's history, Pendennis is committed to the local community. One of its greatest success stories if its apprenticeship programme, which has trained over 300 young people since its launch in 1998. "Investing in people has been core to the business," says Carr. "Our proudest moment each year is our apprentice graduation evening when around 15 youngsters complete their four-year training programme and exchange their red apprentice's hat for a white tradesman's hat. Seeing them grow into the leaders and craftspeople of the future is so rewarding."
The shipyard has recently invested £20 million+ into its facilities in Falmouth while expanding further into Europe with the 2019 investment into Vilanova Grand Marina, Barcelona, and launch of the adjacent Pendennis Vilanova Technical Service Centre, perfectly positioned for the 2024 America's CupAnd now that events are reopening around the world, they've seen an increase in new build and refit sailing yacht enquiries, where Pendennis excels in producing regatta winners. "We're known for putting the go faster stripes on sailing yachts," says Allies. "We make them quicker and perform better – 50% of the fleet at the Antiqua Superyacht Challenge was built or refitted by us. Like with all of our projects, it's not just about building but improving capability."
Read Next: