Shipyard Stories: Peter Lürssen on the Past, Present and Future of Lürssen
"Once in a while we should allow ourselves, against our better knowledge, to do something really crazy," says Peter Lürssen, CEO of German boatbuilder Lürssen. "If you do something crazy, it actually may work, and if it doesn't, it will inspire others to push the limits."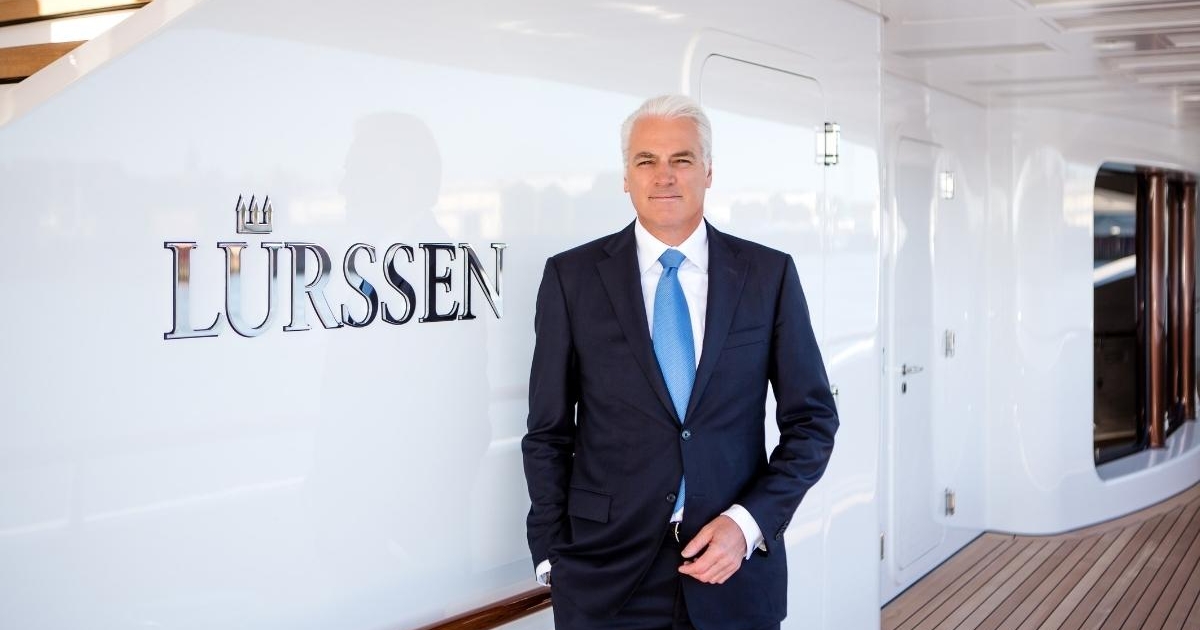 Since 1875, Lürssen has been one of the marine industry's leading innovators. Manufacturer of the world's first motorboat, as well as some of the most iconic superyachts in history – Azzam, Limitless and Dilbar to name a few, Lürssen is now run by fourth generation family members who are continuing the legacy set by their great grandparents.
Lürssen was founded in 1875 by Friedrich Lürßen, a 24-year-old German boatbuilder who got into the industry through his father Lüder Lürssen, who also ran a boatbuilding workshop. Friedrich began by building lightweight racing rowboats for Bremen oarsmen which quickly became known for their beautifully design, originality and quality. In 1886, he built the world's first motorboat, the 6m REMS, for manufacturer Gottlieb Daimler – the company would go on to craft a number of record-breaking champion race boats.
In 1925, when Lürssen celebrated its 50th anniversary, the company had already built 10,000 boats and the second generation of Lürssens joined the business. They went on to pioneer another series of record-setting yachts, including the world's fastest commuter yacht and the world's longest motor yacht at the time, the 36m AAR IV. In the 1940s, the third generation took the helm and began to build larger and larger yachts, including the 55m yacht Pegasus II and the 71m Carinthia VI, designed by legendary British yacht designer Jon Bannenberg.
With the fourth generation came a shift in focus to two types of boats: military vessels and megayachts. A number of icons came out of the growing shipyard, including the 97m Limitless (1997); the 180.65 Azzam (2013) the longest yacht in the world, the 156m Dilbar (2016), then the largest yacht in the world by gross tonnage. More recent deliveries, including AHPO, Nord and Moon Sand, are equally pioneering.
The business is currently being managed by Friedrich and Peter Lürssen, who hold the respective roles of Managing Director and CEO. One of their missions is to balance the company's heritage while driving future innovation. "For last 25 years, we have created a large number of yachts and experienced great success," says Peter Lürssen, who joined the company in 1987. "It is a constant battle because to consistently innovate, you need to stay hungry, and if you experience fairly good times, people tend to get less hungry. We have a client who built multiple ships with us who once said: 'from success comes arrogance, from arrogance comes failure.' I think success can create complacency, so we try to keep people hungry by allowing the young people to experiment, dream and come up with really crazy ideas."
A major part of the company's pioneering commitment is its new Innovation Laboratory, which will be finalised early 2022. Since 2005, Lürssen has been involved in research projects aimed at using fuel cells on ships in order to advance sustainable shipbuilding, and the laboratory has been set up to simulate and test the integration and operation of a Marine Hybrid Fuel Cell System on board a yacht powered by methanol.
While other shipyards have been discussing hydrogen and electric powered yachts, Peter is convinced that methanol in the future. "Hydrogen is hard to produce and store in big quantities, so I don't necessarily see it as a solution for the long term," he says. "We have been talking to people who are researching extremely efficient batteries. There are people that say eventually you will have the same energy content in one cubic metre of battery as you have today in diesel fuel. If that's the case, it's great, but you have to completely re-think the way you fuel your boat, and in a green way. You're not going to be able to park your boat next to a power pack, plug it in and wait half a year till it's fuelled. So, I think a realistic technology to substantially reduce the footprint today is methanol. At Lürssen, we prefer finding solutions with a practical application and so far, the methanol fuel cell offers a lot of practical use."
Lürssen is currently building its first yacht with fuel cell technology for one of its particularly pioneering clients. The emission-free fuel cells generate electrical energy based on hydrogen reformed from green methanol. It's a huge step towards Peter's goal of having an emission-free Lürssen yacht, the boat will be able to anchor emission-free for 15 days or cruise 1000 miles at slow speed. "My great grandfather built the world's first motorboat in 1886, my dream is to be the first to build a yacht without a combustion engine," Peter says. "While we hope to see some intermediate steps in the next few years, my goal is that by 2025, we have sold a yacht that only has fuel cell technology."
Another showcase of the modern-day Lürssen's commitment to sustainability is ALICE, an innovative, climate-neutral yacht concept which "shows what a Lürssen yacht could look like in the future." The design of the yacht, which would be powered by emission-free fuel cells, is peppered with ecological features that create a unique ecosystem on board, including parks and ponds on the yacht's deck and living walls in the interior.
"We want to do something that allows sustainable cruising in the ocean," Peter says. "Yachts have come a long way but there is further to go. I think when I look back in five or 10 years and I have contributed to a substantial reduction in footprint and made yachting cleaner and more eco-friendly, that's enough for me to be a happy man looking back."
Read Next: