Shipyard Stories: Sunseeker CEO Andrea Frabetti on the Evolution of a British Icon
Pledging £40m into new product development and production capability between now and 2025, Andrea Frabetti reveals how he's driving an 'evolution' rather than a 'revolution'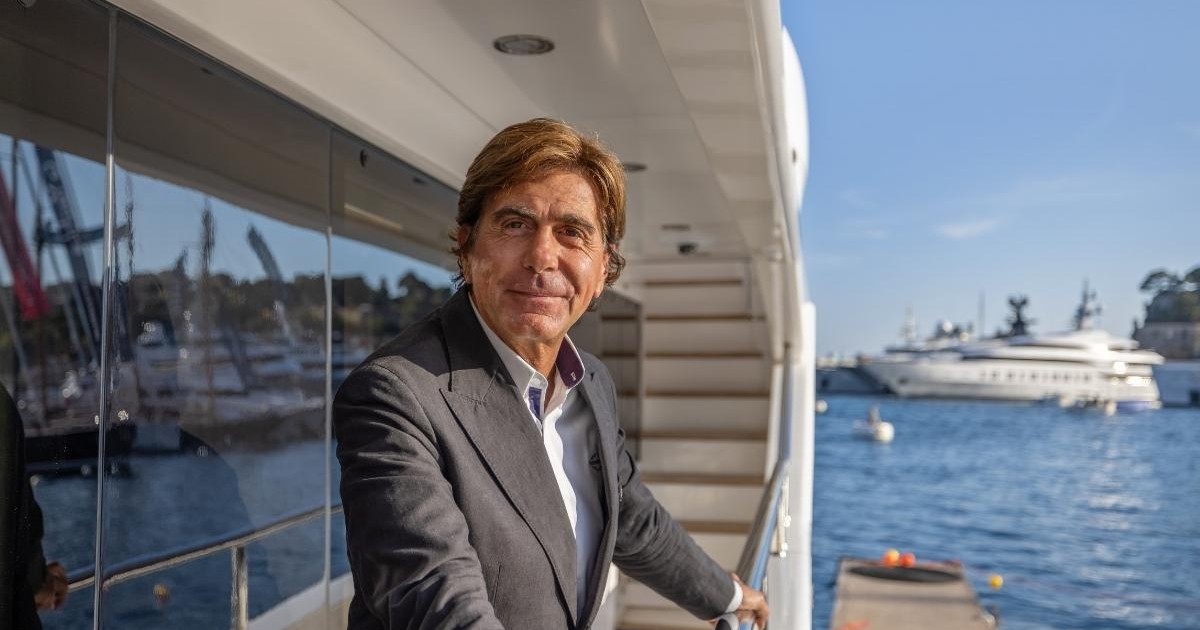 In 1969, Robert Braithwaite had a dream to revolutionise boatbuilding in Britain. He created a company, originally called Poole Power Boats, and together with his brother John set out on a mission to create a new type of boat. The duo's innovative designs, which included a new breed of sport cruisers, quickly gained momentum. After rebranding as Sunseeker in 1985, the business became an icon of British manufacturing and craftsmanship.
In 2022, Sunseeker employs c. 2,000 people and produces 140 boats a year at its shipyard in Poole, Dorset. While the brothers are no longer at the company's helm, their dreams and pioneering spirit are kept alive by CEO Andrea Frabetti.
Joining in 2019, Frabetti brought with him 25 years of experience as VP of Product Development at Ferretti Group. He immediately set about enhancing the company's product line and in three short years, Sunseeker's range expanded from 11 models to 20. This will soon rise to 22, Frabetti revealed, as he pledged £40m into new product development and production capability – a record investment for the company – between now and 2025.
Making waves
Having an Italian at the heart of a British brand may seem unusual, but Frabetti is committed to ensuring that Sunseeker's legacy remains true, which includes working closely with the British team who built the brand. "We made a lot of changes to the management teams, but all of them have been in the company for at least 10 years. I selected people who are very committed to the company," he says.
One such person is CTO Ewen Foster, who started at Sunseeker as a designer 38 years ago. "He is the one that is able to transport the 'Sunseeker appeal' through our different evolutions of design," Frabetti says.
In his quest for continuity, Frabetti frequently calls on the expertise of original visionary John. "When John retired, he told me to make sure we maintain the brand identity so, to me, that is a priority. I still call him to ask what he thinks about a development or a boat, and every time I see him looking around a boat and he says 'yes, this is a Sunseeker', to me, it's a go."
Driving evolution
When it comes to the question of what defines a Sunseeker, Frabetti pauses. "I can't tell you the secret of what makes a Sunseeker," he says. "But you can recognise any Sunseeker from faraway because the style is coherent throughout the different eras. It's unique and completely different, whether you love it or not, and you can see many edges and distinctive signs that you don't find in other boats."
"Sunseeker was born at a turning era of innovation, together with practicality and performance. And, today, innovation and practicality come together with a recognisable style."
At the Cannes Yachting Festival in September, Sunseeker unveiled two additions to its new Ocean line – the 27.10 metre Ocean 182, which is currently in production, and the 24.83 metre Ocean 156, a concept. Sitting alongside the Sunseeker Performance, Predator, Sport Yacht, Manhattan, Yacht, and Superyacht ranges, the Ocean range "marks the start of a new era in performance, functionality, and styling," he explains.
"If you see it, you'll recognise it immediately as a Sunseeker, but it has a different philosophy and a different target customer focus," Frabetti says of the Ocean 182. The model follows on from the popular 90 Ocean and is said to offer something "completely novel". Highlights include a uniquely-shaped enclosed flybridge and a generous 6x4 metre beach club – perfect for entertaining.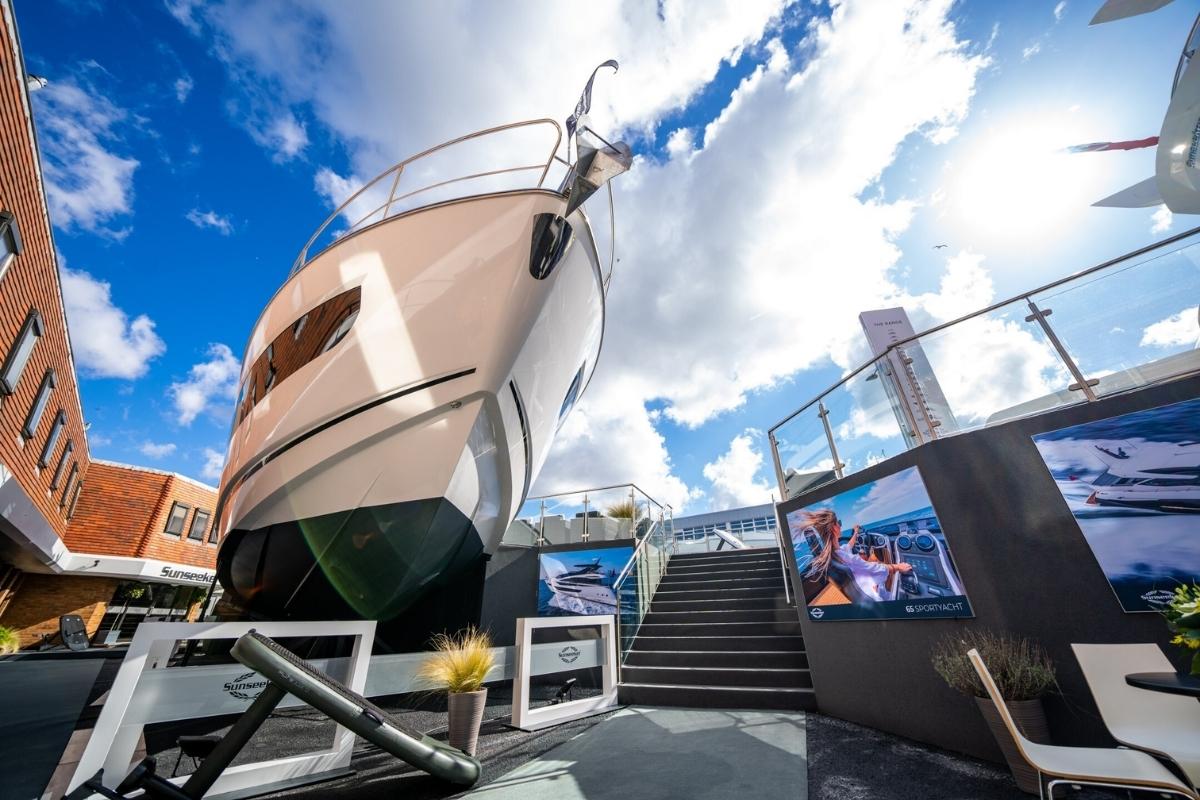 Growth of an icon
Another fast-growing part of the company is its Superyacht Division which launched in 2019 in response to demand for larger yachts. The investment paid off and in September, Sunseeker revealed year-on-year growth with more than 140 yachts over 100 feet delivered since 2000.
While such yachts satisfy the needs of returning customers, Frabetti remains committed to the production entry-level yachts – to help new customers enter the yachting family. "The company is 50 years old, so we need to attract not only our repeat customers, but also new customers," he says.
In fact, the sheer variety of Sunseeker's 20-strong offering is what Frabetti believes will be key to the company's future success. "You need to have a broad line to ensure that in any country, in any region, you have the right product for every customer. What they are asking for in North America is different to what they are asking in the Mediterranean. And even in the USA alone, we are selling different boats in Los Angeles compared to Miami," he explains.
Part of the 2022-2025 strategy also involves increasing distribution networks across the globe. "Unfortunately we are not well distributed," Frabetti says, "but we now have a very good dealer in Hong Kong, Next Wave, which is doing great, and we are working to expand our distribution in Asia, Greater China, Southeast Asia and Vietnam, and many other countries."
Looking forward, there are many pioneering innovations on the horizon – including the launch of Sunseeker's first production yacht with hybrid power – but Frabetti is taking care to ensure that the company, as per John's wishes, maintains its unique identity as it develops. "Innovation is in everything we do," Frabetti says. "But we're not building a rocket because we are a brand, and you have to be coherent with a brand. So, ours is a strong evolution, not necessarily a revolution."
Image credits: Sunseeker International
Read Next: