Shipyard Stories: Riva CEO Alberto Galassi on Writing the Next 180 Years of Boating History
The name Riva is synonymous with a certain level of timeless style and quality that often only the Italians seem able to achieve. As the illustrious Italian shipyard celebrates its 180th anniversary, we discover what continues to make the brand so iconic.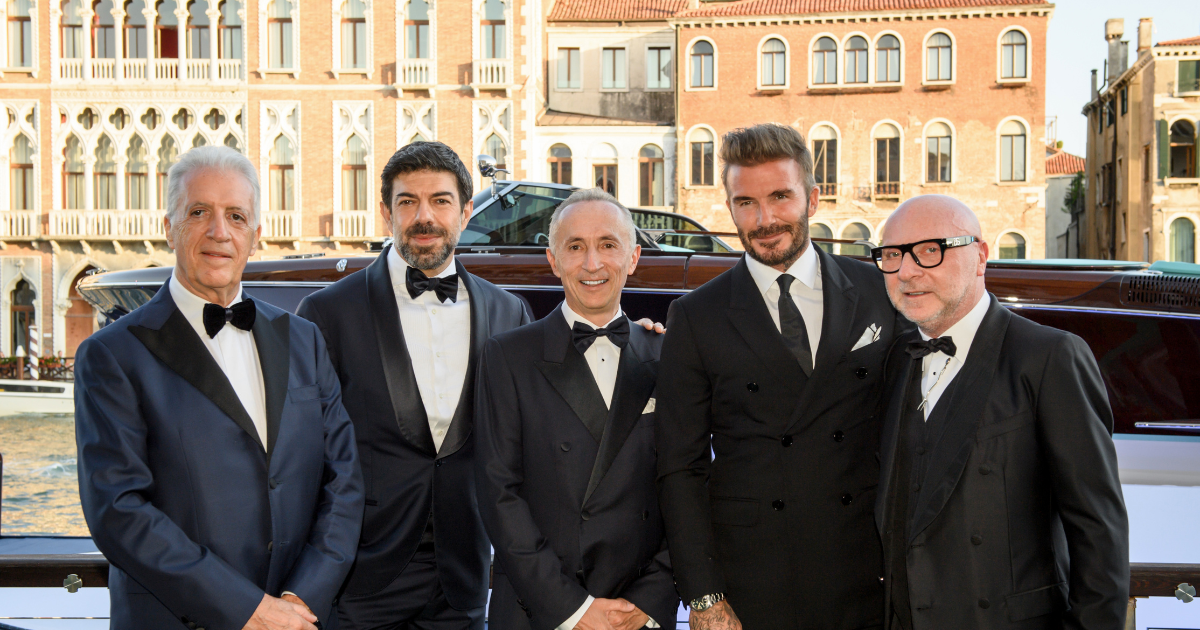 The name Riva is synonymous with a certain level of timeless style and quality that often only the Italians seem able to achieve. It stands among greats such as Versace, Gucci and Ferrari as one of the country's most celebrated brands, beloved for its beautifully crafted wooden boats which have graced waterways and television screens across the globe.
The shipyard's yachts may not be the largest in the world, but they are arguably some of the most discernible. Even people unfamiliar with yachting will recognise the classic Aquarama boats from their association with Venice, or from watching James Bond movies – the iconic vessel starred alongside Pierce Brosnan in 1995 hit GoldenEye. It was therefore fitting that the shipyard celebrated its 180th anniversary in Venice with a star-studded crowd including David Beckham, Pierfrancesco Favino and Charles Leclerc.
"I feel a big burden on my shoulders, to be honest with you," Alberto Galassi, CEO of Ferretti Group, told us during the celebrations in June. "It's a huge responsibility – 180 years of Riva and 60 years of Aquarama in the same year."
Riva has come a long way since its humble beginnings. The shipyard was founded in 1843 in the town of Sarnica by Pietro Riva, who was asked to rebuild a fleet of fishing boats that were destroyed in a storm. News of his quality craftsmanship quickly spread throughout Italy and commissions started rolling in for new vessels. Riva reached its heyday in the 50s and 60s when Pietro's descendant Carlo Riva took to the helm of the brand and designed models like the famous wooden Aquarama, which became an instant status symbol. Clients at the time included Prince Rainier of Monaco, Sean Connery, Brigitte Bardot and Elizabeth Taylor.
In 2000, Riva was acquired by Ferretti Group and the business continues to grow in both a business sense and a physical sense. Riva now has three shipyards – in Sarnico, La Spezia and Ancona – and, in 2014, it launched a successful superyacht division which has gone onto build a number of groundbreaking vessels including 49m flagships Fifty and Race.
To commemorate its 180th anniversary, the shipyard launched a limited edition dayboat tender designed in the brand's retro-style. Only 18 hulls of the 'Riva Anniversario' will be produced and will be available only to a select few owners. It is a "masterpiece of outstanding elegance," Galassi says. The brand also drew on its silver screen credentials to create a short film, Riva the Persuaders!, starring Pierfrancesco Favino and David Beckham.
In addition, in a huge step towards the shipyard's sustainability ambitions, Galassi revealed that the team is working on the first electric Riva, the prototype of which should be unveiled this summer. Details are few and far between, but he reveals that the model will build on the hybrid Riva patrol vessel which Riva created for the Italian carabinieri (military police) in Venice.
As for when it'll hit the market, Galassi says: "We'll see what the outcome is and then we'll tell you because we expect a huge boom but with Riva, it's nice to wait. Scarcity is beautiful."
The electric Riva brings the brand in line with Ferretti Group's commitment to creating a more eco-efficient yachting industry. "We believe in sustainability," Galassi says. "We were the first company in the industry to release a sustainability report in 2019. We were the first to receive the MTU power system hybrid propulsion system for Custom Line – it's an exclusive agreement we had with them in the beginning. Soon we will be developing a fuel cell together with a Canadian company that belongs to our shareholder."
Developments such as this are prime examples of Galassi's forward-thinking ethic. "We're looking ahead because if you look only into the past, you're lost," he says. "Many people ask me, 'why don't you make a new Aquarama? Why don't you rebuild the Aquarama?' The last Aquarama is in a museum – that's it. We can be influenced by the Aquarama but we can't do it again. It would be a sin to think that we can do better than what they did in the 60s and in the 70s."
"The difficult job is to talk to the new generation and be appealing to the new generation while keeping the same heritage, the same tradition and the same iconic products and brand," he adds.
A big part of Galassi's job is ensuring that the modern-day Riva respects the history and heritage of the brand while driving innovation. He explains that however the brand progresses, it's pivotal that every model maintains the "look" and "feel" of Riva. "A Riva has to be seen from far away – and has to be different compared to any other boat," he says. "It has to be immediately recognisable as a Riva – and they have to age well. That's very difficult."
Achieving this comes down to style, design and materials – think varnished wood, quality leather and shiny steel – and it is perhaps best exemplified in the superyacht division's new flagship, the Riva 50 Metri. This ground-breaking superyacht "turns Carlo Riva's dream into reality". Drawing on the steel Caravelle and Atlantic motoryachts from the 60s and 70s, the 50 Metri blends functionality and aesthetics beautifully to create a truly liveable and comfortable space that enhances the band's hallmark style.
Looking forward, Galassi's plan is to "write boating history for the next 180 years." The chapter has already begun, with two new launches for 2022 – the Riva 102 Corsaro Super, the successor of the popular 100 Corsaro model; and the Riva 130 Bellissima, the biggest Riva fiberglass yacht to date – plus more news coming at September's Monaco Yacht Show.
Image credits: LaPress, supplied.
Read Next: