Shipyard Stories: Discovering Sunreef Yachts
Sunreef Yachts is a shipyard that has defied all the odds. Opening its doors in 2002 in the historic port city of Gdansk in Poland, the first few years of business saw more than its fair share of skepticism thrown at the burgeoning builder of luxury catamarans.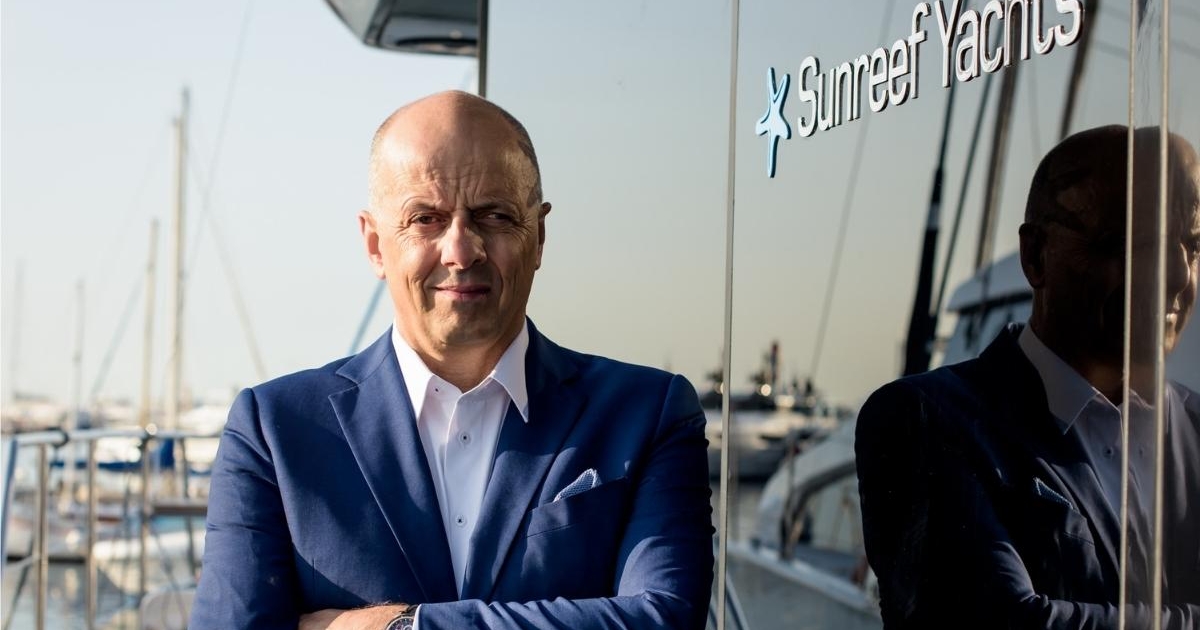 At the time, most in the luxury yachting business agreed that there was simply no market for a luxury catamaran. A catamaran, they said, is not a luxury vessel. Twenty years later, it's safe to say that Sunreef Yachts' founder and CEO Francis Lapp has proved the doubters wrong.
"There were many ups and downs on the way, and we certainly learned many lessons," muses Lapp as he looks back on two decades in business. "But we taught a few lessons along the way as well! Most importantly, we proved there is a market for our product." Launching a new eco-line of superyacht models earlier this year, a growing family of Sunreef owners includes Tennis star Rafael Nadal and Formula One drivers Fernando Alonso and Nico Rosberg.
The Sunreef Yachts Story
Part of what has made the brand so successful is the reason for its existence in the first place. Sunreef Yachts was borne out of a personal passion. As an active sailor and successful entrepreneur, Francis Lapp found that as his buying power grew, the yachts that he loved didn't. Dissatisfied with the lack of luxury in the catamaran market, Lapp decided to do it himself. "In a way, this sense of disappointment fueled my desire to build. This is how my idea became clear: I needed to redefine the word "catamaran" and give it a luxury edge," Lapp says.
From the very start, Sunreef Yachts set out on a mission to provide more quality and more flexibility than any other catamarans on the market. Perhaps most importantly, Lapp's vision for Sunreef Yachts was married with innovation.
Practical features such as an easy-to-use retractable dinghy launching system made the catamaran experience a step closer to the comfort and capabilities of luxury yachts. Still, it was the addition of a large flybridge that truly elevated the experience to new heights. The yard's first catamaran was the world's only oceangoing luxury multi-hull to feature a flybridge with decent lounging and dining spaces. Today, this is considered standard on board a catamaran.
"Our first models especially stood out with the use of space within the cabins," continues Lapp in regards to the origins of Sunreef Yachts. "Their design allowed for a new level of comfort with beds placed across the hull and large portlights. Our first innovations also included a retractable dinghy-launching system which was very easy to use. We started with an innovative product which was also highly customisable. We basically created a new market niche."
A Rocky Road to Yachting Success
Despite these innovations, when Sunreef made its yachting debut in Cannes 2003 with a 74' catamaran, the industry reception was critical - to put it lightly. Few believed that there could ever be a market for luxury catamarans. "Our first showcase was very far from being a success," remembers Lapp candidly.
"We didn't have any visits on board. People did not believe in luxury catamarans, and on top of that, they didn't think a luxury product could be made in Poland. Industry professionals would tell me Sunreef Yachts wouldn't last more than two years."
Regardless of the negative criticism, Francis Lapp and the Sunreef team persevered. The brand's first power cat was launched the following year in 2008 and boasted transpacific autonomy. Soon after, Sunreef became the first shipyard to introduce double-deck catamarans and, in 2010, launched their largest-ever yacht, SY Che, measuring 34.72 metres and accommodating up to eight guests. Che was also the biggest sloop-rigged sail catamaran in the world at the time, marking a significant milestone for the once-doubted yard.
Innovation in Superyachts
Innovation is an overused buzzword - though not in the case of Sunreef Yachts. Continuous investment into the company and unwavering belief in the founder's vision propelled them into success. "Another exciting challenge was the folding mast we designed, engineered and installed on a super cat over 80ft," says Lapp on the innovation milestones over the years. "At the time when we were working on our Sunreef Supreme range, we also found a way to fit a tender and jet-ski garage on a 68-footer."
The yard's facilities have also grown over the years and are a testament to Sunreef's dedication to innovation. Its current facilities boast a total of eight build halls as well as an in-house carpentry department. The Sunreef yard in Gdansk also includes a state-of-the-art paint shed and more than 20,000 square metres of buildings. Not to mention Europe's largest computer numerical control (CNC) machines, capable of precisely cutting elements up to 30 metres.
Today, however, Sunreef's efforts when it comes to innovation are laser-focused on sustainability. Using less power than superyachts, catamarans have long been the greener yachts of the industry just by sheer design. But Sunreef is not happy to merely rest on greenwashed laurels. The Sunreef Yachts Eco line proves just that, integrating some of the greenest technology out there.
Sunreef Yachts Eco Line
"The Sunreef Yachts Eco line is a range of power and sail catamarans that have been in the works for some time," explains Lapp. "At the moment, it is a key element of our strategy. We want to make yachting more responsible, and I know more, and more of our customers share the same point of view. We wanted to go further than just building boats with electric engines. Instead, we tried a holistic approach and took the time to reassess every aspect of our yachts."
The result of thousands of hours of R&D - or, as Lapp calls it, 'holistic reassessment' - was a line of yachts that puts real, sustainable options in the client's hands. Perhaps the most significant innovation to come out of this is the Sunreef solar power system. This in-house solar technology is another industry-first, making Sunreef the only company globally that can integrate photovoltaic panels with composite. The batteries used are custom-engineered for Sunreef models and have an unmatched weight-to-efficiency ratio.
But it's not just about the technology. Every element of a Sunreef Eco yacht has been reassessed, from the build material to the fabrics and furnishings. And since launching the line in Summer 2021, the response says Lapp has been fantastic. "People know that catamarans are a sustainable choice, and they like our definition of responsible luxury. Most of the inquiries we receive today are about catamarans with eco-responsible solutions. Customers today are more and more educated and discerning. There is a positive trend in the industry, and I feel it is moving in the right direction, but just not at the right pace. I am thrilled to observe this trend – if the demand is here, the industry will follow."
Though Sunreef may have started as a yard with something to prove, success after success has demonstrated that they have more than proved their value - and perhaps never should have been doubted in the first place. With environmental issues becoming ever more pressing, the future certainly looks bright - and green - with Sunreef.
Read Next: