Shipyard Stories: How Wally Became one of the World's Most Loved – and Hated – Shipyards
We speak to Wally's founder and chief designer Luca Bassani about how its distinctive, stand-out vessels continue to shape the industry to this very day.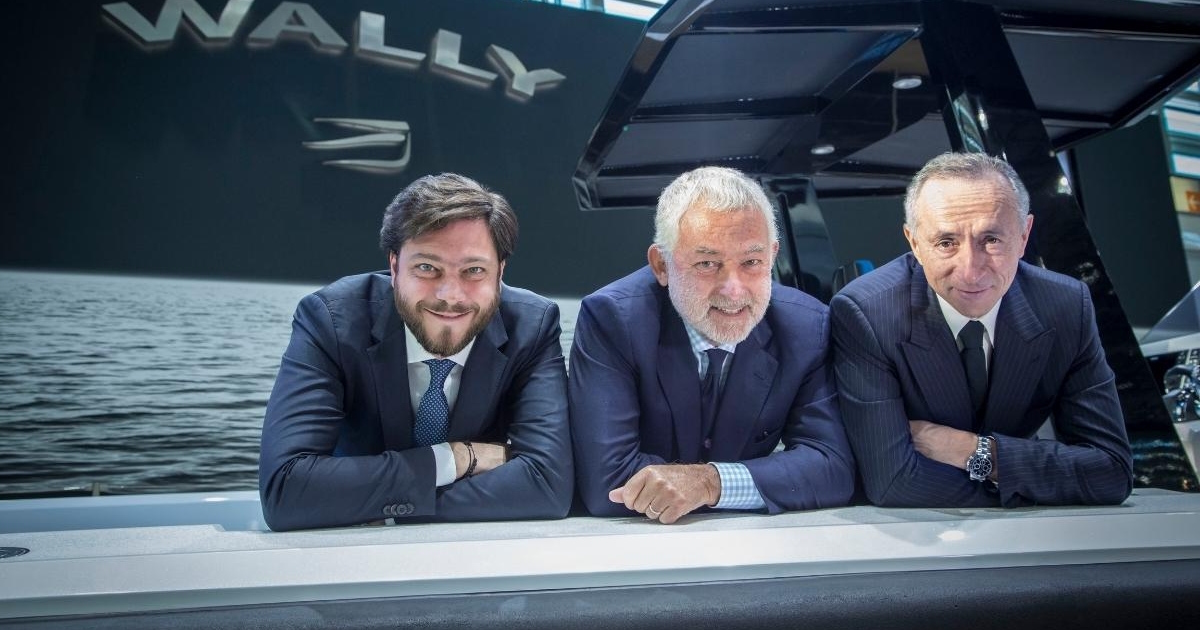 Wally is the 'marmite' of the yachting world. Whether you admire or despise the Monaco-based shipyard's yachts, you'll certainly recognise them. This a fact that founder and chief designer Luca Bassani is well aware of. "50 per cent of the market loves our products and 50 per cent hate them," he says. "We are very extreme in terms of style and offer – from technology and design to materials, there is no other boat like a Wally."
Like his yachts, Bassani's journey into the industry was unconventional. The Italian's earliest memories of boating date back to childhood holidays on the Riviera. "In Portofino, I learnt practically everything about the sea – how to swim, how to dive, how to fish, how to sail. I've been passionate about the sea ever since," he says.
As Bassani grew up, his father wanted him and his brother to join the family business – BTicino group, one of the world leaders in electric devices ­– but before doing so, he thought it would be good training to have his sons learn to work together in the context of a sailboat racing team. So, while still studying Industrial Design from the University of Genoa, Bassani and his brother started racing 37-footers.
A designer is born
Years later, in 1989, the family sold the company and Bassani found himself with free time and disposable income so, still a keen yachtsman, he decided to invest in a boat. "At the time, my opinion was that race boats were too slow – they were following a handicap system which was too old. At the same boat, cruising boats were too uncomfortable."
So, unsatisfied with what the market was offering, he built his own. "I wanted an 83-footer with a modern hull, a lot of volume and as much carbon fibre as possible to make her light and strong." He sought out a New Zealand engineer who'd designed boats for the New Zealand America's Cup and created the world's first cruising boat with a carbon fibre mast.
This was where Bassani's design career was meant to conclude, but a few years later, he found himself designing the 105 Wallygator – now called Narida – and the 80 foot Genie of the Lamp. Suddenly, a business was born. "Once I had those two boats on the water, I started to have clients," he says. "My first client was Sir Lindsay Owen-Jones [the former Chairman and CEO of L'Oréal], owner of Magic Carpet 1, 2 and 3."
Bassani then expanded from sailing yachts into racing yachts, creating the Wallyclass division, followed by power boats. "Step by step I was realising that the big market was in motor yachts," he says. "I was thinking about how to enter the market when one day a German man – owner of the Mangusta 105 yacht – came into my office and said: 'I loved your last sailing yacht, Tiketitan, but I will never own a sailboat. I want you to build me a motor yacht like that.'"
Bassani rose to the challenge. Tiketitan was aggressive, fast, sleek and modern, so the first challenge was figuring out how to achieve her speed in motor yacht form without slamming over every wave. After doing a lot of research, he designed a unique hull to cut through the water, which would become a Wally signature. The team, based in Monaco, went on to design a number of distinctive motor yachts with this hull, including the 2002 118 Wallypower Galeocerdo – a yacht so special it was presented at the Museum of Modern Art in San Francisco.
A new chapter for Wallly
In 2019, following a period of financial uncertainty, Wally was acquired by Italian boat manufacturing powerhouse Ferretti Group. The shipyard joined the group as the contemporary extreme to Riva, a classic brand on the opposite end of the market. In his role as chief designer, Bassani continues to work with the team, led by CEO Alberto Galassi, to expand the fleet.
Stefano de Vivo, Managing Director of Wally and Chief Commercial Office of Ferretti Group, says: "On one side, I have Bassani, a volcano of ideas, and on the other, I have the atomic battery who is Galassi – he doesn't stop. It's great to have them both because a battery on its own has nothing to propel and a volcano has no direction. I'm in the middle to bring them together."
In 2021, Wally launched the Wallywhy range, inspired by Bassani's 24m displacement motor yacht Wally Ace. "When we launched Wally Ace 10 years ago, we didn't have the production to fulfil the demand. When we started the collaboration with Ferretti, we wanted to go on with the range, but at the same time, I think we realised that the market was moving toward semi displacement, so we decided to do something different," Bassani says. The range premiered with the Wallywhy200, a 24m motoryacht with a distinctive bow allowing it a huge volume that almost doubles its space in comparison to other yachts of its length.
Bassani and Ferretti also worked together to enhance the Wallypower range, launching the wallypower58 at the Venice Boat Show in June 2022. "If the wallywhy200 is like a Mercedes-Benz Vito van, the wallypower58 is like a Ferrari," Bassani says. "As on the first wallypower, the wallypower58 features pure lines dominated by the double chines in the hull and the air intakes. Its bow meets the water with a smooth, swooping line that extends all the way aft."
It's an eye-catching, fast-speed day cruiser with the added benefit of an overnight cabin for up to four people, which opens up a whole new realm of cruising possibilities.
In the coming months, the Monaco-based shipyard will unveil a number of new models including the 58X in late 2022, two new Wallywhy models – launching in December 2022 and September 2023 – and a custom Wally 101 racing cruiser 2023.
Bassani, meanwhile, is already thinking further into the future. "I have a lot of ideas to go much, much bigger," he says. "I have the ideas to design and build very big motor yachts – 60, 70, 90, 100m. They'll be like the other Wallys but they'll be bigger and better than any other yachts of their size."
After his family sold their business, Bassani could have rested on his laurels. Likewise, he could've taken a step back when Ferretti Group acquired the shipyard – but that's not in his nature. "Because I know this business, I know we can always do something better. Each innovation is a new step. And once you have the new step, you see the next step. And then it goes on and on – it's never ending," he says. "I love to dream."
Photo credits: Giles Martin Raget; Guy Gurney
Read Next: