How Chateau d'Esclans Owner Sacha Lichine Created One of the Most Iconic Rosé Wines in the World
It is hard to picture Sacha Lichine, the portly and eloquent owner of the world renowned Château d'Esclans estate in Provence, shuffling from door to door trying to spread the "gospel of the grape" as he puts it.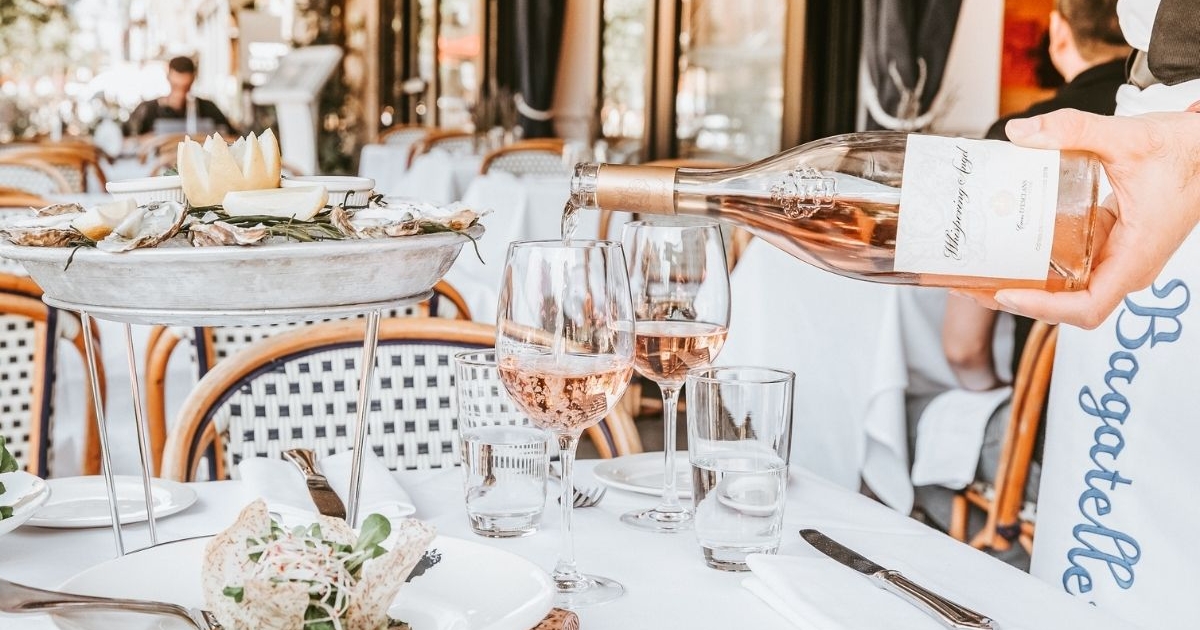 Imagining the hard stares of incredulous vendors or his slumped form as he is sent packing once again, is tough given that his wine has now achieved cult status amongst the elite.
This is exactly what happened when Sacha began setting out his vision to turn the humble rosé into a grand and fashionable wine both craved by the jet set and respected by connoisseurs. Today, his iconic Garrus brand is the toast of the glitterati, sipped in Hamptons house parties (when they were allowed), Ibiza beach clubs (when they were open) and the finest restaurants along the Cote D'Azur.

Yet back in 2006, when he founded the company, rosé was still regarded as a cheap tipple loved by salmon-coloured tourists in France and likely to give you a pounding headache the next day. Some potential customers actually laughed in his face when he preached about a drink pink revolution that would turn the world of wine on its head.
"I guess I had a bit of vision and a nose for what I wanted to achieve and we got lucky," the 60-year-old Bordeaux-born, American-educated businessman, says of those testing days when he hit the road like a Jehovah's Witness of wine.
"I identified a category that was lacking in quality. I banged on a lot of doors and spread the gospel of the grape and got it going. I was fortunate that with my father I would go down to warmer places in summer and he would always drink rosé, so I started drinking it from a young age: I had my first glass when I was 10 or 12.

"Of course, 40 or 50 years ago, white wine was just a summer drink and it was the same with rosé. People would drink it when they came to the Cote D'Azur. They would put a lot of ice cubes in it and it gave them a headache because it wasn't well done. We had to make sure that what went into our bottles was a quality product.

"We got the colour and quality right and kept having it tasted and tasted - and kept knocking on doors and asking people to taste it - and eventually the product hit."

If Sacha needed inspiration to keep going as his shoe leather wore thin, he only had to think of his own father, the late Alexis Lichine, author of "Wines of France" and the man largely credited with bringing French wines to the United States in the 1950s.
Sacha has enjoyed similar success with a brand that he is not shy in indulging in himself, drinking up to a bottle of rosé a day. He believes that female wine lovers are mainly responsible for the peachy revolution that has made pale pink de rigueur at summer beach parties. "I think the whole movement of rosé came with the lightness and style of Sauvignon blanc and some of the people who made it chic were English women," he says.
"If you remember, for a long time, rosé champagne was totally unknown but it became more trendy because it was pretty in the glass and there were a lot of English women coming down to the Cote D'Azur who were drinking this stuff and then brought it back home.
"There were a lot of dark rosés but I think the consumer and particularly the female consumer, was looking for something that was pale but also elegant and tasty. I think the paleness of colour is something that is very important. The perception is the paler the better because of the lightness and crispiness. I think it started in the UK and then we went to America because they were catching on to this crisp style of wine there."
Garrus now has a significant celebrity following and as well as being one of the most expensive on the market, dubbed the Dom Pérignon of pink wine, it is heralded as "without doubt the greatest French rosé ever made."
Respected wine critics have become acolytes of its pale allure, with writer Matthew Jukes opining: "I sense that Garrus will, one day, be mentioned in the same breath as wines like La Tâche, Latour, Vieilles Vignes Françaises and Le Montrachet."
Perfecting such a quality product and then replicating it year after year has been an expensive and painful process, admits Sacha, and would not be possible without the cutting-edge technology available to grape enthusiasts today. "The problem was it was the most difficult colour that I've ever had to make good," he says.
"I've made a lot of red wine and I've made a lot of white wine and rosé is very easy to make average, but it's very hard to make good. It's a race against oxidisation. The technical systems we have today - optical sorting machines, nitrogen presses, cooling systems – are things we never had in the past.
"Twenty five years ago, I don't think we could have made the quality that is coming out today in these Provence rosés: that paleness and colour and the look. Colour is extremely important."
While the 667-acre Château d'Esclans estate has more popular brands, such as Whispering Angel, that retail for a much lower price and have become a staple at hedonistic holiday destinations, Sacha was determined to elevate his product to something more than the mass produced mainstay of the 'rosé all day' phenomena.
"The challenge was to make it serious or grand," he says. "I wanted to make rosé taste like a real wine; the dark rosés are juicier and richer, with Syrah that candies a bit of the wine in rosé, but we wanted to take away the heaviness and create an elegance.

"With the finer rosés we are trying to get that elegance aspect rather than the juicier aspect. We took a quality wine approach that is extremely expensive because to make good wine there is a chain of links, between all the barrel fermentations and technical equipment and everything else.
"The amount of effort we've put in to make something of this quality is much harder than anything I've had to do. We started in 2006 and by 2012 we knew we had something. Since then we have created something of a market for it and that has trickled down to the consumer - the consumption of rosé has tripled in France in the past 10 years. There are more people drinking it there than there are drinking white wine.

"We have had a number of celebrity endorsements but we do not ask for them. We sent a case or two of Garrus to David and Victoria Beckham when they came down to the South of France with Elton John last summer.

"David and his wife were already Whispering Angel consumers and were keen to taste some of our upper level wines, so we sent them a case. She said it was the best rosé she ever had.

"The singer Jon Bon Jovi is trying to make his own rosé after drinking Whispering Angel for all these years. The actress Sarah Jessica Parker was drinking a lot of Whispering Angel and decided to make her own.

"Everyone is trying to get on the bandwagon but why not?"
Read Next