The Wellesley
56.2m | Oceanco | 1993 (2016)
Cordon Bleu-trained chef Bradley was born and raised in Zimbabwe. After graduating at Tante Marie Culinary Academy in the UK, Bradley joined the yachting industry in 2014. Though young, he has a mature disposition and is creative and ambitious.
In 2015 Bradley took part in the MYBA Genoa Boat Show Chef competition and gained a very respectable third place, despite being the youngest entrant. In 2016, Bradley was part of the team that won "Best Of The Best", being best all-rounded vessel at the MYBA Genoa Charter Show.
In 2018 Bradley also won the"Courageous Crew Award" at the first ever ACREW Awards. Prior to working in the yachting industry he worked in many kitchens, from safari lodges to 5* London hotels. If there is a specific dish or theme you would like to experience during your stay on board, don't hesitate to ask him.
As every yacht charter guest knows, the food on board can make or break a charter experience. Spending a week or more vacation at sea means that often some of the most memorable evenings on the yacht are spent around a dinner table, with hours of sparkling conversation overlooking the ocean complemented with four-courses of culinary bliss.
Add together the importance of a hearty, healthy breakfast for a fun day on the water, a variety of both formal and informal lunches and a sophisticated afternoon tea, it's not hard to see why a skilled onboard chef is essential. Extensively refitted in 2016 and home to one of the most talented chefs in the luxury charter business, the 56-metre Oceanco-built superyacht The Wellesley is one such charter yacht that delivers when it comes to exemplary service and food on board.
Hidden Gem in Southern Africa
Discovered by one of the Founding Partners of Monaco-based yacht brokerage and charter company, Thompson Westwood and White, The Wellesley's chef has been with the family since 2014. In search of a quality chef in a challenging market with limited supply, it was a chance conversation on holiday in southern Africa that David Westwood first heard Bradley van Rooyen's name. Pitched as the best baker in the country and with an eclectic, impressive resume, Westwood wasted no time in inviting Van Rooyen to an on-board trial.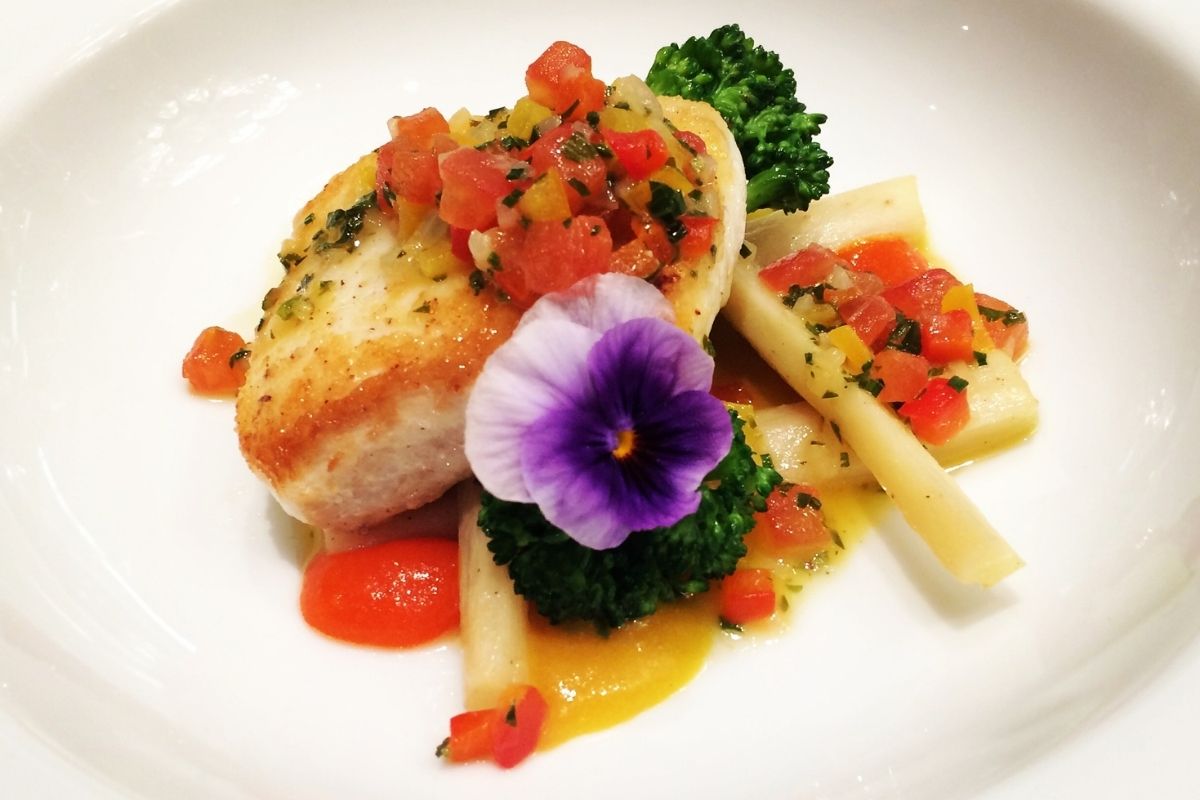 With no previous yacht experience, Van Rooyen was thrown in at the deep end. The standards are exceedingly high when it comes to fine dining on a yacht charter, and despite an impressive resume of professional training, there was indeed no guarantee that Van Rooyen would succeed. Happily, the young chef immediately rose to the challenge once on board, and The Wellesley's future chef did more than merely pass his trial. The yacht's owner was so impressed after just a couple of days of dining from Van Rooyen's menu, that he all but demanded the chef stay on the boat from that day forward to take command of the kitchen.
Initially cooking up a storm on the brand's 32-metre Falcon-built motor yacht, Chef Bradley van Rooyen moved on to the 56-metre The Wellesley following the completion of the yacht's extensive refit in 2016. Van Rooyen continued to wow owner and guests with a variety of sensational menus - from Mediterranean fine dining to casual BBQs and homemade pizzas.

International Inspiration
Despite being one of the youngest superyacht chefs in the luxury charter fleet, Van Rooyen's talent was cultivated from an early age. At just 26-years-old, the yacht chef already has years of professional training and experience. Growing up in Zimbabwe and spending a lot of time as a youth by the east coast of South Africa, it was his grandmother that originally sparked the joy of cooking in Van Rooyen and he fondly remembers cooking and baking with her from the tender age of five.
By the age of 16, Van Rooyen's passion for culinary creation was in full swing. Instead of spending a carefree summer hanging out with his friends as most teenagers would be busy doing, he secured an internship at the renowned Leopard Rock Hotel in Zimbabwe, with a 5-star kitchen run by a talented South African chef. Training complete, he moved to the complete opposite side of the spectrum, learning to cook with limited means and supplies in a lion sanctuary in the bush.
Moving from the African continent at 19, Van Rooyen went on to train in classic French cuisine in the UK at the Tante Marie Culinary Academy. Eager to taste as much of the world as possible, he went on to serve up fantastic food at a beach club in sun-soaked Greece and then - again, to the opposite side of the spectrum - as a chef at a luxury ski chalet in the snowy mountains. Impassioned by the world of cooking, Van Rooyen's travels didn't stop there, going on to learn the art of Japanese cuisine in Tokyo.
Picking up a world of different tastes, flavours and inspiration, today Van Rooyen's menus provide something mouthwateringly delicious morning, day and night. His talents were recognised at the 2016 edition of the MYBA Charter Show, where Chef Van Rooyen received a Special Mention for The Wellesley in the Chef's Competition 50+ metre category.
Tailor-made Dining
As with most luxury charter experiences, each food experience on board The Wellesley is custom-made to suit the charter guests. With the whole crew on board The Wellesley dedicated to a 'no-request-too-big' mentality, Van Rooyen has delivered above and beyond expectations on numerous yacht charters for over four years, with a huge variety of dining options available to charter guests and all dietary requirements catered for.
Expectations are always high when hosting formal dinners, and for charter guests looking to host an impressive dinner party in complete privacy, the dining room on The Wellesley rivals some of the best onshore restaurants in terms of quality and service. Chef Van Rooyen and the rest of The Wellesley's crew provide afternoon teas, corporate lunches and celebrations for family events, with the special silver service lay for formal dinners mirroring The Wellesley hotel in London with Baccarat crystal, Christofle silverware and Wedgewood crockery.
Although The Wellesley and her chef consistently deliver high-end dining experiences for a range of occasions, the chef also understands that on a yacht charter, not everyone wants an extravagant meal every night. For those nights that guests want to wind down with close family and friends, there's the option to put the crystal away, move to the sunset bar and take in the sunset before enjoying a fresh seafood barbeque, or stone baked pizza on the BBQ grill.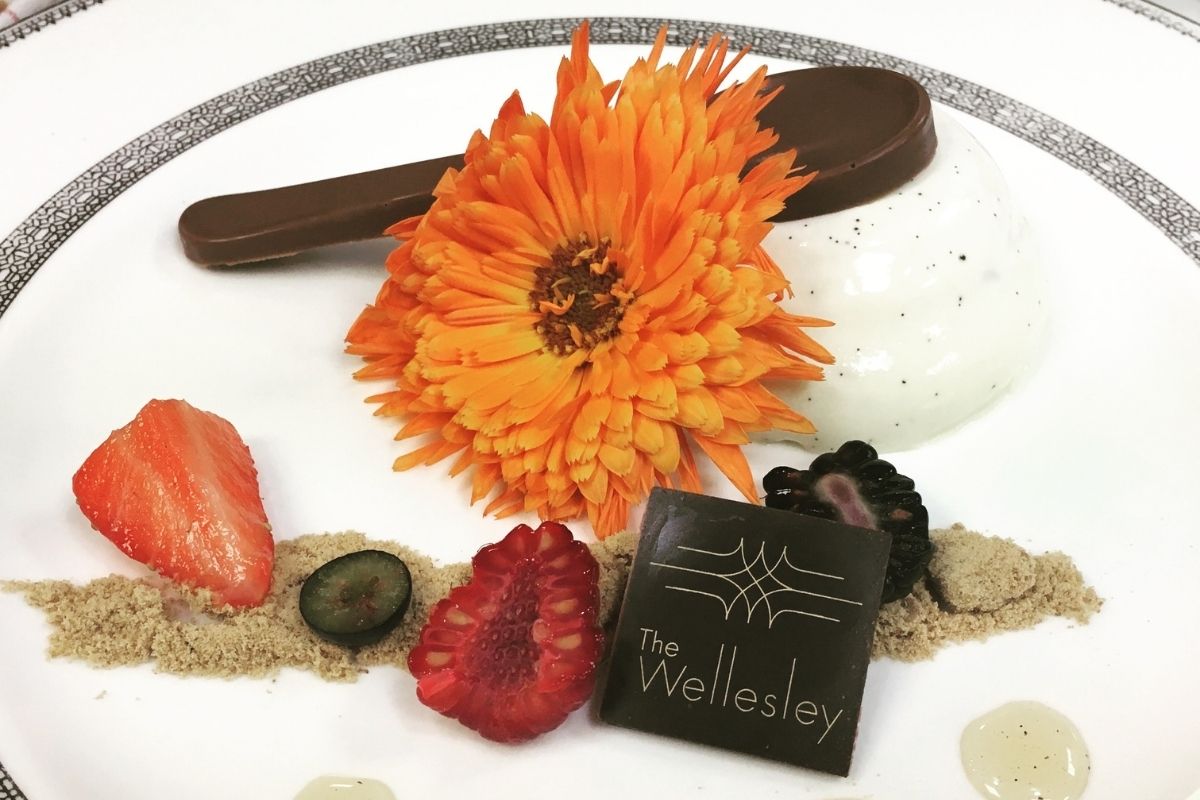 In terms of choice in dinner settings around the yacht, The Wellesley cannot be beaten. In addition to her impressive main dining room in all its art-deco glory for those sophisticated exceptional dining experiences, the yacht features two large al fresco dining areas, able to be set up for any occasion - from fine dining in immaculately chic settings followed by cognac and cigar in the smoking lounge, to a laid-back pizza with a beer with friends before retiring to the loungers to watch a movie on the outdoor cinema screen.
With a talented young chef serving up everything from the most exclusive fine dining experiences to kicked-back meals with friends, a charter experience on The Wellesley delivers. A true testament to the charter-focused philosophy of her owner, at her core she is a charter yacht with excellent service, incredible food, and attention to detail like no other.
Sample Tasting Menu
Starter
Fresh Tuna Ceviche
Wild boar ravioli with a rich boar jus and sage butter
Roasted butternut and caramelised onion risotto
Main
Pan roasted duck breast served with a butternut and parsnip puree, braised red cabbage and a blood orange sauce
Butterflied grilled king prawns salad served with spicy chorizo and olive vinaigrette
Pan roast smoked garlic, spinach and ricotta stuffed chicken breast served with a fruity couscous and a ratatouille terrine
Herb crusted rack of roast lamb served with spring onion mash and a Cepes and Cognac sauce
Dessert
Candied rhubarb and blood orange, pistachio Pavlov served with homemade vanilla ice cream
Chocolate fondant served with a chocolate chip and clotted cream ice cream topped with, caramel and macadamia nut brittle
Vanilla and passion fruit Pannacotta served with a gingernut crumble and edible chocolate spoons