The Wellesley
56.2m | Oceanco | 1993 (2016)
Anthony Romel Silva
Having worked as captain on board superyachts for nine years, Anthony Romel Silva knows how to create a unique charter experience that caters to each and every guest.
He joined The Wellesley in April 2021, leading his "friendly yet discreet, relaxed but professional crew" to ensure a smooth charter from start to finish
"From fancy dress parties and James Bond themed 12-course silver service dinners to a giant blow-up flamingo floating bar and a surprise live gig, we thrive to wow the guests where least expected," says Captain Silva.
Purchased by Khalid Affara - the owner of one of London's finest boutique hotels, The Wellesley - the Oceanco yacht was totally reimagined in the same chic style of the exclusive hotel. The second yacht refitted in the distinctive art deco style of The Wellesley in the British capital, the owner combined his experience from the brand's first superyacht as well as all the client feedback from previous charter holidays into the new and improved The Wellesley. The result? A beautiful, Dutch-built superyacht entirely in line with the sophisticated styling of The Wellesley hotel and, perhaps most importantly, wholly designed with charter in mind.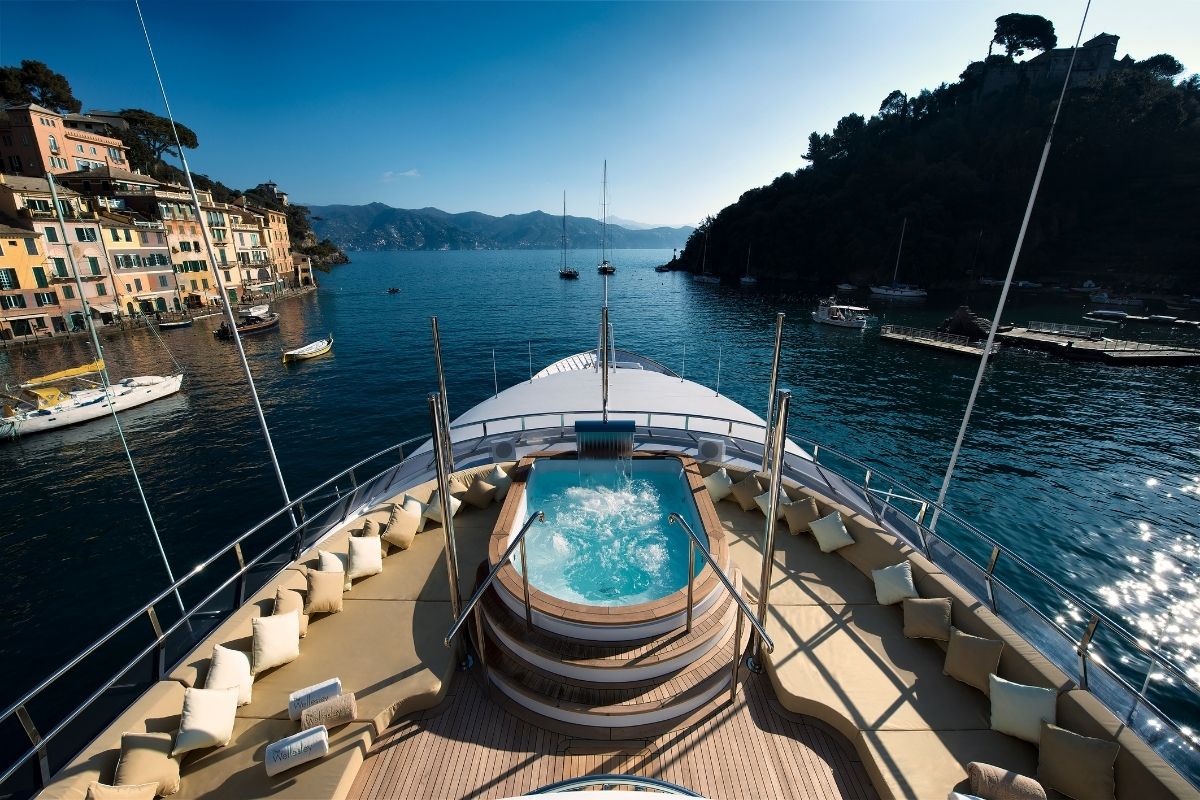 Learning from the first The Wellesley superyacht, Affara added charter specific features to the yacht during her extensive refit, including particularly large deck spaces, opulent interiors, a Jacuzzi, a 1920s themed cigar room and a whole host of exciting water toys. The new yacht was relaunched in 2016 and has been serving up exemplary yacht charter experiences in the Mediterranean and the Caribbean since.
Read on to find out what makes a stay on board this boutique boat as memorable as her London counterpart.
Please tell us a little about your background and how you got into yachting?
I started off in the lowest ranks of the engine room then worked my way up through the interior department through to the deck and then finally up to captain. I hold an HND in Hospitality Management, and prior to setting eyes on any superyacht I worked in the five-star hotel business for five years, working in some of the most luxurious hotels in the world.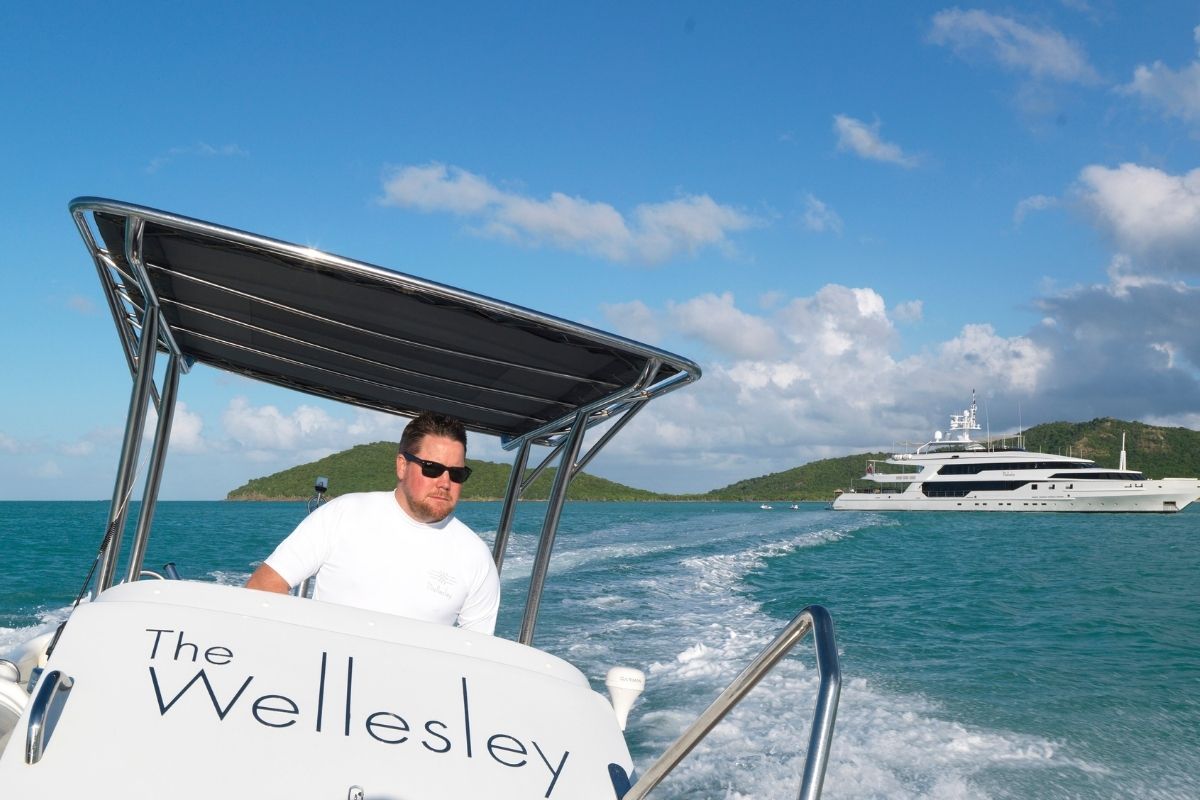 How long have you been a captain and what are some of the yachts you've worked on?
I have been a captain for nine years, and prior to The Wellesley in April 2021 I was captain on Sarah (62m) and Vibrance (49m).
How would you describe the owner's vision for the yacht?
The owner has specific vision for his brands of hotels in London, and The Wellesley is a floating extension to that standard of luxury.
How would you describe the style and personality of the yacht?
The Wellesley gives you the feel of a home on the water. The classic interior design and the luminous exterior vision put in place by the owner to meet her shore-based counterparts gives you that feel of elegance and simplicity on one platter.
How would you describe the ambiance on board?
Relaxed and airy. Sporty yet calm. We keep the young guests on different energy levels to the older guests, unless they would like to re-live their youth once again.
What's your personal style as captain
I believe the only way to be a successful charter captain is to step outside your own mind and body (and ego), and have the ability to tap into someone else's pulse and brain waves for a set duration. Every client is different, and my style is to create familiarity with them as quickly as possible, and try to be one step ahead every day. Details go far. It's the subtle points and emotions they take home with them.
What's the best thing about working on board My Wellesley?
How simple things are for her age. There are no fancy gadgets or sophisticated equipment - the pleasure she gives her guests are just simple. She is like a home cooked meal.
What are some of the standout features of the yacht?
The first thing that comes to mind are the large exterior decks with an open plan, which allows multiple groups from the same party to gather on one single deck and orbit around different energy sources. You will see some playing cards on the dining table while the kids splash about in the beach club, some reading on the aft peak while others watch TV in the main salon. All is within close proximity yet far enough to ensure everyone has their privacy.
Which areas of the yacht do guests most tend to gather on board?
We like to lure guests to different areas of the yacht by creating an different atmosphere on different days. However no matter what altitude, all outside decks are the most famous among our guests.
Which types of client are most attracted to charter on board The Wellesley?
I can honestly say there is something for everyone here.
What types of experience can you offer charter guests?
We as crew always thrive to offer the client a refreshing experience. From the time they step on board to the time we wave them goodbye. Seamless client experience, tantalising delicacies, and mind-blowing locations.
How would you describe the style and approach of the crew?
Friendly yet discreet; relaxed yet professional; private yet familiar. Each crew member brings something special to the table, and each person's energy and skills are recognised.
Please share some examples where you and your crew have gone above and beyond to make the guest experience as special as possible.
From fancy dress themed parties and James Bond style 12 course silver-service dinners to a giant blow-up flamingo floating bar and surprise live gig, we thrive to wow the guests where least expected.
Are there any interesting personalities or talents among the crew?
We are all very interesting individuals, each specialising in different talents. You'll have to step on board to find out!
How are the yacht and the crew prepared to accommodate children and teenagers on charter?
We carry a good mix of water sports gear and sports equipment. We also have crew who are passionate about SCUBA diving, hiking, boarding and various different outdoor activities which I like to let them entice the guests with.
How would you describe the cuisine on board?
Undeniably excellent. Our long-standing chef is impressive and adventurous.

Tell us about the toys and tenders – which toys are the most popular with guests?
We carry various water toys, from powerful jet skis to the latest SeaBob, which undoubtedly is very popular among the more adventurous charterers. However every time we get our giant inflatable slide and the giant inflatable flamingo out, everyone eventually ends up there.
What are your usual cruising grounds?
We can cruise anywhere really, but most of our clientele really likes to cruise down the Amalfi coast down to Sicily, Corsica and Sardinia. Can't blame them really as it never gets old.
Which destinations are your personal favourites and why?
My personal top favourite destinations would be places like Mexico, Indonesia and El Hierro in the Canary Islands, to name a few. However the best places I have cruised with guests would be the Bahamas, Florida Keys, St Lucia, Croatia and the Seychelles. And last but not least, the French riviera where I live now.
What have been some of the highlights or your favourite memories as captain of The Wellesley?
The most recent season I have done in the Bahamas was especially memorable for me as I discovered some new breathtaking locations to take guests. There is something special, exciting and nerve racking about being anchored in 4m of water surrounded by sand banks in crystal blue waters.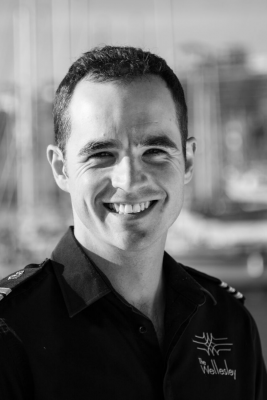 Blair Venters
Chief Officer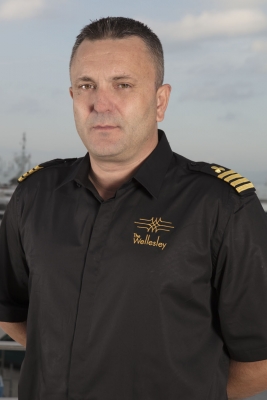 Marin Dzhingarski
Chief Engineer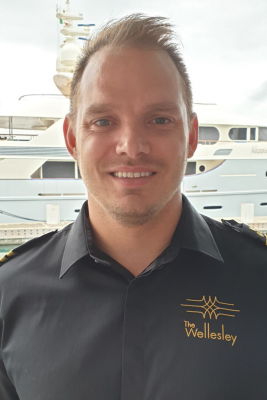 Craig Fowle
Chief Engineer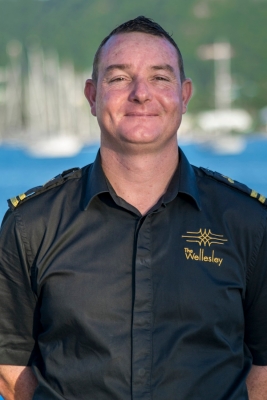 Warren Cook
Second Engineer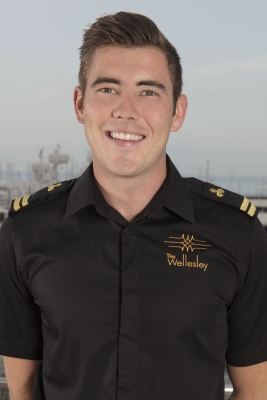 Gary Shaw
Second Engineer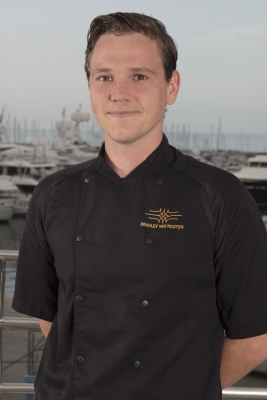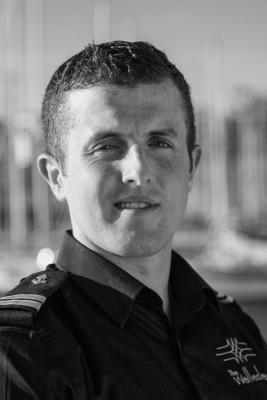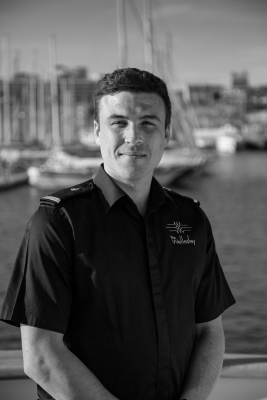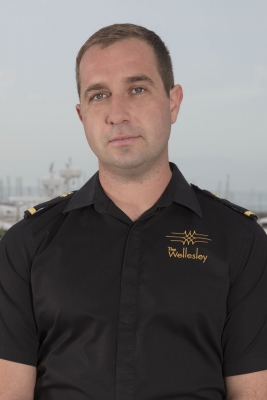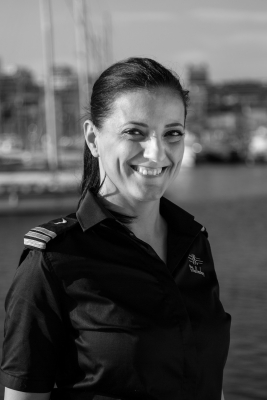 Zdravka Yankova
Chief Stewardess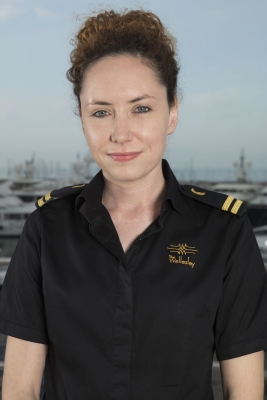 Danielle Smith
Second Stewardess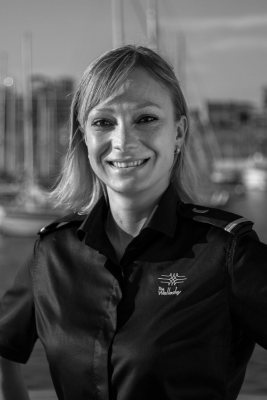 Olena Gershberg
Stewardess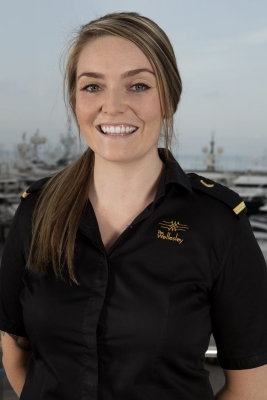 Eve Hewton - Lamph
Stewardess