Regina K
32m | Cantieri di Pisa | 2008 (2018)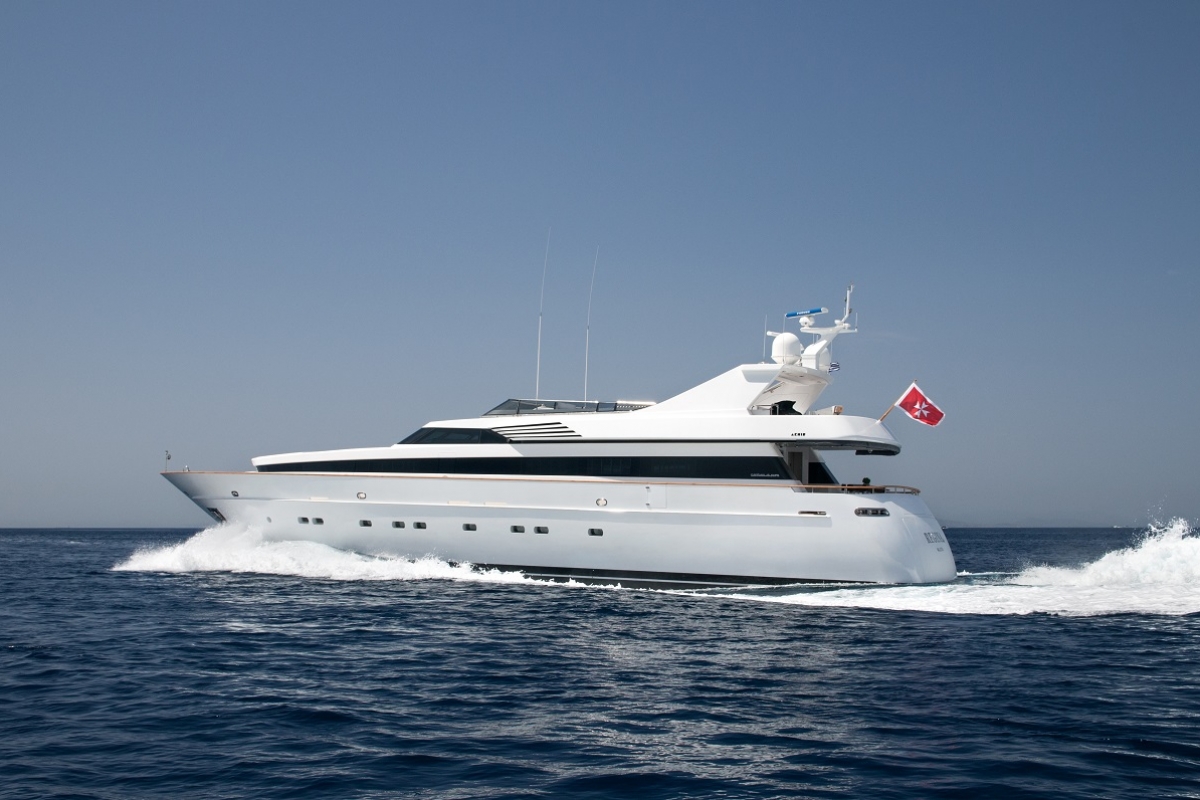 Built by the renowned Cantieri di Pisa shipyard, yacht Regina K cruises with the star quality of the Eridanus constellation which inspired the world-famous Italian builder.
The Akhir series is named after the brightest star within Eridanus and has become the symbol of Cantieri di Pisa bringing extraordinary style and craftmanship to 600 yachts since 1945.
Accommodating 10 guests in five luxury cabins, and fully refitted in 2018, Regina K's modern and spacious interior was created by Francesco Paszkowski, a designer highly sought after by the studios of Baglietto and Heesen, amongst others. The striking design of the furnishings above deck are hallmarks of his courageous style, and standout features include a generous beach club and al fresco dining on two levels. Regina K also boasts stabilisers and has a comfortable cruising speed of 20 knots.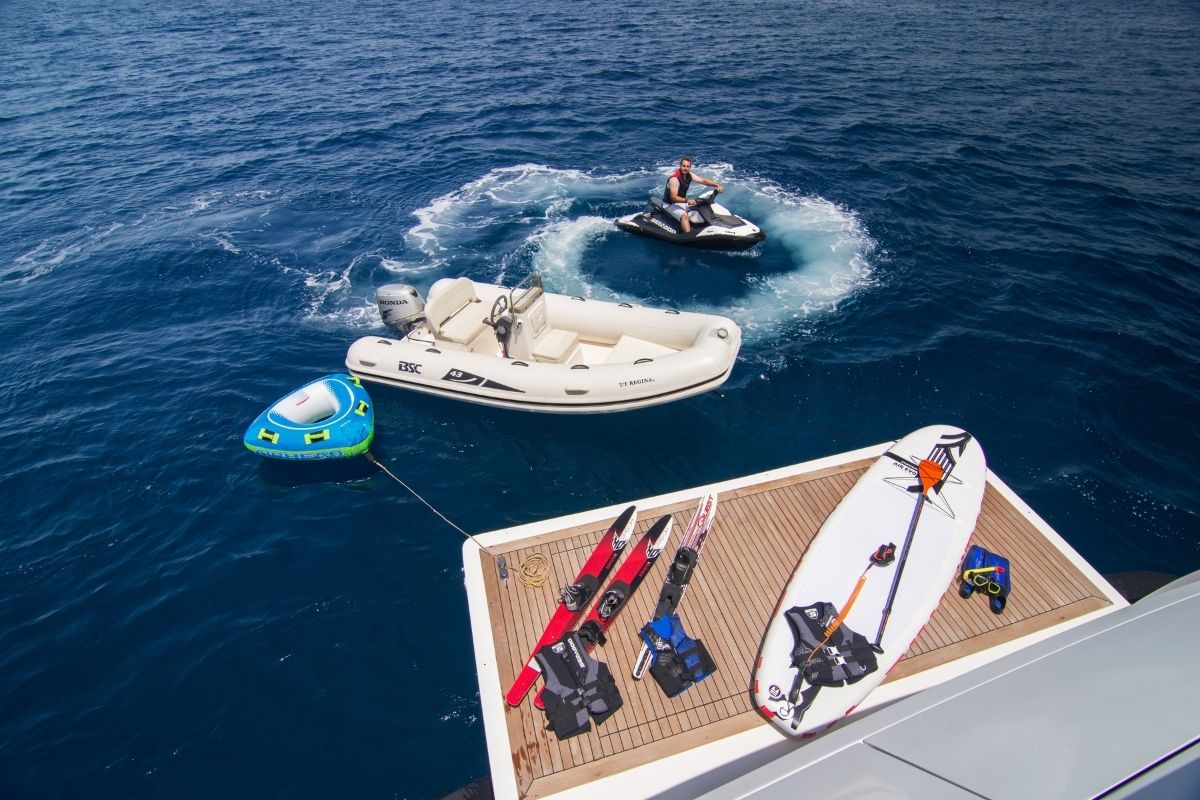 The Captain
Captain Nikos Michailidis is a mariner of some accolade. Graduating from the Commercial Shipping Academy of Greece he worked his way up the ranks in the superyacht industry and captained two high profile yachts before taking the helm of Regina K in 2017.
"The Regina K is a dream yacht to captain," he says. "I personally choose the crew and together we form a perfectly operating team that is well trained and hardworking with a natural propensity to be hospitable and of service to our guests."
The Experience
Regina K's talented and multi-lingual crew of five take great pride in ensuring guests enjoy every moment. A journey aboard Regina K is an experience of pure relaxation, deep enjoyment and wellness, for every detail on the yacht was created with this in mind. The interior is decorated in calming colours that accentuate the spaciousness and abundance of natural light and a range of private and communal spaces are easily found for whatever suits the mood.
Exterior deck spaces are laid out for sun lounging and al fresco dining, and the large aft deck is the perfect spot from which to watch and relax as friends and family enjoy the many water toys on offer, including personal watercraft, water skis, inflatables and paddle boards. For keen fishers, Regina K is well stocked with fishing gear to while away the hours before presenting your catch of the day to the chef.
With considerable experience cruising the Aegean, Ionian and Eastern Mediterranean Seas, and a special love for the Cyclades islands, Captain Nikos says, "Regina K was built to welcome people on board eager to visit the beauty of Greece's untouched and vibrant islands in the comfort and luxury of their own charter yacht."
The Cuisine
Chef Dimitris Agrimis runs Regina K's galley with the grace and experience secured during his time as a chef in some of Italy's top hotels and restaurants. Fluent in both English and Greek, he earned his whites following graduation from the renowned Le Monde Culinary Institute and is an expert at everything from Mexican and Italian cuisine to sushi and seafood.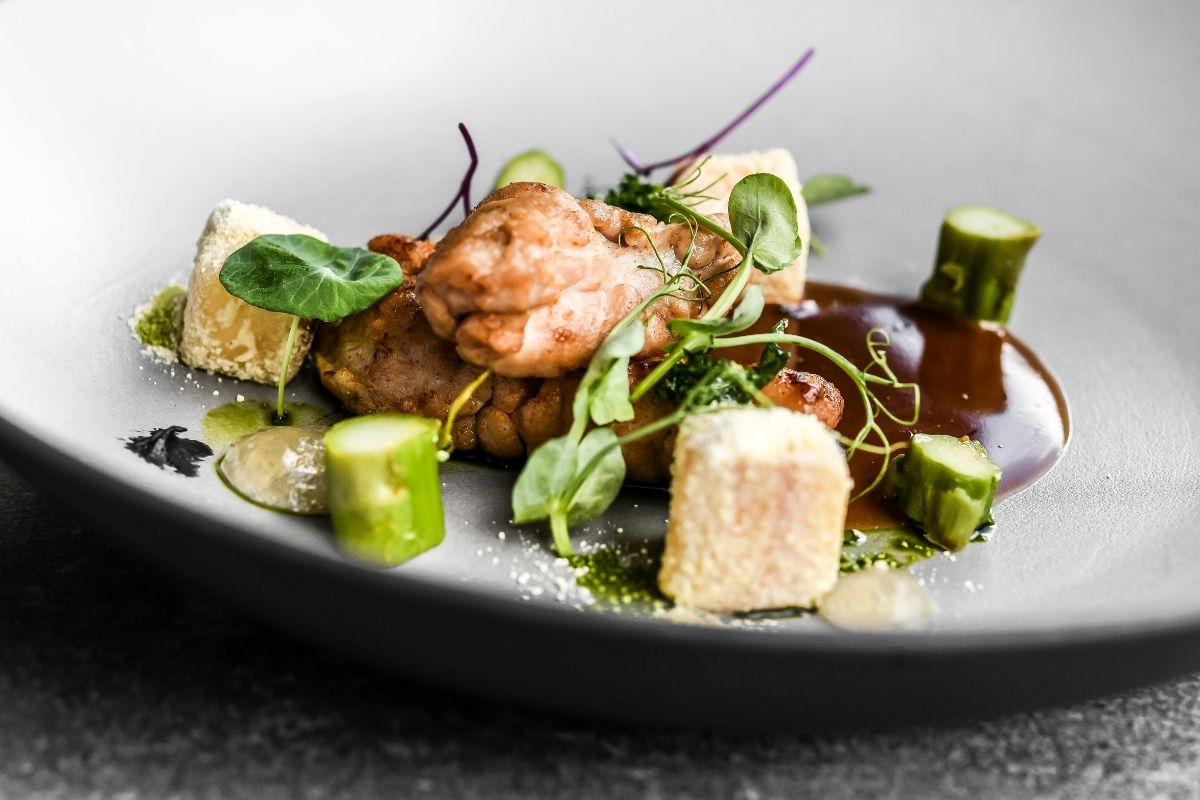 Chef Dimitris continued to perfect his culinary style working on board world class yachts before joining Regina K, where his signature dishes and exceptional flavours continue to thrill. Complemented by the crew's accomplished table settings, every menu is beautifully presented to entice every sense.
Highly proficient in a wide range of international cuisines, Chef Dimitris has a special love and talent with Aegean seafood. A typical menu might begin with a Greek salad followed by sauteed scallops on marine zucchini with a lime sauce, a main course of grilled grouper with steamed vegetables and tarama sauce or tender lamb loin cooked in beer accompanied with tomato confit and potatoes, ending with the perfect panna cotta flavoured with melon.