Cornelia
34m | RMK Shipyards | 2006 (2018)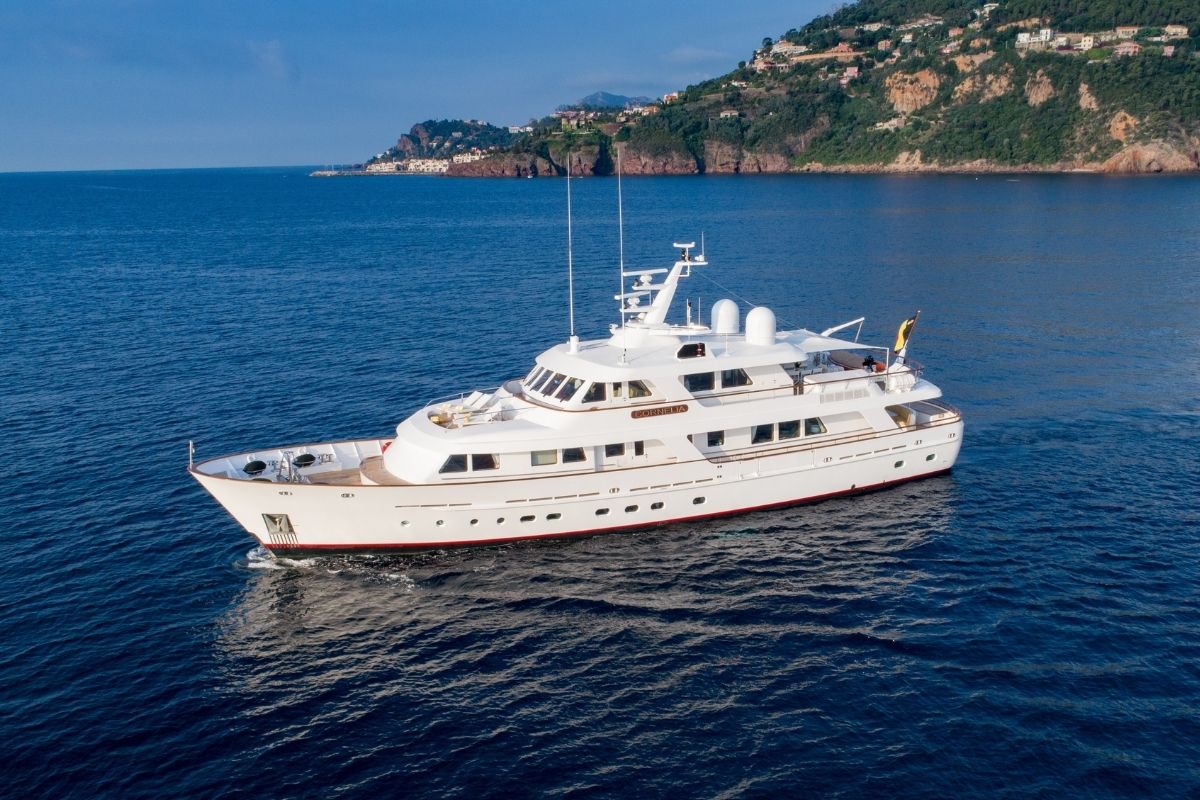 For your next family holiday, step back to a time of grace, sophistication and old-school glamour with the 34-metre motor yacht Cornelia. Designed to capture the spirit of the golden days of yachting, her classic exterior looks are home to a modern platform.
Built in 2006 at the RMK Shipyard in Turkey, Cornelia was commissioned by an experienced owner. As such, she was designed and built from the ground up to be the perfect vessel for authentic ocean adventures to be shared by the entire family. The result? An outstanding yacht with a well-thought-out layout and modern-day amenities offering family-orientated charters throughout the Mediterranean.
Cornelia: A Closer Look
Lead by Captain Anton Peric, Cornelia is a high-volume tri-deck cruiser custom-built by an owner with a lifetime of yachting under his belt. Measuring 33 metres (111' 7"), Cornelia has a volume of 292 GT, a beam of 7.9 metres (25' 11") and a draft of 2.9 metres (9' 6"). Her naval architecture and exterior design are from the Dutch yacht design studio De Vries Lentsch, while her luxurious interior is from Felix Buytendijk.
With no stone left unturned in the pursuit of perfection throughout the design and construction of Cornelia, every inch of the vessel has been optimised for ultimate guest satisfaction. On several levels, Cornelia offers far more than any conventional 34-metre motor yacht ever can. From her complete wrap-around decks on each level to the generous aft deck spaces and functional swim platform for direct ocean access, everything about this yacht invites you to feel welcome and at home - the mark of the input of a well-seasoned owner. Furthermore, Cornelia has been excellently maintained and kept in pristine condition since delivery, with her latest refit taking place in 2018 and with continual upgrades and improvements subsequently.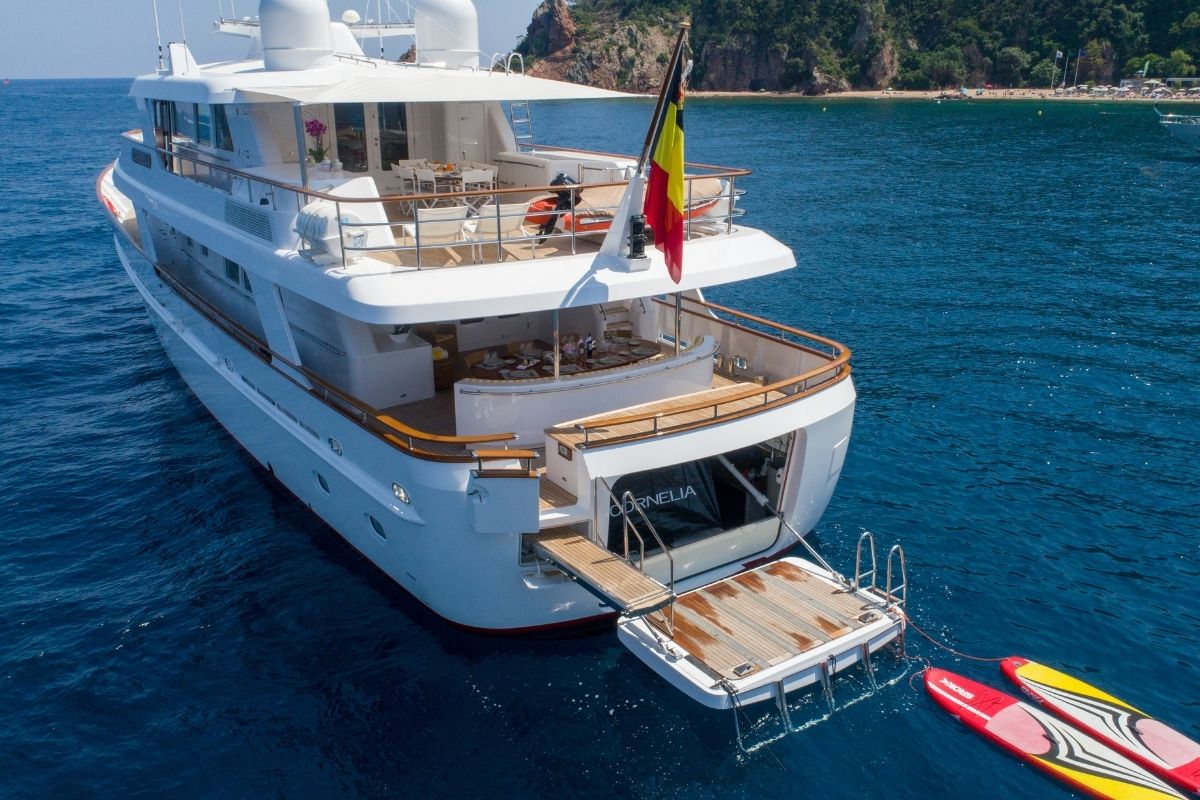 Best of the Yacht Life
Guest-favourite deck areas on board Cornelia include the secluded sun lounge on the Portuguese deck forward of the wheelhouse and the bridge deck aft dining area, which captain and crew note as the common meeting place on board. The main deck aft is well protected from the wind and waves, allowing the area to be enjoyed even while underway as you steam towards your new anchorage for lunch.
With her own five-metre tender stored inside the stern garage, Cornelia is not just a yacht focused on superior living space and classic design. Offering endless days of watersports fun, Cornelia comes with a host of fun toys and gadgets designed to entertain everyone from young to old, all day long. Jump on one of the two new SeaBob underwater scooters which are guaranteed to provide hours of fun for the whole family or take a stand up paddleboard to explore hidden coves and caves at your own pace. Pick up a new skill on your holiday as Cornelia's trained deck crew show you the ropes of sailing one of the two TIWAL sailing dinghies, and become your own captain.
Luxury Living
The luxury charter yacht Cornelia accommodates up to nine guests on board, as well as an experienced crew of five. The four well-appointed staterooms continue the same old-school charm from the communal areas and are named after some of Cornelia's favourite destinations. Starting forward on the main deck, the Porto Cervo-inspired master suite commands the full beam of the yacht, illuminated with natural light from the large deck windows on either side. Plush upholstery, storage space galore and an impressive headroom will make you feel right at home. A private study adjacent allows you to mix business and pleasure with no interruptions when needed. On the lower deck, you find the double-bed Portofino cabin along with Porto Vecchio and Bonifacio, two twin cabins with a Pullman berth for a fantastic family charter setup.
As the sun sets and you enjoy a private wine tasting in the evening, Cornelia's crew prepare for a culinary delight as its chef puts together a five-star tasting experience to suit every palette. With a fantastic galley, the team can efficiently create tailored menus for every guest. With every team member boasting strong service backgrounds and a passion for people, the crew onboard are dedicated to making their guests' stay the perfect superyacht vacation.
Reliably Perfect Yachting
Though yacht and crew may exceed all expectations, some aspects of a yacht charter may not always go according to plan. Uncomfortable weather can be a real challenge for the crew to deal with during any charter holiday and, unfortunately, is often out of the crew's hands. Cornelia's sturdy and stable steel hull is complemented by a set of zero-speed stabilisers which eliminate any unwanted motions. Therefore bad weather is no issue for the crew or guests, and everyone on board can enjoy uninterrupted comfort. "Cornelia feels like a mini cruise liner when she is at sea," explains her captain. "She a very heavy and stable yacht and handles a multitude of sea states very well." In addition, rainy days are turned into shore adventures due to the crew having a wealth of knowledge of the best cultural and historic highlights in each area."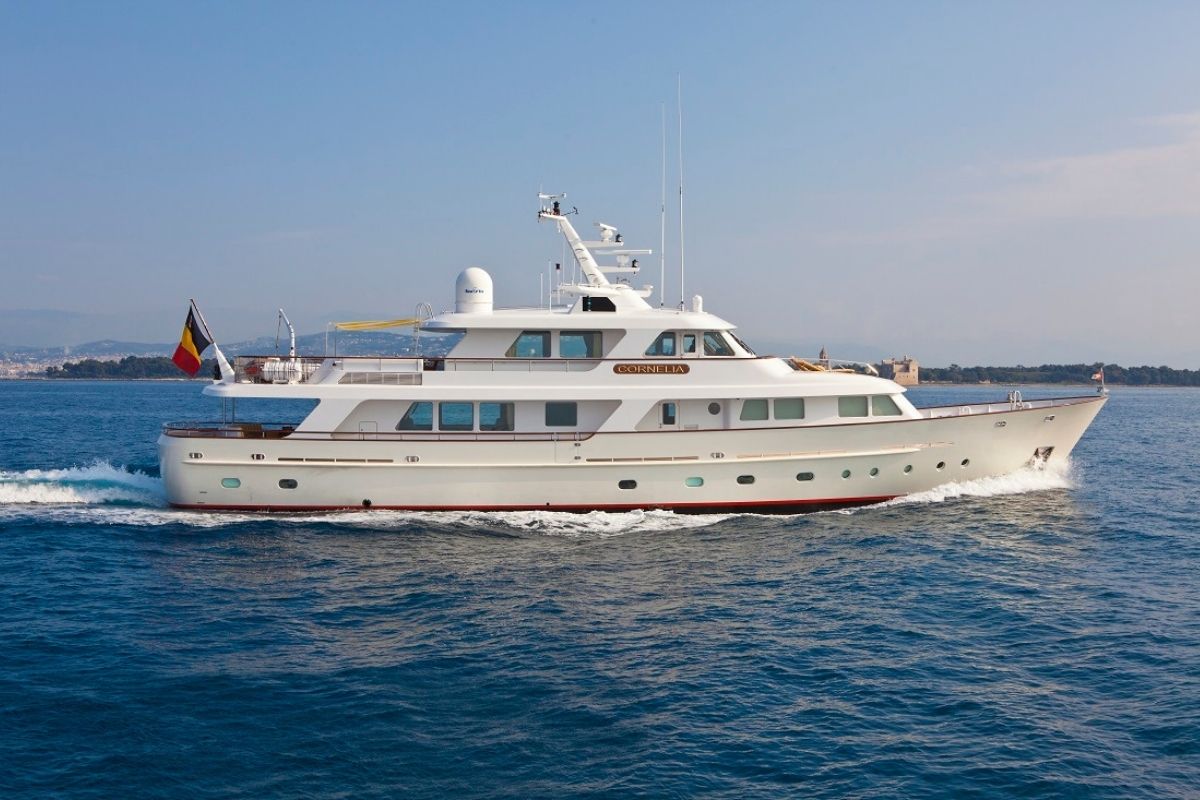 Eco-conscious guests can be assured that Cornelia's size and volume come at no additional cost to the environment. Guests can cruise between destinations knowing that her state-of-the-art and fuel-efficient engine and silent Bosal exhaust system leaves behind but the smallest footprint wherever she goes.
Whether you're looking for a fun charter in classic style with friends, or a special family holiday where kids and grown-ups alike are entertained in seamless comfort and style, Cornelia offers a tailored superyacht charter experience to suit.
Gastronomy On Board
The cuisine aboard Cornelia is Michelin-star quality, to match the first-class service and ambience onboard. Our chef is professional trained and worked in several high-end restaurants ashore, perfecting his skills in a variety of classical and modern styles, prior to joining the yachting industry.
Where possible, the dishes are prepared with local, fresh and in-season ingredients and our chef is able to cater to all palates and dietary requirements, including (but not limited to), vegan, gluten-free, lactose intolerant, low-carb, shellfish and nut allergy.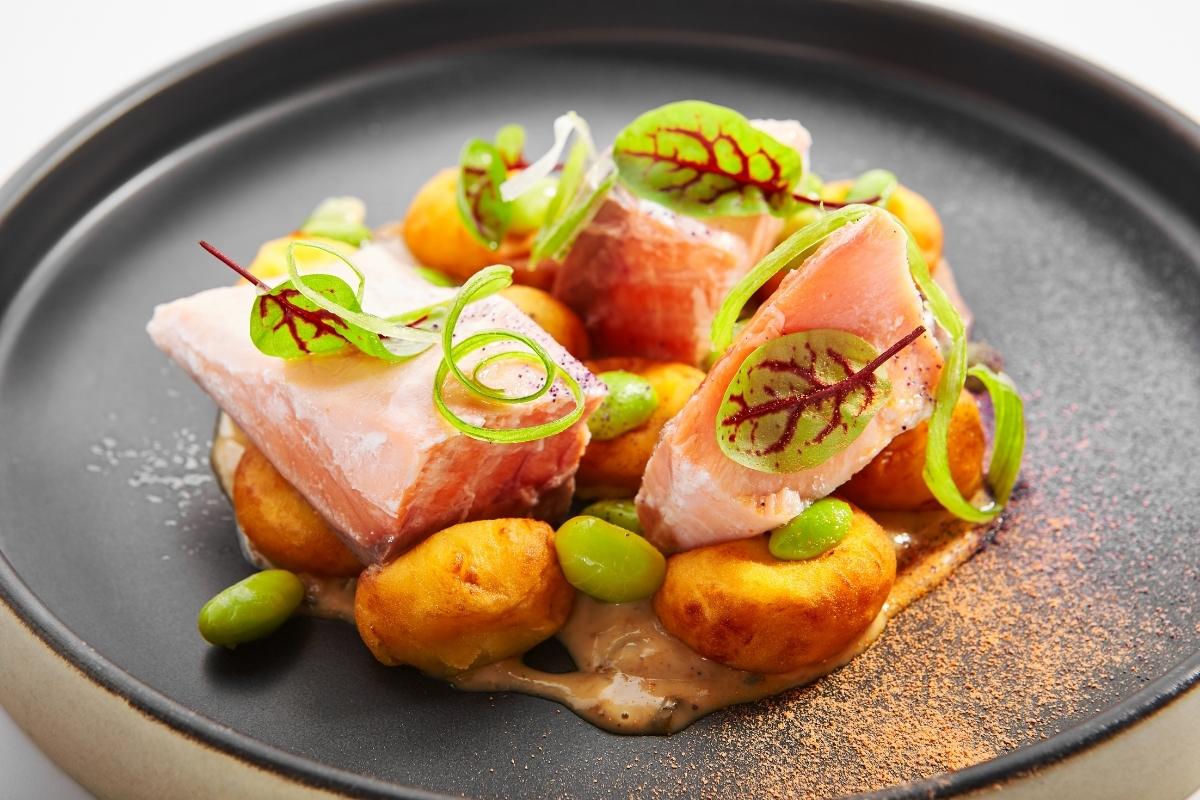 A sample menu might include tuna sashimi with sesame seeds, grapefruit and coriander or scallops with pea and coconut purée, dried tomato, radish shavings and shoots, followed by beef fillet, with baby leeks, onion purée and jus or sea bass fillet, with basil couscous, pickled red onion and mint dressing, finished off with lemon panna cotta, with fresh berries and raspberry coulis or dark chocolate delice with home-made coffee ice cream and a crisp cocoa tuile.
For younger guests, our chef is equally happy to cook simpler dishes, so whether you fancy pizzas for the family, or a full-blown tasting menu long into the evening, you can consider it done.