Panfeliss
37m | Mengi-Yay | 2009 (2021)
Mehmet Tafrali
Having worked along the Greek and Turkish coast for over 20 years, Captain Mehmet Tafrali knows all the best spots, on and off the beaten track, so whether you're a group of friends looking for the best party or a couple seeking romance and seclusion, he'll know exactly where to take you.
In addition, he worked for over 10 years captaining fishing vessels, so he and any of the deck crew are always excited to help guests fish for their lunch...or just for pleasure of course.
Heading up MY Panfeliss' loyal crew of six (or seven, if needs be), Captain Mehmet knows the Turkish coast like no other, and guests on board often comment on the excellent ambiance among the captain and crew members - an important recipe that can really add that special something to a charter.
We sit down with Captain Mehmet to explore MY Panfeliss' exciting array of water toys, favourite destinations, and what to expect during a luxurious charter on board this elegant 37m superyacht.
Please tell us a little about your background and how you got into yachting?
I am originally from Rize in Turkey, and my first role in the industry was as a deckhand on fishing boats. After six years working on different boats, I got my license to work as a fishing boat captain, which I did for 10 years. Shortly after, my boss asked me to supervise his 35 metre motor yacht while she was built, and two years later when the yacht was completed, he offered me the role of captain.
I have been a motor yacht captain for over 20 years now – joining MY Panfeliss four years ago - and my specialties lie in accounting, planning and managing all aspects on board. In my spare time, I love fishing and scuba diving.
How would you describe the style of MY Panfeliss?
She is a beautiful boat, well-maintained and strong. She has a modern look with clean and sharp lines, and maintenance is always done in a timely manner so she is always in pristine condition.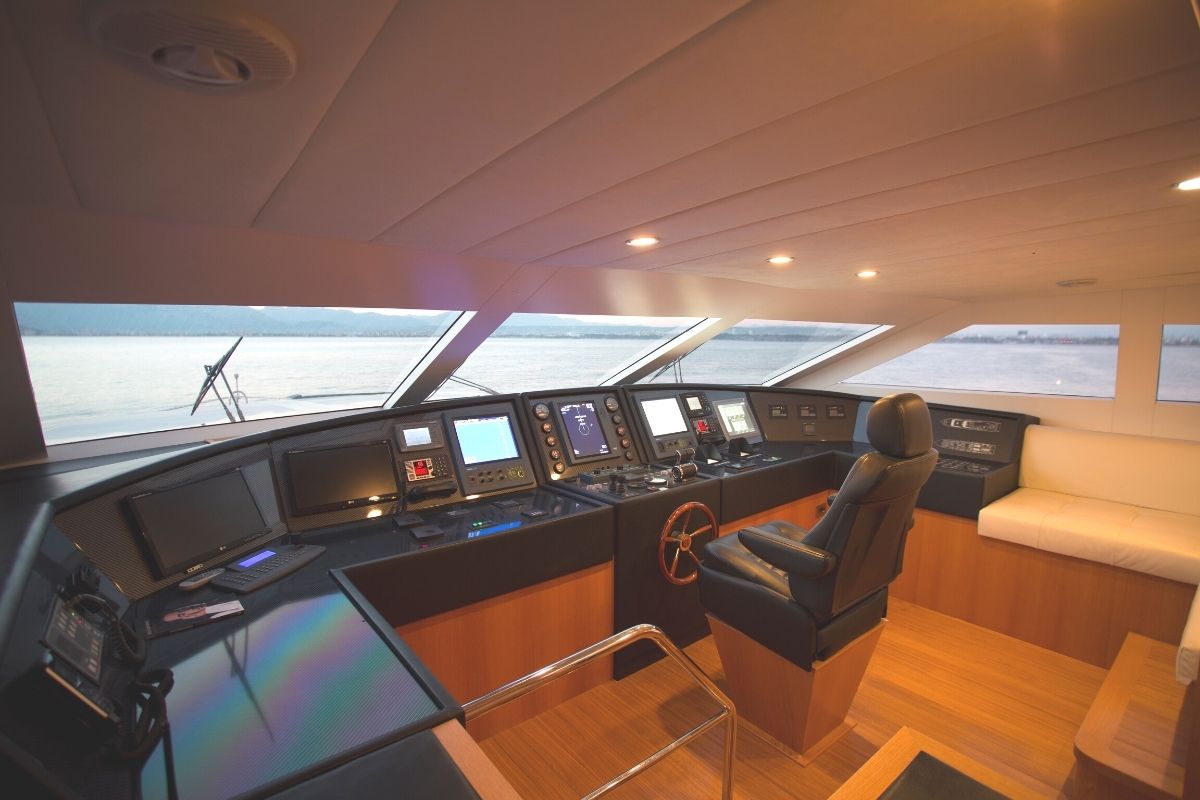 How would you describe the overall ambiance on board?
Two of our team members, a deckhand and mechanic have been working on board since construction, and there is great team adhesion between all crew members. Our experienced stewardess also loves creating a cosy and romantic atmosphere with candles and tea lights, especially around the jacuzzi where they are enjoying their drinks.
What are some of the yacht's highlights and special features?
She has a huge variety of water sports and entertainment equipment on board, including a Seadoo, SeaBobs, jet ski, banana, ringo, scuba diving equipment and fishing rods etc. She also has fully-functional WiFi, a state-of-the-art entertainment system with IPads to control music, and Apple TV.
Which types of client are most attracted to a charter on MY Panfeliss?
90 per cent of our clients are families, 10 per cent come for the nightlife and a good party.
What types of experience can you offer charter guests on MY Panfeliss?
We love getting guests out on the water toys, and we also encourage them to try scuba diving and spearfishing if they haven't done so before. It's always great to have new experiences.
How would you describe the style and approach of the crew with charter guests?
Customer satisfaction is the ultimate goal for us. We have a charter manager who comes with the boat and has over 15 years of management experience on megayachts. He is amazing at handling each and every request when it comes in, and no request it too big for our crew. If clients ask for a party setup, no problem! If there is a request for a reservation for a certain nightclub or restaurant, no problem! If they request a helicopter or private jet, we will arrange it.
How are the yacht and the crew prepared to accommodate children and teenagers on charter?
We all know kids love sweets on holiday, so preparation starts with the catering. We make cakes and ice cream, and make sure we have enough chocolate bars and snacks etc. We are also highly experienced in going above and beyond for children's birthday parties, too.
We have a great selection of movies for teenagers, and obviously we encourage them to try some water sports and have fun.
Can you share some examples where you and your crew have gone above and beyond?
When one of our guests dropped his ring into the water, it fell 10 metres below. Luckily our engineer was able to dive down and search for it, which he found after 45 minutes. The client was so happy that he cried!
How would you describe the cuisine on board?
Our chef has 15 years of experience working with Turkish, Middle Eastern and Mediterranean cuisine, and his food is delicious. We always get great feedback for the food served on board.
What are your usual cruising grounds?
We normally sail the Dodecanese Islands and south west coastline of Turkey, starting at Bodrum and finishing in Antalya.
Which destinations and your personal favourites and why?
It's hard to say, but I love Marmaris, Oludeniz, Selimiye and Hisaronu. It has the mountains, the forest, the sea and the beach which together create a wonderful ambiance and a peaceful place for simply relaxing and enjoying the moment.
There are also lovely bays in Symi with white sands and a small village that is good for dinner. Patmos, Leros and Kalimnos have historical sites, nice towns for exploring and good restaurants too.
Which areas of the yacht do guests tend to gather on board and which facilities are most used?
For swimming and water sports they use the stern platform, and once they get out from the water they tend to head to the fly bridge to relax and sunbathe. Clients also use the fly bridge for dinner and having lunch at the stern. Breakfast is mostly in the saloon, in the air-conditioned environment.