Morning Star
36.5m | Sanlorenzo | 2018
Engin Mukan
Having been skippering since 1989, Turkish-born Engin started up his own company in 1994, in which he provided maintenance services for private and commercial boats.
Captain Engin joined Morning Star in 2019 and has been leading its dedicated crew ever since. Currently cruising around Greek and Turkish waters, he prides his and his crew's abilities to offer exceptional service whilst respecting guests' privacy, providing the ultimate superyacht charter.
"Charter holidays are very precious and unfortunately, also very limited timewise," he says. "I want to make sure that our guests get the best out of it and leave with some of the best memories."
Both captain and crew know that a guest's time on vacation is precious and highly anticipated, meaning every moment counts. Loyally endeavoring to provide the best "Mediterranean Blue" experience, as Captain Engin calls it, he believes one of the biggest roles of a yacht crew is helping guests create memories. Here he discusses exactly what those memories could be, and why Morning Star is a dream charter yacht for guests of all ages.
Can you tell us a little about your background and how you got into yachting?
I enrolled into the Military Naval Secondary School when I was 13, before graduating from the Naval War Academy in 1988. I decided to resign from my duties in the Turkish Navy a few months after my graduation and entered the yachting industry in 1989.
How long have you been a captain and what are some of the yachts you've worked on?
I've been skippering since 1989 but I decided to start my own company in 1994. From that point I still worked partly skippering charter boats and delivering numerous boats from different destinations, while on the side I provided maintenance services for private and commercial boats as part of my business. I then went onto work as a captain on boats between 30-165ft. I was the captain of a 125ft Turkish wooden sailing boat for seven years before I joined Morning Star as captain in the July of 2019.
How would you describe the owner's vision for the yacht?
He loves spending time on his yacht and being at sea. He is exceptionally cautious about everything, paying great attention to even the smallest details. He closely follows the work that needs to be done to make sure that everything is in top shape and in running order.
How would you describe the style and personality of the yacht?
Morning Star is a luxurious, comfortable yacht. It's well kept with a very competent crew whose priority is to ensure the guests' satisfaction.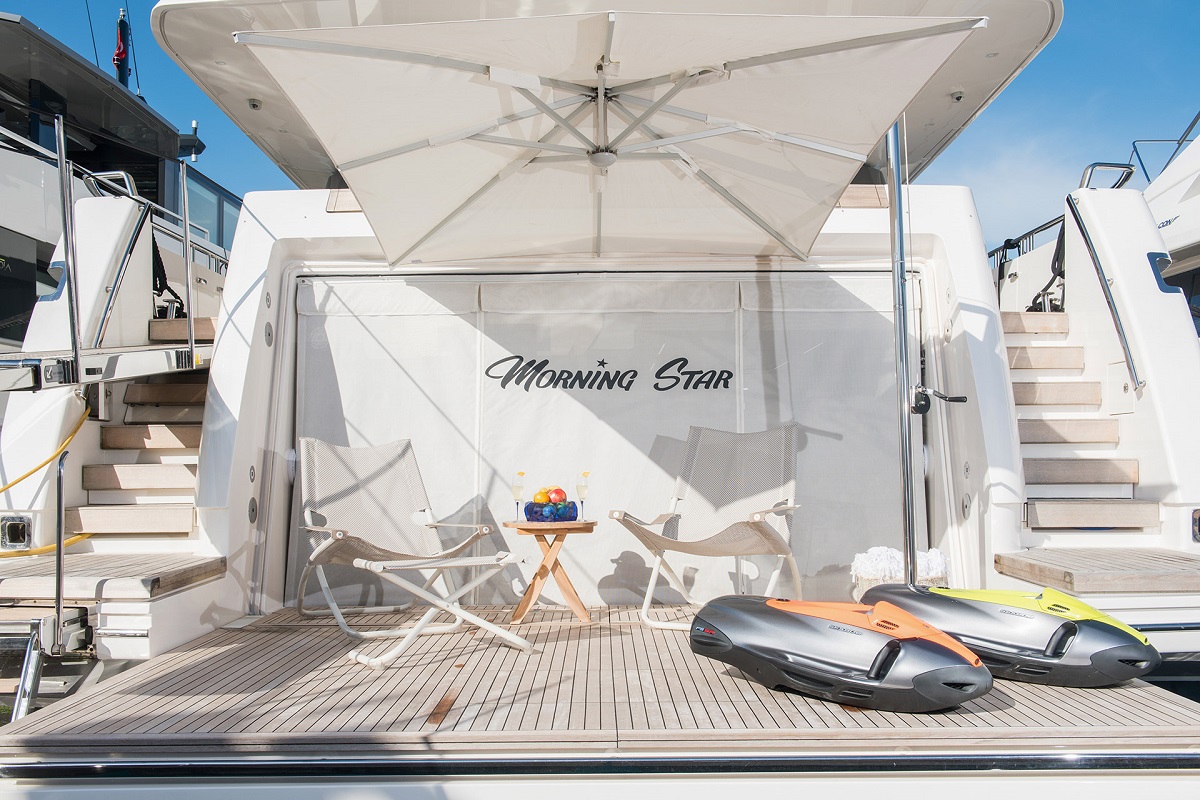 How would you describe the ambiance on board?
One of the best "Mediterranean blue voyages" one can experience, on a very luxurious yacht.
What's your personal style as captain?
I always try my best to please the client, but never compromise the safety of the client or the crew. I know how hard our guests work in a year and how much they all look forward to their time on our boat. Charter holidays are very precious and unfortunately, also very limited timewise, so I want to make sure that our guests get the best out of it and leave with some of the best memories.
What's the best thing about working on this yacht?
San Lorenzo is a luxurious yacht brand and is well-known amongst luxury charterers. On personal level, I completely trust the support of the owner to solve any issues that may arise, which gives me great confidence as a captain.
What are some of the standout features of the yacht?
It boasts a very spacious flybridge area with jacuzzi and a dining table which can seat up to 10 guests, a dedicated sunbathing area located at the front deck and a balcony on the starboard side of the saloon, as well as two more dining tables at the aft main deck and the saloon.
Which areas of the yacht do guests most tend to gather on board?
The main aft deck and the flybridge are the most commonly used as gathering areas by guests we've had on board in the past.
What types of experience can you offer charter guests?
There are a great number of options such as visiting historical places, shopping, dining, watersports and sightseeing.
How would you describe the style and approach of the crew?
We try to be there at the forefront when needed, but strive to be invisible at other times. This is to respect the privacy of our guests.
Please share some examples where you and your crew have gone above and beyond?
Upon the request from one of our guests, we installed a treadmill with the help of a crane as well as 150kg water slides, both on the flybridge – just one day before the start of the charter!
How are the yacht and the crew prepared to accommodate children and teenagers on charter?
We have a variety of board games, movies and water toys to keep younger guests amused. Our chef is also able to prepare delicious and fun menus specially designed for children upon request.
How would you describe the cuisine on board?
To start with, we find out the guests' preferences on the kind of food and beverages they'd like before they arrive and do our shopping accordingly. All of the guests have loved the food on board. We serve both Turkish and international cuisine depending on their wishes. Our chef consults with our guests daily to determine what kind of food they would like to have.
Tell us about the toys and tenders –which toys are the most popular with guests?
SeaBobs are the most popular toys we have on board.
What are your usual cruising grounds?
This summer we mainly cruised around Bodrum, Hisaronu and the Gocek bays. Because of the coronavirus regulations and legal restrictions, yachts located in Turkish waters were not allowed to visit Greek Islands. Had this not been the case, we would have cruised the Greek Islands too.
Which destinations are your personal favourites and why?
I like the Gocek bays during both the early and late seasons. Bodrum and Hisaronu also have very nice anchoring spots. On the east, Kekova is one of my favourites for providing a safe anchorage and clear waters as well as historical ruins and plenty of sightseeing.
What have been some of the highlights or your favourite memories as a captain?
25 years ago, I was hired as a skipper on a sailing boat rented by a Turkish family with two children. This family came back to sail for a couple of years and finally bought their own sailing yacht. They became competent sailors and even crossed the Atlantic Ocean. After all these years, this guy, who I now call a friend, thanks me for introducing him to the sea which eventually made him a happier man.