Cornelia
34m | RMK Shipyards | 2006 (2018)
Accommodating up to nine guests across four spacious staterooms and offering endless onshore and at sea-entertainment, a superyacht charter experience on board Cornelia is one to remember. The vibe on board is every bit as welcoming as her design. Led by Captain Anton Peric, her professional yacht crew are well prepared to create the perfect bespoke charter experience for every guest - from soaking up historical marvels in Turkey and Croatia to dining in the best restaurants in the French Riviera.
Cornelia offers guests an intimate charter experience in the West & East Mediterranean for the best of summer cruising, while throughout the winter months provides event charters in the South of France. Read on to find out what a charter holiday on board 33m Cornelia looks like.
What makes Cornelia the perfect charter yacht?
Cornelia offers the space and comfort to explore the jewels of the Mediterranean in absolute elegance. Besides the quality of the yacht, it's Cornelia's crew who make a charter experience with us a special experience. Every one of us strives to go the extra mile in everything we do. I would say that we're probably best suited to charter parties of families and friends who are looking to cruise at comfortable speeds, with an emphasis on fine dining, water sports and cultural or historical shore-based activities.
What can guests expect on a Cornelia yacht charter?
The whole team on board Cornelia has already been working hard on making each guests' charter experience superior for weeks before arrival. We go the extra mile to understand what each guest's specific needs and requirements are, and are ready from the word go. As captain, I ensure that I personally greet every charter party at the airport myself. From there on, guests can expect a fantastic time on board with our friendly, respectful and service-orientated crew!
We often undertake night passages during the charter so that guests save precious travel time. It's great to fall asleep in one location like Stromboli, and wake up to an entirely different setting the next morning, like the sparkling waters of Capri.
What are some of your favourite moments as a superyacht captain?
Sometimes guests can be worried about the experience and the service on board before arrival. Our experience is that every single one of these guests has been blown away during and after the charter. We had guests in tears in our arms on their last day of the charter. For us, this is the best applause ever. We're all incredibly proud of the level of service we consistently deliver - a testament in which is found in our number of repeat charter clients.
What are some of the crew's favourite destinations?
We're based in the western Mediterranean throughout the summer, and the South of France during the winter. We've cruised the French and Italian Rivieras extensively over the years - so we have a few favourites amongst us! For me, it's the Aeolian Islands and La Girolata in Corsica. The crew's favourites vary from the Maddalena islands to anchorages near Saint Tropez, Ventotene and Ponza, the Porquerolles Islands, Portofino and Elba.
Croatia is one of our most treasured destinations, the different shades of blue, the sunsets and calm water make for an amazing holiday. On this trip, we find that guests enjoy soaking up the culture of Dubrovnik, enjoying the historical Split or partying on the island of Hvar. We suggest visiting the national parks and the beautiful Krka waterfalls. There is no end to what can be discovered here.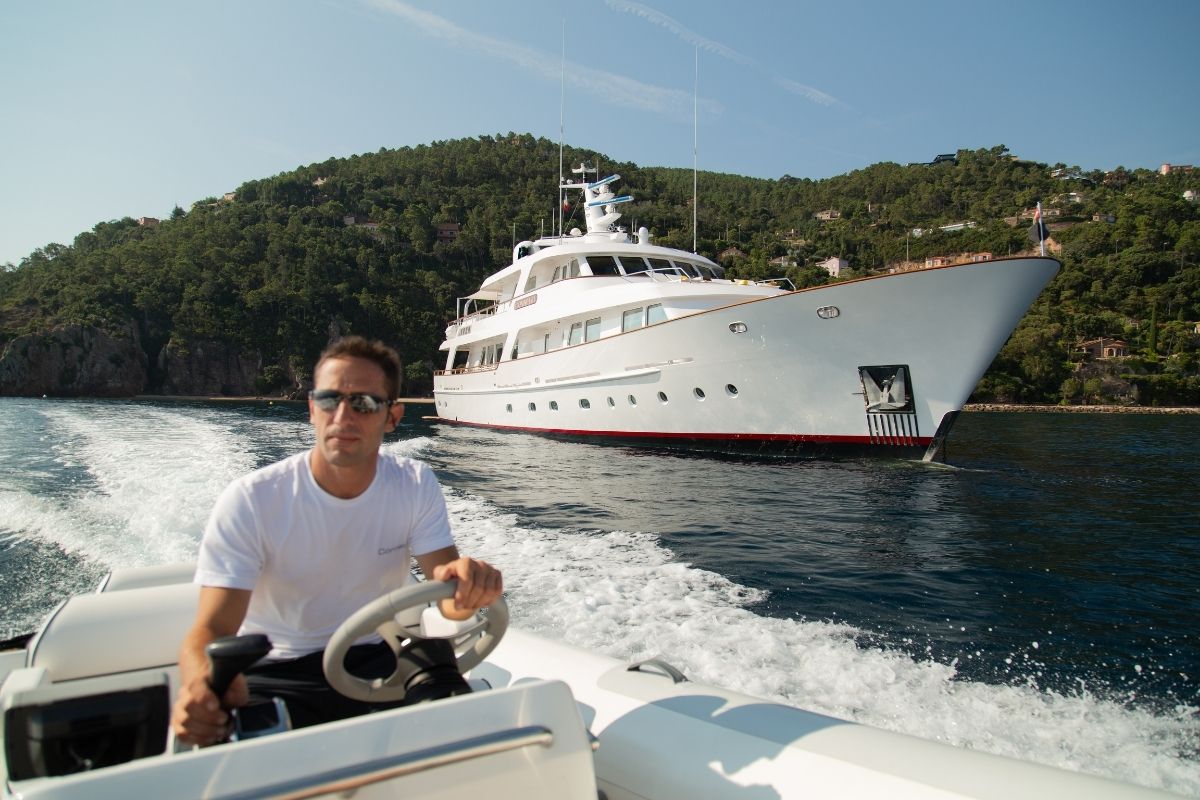 As a family-orientated charter yacht, how do you cater to young guests?
We often host families, and we're well prepared to entertain kids of any age. We have plenty of top-of-the-range water sports equipment on board, and the deck team is very happy to provide all sorts of sports and activities on the water. The interior team is ready and experienced to look after the kids, and offer board games, artwork and other fun activities to ensure everyone on board has a fantastic time. Our stewardesses all have professional nanny experience, so it's great to offer parents the chance to get some personal time or to head out and enjoy activities ashore. It's rewarding to be able to facilitate the ideal family holiday, and guests often thank us for making sure the whole family had a great time. I'll never forget the big smile on a father's face after watching is son waterskiing at the end of their charter. Moments like these are why we do this.
Where do guests tend to gravitate on board?
Our bridge deck offers fantastic views forward on the sun chair platform, so that's always a favourite. The aft areas on both decks also offer the best views, so there is a lot of usable living space on board. But our water toys are where most guests to spend their time. Every day, guests are using our water sports equipment out on the water. Whether that's exploring the waves below on our two new SeaBobs, trying out a new sport on the TIWAL sailing dinghies, or exploring hidden coves and caves on the paddleboards or from our 5m tender. There is a master suite with a study, which is a highlight for guests who need privacy from time to time, while the breakfast bar is ideal for kids. The bar in the sky lounge is perfect for kicking back until the early hours and has hosted many of our guests' favourite evenings on board.
What are some of the main worries first-time charter guests have?
Weather is a big one! It can be a challenge at times, but Cornelia feels like a mini cruise liner. She's a sturdy and stable yacht whether she's underway or at anchor with her zero speed stabilisers. The art is all about the right passage planning and finding those weather gaps. I'm very happy to say that over the past 12 months, the careful planning of Cornelia's crew has successfully prevented uncomfortable seas on any of our charters.
The second thing some guests may be concerned about during extended charters is guest entertainment. We're experts at onboard and onshore planning. Even during a whole month or more cruising in the Mediterranean, we have extensive plans in place to ensure that no day equals another. There is always a Plan B in place, from wine tasting to a guided electric bike tour. It's the variety and the little extras what makes a charter special.