Celia
35.5m | Falcon | 2006 (2019)
An award-winning superyacht chef fluent in both English and Greek, Chef Konstantinos Vlantikas has been in the industry for north of ten years, having honed his skills in some of the world's best restaurants, as a private chef and, of course, on board superyachts.
A graduate of Le Monde Institute of Hotel and Tourism Studies in Greece, Chef Konstantinos is a fan of fusion dishes, creating menus that marry the tastes of both Mediterranean and Greek cuisine. He's also no stranger to a degustation menu or two - "good things come in small packages, and I prefer to create experiences focusing on the senses consisting of at least eight courses," he says. "I emphasise smaller, more intensely flavoured courses and bite sized hors d'œuvre. Of course accompanied by a matching wine degustation for each course.
Curious about what to expect from a culinary experience on board MY Celia? Let Chef Konstantinos break it down for you…
Tell us a little about your background?
I've been working as chef for the last ten years, and during this time I've worked for some of the best restaurants in the world, and as a private chef. My cooking career actually started at the unique 2 Michelin-starred Funky Gourmet in Athens, but my restless soul led me to different places. My fondest memories are of my time at Vasili's Kitchen, a Greek fusion restaurant in Washington DC, and London where I worked as a chef consultant for private events.
What motivated you to become a chef and where did you train?
In my family we love cooking and enjoy good food. When I was young I remember running around the kitchen and giving instructions to my mother on how to use the ingredients. Growing up I knew that cooking is what I really wanted to do in life, so I decided to study at a culinary school in my home country of Greece.
Who are your chef heroes and who has influenced your style of cooking?
Some of my favourites are Martin Berasategui, Pino Cuttaia and Alex Atala - each of them have something different to admire. For example Alex Atala has the talent to transform traditional Brazilian dishes by adapting modern culinary techniques.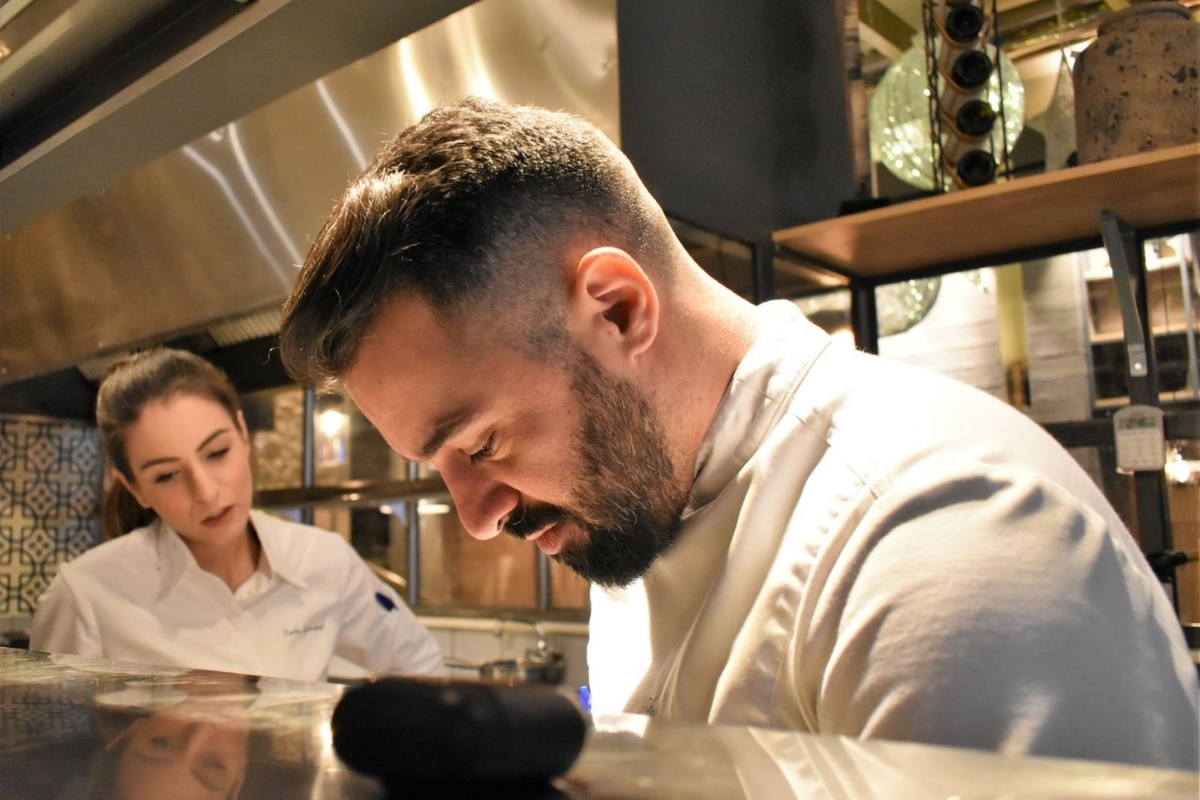 How did you come to work as a superyacht chef?
As I said, my restless soul was looking for something new, I crave for experiences.
What is your favourite type of cuisine?
I mostly work with Mediterranean and Greek fusion, but I always like to mix flavours and cultures.
What are your specialties and what's your signature dish?
I would describe my culinary style as modern with a Greek twist – I like to get creative and be innovative. Some of my signature dishes are giouvetsi ravioli, potato cannoli moussaka.
Where do you get your inspiration and ideas for menus?
You can be inspired by impossible things. Everything I see or experience in my everyday life I try to turn it into ideas for food, mostly by reading culinary books, watching food documentaries and visiting restaurants around the world.
What's the secret to cooking high quality food on board compared to ashore?
It's mostly the ingredients and, of course, the inspiration you get from the sea. When you are on board, you have the chance to visit so many amazing places around Greece. I always try to find special secret spots and get local supplies.
Do you prefer to use local ingredients when on charter?
Of course! Most of the ingredients I use are local. I believe that the guests should experience Greece all the way!
What are some of your favourite destinations in terms of local produce?
Greece is a magic place full of delicacies. Naxos island for the home-grown potatoes and Graviera cheese, Leipsoi island for the thyme honey produced the traditional way and Touloumotyri cheese, Mykonos island for Louza (a traditional type of cooked pork produced by home-grown veal), and Kopanisti, which is a very spicy cheese known for its peppery tastiness.
What's the most unusual ingredient you've come across on your travels?
There is a place, about 60 km from Chania, where you can find a unique ingredient called sea shore salad, which is a kind of seaweed. This form of algae thrives only in this area due to the rocky terrain of the coast and grows only in the early spring.
How do you manage special dietary requirements - are vegetarian, vegan and gluten-free now standard requests?
I always customise my menus according to the dietary requirements of my clients. You can do everything with good ingredients. As for kids, I always try to make fun menus that are always nutritious.
What would be a typical spread for a family party?
Greek tapas and pies with local delicacies.
What's your dream menu?
Good things come in small packages, so I prefer degustation menus that create experiences focusing on the senses consisting of at least eight courses. I emphasise smaller, more intensely flavoured courses, amuse bouches – bite sized hors d'œuvre. Of course accompanied by a matching wine degustation for each course.
As well as creating beautiful dishes, do you have any influence with table decoration?
I prefer focusing on the decoration of the food!
Who chooses which wines to stock on board?
Usually clients choose the wine but I always like to suggest wine pairing with the dishes. They always listen to me!
What do you most enjoy about working as a superyacht chef?
I enjoy the challenge of working in a compact kitchen and creating courses equivalent to boutique well-known restaurants.
What have been some of the highlights and best moments while working on board?
Dinning with famous clients and sharing my food knowledge, as well as endless funny moments with the crew.
Sample Tasting Menu
Course 1: Calamari chips in the sand
Course 2: Giouvarlaki tartar and avgolemono mayo
Course 3: Fish stuffed vine leaves (dolma)
Course 4: Tagliatelle of squid "saganaki"
Course 5: Greek 'garden' salad
Course 6: Potato cannoli moussaka
Course 7: Apple pie with black butter crumble
Course 8: White chocolate truffles with Greek bottarga