Celia
35.5m | Falcon | 2006 (2019)
Nasos Grammatikos
Having kicked off his career as an officer on tanker ships, Captain Nasos joined the superyacht industry in 2007, securing his first role as captain in 2011.
Having worked on board some of the industry's most impressive vessels, he now heads up Celia's loyal crew of seven, leading with both discretion and professionalism for an exceptional charter.
"Going above and beyond is a standard for us, for every guest and every charter," says Captain Nasos, and guests should expect scenic lunches at perfect bays, privacy, relaxation and plenty of watersports' fun as par for the course.
From Celia's standout features and cruising grounds to the qualities of the crew who will be catering to your every need, Captain Nasos talks us through what to expect during a charter on board…
Can you tell us a little about your background and how you got into yachting?
I studied at the Merchant Marine academy of Crete Island, and I graduated in 2004. I started my career as an officer on tanker ships, and I joined the yachting industry in 2007 after receiving a call from a classmate of mine – he asked if I would be able to join the yacht he was working on as second officer. This was with Golden yachts, and I stayed there for five years.
How long have you been a captain and what are some of the yachts you've worked on?
I worked on board MY O'ceanos, MY O'neiro and MY O'rama as a chief officer first, and have been a captain since 2011 – my first yacht in this role was MY O'Pati. I then joined MY Mabrouk for five years, MY Nashira and now MY Celia, who I joined in 2019.
How would you describe the owner's vision for the yacht?
He is keen on having successful charters, setting high expectations and adhering to quality standards. He wants Celia to be the best of the best.
How would you describe the style of the yacht and the ambiance on board?
MY Celia was built for charter, and as such she is modern, welcoming and friendly with an on board atmosphere to match.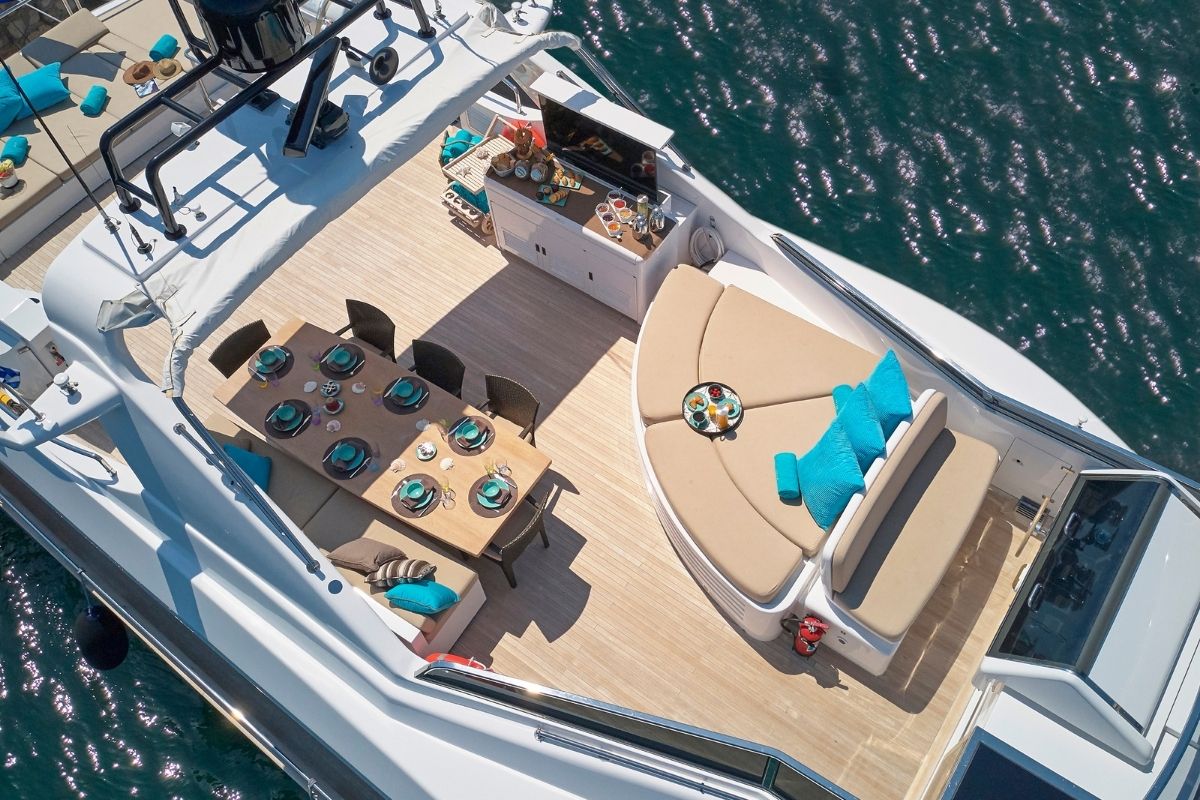 What's your personal style as captain?
I focus not just on meeting guests' expectations, but exceeding them. It requires a lot of attention to detail, and I always try to offer the best and most exquisite experiences at all times.
What are some of the standout features of the yacht?
We have large and well-equipped cabins plus a great sun deck, where guests tend to gather. I'd have to count the great team spirit as a standout feature too!
What types of experience can you offer charter guests?
Most often we see families on board who enjoy exploring quiet and private gulfs with beautiful waters, privacy and relaxation at crystal clear beaches, so we're great at that. We also put on plenty of unique dining experiences, BBQs by the sea etc.
How would you describe the style and approach of the crew in three words?
Professional, friendly, discreet and experienced – that's four, I know!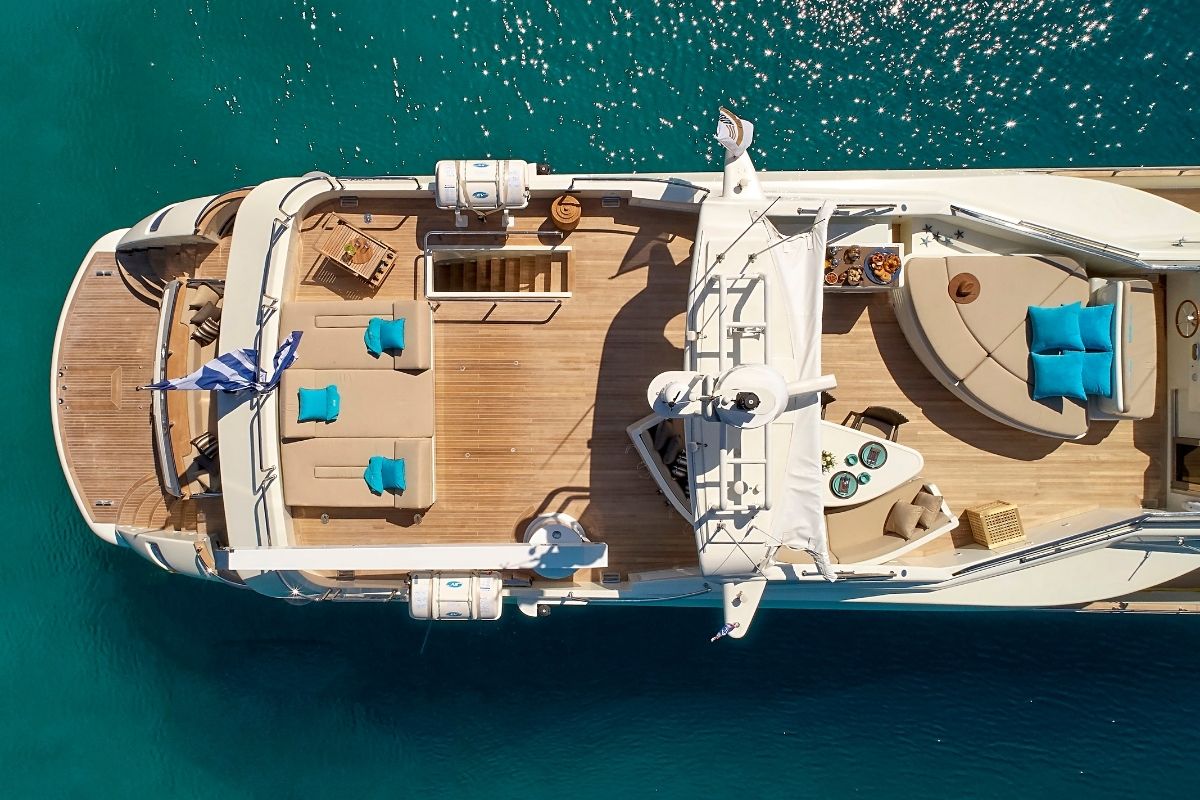 Can you share some examples of where you and your crew have gone above and beyond to make the guest experience as special as possible?
Going above and beyond is a standard for us, for every guest and every charter. A charter that particularly sticks out is one where we had two families on board with totally different preferences. One was looking for a party and the other one looking for total privacy and quiet. I remember changing destinations a couple of times per day in order to make both families happy, but it worked.
How are the yacht and the crew prepared to accommodate children and teenagers on charter?
As the majority of our charters include families with children and teenagers, we know exactly what it takes to ensure they have fun while staying safe. Happy children = happy parents = successful charter.
How would you describe the cuisine on board?
Konstantinos is an award-winning chef who focuses on choosing the best quality ingredients for all his dishes. He specialises in a number of different cuisines, from fusion and European to Japanese, Peruvian and homemade traditional Greek recipes.
Talk us through the water toys on board…
We've got SeaBobs, a flyboard, a water slide, jet skis, water skis and wakeboards. The SeaBob and flyboard are definitely the most popular! Then there's the tenders, including a 4.80m Novurania rib tender with 90hp outboard Yamaha engine. We also bought an extra chase boat this year, a Scorpion rib 8.10m with 300hp outboard Yamaha engine.
Where are your usual cruising grounds?
Mainly the Aegean sea - the Cyclades and Ionian Islands.
Which are your favourite destinations, both personally and professionally?
Personally I love Cyclades and the triangle of Poliaigos Island for swimming, Folegandros for overnight stays and Kimolos for those who prefer more privacy. Professionally definitely Mykonos, Paros and, of course, Santorini.
What have been some of the highlights or your favourite memories as captain of MY Celia?
There are many highlights, but a favourite is the time I heard one of our guests saying his 30th anniversary with his wife was everything he could have imagined and more. We arranged for a private beach dining experience for two under the Aegean full moon, and after the dinner he called me to say he couldn't imagine spending this special celebration anywhere else or in any other way.