The Sea Women of Melanesia: the Indigenous Women Safeguarding Marine Ecosystems
Launched in 2017 by the Australian-based not-for-profit Coral Sea Foundation, The Sea Women of Melanesia programme trains its members to create and manage marine-protected areas within their communities.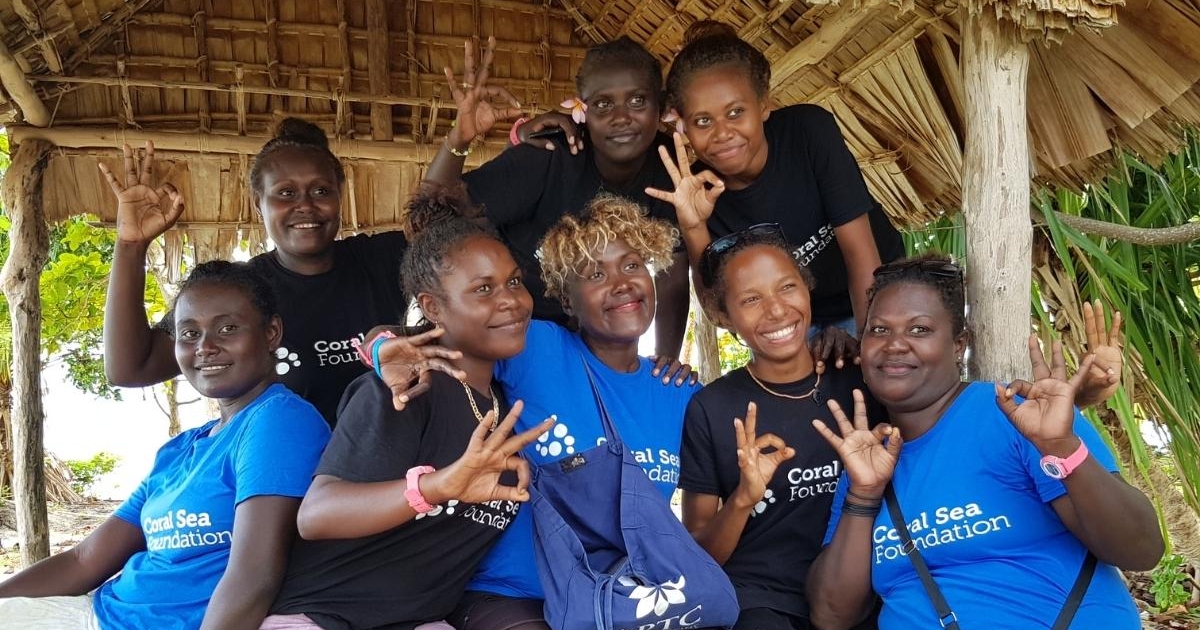 When Naomi Longa was a girl growing up on the Papua New Guinean island of New Britain, she would swim among the spectacular coral reefs of Kimber Bay in the Bismarck Sea and wonder how they were formed.
The youngest of six children, she never imagined that a few years later she would be leading an award-winning programme aimed at documenting and safeguarding those same corals. Naomi is the director and coordinator of the Sea Women of Melanesia programme (SWoM), launched in 2017 by the Australian-based not-for-profit Coral Sea Foundation.
Founded by marine scientist and mariner Dr Andy Lewis, the foundation's goal is to raise awareness of the ecological and social value of the Coral Sea, which is bounded by the Great Barrier Reef and the island arcs of Papua New Guinea (PNG), Solomon Islands, Vanuatu and New Caledonia, and be proactive in its sustainable management. This region contains marine ecosystems of remarkably high quality and biodiversity, as well as the world's last great reservoir of ultra-diverse coral reef. Remote and relatively undeveloped, the area has enormous potential for marine science, ecotourism and ocean-powered adventure sport, according to the foundation, whose motto is: "Too precious to lose".
With a three-pronged ethos of science, gender equity and sustainability, the Coral Sea Foundation collaborates with traditional owners to create marine reserves that enhance fisheries and protect biodiversity, while providing humanitarian aid to improve the quality of life of people in partner villages. An extension of that, The Sea Women initiative empowers indigenous women in PNG and Solomon Islands by providing them with the training, skills, equipment and resources they need to assume an active role in assisting their communities to create and manage marine-protected areas on their own coral reefs.
Crucially, the decision-making power lies squarely in the women's hands. SWoM is an incorporated not-for-profit, PNG-registered association and its directors are all indigenous women. The training programme serves as an excellent example of putting into practice the UN Sustainable Development Goals of Gender Equality, Sustainable Communities, and Life Below Water.
Making a Melanesian woman's dreams come true
In a few short years, SWoM has already attracted global attention from individual members of the superyacht community lending support, but also organisations such as the Jock Clough Marine Foundation and the Unico Conservation Foundation that wish to recognise the importance of the women's efforts to protect their home for generations to come. Wayne Hughes Jr and Molly Hughes, owners of motor yacht Valinor and patrons of the US-based Hughes Charitable Foundation, count among those who have made significant contributions to ensure the programme doesn't simply remain viable but can continue to evolve.
Naomi's dedication and hard work was also recognised at The Ocean Awards 2021, presented by the Blue Marine Foundation, where she won the Local Hero category. The previous year, the SWoM received the Ocean Tribute Award at Boot Düsseldorf.
Her love of the sea from a tender age prompted Naomi to complete a Bachelor of Science in Biology at the University of Papua New Guinea, but she considers her SSI Scuba Diver Instructor qualification, which she gained with Pleasure Divers on Magnetic Island and Dive Munda in Solomon Islands, to be one of her greatest achievements. "I have always been drawn to the water and one of the many things I wanted to do was to learn to scuba dive so that I can spend more time in the ocean. Now that I am an instructor, it's much more fulfilling than I ever imagined," she says.
Since 2019, Naomi has assisted in training more than 25 women in SWoM programmes in Milne Bay, Kimber and Munda, and lectured on the role of indigenous women in marine conservation at international events in Port Moresby, Sydney and Perth.
The SWoM programme has directly contributed to the initiation and maintenance of more than 15 locally-managed marine reserves, and contributes funding support to seven reef survey teams of indigenous trainees.
"Looking back at my youth, I had no clue about who I would become. I was just a little Melanesian girl having the time of my life in the sea. Seeing myself today, it's a dream come true for me," she says. "I can safely say that not all the women in my society who cultivate dreams at such an early age eventually achieve them. I happen to be one of those who managed to make their dreams come true, of course, with support from a good number of people along the way. I don't say this much but I am always grateful for and happy about the person I have become.
"I am happy and proud to be part of this amazing team of women sharing a passion for conserving the marine ecosystem and empowering one other."
Getting the eco message through
When asked how important it was for her fellow indigenous women to take on the responsibility of marine research and inform their communities on the state of the sea, Naomi explained that coral reefs were a major resource that the local communities could easily access and one that they depended on in their daily lives. "Taking on the responsibility of serving as marine advocates in their own community is very important in order for them to clearly understand the scientific aspect of their resources (the coral reef), and be able to combine that with their traditional knowledge that has existed for thousands of years. That way they can gain a clear understanding of the conservation approach," she said.
Outstanding results' achieved during a difficult time
The Coral Sea Foundation and the SWoM work at a grassroots level to help communities manage their coral reefs and marine resources. For Dr Andy, the most important accomplishment has been the community engagement and marine science work carried out by the Sea Women teams in PNG since early 2020 over the course of the COVID-19 pandemic, when the women took the initiative, and conducted their own training programmes and expeditions. "They delivered outstanding results during a very challenging time, dealing with inclement weather, travel restrictions, the risk of sea piracy and regular network and power outages," he explained.
"They have made great progress, returning invaluable digital imagery on the condition of these Coral Triangle reefs, and forging solid partnerships with coastal communities," he continues. "The word has spread, and we now have more communities requesting our assistance with marine conservation programmes than we have the people and resources to accommodate.
"It is a very tangible validation of the underlying concept behind the SWoM programme - that properly trained, equipped and supported indigenous women can deliver exceptional marine conservation work in Melanesia."
"In Melanesia, women play an important role in the community. They tend to gardens, fetch water, cook, look after the sick, gather food, wash and provide other day-to-day needs for the family. Also, women are good at sharing information with one another. Acquiring that knowledge through the training programmes and translating it into the local language for their community are vital."
And when Naomi and her colleagues visit the communities to inform them about the state of the sea and the reefs, do they take heed of what they have to say? "So far we haven't received any negative responses. Communities have seen the changes happening in the marine environment over the years and they are struggling, too," she said. "They have seen a reduction in fish stocks. Fishermen are now starting to go further out into the ocean to fish. They hardly see any turtles, sharks or rays in the area. So, when we talk about achieving marine conservation through the creation of marine reserves, they usually agree and are happy to cooperate with us."
Through SWoM, Naomi said the women, with the support of family and community members, acquire the courage to take a leading role in talking about marine conservation, raising awareness and playing a part in decision-making. The Sea Women usually receive a stipend for their work, while donations also go to villages where marine reserves are created.
Tackling the issue of overfishing
Overfishing is considered more of a threat to Coral Sea communities than climate change. "When we carry out awareness initiatives in our communities and discuss the need for creating a marine reserve, overfishing is an obvious issue that comes up as it's something that members are experiencing," explains Naomi. "As the population increases, they catch more fish and gather other resources from the sea to feed their families but, often, they take more than they need."
The Sea Women explain to the communities that climate change is an ongoing issue, however if the population continues to overfish, there won't be sufficient stocks to supply growing needs. "We explain in the local language and most people understand the situation and agree to the establishment of marine reserves," noted Naomi. "Increasing numbers of communities are now requesting awareness seminars and more women are undergoing training to carry them out."
Climate change and the future of the Coral Sea Triangle
While overfishing is a major issue, climate change can't be ignored. In light of the serious warnings issued at COP26, how vulnerable is the region to increasing temperatures and other climate change factors? And what needs to be done right now to minimise the impact on corals and other marine life?
The Coral Triangle reefs, like all reefs around the world, were seriously threatened by ocean warming and changing ocean chemistry linked to climate change, and we're already seeing serious impacts on these reefs right now. "Certainly to date, the equatorial reefs of New Guinea and Solomon Islands have suffered less bleaching damage than other reefs at higher latitudes, such as the Great Barrier Reef, but that is no guarantee of their future resilience," explains Dr Andy. "The steps we need to take to tackle this issue are clear, and they haven't changed since the 1990s - we need to get carbon emissions down very quickly, and we need more marine protected areas, as we know that well-protected reefs suffer less damage and recover faster."
Due to the inertia in the climate system, further climate stresses on coral reefs are now unavoidable, however. "The question for humanity is, how large are we prepared to let those stresses become? The best time for action was last decade, but there is still a narrow window of opportunity in front of us now to perhaps avoid the direst impacts on coral reefs and retain some semblance of reef function going forward," he adds.
Supporting the marine environment going forward
For now the Coral Sea Foundation's key development priorities are focused on strengthening the operational capability of the Sea Women teams in PNG and Solomon Islands. Among the ways that individuals can ensure these programmes remain viable is to join a reef monitoring or citizen science expedition on the Great Barrier Reef.
The SWoM has offices in three locations in PNG, more than a dozen women in the core teams, and multiple communities that they are supporting with humanitarian aid and conservation assistance, therefore a steady funding stream to allow these operations to continue and expand is essential. "Cash donations are necessary and extremely welcome, and we have a three-tiered donation recognition system on our website that allows our partners to highlight their support of the work of the Foundation and the SWoM," Dr Andy explained.
What's more, in terms of operational logistics, access to suitable small vessels was critical during the pandemic, becoming more difficult as the months dragged on. "We are now looking to have 6m expedition dinghies constructed here in Australia and shipped to PNG, and corporate support for that program would be fantastic. The other logjam in our system right now is network connectivity to allow our Sea Women teams to communicate with our operations centre here in Australia and upload the all-important reef monitoring imagery."
Power blackouts are also becoming a daily occurrence, and moving all teams over onto satellite internet systems would bypass this problem and result in a huge boost to the productivity and global profile of the organisation. "A corporate tech partner would be fantastic in this area," noted Andy.
The role of citizen scientists in raising awareness of coral reef status
The team has always found that immersing people in the coral reef environment is the best way to develop a deep appreciation of the value of this ecosystem, and citizen science ecotourism expeditions will always remain a part of its operations, as they have been for over 20 years. With the digital camera technology now available, citizen scientists had an important role to play in raising awareness of the condition and status of coral reefs.
"We enjoy bringing our multi-decade marine science expertise into the equation to make sure the data collected by these programs is of the highest quality possible," explains Dr Andy. "The Great Barrier Reef is currently one of the best superyacht destinations in the Indo-Pacific, with owners and guests rediscovering the outstanding natural attributes of the 2,000km-long Queensland coast."
Superyachts have the capability to reach reef sites outside the ambit of the institutional reef monitoring programs and so, with a foundation marine scientist on board, these vessels can deliver very important information on the current condition of the reefs they visit. Once the borders to Melanesia open, the team is also looking forward to welcoming superyachts to its partner communities in the Coral Triangle, where the visit of such yachts delivers an incredibly important boost to the marine conservation aspirations of the indigenous communities.
Delivering a lasting legacy
Asked about her ultimate goal and what sort of legacy she would want to leave behind, Naomi said she wanted to build a network of women across the country that could create and monitor marine reserves in local communities. "If we have this network, we can help our communities conserve our most important resource, coral reefs, for future generations," she noted. "I would like to see more women taking the lead in their community to educate and continue training the next generation to protect the marine ecosystem in their local village, community and nation as a whole."
Read Next