Artist Edney Freeman & The Mocko Jumbies: A Celebration of Caribbean Culture & History in the USVI
When hurricanes Irma and Maria impacted the US Virgin Islands in 2017, tourism - the lifeblood of this island economy - took a hit. But from adversity comes strength, and woven into the recovery programme was a new effort to create lasting cultural and historically important public artworks that would seek to draw this close-knit community back together.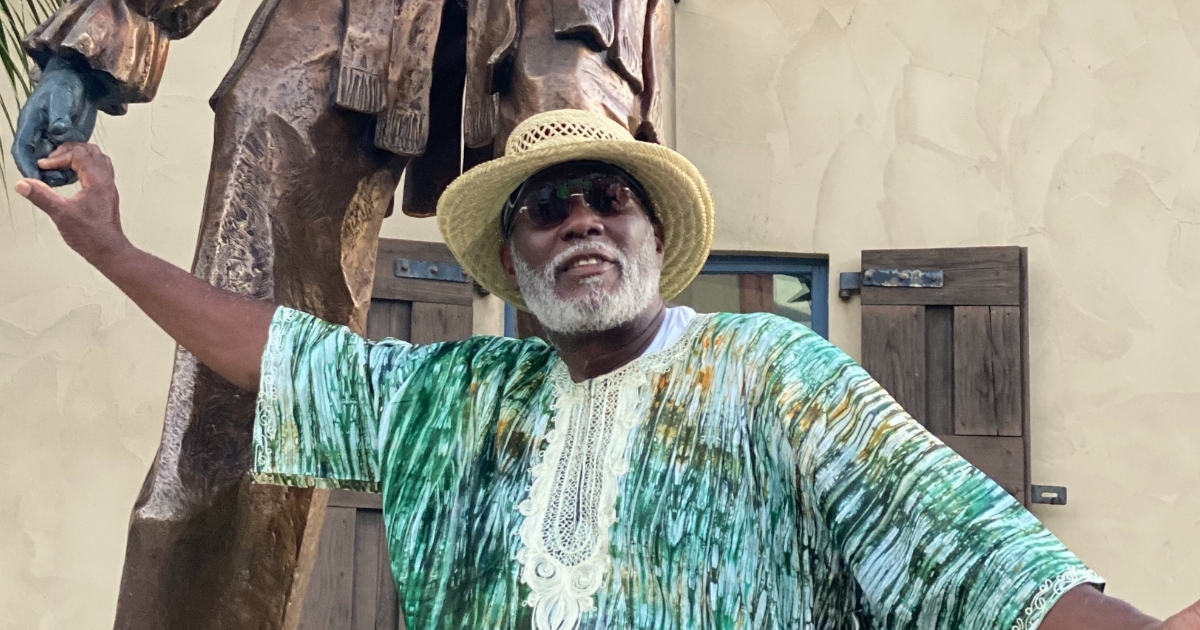 So began a five-year effort at IGY's Yacht Haven Grande St Thomas to rebuild not only the damage caused at the property and surroundings, but also a strong sense of community pride, largely through a public art installation in the marina championed by local artists.
Unveiled at the Caribbean Charter Yacht Show last December, the heart and soul of this is The Mocko Jumbie Jamboree by the Sea Sculpture Project, created and curated by celebrated local sculptor Edney Freeman. The fact that Edney - whose work is exhibited as far afield as Puerto Rico, North Carolina and Upstate New York – was in the middle of renewing his wedding vows to his wife Hariyah when the commission came up only adds to the drama and magic of this initiative!
"The local arts community was severely impacted after the hurricanes, with dozens of island artisans having to make the difficult choice to relocate off the islands in order to maintain their existence," says Eric Simonton, IGY's Executive Vice President, Real Estate & Asset Management.
"IGY decided that a public art initiative at Yacht Haven Grande would be a way to give back to the community and also support the local arts community during this difficult time. A focused effort was made to infuse more of the local Caribbean spirit, energy and history into the property to encourage visitor enjoyment and economic activity."
IGY reached out to Tasida Kelch of the Virgin Islands Council of the Arts (VICA) to begin brainstorming on the project, and she introduced the global superyachting company to a number of talented young local artists, resulting in several colourful murals being painted at Yacht Haven Grande.
Edney's installation of 10–12 feet tall bronze sculptures was to be the jewel in the crown and he picks up the story of how he landed his most personal art commission on one of the most important days of his life.
"My wife and I were renewing our wedding vows on the steps of Fort Christian, directly across from the VICA office," says Edney as he chats to me a stone's throw from the exhibits. "I noticed these females waving wildly at us, saying: "There he is", less than 50 yards away. I didn't know who it was immediately. These ladies, one of whom was Executive Director of VICA Tasida Kelch, came over and waited until the end of the ceremony to tell me about how IGY was looking for someone to create a public art installation project.
"I was given a number to call to contact Eric. I went to meet him with a portfolio of 12 different ideas and we went through the sketches together, but it was the Mocko Jumbies he liked the most."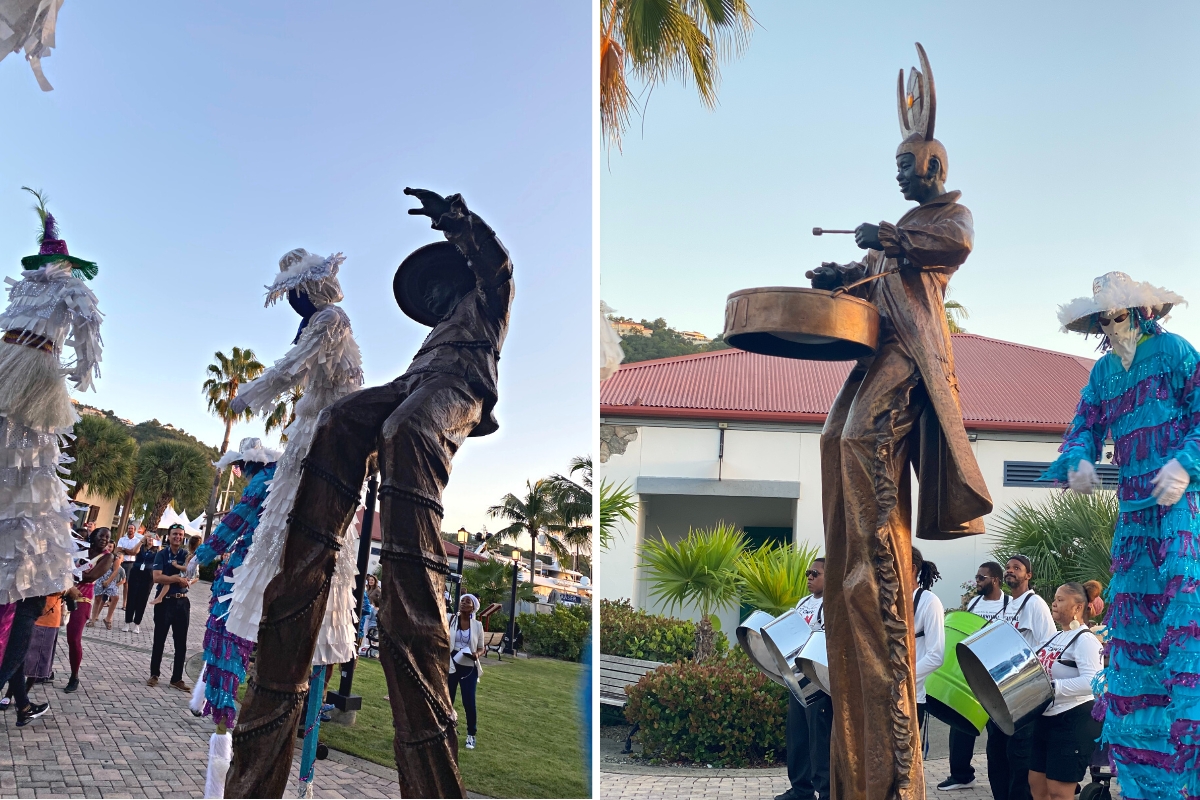 Eric was immediately struck by Edney's energy and talent. "He had so much to offer; clearly he had been thinking up ideas for a while," adds Eric. "He showed me some ideas and we couldn't believe that no one had ever done this before. We knew from the first conversation that he was our guy and Edney was amazing in pushing it forward with such determination. He was enthused at the opportunity to share a lasting legacy project with his islander community and millions of visitors each year."
The significance of the Mocko Jumbies to St Thomas
Indeed, the Mocko Jumbies fit perfectly with the history and background of St Thomas. One of the oldest aspects of the US Virgin Island's cultural heritage, these traditional stilt dancers in colourful clothing date back 400 years to the arrival of enslaved Africans on the island.
The work moko means healer in Central Africa, while jumbie means ghost or spirit. Many tribes in the Gambia, Senegal, Ghana and Nigeria see Mocko Jumbies as protectors, seekers or guardians of their villages, possessed of magical and spiritual powers, and they have been a joyful sight at carnivals for hundreds of years.
Edney's original sketches were inspired by his first experience of watching celebrated Mocko Jumbie Magnus perform at a St Thomas carnival in the 1950s.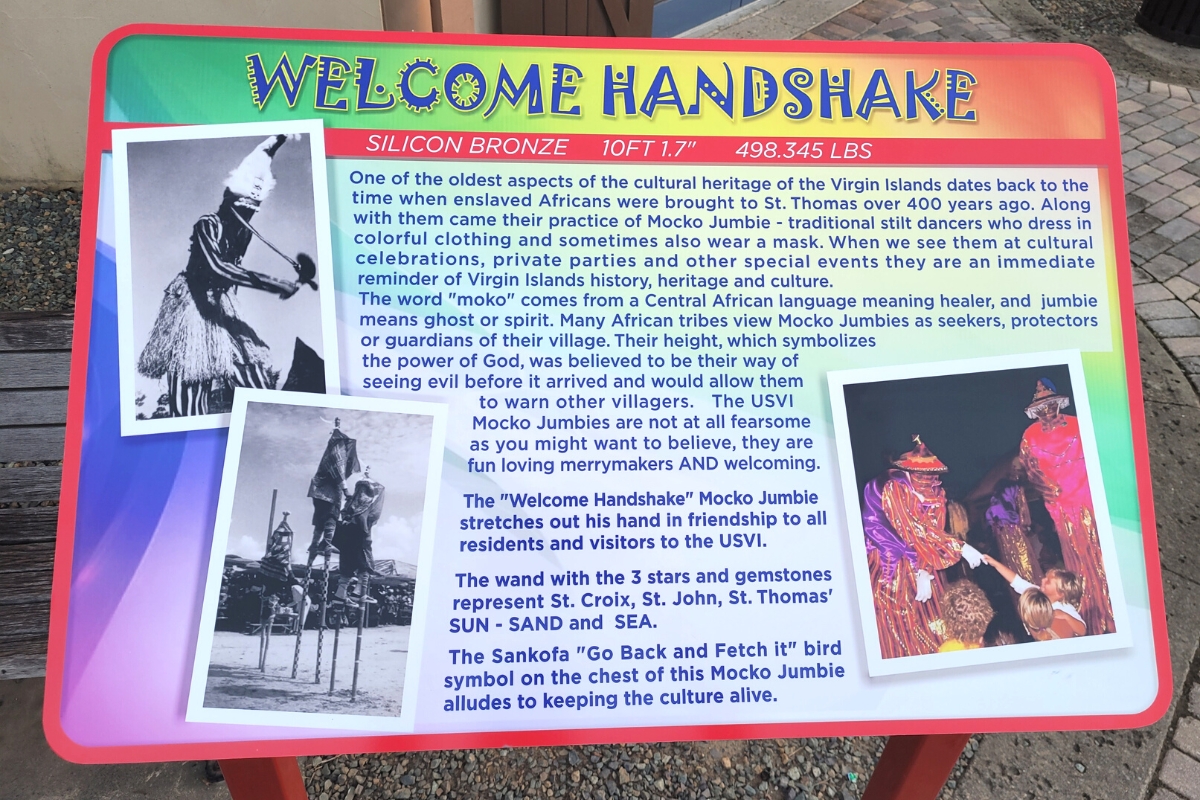 "I left St Thomas when I was eight years old to join my parents and two older brothers in New York where they had moved to seek opportunities. But one of my earliest and most treasured memories is as a five year-old attending my first carnival event on the shoulders of my uncle.
"I had heard about the Mocko Jumbies and there was one performer carrying a home-made whip. I could hear the sound of the whip cracking, and it was the famous Magnus. It inspired me and it still brings back fond memories for me. The Mocko Jumbie is an iconic figure which is also used as the tourism department logo and is part of the Virgin Islands identity so it dawned on me that this would be ideal. I see it as a legacy art piece for my body of work.
"I know so many performers – some of my best friends are Mocko Jumbies – although now they are my age and older, they can't go up on those stilts anymore, they've done their time and now they teach others."
The project could not have come at a more appropriate time, giving Edney an opportunity to regain lost income as a result of Hurricanes Irma and Maria and the pandemic. "At that time, my work making Mocko Jumbie wire dolls for the tourist market came to a complete halt," he recalls. "I was also the sole care giver for my elderly father who had Alzheimer's disease. He passed away in February 2019, just weeks after the project began."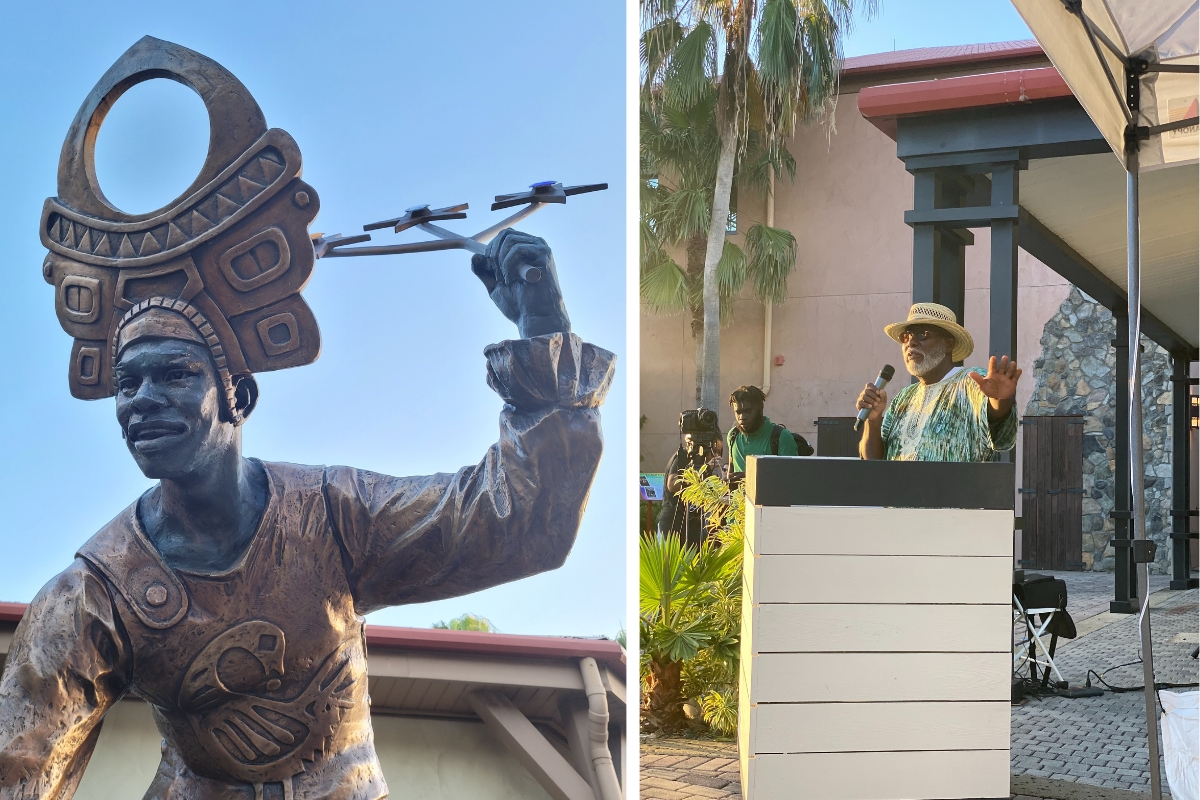 An international artistic process
Edney started by creating intricate scale models of the three sculptures ready to be presented to his foundry in China's Fujian province – he had previously spent two extended periods studying for a Masters degree in sculpture from inception to completion in China. "I had to make maquettes (miniature models) of the finished sculptures exactly how they would look and the plan was to travel to China and supervise the enlargements from my sketches and oil clay models," he recalls.
"I so wanted to go but by this time, China was locked down due to Covid so we shipped the miniatures to the foundry instead. There is a 12-hour time difference between St Thomas and China so I was communicating with my assistant there between midnight and 3am for three weeks – we spent one week on each sculpture – via mobile video calls to finetune the detail for each one. It took a painstaking period of time to get the correct details for everything, right down to the spellings for St Thomas, St Croix and St John on the cape of the Pan Around The Neck female Mocko Jumbie."
Covid meant that the project had to be put on hiatus for two years, with the sculptures finally cast in silicon bronze last year and a three colour patina applied hot before each was waxed to preserve the finish. The sculptures were shipped back to St Thomas and Edney oversaw their installation ready for an unveiling ceremony - complete with Mocko Jumbie performers and speakers - at Yacht Haven Grande during CCYS in December 2022.
"It was very emotional, you don't know what to expect,' says Edney. 'My focus had been on getting the sculptures up, in position and exactly how I'd envisioned them, and everything went swell.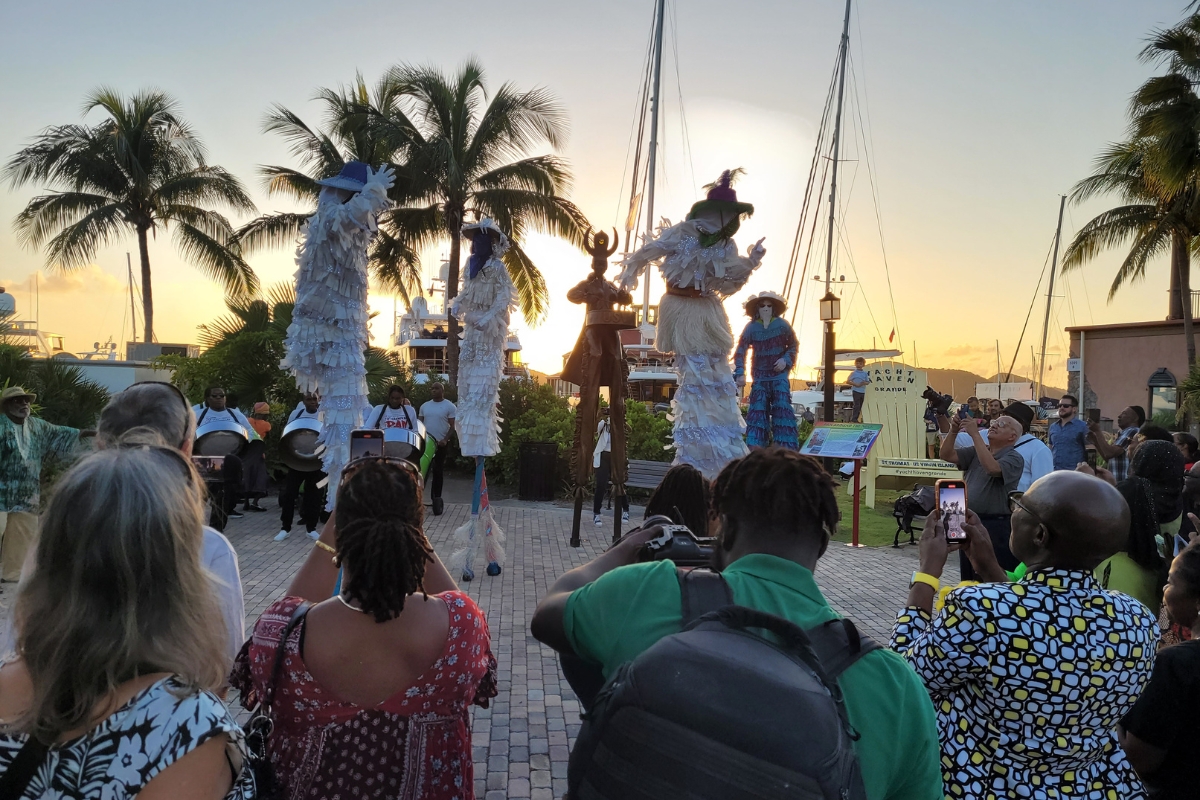 "I wasn't nervous about seeing the full-sized models for the first time because my guys in China sent me a gallery of photos from beginning to end and kept me fully updated. I conceived the Jumbies unmasked from the beginning as I see myself as a naturalist style artist in the vein of my favourite sculptor Auguste Rodin. I challenged myself to capture the Afro American Caribbean features of the Virgin Islands people and much of the feedback on all three sculptures and the detail in their unmasked faces has been ecstatic."
Art for the masses creates closer community bonds
Adds Eric: "This philanthropic project occurred during a challenging economic time in the Virgin Islands and across the globe, emerging from the aftermath of the 2017 hurricanes and then rolling right into a global pandemic. It's been a remarkable journey. After the hurricanes, tourism left the islands, hotels were shut down and it was a dark and difficult time for the community.
"It would have been very easy to pull the plug if not for the unwavering support of IGY's CEO, Thomas Mukamal, and the company could not be more thrilled with the result.
"Creating beautiful public art for the masses is a big deal and the community couldn't believe how beautiful and realistic the sculptures turned out. Having people visit and experience the sculptures and their history is incredibly rewarding. The lifeblood of these islands lies in its community and we feel passionately about continuing to build these bonds. We hope to support the Virgin Islands arts community with more projects in the future."
Read Next: