Tim Soper of EYOS Expeditions on the Growing Appeal of Remote Destinations
Following an extensive refit of the expedition yacht Hanse Explorer, we stepped on board with Tim Soper, Co-founder of EYOS Expeditions, to discuss the unique experience she offers and the growing demand for charters off the grid.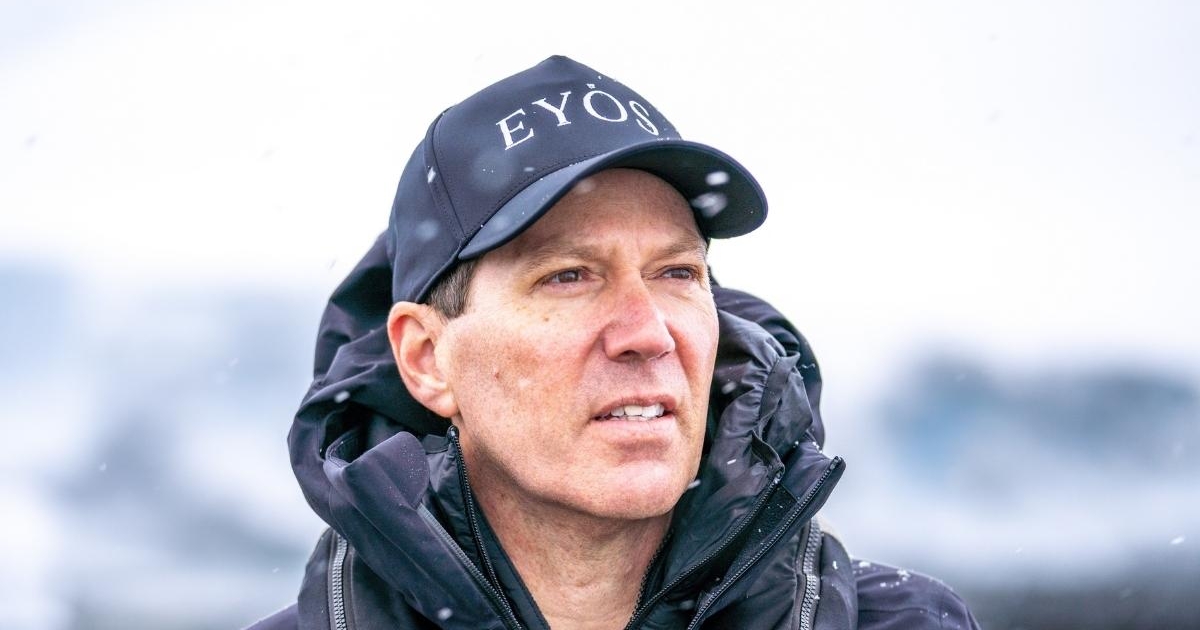 Raised on the beautiful Devon coast of Southwest England, Tim Soper, Co-founder of EYOS has spent over two decades immersed in the expedition travel business.
A graduate in Ocean Sciences, Tim works year round as expedition leader, diver, boatman and guide, making seasonal migrations between the Polar Regions and the Tropics. Due to his remarkable first-hand experience of the Antarctic, Tim is also a representative to IAATO where he has sat on the Field Operations and Membership Committees.
Since 2017, Tim has been selected by Conde Nast Traveller as one of their 'Top Travel Specialists We Trust', recognising his expert knowledge of expedition geographies and remote logistics. He has led frequent expeditions to the Norwegian Arctic Archipelago of Svalbard, the Canadian Arctic as well as sub-Arctic Greenland, the North Atlantic and Russian Far East.
In the tropics, Tim has worked as dive guide or expedition leader on voyages across the Indian and Pacific Oceans, through Southeast Asia including the Philippines, Indonesia, New Guinea and Vietnam, the Great Barrier Reef of Australia, East Africa, Central America, the Caribbean and the great rivers of South America.


You founded EYOS in 2008 - what was the inspiration?
I met Rob McCallum on an epic trip around the Antarctic in 2001/2002. We were doing a full circumnavigation of the continent, taking 67 days from New Zealand to New Zealand, and we kept in touch afterwards. I was working in the commercial expedition business aboard Russian icebreakers and dedicated expedition ships, including quite a few years working for an expedition company that didn't have any ships of their own. They had the philosophy they would just charter vessels in the right place at the right time of year and I learnt a lot from them. We went all over the world, which gave me incredible, firsthand exposure to the top expedition destinations in the world.
Pictured: Adventures in Antarctica

We started to see the first yachts come into the Antarctic and the Arctic in the late 90's but they obviously didn't have the knowledge or experience to really get the best from the area, and we noticed they missed a lot of opportunities. Rob and I decided to start a little consultancy so we could advise captains where to go to deliver the best experiences for the owners, and to ensure the expeditions were as safe and environmentally sensitive as possible.
We put it out there as a concept and I was amazed by the response we had from all these prestigious yachts – in fact, Octopus was one of our first clients. It was never really envisioned as a company to offer charters; it was more to help owners and yachts discover new places. Nobody else was doing it.
One of our first trips happened when a group booked Hanse Explorer through Fraser Yachts to go the Antarctic, and Fraser asked for our help. We arranged what turned out to be the first ever fly-in fly-out Antarctic charter. They flew in on a Uruguayan Hercules air force plane which only added to the feeling they were chartering at the end of the world! It was a really wonderful group of people and they had an incredible trip - it is still one of our most memorable because it was all so new and exciting. That trip helped us develop a great system for arranging charters in the Antarctic, which is now part of our regular operation. This season we will be doing about 15 charters alone this way, and we are still regularly working with that same broker at Fraser almost 15 years later!
Pictured: The Wilds of Alaska
In spite of Covid, EYOS is busier than ever - what's driving this boom?

For this Antarctic season we have a few clients who have postponed from last season. And then when we go back to the Northwest Passage, hopefully this summer, we had several yachts who weren't able to go during the past two years.
Obviously Covid has changed the way people travel and visiting remote places in a bubble aboard a yacht is more popular than ever. People have also had time to think about what they want from their lives and have realised how precious time is. They can go to the typical destinations any time, busy areas and packed restaurants may have lost their appeal, so why not spend 10 days going somewhere really special and enjoy being isolated in a wild and beautiful place?
There is also more freedom to work remotely. The systems have improved and it has become more acceptable, so with yachts now so well connected even far off the grid, I think our clients have realised they can venture further afield while remaining connected to keep on working if they need to.
Lastly, the overall expedition industry - cruises, yachts, etc - is just growing rapidly. When EYOS started, seeing a yacht in Antarctica was a novelty. After we've been operating there for over a decade, on what is now a very large number of private yachts, there is wider recognition that travelling by superyacht to the polar regions is even possible! And when travelling to such a remote region, clients want a track record, competence and experience, so we are in a very fortunate position as that brings them to us.
Left: Specialist Moira Le Patourel ©Reeve Jolliffe EYOS; Right: Specialist Skip Novak ©Justin Hofman EYOS


Do clients with experience of larger group expeditions ever transition to an explorer yacht?
It's a very different audience - a typical superyacht client would probably not go on a cruise because they prefer not to be with a large group. We all know a yacht is a perfect way to spend quality time with friends and family or to enjoy complete privacy. But in the wilderness areas without many outside distractions this is even more noticeable. We often hear how great it is for families to visit these places together by yacht so they can really reconnect with each other through the experiences they share. Being in such a small group in these wild regions is a privilege, and one our clients both recognise and appreciate.
Are any of your clients first time charters?
Yes, we've had several - I think our expeditions really catch the attention of those who may not have been interested in a traditional yacht charter before but are interested in the meaningful experiences we can offer. They might be high-end travellers more likely to book a villa than a yacht, but in the places we work there is generally no quality accommodation ashore or even a way to reach these places without going by sea, so they realise a yacht is the best way to visit if they also want to have the privacy and flexibility they are used to.
Pictured: Tribal Culture in Papua New Guinea
Do most clients come to you with a destination in mind?
Yes, I would say the majority of our clients contact us the first time because they want to go to a specific place, but there are several I can think of who got bitten by the bug and have kept on exploring. When you spend time with our guides, who have travelled the world, we can talk about all the best wild places to go. They may have come to see penguins but that type of traveller might well enjoy seeing polar bears next time!
What are some of the challenges from your point of view?
I don't see this as a challenge, but I do think we have a slightly different perspective on a yacht charter. On expeditions, you are first and foremost selling an experience, rather than the yacht itself, which may be more the focus on a traditional yacht charter. Of course, expedition yachts now are very popular, but we see that not every yacht that is called an expedition yacht actually has the capability that it should. We have always said we see the yachts first and foremost as platforms for discovery and new experiences; we want clients to look beyond just the yacht interior to understand its true expedition capabilities that will be able to deliver the expedition the client truly wants.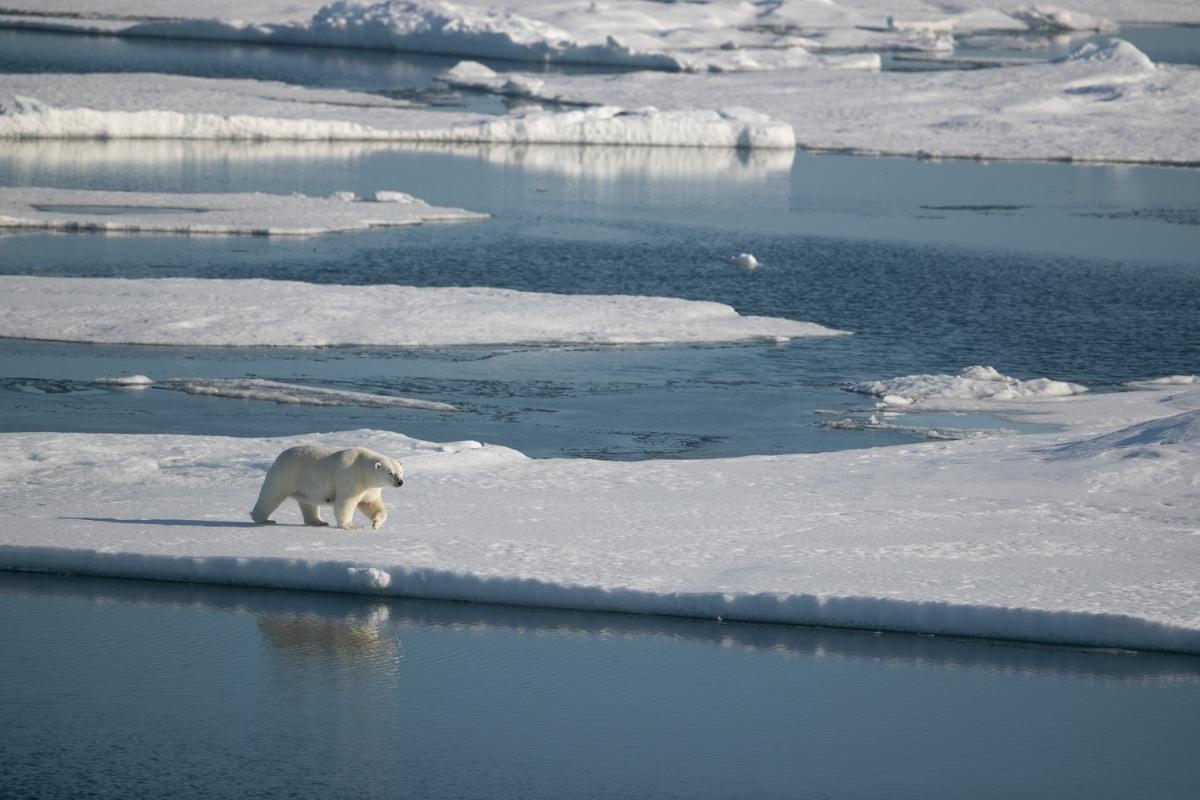 It is also important that clients understand expeditions are not scripted - we can't always tell them where we will be on Day 3 at 2pm. But that flexibility is what enables some of the most wonderful, unplanned moments - a chance encounter with a pod of killer whales perhaps, or a sighting of a polar bear on the ice.
And you have exciting plans with Hanse Explorer – why is she a firm favourite with the team at EYOS?
We have worked with Hanse Explorer, and been her exclusive expedition providers, for over a decade. There is, quite simply, a deep relationship, confidence and trust between the yacht and EYOS. We've worked with the captain for the entire time he has been on board the yacht, and their crew over the years have simply adopted the expedition mentality. It is rare that we ask the yacht to go somewhere or perform an operation that they can't handle. The yacht is manned more like an oceangoing ship than a private yacht and that translates to more capability - as just one example, they routinely sail overnight in thick ice conditions.
They are completely in sync with how we want our guests to experience these destinations - if we need a Zodiac launched to look at some whales, the ship will be stopped and a boat will be in the water in minutes. If wildlife delays the start of dinner by an hour suddenly, the crew just rolls with the change and adapts perfectly. And her ice classed hull means she can really go deep into the ice, which is where we often have the best experiences.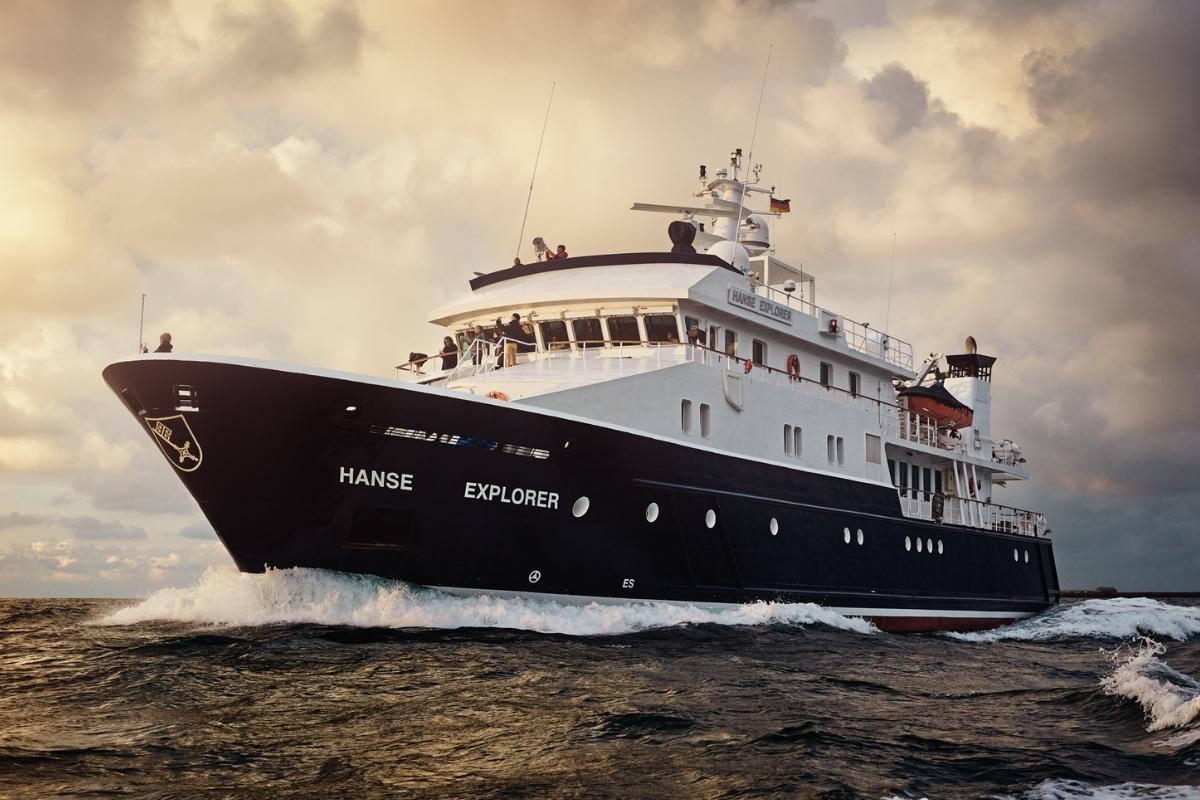 We are also thrilled with her new owners; it seems almost the entire team at EYOS has known or worked with the new owners for many, many years - some of the EYOS team first started working with them in the 1970s! Again, there is a level of trust and shared goals that come from such long relationships, and it makes for a seamless, coordinated operation at all levels. Hanse Explorer has really become an integral part of our company and what we deliver. It is a unique model in yachting, but one that has truly worked out exceptionally well.
Finally, we think the recent refit will bring Hanse Explorer to an all new level and make her a great option in tropical climates with the newly configured deck spaces, new dive facilities, two Zodiac Milpro MK 4s, retractable stabilisers and a complete refresh of the interior. She is like a completely new yacht now!
Where is Hanse Explorer headed next?
She has spent the past season in Antarctica where she will be based next winter too. For summer 2022 she will be in the South Pacific from April to October, exploring the Marquesas and beyond. We're really looking forward to exploring some of the remote islands in the Pacific with her!
For further information or to discuss a trip with Hanse Explorer please contact EYOS Expeditions: info@eyos.com
Or visit the website: eyos.com
All images courtesy of EYOS Expeditions; portrait of Tim Soper by Mosaic Studios; Hanse Explorer by Oivind Haug.

Read Next: