Te Manu
49.38m | Codecasa | 1998 (2019)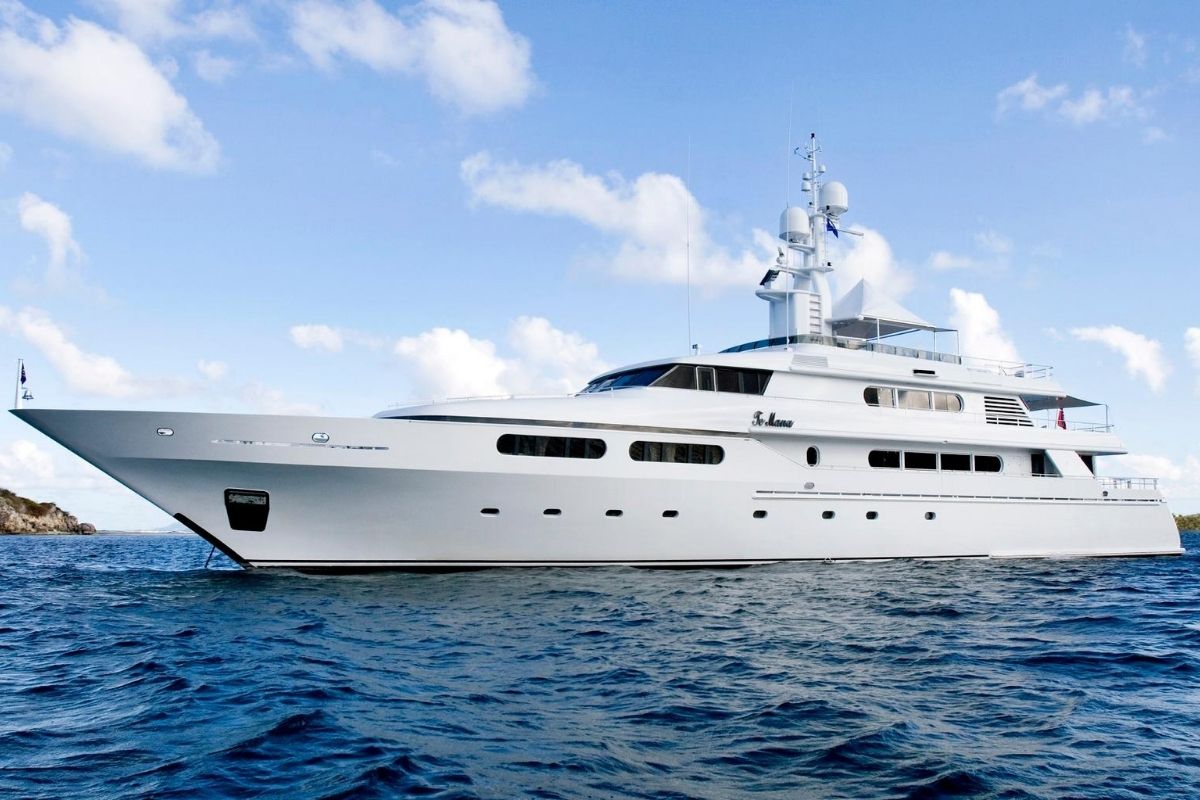 Measuring 49.4 metres, the renowned motor yacht Te Manu was first launched in 1998 as MY Andale. She was born in Viareggio, the conception of Codecasa Yachts, a family run enterprise that has been manufacturing luxury superyachts since 1825.
Measuring 49.4 metres, the renowned motor yacht Te Manu was first launched in 1998 as MY Andale. She was born in Viareggio, the conception of Codecasa Yachts, a family run enterprise that has been manufacturing luxury superyachts since 1825. Constructed in all white, with a steel hull and an aluminum superstructure, Te Manu is fully MCA certified, and already a star of the charter market, she underwent an extensive 18 month refit in 2018-2019.
An enormous amount of work was put into the vessel, with the goal of bringing her to the height of her potential. With fresh paint, new teak and new generators just to name a few, she has never looked so good. As you can well imagine, she has recently re-entered the charter market, gleaming, polished and ready to welcome guests anywhere between Monaco and St Maarten.
Captain Oscar Wollheim is proud to tell you that his bridge equipment is the "latest and greatest," but when it comes to technical amenities, that is only the beginning. With a 500gt commercial license, they now have a brand new DMSMS suite and all the technology to go with it. From a guest point of view, Te Manu is fully decked out with all the latest perks. Netflix everywhere, impeccable stereo surround sound, and one of the most coveted amenities - an elevator that serves all four decks, from the lower guest accommodation deck all the way up to the upper sundeck.
From a cruising perspective, Te Manu has twin 2200hp Caterpillar diesel engines which can comfortably cover 4000nm. This means ultimate peace of mind for charter guests, not to mention less time lost for fueling up. She has zero speed stabilizers so is able to anchor in rough water and is extremely comfortable at high speeds. And speaking of speed? Twelve knots is her comfortable cruising speed but she can push it up to 16 knots when she wants to. In short, with Te Manu, Codecasa was way ahead of the game in creating this beautiful yacht, for she strikes a perfect balance between luxury and performance.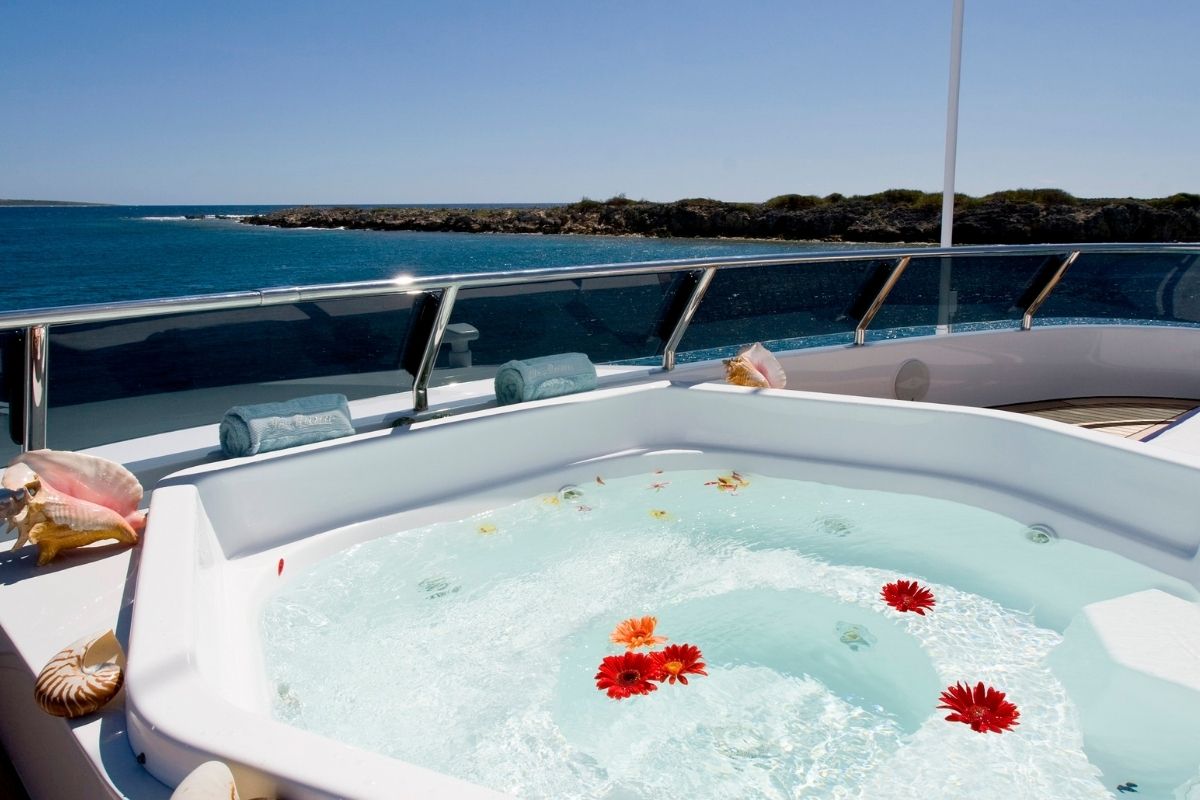 Her sophisticated exterior design is definitely consistent with her signature brand, but that is only the beginning. Moving inside, Te Manu doesn't cease to impress. With a lush interior designed by Studio Franco and Anna Della Role, Te Manu can accommodate up to 12 guests in six staterooms, including the master and VIP which are located on the main deck. All are en suite and have their own fully wired entertainment centres, so getting away for a quiet moment in your cabin can be done in complete comfort.
The main deck is home a stunning master suite as well as a VIP double. On the lower deck there are two more doubles and two twins, all conveniently served by the elevator, so guests are welcome to choose the room that suits them best, as all are equally accessible. The decoration is luxurious and calming, with touches of dark wood and tones of blues as a throwback to the sea.
The common areas are equally well designed with a fluid layout to lead guests from one sensation to the next. Have a cocktail at the polished wooden bar in the salon before moving on to dinner in the stunning dining room, equipped with panoramic views from all sides. The divine cuisine on board Te Manu is courtesy of the talented Chef Flavio Moreno. Born and raised in Portugal, Flavio seized the opportunity to combine his love of the sea with his passion for fine cuisine and has now worked as a superyacht chef for over nine years.
Flavio is highly adaptable in his approach and can turn his hand to a wide range of culinary styles, using only the freshest of local ingredients. After a memorable meal, finish the night off in the sky lounge where, once again, full length windows offer breathtaking views no matter what the hour.
The stunning Te Manu is one of those rare yachts that seems to effortlessly cater to everyone, with a layout that maintains a level of intimacy highly valued by repeat clients, who range from families and businessmen to royals and celebrities. Perhaps it is this versatility that has made her such a consistently successful charter yacht for so many years.
Te Manu offers a range of activities and facilities to accommodate guests of all ages. The elevator makes her an ideal choice for elderly clients, while children are equally at ease with just a few steps from deck to deck, and secure open spaces, such as the veranda, can be converted into a play area for little ones. In addition, as this space is enclosed and fully air conditioned, guests can sit and enjoy the surroundings without actually being exposed to the weather. There is strategically placed tinted glass as well, resulting in total privacy with no sacrifice. This is just one of the many modular spaces that makes Te Manu an exceptionally adaptable vessel.
A seasoned charter Captain, Oscar Wollheim has been with the yacht since 2020, and with over 30 years of experience behind him, he certainly knows how to run a tight ship. His extensive experience with new builds and refits ensures that any unexpected issue will always be handled with competence and professionalism.
On hand at all times, his 10 highly qualified and attentive crew strive to create a seamless experience for their guests, whether they are looking for discretion and relaxation or a party scene. One crew member is even a semi-professional singer, known to occasionally perform and encourage guests to get involved as well - certainly not something you see every day! "Each guest is different," reflects Oscar. "Some want no interaction, especially in the evening, then others need close attention 24 hours a day. We can cater to a range of ages at the same time, from young adults to octogenarians, all doing different things, going to bed early or going out to the wee hours of the morning."
When not crooning the night away, guests can be found enjoying the large sundeck, impressive jacuzzi and extensive fitness equipment. There is ample space for dining, tanning, or an evening yoga class, and once again the strategic layout provides for total privacy even when in port. From the main deck aft, twin staircases provide easy access to the bathing platform.
For some action out on the water there's a great selection of toys including a wave runner, kayaks, water skis, wakeboard, and inflatables, available to guests under the watchful eye of the yacht's qualified watersports instructors. As Captain Oscar explains: "We're a very attentive crew, very focused on the safety of the guests. We always have a tender watching the guests when they're in the sea and always aware of where our guests are."
Te Manu is one of those yachts with a solid reputation and a history behind her. Built to the highest standards and maintained like a gem, it comes as no surprise that she has been a star of the charter market for over 20 years. Her style is timeless, and the range of clients who keep coming back is proof of her versatility and sublime design. With her recent upgrade and five star crew, this momentum shows no signs of slowing.
Other Yachts You Might Like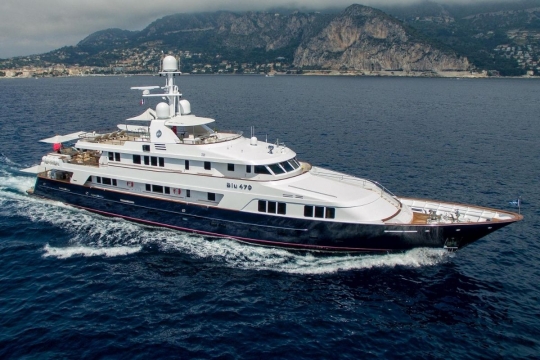 Currently not for charter
Blu 470
49.68m | Feadship | 1990 (2014)
from €185,000 per week + expenses
VIEW MORE