Tail Lights
35.36m | Azimut | 2011 (2016)
Sean Kampfer
Born and raised on Long Island NY, Captain Sean joined the boating scene at a young age when his parents would regularly take him out for leisurely trips on their boats.
Falling hard for yachting one summer after joining a busy charter yacht in New England, Captain Sean took the helm at the likes of popular superyachts including Seafarer, Endeavour, Serenity and Jopaju before joining Tail Lights, where he takes great pride in throwing unforgettable charters for all his guests.
A hands-on captain who always makes guest satisfaction a priority, Sean is also a licensed pilot, and in his spare time you will find him sailing, flying, paddle boarding, golfing, and spending plenty of time at the beach.
As passionate about the sea as he is about ensuring each and every charter exceeds guests' expectations, Captain Sean talks us through his favourite cruising grounds, Tail Lights' star amenities, and his most precious memories from his time spent on board.
Can you tell us a little about your background and how you got into yachting?
I grew up on Long Island New York, and my family had smaller boats when I was a kid. I started rather young in professional boating, working as a launch operator at a yacht club and bringing members out to their yachts during the pretty Long Island summers. Eventually that turned into working as a water taxi captain, and doing harbour tours, and it was while I was working there that I discovered yachting. I took a job as a mate on a 100-foot boat that was departing for Florida, and I've never looked back.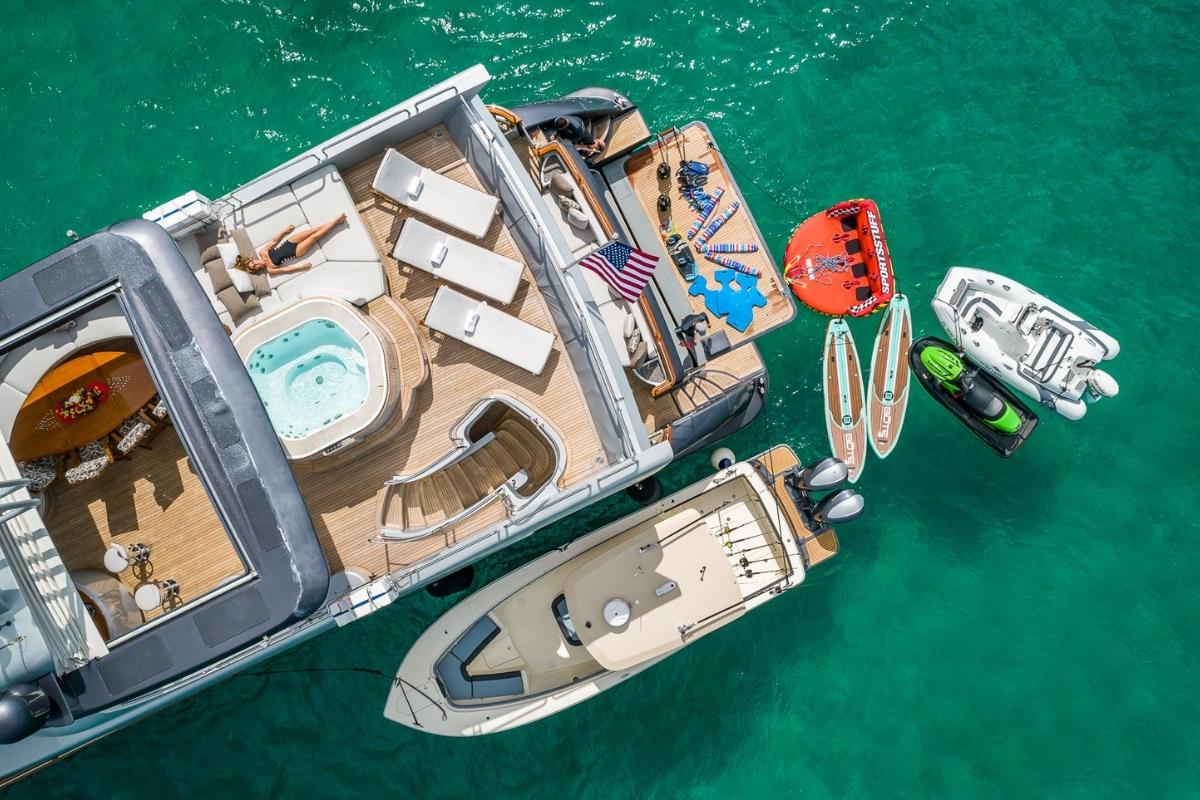 How long have you been a captain and what are some of the yachts you've worked on?
I have been a captain for about four years now. I ran the 112 Westport "Frisky Lady" where I stepped up from mate, making her my first command. I have been the captain on Tail Lights for almost 2 years now having joined in August 2020.
How would you describe the owner's vision for the yacht?
We have fantastic owners, and the program is run in a very professional, business-like manner. The owner and his wife adore the yacht and want to make sure she always looks as beautiful as she does now. Tail Lights is a well known boat in the industry and we want to keep it that way and continue expanding the program.
How would you describe the style and personality of the yacht?
Tail Lights is a sleek, sexy Italian boat with a one-of-a-kind paint job. She's unmistakable and regularly described by our clientele as such. We have many repeat charter guests that return to enjoy future vacations.
How would you describe the ambiance on board?
Tail Lights boasts a comfy yet modern interior. We recently upgraded quite a bit to make sure she looks very pretty. The owner re-invests into the yacht to always keep it up to date including the interior, amenities, toys, and electronics.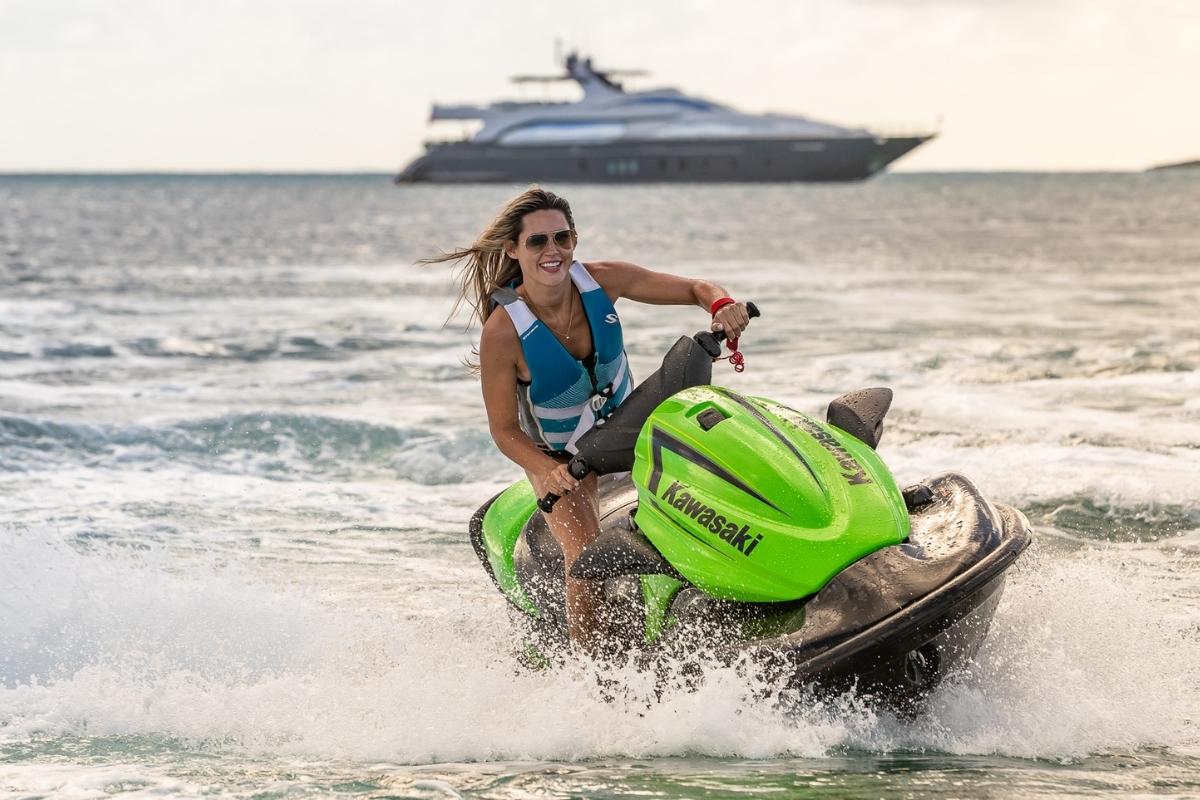 What's your personal style as captain?
As a captain there are certain things I expect from my crew. We are an extremely busy boat and there is very little room for error. That being said, I am certainly not a tyrant and believe in leading by example. It takes a lot for me to yell. I don't feel that screaming and belittling people is an effective leadership tactic.
What's the best thing about working on this yacht?
Every day is different - we have such a variety of itineraries, charter guests, and owner trips that we are never bored, and we are kept on our toes.
What are some of the standout features of the yacht?
Tail Lights has an amazing and roomy flybridge, equipped with an incredible midship jacuzzi. Her deck space throughout is equipped with beautiful teak which is a crowd pleaser. The slick Italian lines and beautiful colour make us stand out when coming into port. The yacht is always ready for a party with our state-of-the-art lighting and sound system.
Which areas of the yacht do guests most tend to gather on board?
I would have to say the flybridge and aft deck, guests also love the bow bunny pad!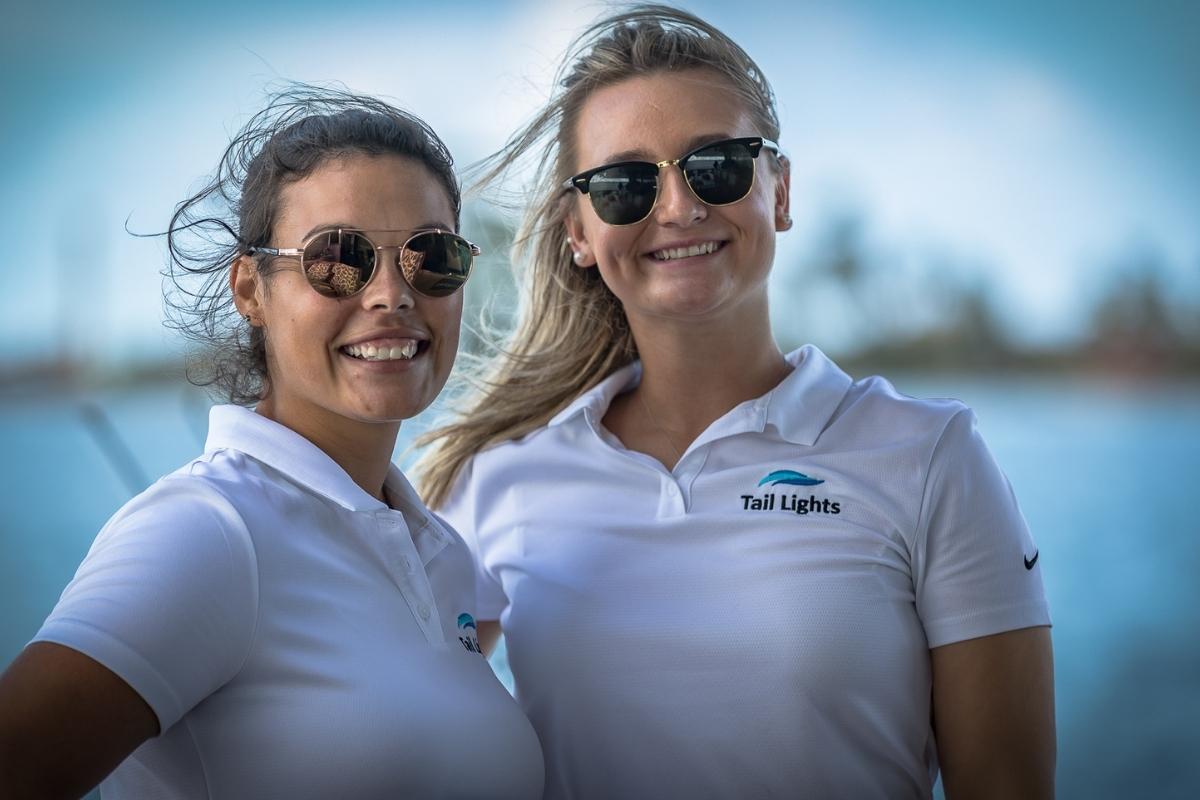 Which types of client are most attracted to charter on board Tail Lights?
We get all different types, but being that we have so many yacht toys on board, I would have to say a more active type of guest.
What types of experience can you offer charter guests?
A five-star experience with a more personal touch. Guests tend to want to interact with the crew more during a charter which we really enjoy.
How would you describe the style and approach of the crew?
The crew are very involved, and all go above and beyond when we have guests on board. Everyone helps across all departments to deliver the best guest experience.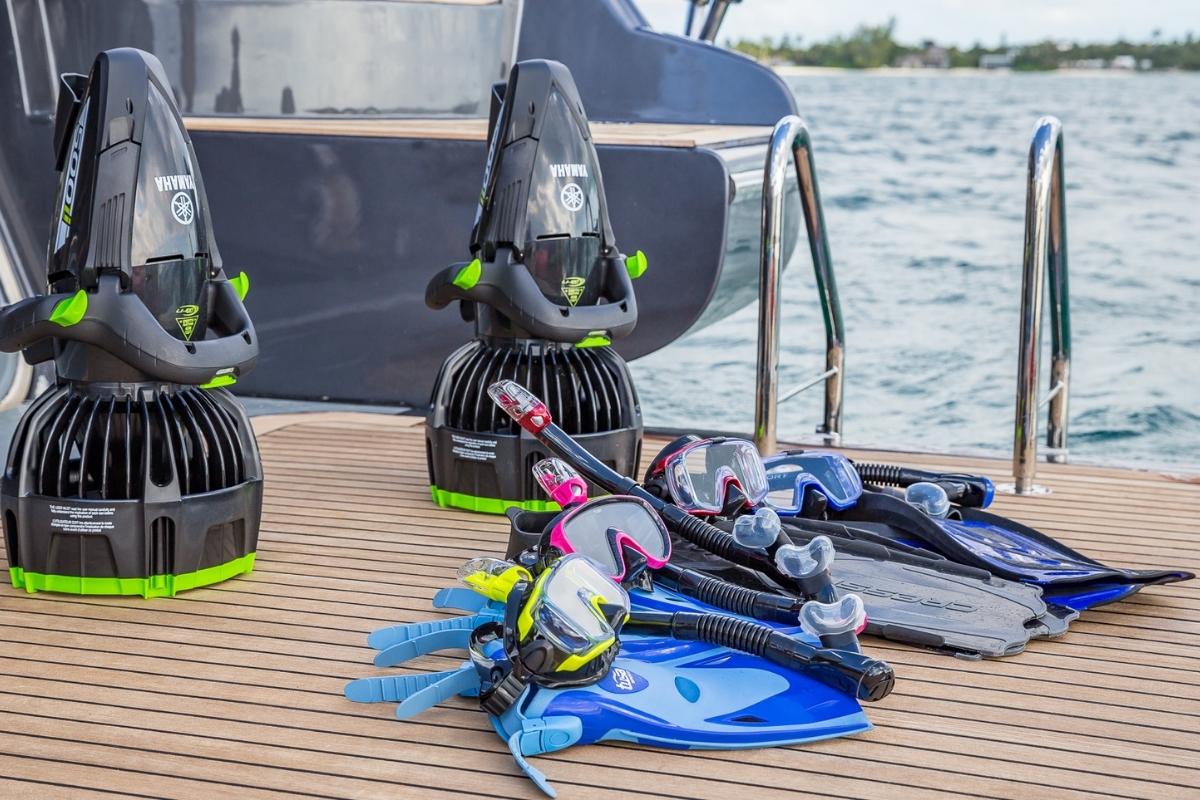 Please share some examples where you and your crew have gone above and beyond to make the guest experience as special as possible.
We did a wonderful vow renewal ceremony on the beach in the BVI's that the guests absolutely loved. We also regularly do theme nights that surpass guest expectations. Our theme nights are very interactive. During pirate night we even 'walk the plank'.
Are there any interesting personalities or talents among the crew?
We are a very diverse crew from all walks of life, everyone brings something to the table. Our Interior department has experience at wineries and in hospitality, and our exterior team has incredible photography and drone skills. We love sharing videos with the guests at the end of their charter showing their "Vacation in Review". Additionally, our chef loves interacting with the guests including table side food preparation which is a big hit.
How are the yacht and the crew prepared to accommodate children and teenagers on charter?
We keep plenty of games on board, and we also have an Xbox in our media room plus all the water toys. The crew are also ready for all sorts of themes and fun activities for our younger clientele.
Tell us about the toys and tenders – which toys are the most popular with guests?
We have a brand-new Yamaha wave runner, a 32-foot scout center console equipped for fishing, two Yamaha sea scooters, a 13-foot new walker bay rigid inflatable for towing and for beach landings. We also have a ton of inflatable water sports and toys. The aquabana floating party island is probably the most popular among guests.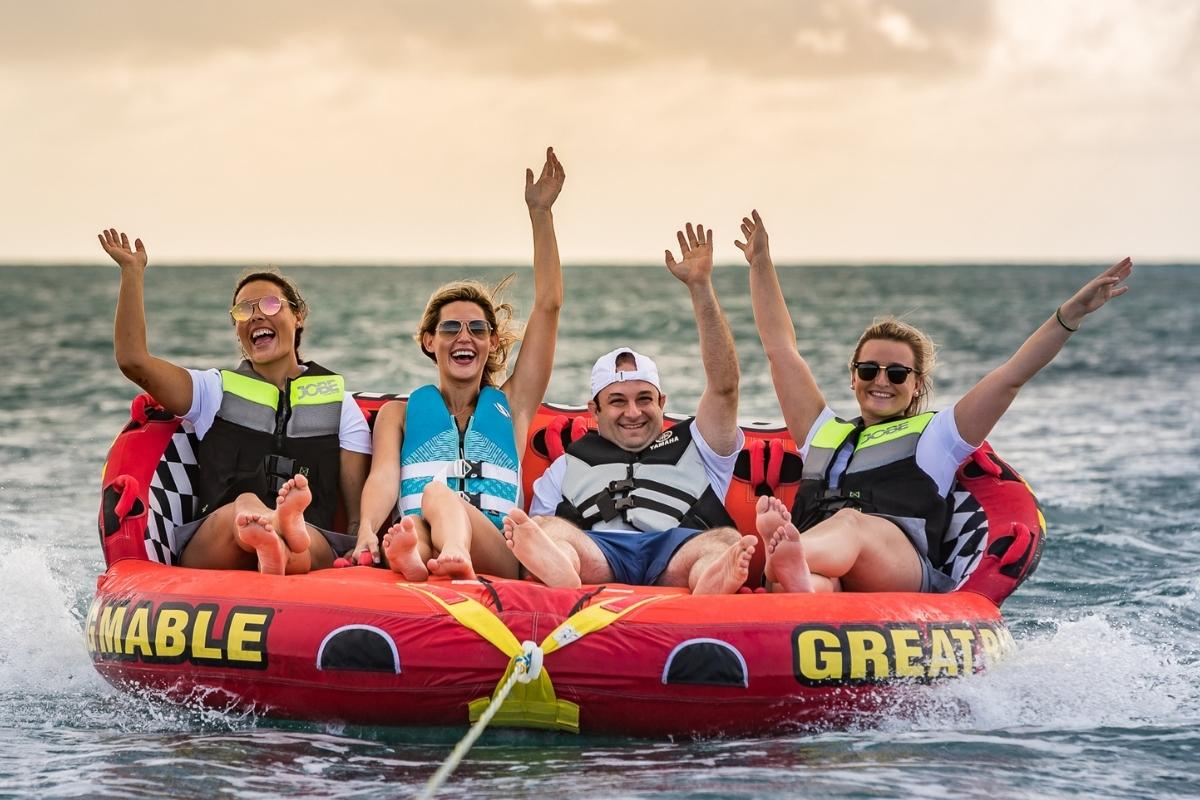 What are your usual cruising grounds?
We spend our summer months in the Bahamas, focusing on the Exumas, Abacos, and Eleuthera. We spend the winter in the Caribbean, between the US Virgin Islands, British Virgin Islands, Saint Martin, & St. Barths. We also go to other areas within the leeward islands.
Which destinations are your personal favourites and why?
If I had to choose one location, it would have to be the Exumas in the Bahamas. That turquoise water and the white sandy perfect beaches never get old.
What have been some of the highlights or your favourite memories as a superyacht captain?
Making captain in the summer of 2018, but more importantly my best memory as captain was meeting my beautiful wife Amanda that same summer in Boston Harbor. On Tail Lights, I have to say some of my fondest memories are our vow renewal, incredible theme nights, and the look on the guests faces when they have arrived to the yacht from a sea plane. That was quite the experience.